Get motivated and inspired with these beautiful rainbow quotes and brighten your day.
A rainbow is a vibrant arc that emerges from the interaction of light and water droplets in the atmosphere.
Often seen as a symbol of hope and the anticipation of better days ahead, rainbows serve as a reminder to remain optimistic in challenging times.
Explore these exceptional Rainbow Quotes designed to uplift your spirits and brighten your day.
These 91 curated rainbow quotes will motivate you to appreciate life's brighter aspects and acknowledge the splendor in all things.
Let these uplifting quotes about rainbows infuse your day with color, hope and positivity.
---
Best Rainbow Quotes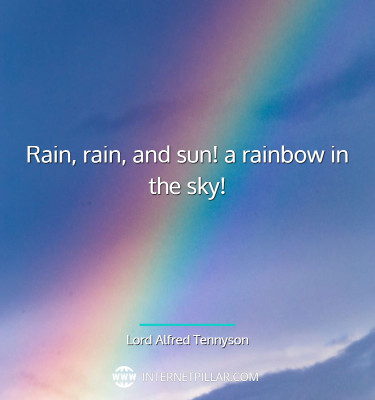 Rain, rain, and sun! a rainbow in the sky! ~ Lord Alfred Tennyson.
You're a rainbow in a sometimes dark world. ~ Tamara Bundy.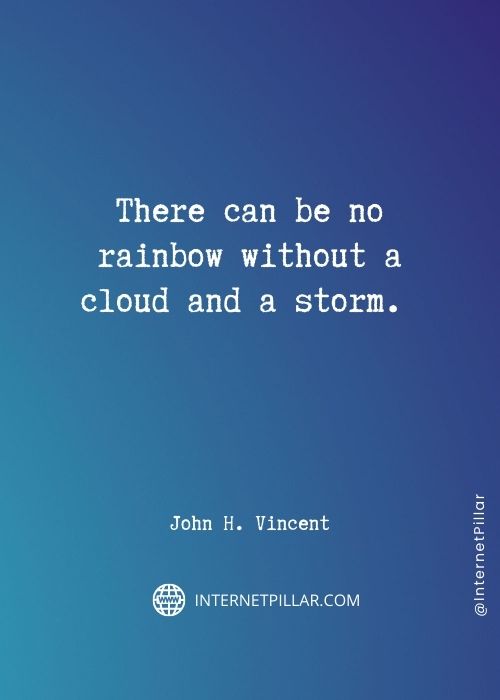 There can be no rainbow without a cloud and a storm. ~ John H. Vincent.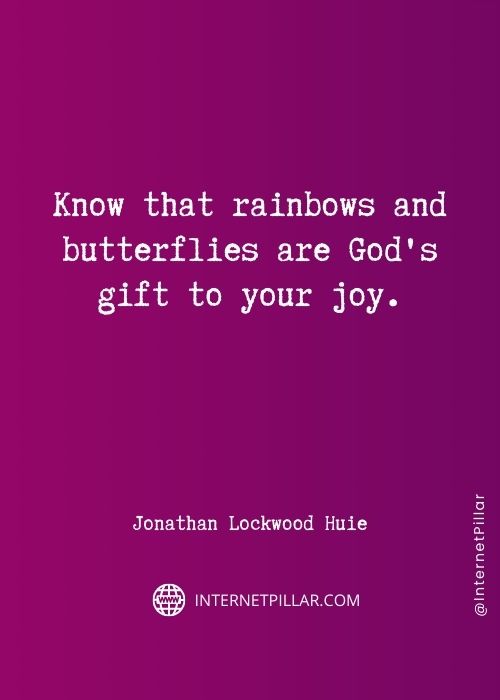 Know that rainbows and butterflies are God's gift to your joy. ~ Jonathan Lockwood Huie.
I'll paint rainbows all over your blues. ~ Jonathan Sebastian.
When it looked like the sun wasn't going to shine any more, there's a rainbow in the clouds. ~ Maya Angelou.
Have you ever seen the world upside down the rainbows seem to smile? ~ Kamu Auroville.
And, lo! in the dark east, expanded high, The rainbow brightens to the setting Sun. ~ James Beattie.
When you look at the world, the world isn't just one palette. It's a beautiful rainbow, and why not have someone to represent that rainbow? ~ Joan Smalls.
A rainbow is the product of physics working for your appreciation of beauty. ~ Kyle Hill.
Related Quotes:40 Rain Quotes to Lift Your Spirits Up and 77 Cloud Quotes and Sayings to Inspire Your Day
Famous Rainbow Quotes
We will continue to chase rainbows unless we recognize that they are rainbows and there is no pot of gold at the end of them. ~ Diane Ravitch.
There's always been a rainbow hanging over your head. ~ Kacey Musgraves.
The soul would have no rainbow… had the eyes no tears. ~ John Vance Cheney.
The rainbow bursts like magic on mine eyes! In hues of ancient promise there is imprest. ~ Charles Tennyson Turner.
Sunset is still my favorite color, and rainbow is second. ~ Mattie Stepanek.
My two favorite colors of the rainbow are gold and leprechaun. ~ Jarod Kintz.
Teach them that rainbows appear after a storm to remind them that light begins and ends with all colors. ~ Frederic M. Perrin.
Gender is not sane. It's not sane to call a rainbow black and white. ~ Kate Bornstein.
The image of those midwestern storms that rip up the world as you know it, and leave, like a sacrifice, a rainbow to make you forget what has come before. ~ Jodi Picoult.
Two bubbles found they had rainbows on their curves. they flickered out saying: "it was worth being a bubble, just to have held that rainbow thirty seconds. ~ Carl Sandburg.
His eyes were that color you can't see in the rainbow. Indigo. ~ Rainbow Rowell.
We may run, walk, stumble, drive, or fly, but let us never lose sight of the reason for the journey or miss a chance to see a rainbow on the way. ~ Gloria Gaither.
Popular Rainbow Quotes
When there is love in the heart, there are rainbows in the eyes, which cover every black cloud with gorgeous hues. ~ Henry Ward Beecher.
If you have ever followed a rainbow to its end, it would lead you to the ground on which you were standing. ~ Alan Cohen.
If you disturb the colors of the rainbow, the rainbow is no longer beautiful. ~ Denis Diderot.
After a debauch of thunder-shower, the weather takes the pledge and signs it with a rainbow. ~ Thomas Bailey Aldrich.
One can enjoy a rainbow without necessarily forgetting the forces that made it. ~ Mark Twain.
The white light streams down to be broken up by those human prisms into all the colors of the rainbow. Take your own color in the pattern and be just that. ~ Charles R. Brown.
Only rainbows after rain the sun will always come again. ~ Tahlia Chi.
Be thou the rainbow in the storms of life. The evening beam that smiles the clouds away, and tints tomorrow with prophetic ray. ~ Lord Byron.
It's a good thing that when God created the rainbow he didn't consult a decorator or he would still be picking colors. ~ Sam Levenson.
God's illumined promise. ~ Henry Wadsworth Longfellow.
If you want to see a rainbow you have to learn to see the rain. ~ Paulo Coelho.
It takes sunshine and rain to make a rainbow. There would be no rainbows without sunshine and rain. ~ Roy T. Bennett.
The Lord survives the rainbow of His will. ~ Robert Lowell.
Top Rainbow Quotes
If you want to enjoy the rainbow, be prepared to endure the storm. ~ Warren Wendel Wiersbe.
Life's a choice: you can live in black and white, or you can live in color. I'll take every shade of the rainbow and the gazillion in between! ~ Karen Marie Moning.
The true harvest of my life is intangible – a little star dust caught, a portion of the rainbow I have clutched. ~ Henry David Thoreau.
Let me, O let me bathe my soul in colors; let me swallow the sunset and drink the rainbow. ~ Khalil Gibran.
When a rainbow smiles, my heart gives me that warm feeling all over. ~ Anthony T. Hincks.
Somewhere, over the rainbow, Way up tall, There's a land where they've never heard of cholesterol. ~ Allan Sherman.
Try to be a rainbow in someone's cloud. ~ Maya Angelou.
God puts rainbows in the clouds so that each of us – in the dreariest and most dreaded moments – can see a possibility of hope. ~ Maya Angelou.
I've always taken 'The Wizard of Oz' very seriously, you know. I believe in the idea of the rainbow. And I've spent my entire life trying to get over it. ~ Judy Garland.
Pride of the dewy morning, The swain's experienced eye From thee takes timely warning. Nor trusts the gorgeous sky. ~ John Keble.
When it rains look for rainbows, when it's dark look for stars. ~ Oscar Wilde.
That arc of light, born of the shower and colored by the sun, which spans the heavens! ~ Jean Charles Prince.
Beautiful Rainbow Quotes
There is no pot of gold at the end of the rainbow. ~ Karen Black.
A woman is like the color of the rainbow, very colorful and so beautiful. ~ Gift Gugu Mona.
That gracious thing, made up of tears and light. ~ Samuel Taylor Coleridge.
Count your rainbows, not your thunderstorms. ~ Alyssa Knight.
There's a rainbow in the sky, all the time, don't be blind. ~ Ziggy Marley.
The smiling daughter of the storm. ~ Charles Caleb Colton.
My teacher asked my favorite color. … I said 'Rainbow'…. and I was punished to stand out of my class. ~ Saket Assertive.
Rainbows introduce us to reflections of different beautiful possibilities so we never forget that pain and grief are not the final options in life. ~ Aberjhani.
Leroy bet me I couldn't find a pot of gold at the end, and I told him that was a stupid bet because the rainbow was enough. ~ Rita Mae Brown.
Hope is a rainbow of thought. ~ Harley King.
The work will wait while you show the child the rainbow, but the rainbow won't wait while you do the work. ~ Patricia Clafford.
And when it rains on your parade, look up rather than down. Without the rain, there would be no rainbow. ~ G. K. Chesterton.
The way I see it, if you want the rainbow, you gotta put up with the rain. ~ Dolly Parton.
After fifteen minutes nobody looks at a rainbow. ~ Johann Wolfgang von Goethe.
Rainbows apologize for angry skies. ~ Sylvia Voirol.
Dare to love yourself as if you were a rainbow with gold at both ends. ~ Aberjhani.
I kind of view everybody like a rainbow. Everybody on the planet has all the colors of the rainbow inside. ~ Alexia Fast.
Where does the rainbow end, in your soul or on the horizon? ~ Pablo Neruda.
Somewhere over the rainbow, skies are blue, and the dreams that you dare to dream really do come true. ~ Judy Garland.
Rainbows reminds us that even after the darkest clouds and the fiercest winds there is still beauty. ~ Katrina Mayer.
Bright pledge of peace and sunshine. ~ Henry Vaughan.
Amazing Rainbow Quotes
Write about the beauty of rainbows and the glint of reflected light that can enlighten readers' minds. ~ Debasish Mridha.
Today's teardrops are tomorrow's rainbows. ~ Ricky Nelson.
And as he spoke of understanding, I looked up and saw the rainbow leap with flames of many colors over me. ~ Black Elk.
We live in a rainbow of chaos. ~ Paul Cezanne.
Somewhere over the rainbow, skies are blue, and the dreams that we dare to dream really do come true. ~ E.Y. Hamburg.
If a rainbow makes a sound, or a flower as it grows, that was the sound of her laughter. ~ William P. Young.
Life throws challenges and every challenge comes with rainbows and lights to conquer it. ~ Amit Ray.
At the end of the dream, on the other side of the rainbow, there's only light. ~ Frederick Lenz.
Look up to the sky – You'll never find rainbows If you're looking down. ~ Charlie Chaplin.
It was the rainbow gave thee birth, and left thee all her lovely hues. ~ W. H. Davies.
Rainbows put colors in my smile and happiness on my face. ~ Anthony T. Hincks.
The appearance of a rainbow in the cloud shows a lasting covenant between the Creator and his creation on earth. ~ Lailah Gifty Akita.
Gratitude is the real treasure God wants us to find, because it isn't the pot of gold but the rainbow that colors our world. ~ Richelle E. Goodrich.
A rainbow in the morning Is the Shepherd's warning; But a rainbow at night Is the Shepherd's delight. ~ Old Rhyme.
I'd rather see the world as a rainbow than the endless shade of gray. ~ Amani Abbas.
Look at the rainbow, it is made up of different colors, yet they do not split, because they know how beautiful they are when they stick together. ~ Michael Bassey Johnson.
If your dream is at the end of a rainbow you'll never reach it. ~ Richie Norton.
Be everything that you are unapologetically, most of you will find out that you are not just one color, you are a rainbow. ~ Mridula Singh.
Don't fear the storm, for the rainbow's never far behind. ~ Jamie Worthington.
In life, you either choose to sing a rainbow, or you don't. Keep singing. ~ Kathleen Long.
It takes both the sun and the rain to make a beautiful rainbow. ~ Cinderella.
Wherever you go, so will I cause a double rainbow is hard to find. ~ Katy Perry.
Life is like a rainbow. You need both the rain and the sun for the colors to appear. ~ Unknown.
---
So these were the 91 quotes about Rainbow.
If these quotes and sayings connect with you, check out our other posts on power quotes and partner quotes.
---
Sources: