Rihanna, born Robyn Rihanna Fenty in 1988 in Barbados, rose to global fame in the early 21st century for her unique voice and style.
As a child, her love for singing was evident, winning a talent show with a Mariah Carey song.
Her break came when American record producer, Evan Rogers, helped her record a demo leading to a contract with rapper Jay-Z's Def Jam record label.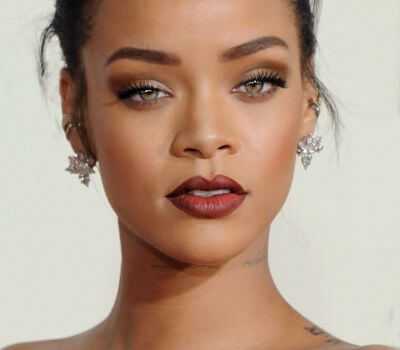 Her debut single, "Pon de Replay," was a major success, as were subsequent albums like "A Girl Like Me" and "Good Girl Gone Bad." The latter's hit single "Umbrella" earned her a Grammy.
Her later albums touched various themes, from the personal, like the assault incident with then-boyfriend Chris Brown, to chart-topping hits like "Diamonds." Besides music, Rihanna ventured into acting, starring in films like "Ocean's 8" and "Guava Island".
She launched her beauty brand, Fenty Beauty, in 2017 and a fashion line in 2019. Her personal life, including relationships with Chris Brown, Drake and ASAP Rocky, remained in the spotlight.
In 2023, Rihanna announced her second pregnancy during a Super Bowl performance.
I have compiled a great list of quotes by Rihanna.
---
Best Rihanna Quotes
1. "We found love in a hopeless place." ~ (Rihanna).
2. "I'm only as good as my team, I love you guys so much." ~ (Rihanna).
3. "I play by my own rules so please think twice before you step into my life." ~ (Rihanna).
4. "I may be bad, but I'm perfectly good at it." ~ (Rihanna).
5. "You can't master your future if you're still a slave to your past." ~ (Rihanna).
6. "Spend time with people who know how to use their days well. Just as iron sharpens iron, positive people will inspire you to be positive." ~ (Rihanna).
7. "Keep your eyes on the finish line and not on the turmoil around you." ~ (Rihanna).
8. "Single life is so overrated. It sucks." ~ (Rihanna).
9. "People gonna talk whether you doing bad or good." ~ (Rihanna).
10. "Sometimes it takes a thousand tries to win." ~ (Rihanna).
11. "Don't lower your standards for anything or anyone." ~ (Rihanna).
12. "Sometimes you just need your privacy." ~ (Rihanna).
13. "Ask God for forgiveness, and leave your regrets in the past!" ~ (Rihanna).
Top Rihanna Quotes
14. "When you realize who you live for, and who's important to please, a lot of people will actually start living. I am never going to get caught up in that. I'm gonna look back on my life and say that I enjoyed it – and I lived it for me." ~ (Rihanna).
15. "When something feels real, you don't make any apologies for it. When it feels good to you, nothing else matters. Everything else is just noise." ~ (Rihanna).
16. "Never underestimate a man's ability to make you feel guilty for his mistakes." ~ (Rihanna).
17. "When a door closes you have two choices: give up, or keep going." ~ (Rihanna).
18. "I stand up for what I believe in and a lot of the time that can be against people's opinions." ~ (Rihanna).
19. "If I'm wearing a top, I don't wear a bra. If I'm wearing a bra, I just wear a bra." ~ (Rihanna).
20. "The more I swear I'm happy the more I'm feeling alone." ~ (Rihanna).
21. "Took an oath, I'ma stick it out to the end." ~ (Rihanna).
22. "I think a lot of people are afraid of being happy because of what others might think of it." ~ (Rihanna).
23. "Tears were for the weaker days, I'm stronger now." ~ (Rihanna).
24. "Sticks and stones may break my bones, but chains and whips excite me."~ (Rihanna).
Famous Rihanna Quotes
25. "Lipstick can glam up a whole look, especially in red." ~ (Rihanna).
26. "Let go of the things that make you feel dead. Life is worth living!" ~ (Rihanna).
27. "Success for me isn't a destination, it's a journey. Everybody's working to get to the top but where is the top? It's all about working harder and getting better and moving up and up." ~ (Rihanna).
28. "So I guess I'm a fool, I'm a fool in love. But I'm willing to stay here, and bask in the glory of his heart." ~ (Rihanna).
29. "I love reading people. I really enjoy watching, observing, and being able to figure out a person, the reason they wore that dress, the reason they smell the way they do." ~ (Rihanna).
Popular Rihanna Quotes
30. "I have too many clothes, I have too many options." ~ (Rihanna).
31. "Fashion has always been my defense mechanism." ~ (Rihanna).
32. "Something is wrong with Eminem. He has so much in his mind that I almost feel lucky that he has music. I feel like he has so much in his head that music is such a great release for him. He is one of my favorite artists. Absolutely." ~ (Rihanna).
33. "The most important thing is to be happy and true to yourself. I don't want to look back at this in 30 years from now and say, 'I did it all to make them happy and I didn't enjoy.'" ~ (Rihanna).
34. "You don't want to live your life and then meet someone. You want to share your life with someone. That's what I'm missing right now." ~ (Rihanna).
35. "Even angels have their wicked schemes and you take that to new extremes." ~ (Rihanna).
36. "I never play the victim, I'd rather be a stalker." ~ (Rihanna).
37. "It's tougher to be vulnerable than to actually be tough." ~ (Rihanna).
38. "I drink a lot of coconut water. It balances out all the other toxic stuff I put into my body." ~ (Rihanna).
39. "Even as a child I remember thinking, she can beat me, but she cannot beat my outfit." ~ (Rihanna).
40. "Alcohol is the devil and I need Chinese food." ~ (Rihanna).
Inspiring Rihanna Quotes
41. "People think, because we're young, we aren't complex, but that's not true. We deal with life and love and broken hearts in the same way a woman a few years older might." ~ (Rihanna).
42. "God just has a way of working things out the way he wants to and you have no say in that." ~ (Rihanna).
43. "You will never be stylish if you don't take risks." ~ (Rihanna).
44. "I just love a challenge, whether it's a relationship, my career, clothing." ~ (Rihanna).
45. "There's not any religion or any culture or any race or any generation that cannot get AIDS or HIV. We all have to take responsibility for ourselves and get tested to know our status, and spread the word." ~ (Rihanna).
46. "Attention is something I've learned to ignore. This is what I do: I live my life and they document it." ~ (Rihanna).
47. "The bottom line is that everyone thinks differently." ~ (Rihanna).
48. "Put your troubles aside and start living." ~ (Rihanna).
49. "I want to be the black Madonna." ~ (Rihanna).
50. "If I wasn't a singer, I think I'd be studying to be a psychologist." ~ (Rihanna).
---
You Might Like