Megan Fox, born on May 16, 1986, in Rockwood, Tennessee, is an American actress known for her roles in action films, especially the Transformers and Teenage Mutant Ninja Turtles series.
Raised in a Pentecostal home in Tennessee, she moved to Florida after her parents' divorce and started acting and modeling at a young age.
She made her screen debut in 2001 and gained fame with her role as Mikaela Banes in the Transformers films.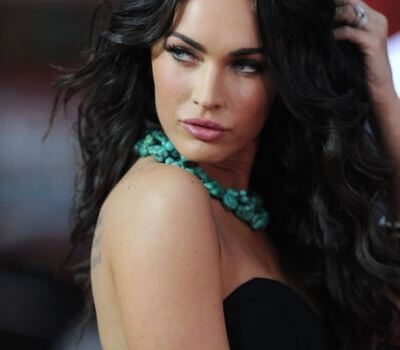 Eager to diversify her roles, she appeared in various films and TV shows, including Jennifer's Body, Jonah Hex, New Girl and a television miniseries, Legends of the Lost with Megan Fox.
Her recent works include Zeroville, Think Like a Dog, Rogue and Till Death, where she played a woman trying to escape killers while handcuffed to her dead husband.
I have picked the best quotes by Megan Fox.
---
Best Megan Fox Quotes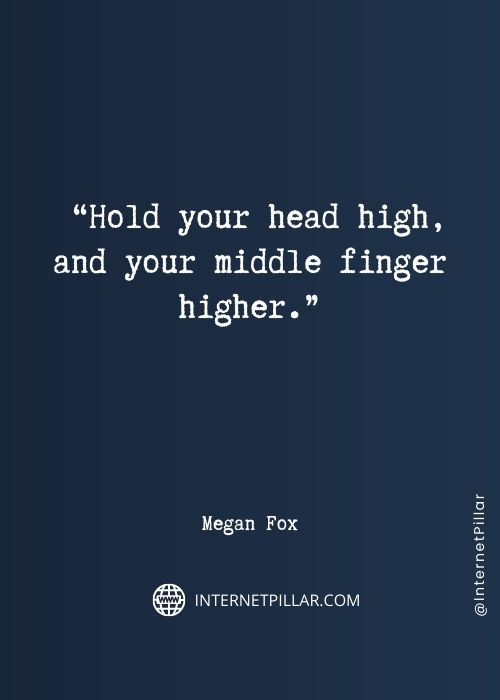 1. "Hold your head high, and your middle finger higher." ~ (Megan Fox).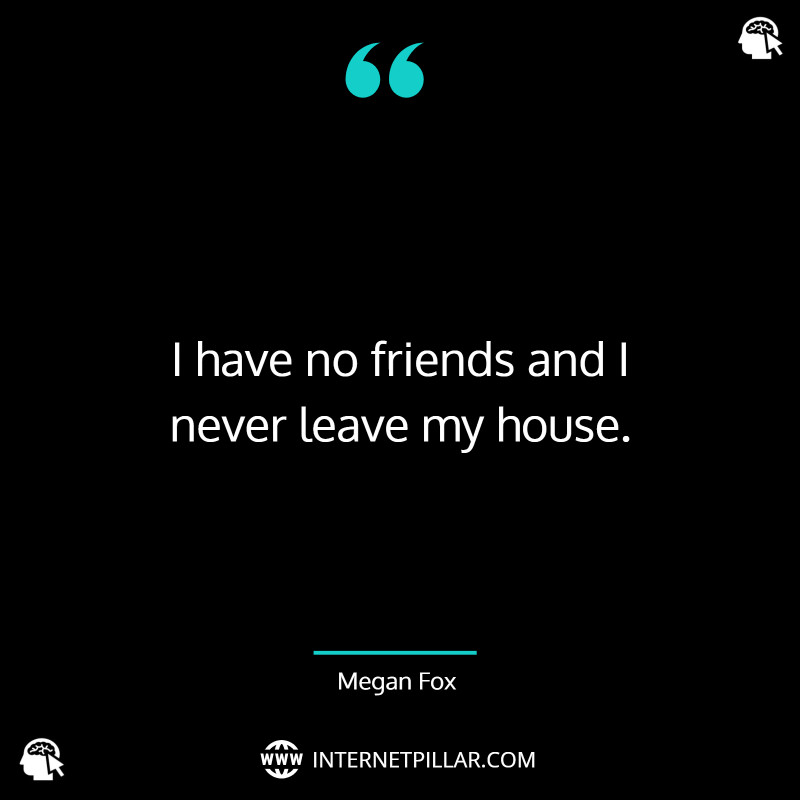 2. "I have no friends and I never leave my house." ~ (Megan Fox).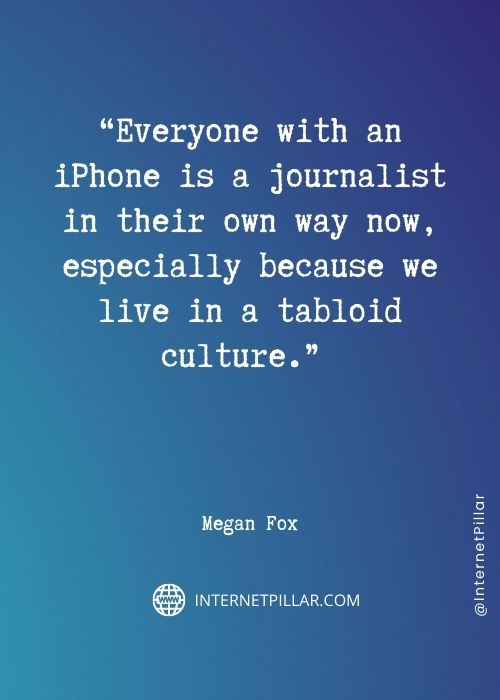 3. "Everyone with an iPhone is a journalist in their own way now, especially because we live in a tabloid culture." ~ (Megan Fox).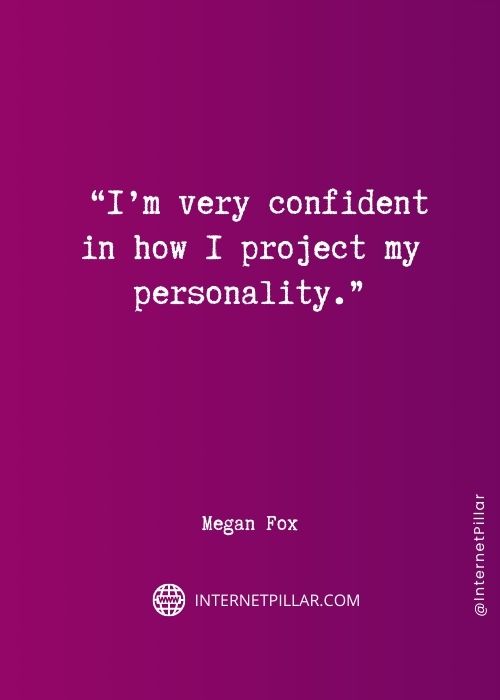 4. "I'm very confident in how I project my personality." ~ (Megan Fox).
5. "It's an immense amount of pressure, celebrity itself." ~ (Megan Fox).
6. "I have the libido of a 15-year-old boy." ~ (Megan Fox).
7. "I'm self-loathing, introverted, and neurotic." ~ (Megan Fox).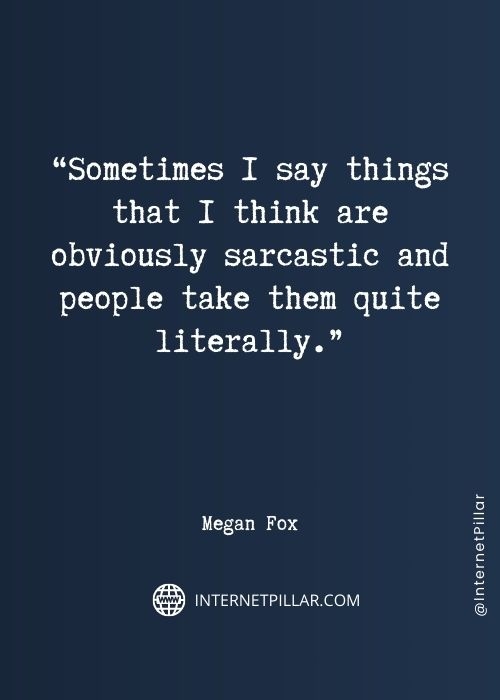 8. "Sometimes I say things that I think are obviously sarcastic and people take them quite literally." ~ (Megan Fox).
9. "Well, I'm clearly not ugly." ~ (Megan Fox).
10. "I need to behave in a way that will cause people to take me seriously." ~ (Megan Fox).
11. "Usually the bullies are the most insecure. I was bullied and it's hard, you feel like high schools never going to be over. Its four years of your life and you just have to remember the person picking on you has their own problems and their own issues. And you're going to be ok." ~ (Megan Fox).
Top Megan Fox Quotes
12. "If you eat Chinese food, your farts come out like Chinese food. If you eat Mexican food, your farts come out like Mexican food. And milk, it's like – you can smell the warmth in the fart. My wardrobe on Transformers always smells like farts, and I have no idea why." ~ (Megan Fox).
13. "I've always at least tried to be self-deprecating when I say anything about myself. As long as you set the bar low, it will keep people from putting you on a pedestal, so they can't knock you off." ~ (Megan Fox).
14. "I think that I'm so psychotic and so mentally ill that if I could tap into that I could do something really interesting." ~ (Megan Fox).
15. "Social media has changed everything in our world. The collective humanity, as it was, has such a voice these days, and that's never really existed before." ~ (Megan Fox).
16. "I like reading books that provide you with knowledge that you previously didn't have. And books you have a chance to grow as a human being after reading them." ~ (Megan Fox).
17. "I was raised to believe that you're safe in God's hands. But I don't feel safe with myself." ~ (Megan Fox).
18. "What people don't realize is that fame, whatever your worst experience in high school, when you were being bullied by those ten kids in high school, fame is that, but on a global scale, where you're being bullied by millions of people constantly." ~ (Megan Fox).
19. "Just be you. I've learned the hard way and in the end, some people are just so full of hate that no matter what you say or do, they'll always have something to say." ~ (Megan Fox).
20. "My definition of beauty is simplicity, elegance, and sensuality. I think that when a woman is in harmony with herself and remains true to her values, she will glow naturally." ~ (Megan Fox).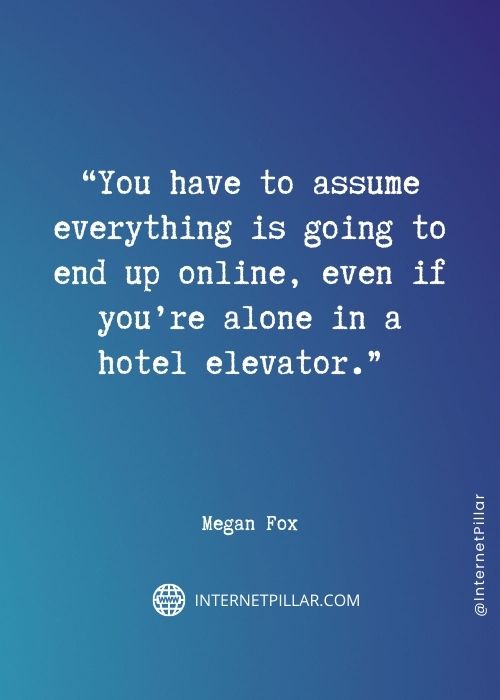 21. "You have to assume everything is going to end up online, even if you're alone in a hotel elevator." ~ (Megan Fox).
22. "There are many sides to me to who I am and my personality. I think the only thing that is rebellious about me is that I don't really have a lot of fears, as far as film industry is concerned." ~ (Megan Fox).
23. "We live in a world where losing your phone is more dramatic than losing your virginity." ~ (Megan Fox).
Famous Megan Fox Quotes
24. "I've come to the realization that if I don't feel like sharing, then I'm just not going to share. But I'm not going to go out of my way to mislead people or keep them at a distance, because that doesn't really get me anywhere either." ~ (Megan Fox).
25. "I don't want to open my mouth or speak anymore, because everything I say becomes scandalous. It wears you out." ~ (Megan Fox).
26. "I'm so suspicious of boys-slash-men. I just don't like them or trust them." ~ (Megan Fox).
27. "I feel people think I'm almost like a robot – like an android I just don't really get portrayed as someone who has feelings or who is sympathetic like a self-absorbed ice queen." ~ (Megan Fox).
28. "I'm horrible to live with. I don't clean. My clothes end up wherever I take them off. I forget to flush the toilet." ~ (Megan Fox).
29. "Boys in their twenties are a waste of time. They have nothing to offer conversationally; they're immature. I feel like I have a better shot with someone in his thirties." ~ (Megan Fox).
30. "I do have a 22-inch waist, I will say that." ~ (Megan Fox).
31. "As soon as you tell me to do one thing, I do the opposite. As soon as someone tells me not to get any more tattoos, I have this intense fire burning inside me to cover myself with them. I don't care if it's self-destructive. I just have that need to rebel." ~ (Megan Fox).
32. "I like the bad-boy types. Generally the guy I'm attracted to is the guy in the club with all the tattoos and nail polish. He's usually the lead singer in a punk band and plays guitar. But my serious boyfriends are relatively clean-cut, nice guys. So it's strange." ~ (Megan Fox).
33. "Because everyone is someone's child, every woman seems like someone's mother." ~ (Megan Fox).
Popular Megan Fox Quotes
34. "And you know, the people who hate kids and don't want kids always end up having 50 of them." ~ (Megan Fox).
35. "I loved 'Teenage Mutant Ninja Turtles.' It was such a big part of my childhood." ~ (Megan Fox).
36. "I think you accidentally learn things in high school that turn out to be life lessons when you are able to step back a bit and study them in more depth." ~ (Megan Fox).
37. "What distracts me from my reality is bigfoot. They are my celebrities." ~ (Megan Fox).
38. "I try to live with the idea that karma is a very real thing. So I put out what I want to get back." ~ (Megan Fox).
39. "Self-loathing doesn't keep me from being happy. But that doesn't mean I don't struggle." ~ (Megan Fox).
40. "Women hold the power because we have the vaginas. If you're in a heterosexual relationship and you're a female, you win." ~ (Megan Fox).
41. "I feel like it's impossible to please the hardcore comic book fans, because they'll never be happy no matter what you do." ~ (Megan Fox).
Inspiring Megan Fox Quotes
42. "People who don't like me talk about it as though I'm trash because I have tattoos. I find that insane because it's 2008, not the 1950s. Tattoos aren't limited to sailors. It's a form of art I find beautiful. I love it." ~ (Megan Fox).
43. "I've learned that being a celebrity is like being a sacrificial lamb. At some point, no matter how high the pedestal that they put you on, they're going to tear you down." ~ (Megan Fox).
44. "I don't know if you're ever prepared for public scrutiny. I don't know if you can even mentally prepare yourself for it. But it is part of the job. It's maybe not the most pleasant part but I get to experience so many other things that I shouldn't be able to experience. So, that's the trade-off." ~ (Megan Fox).
45. "I married my husband who is thirteen years older, so I will always be a trophy wife for him." ~ (Megan Fox).
46. "People compare me to Angelina Jolie, and she's so serious and stoic. I'm the opposite." ~ (Megan Fox).
47. "I think I'm a different kind of role model for young girls." ~ (Megan Fox).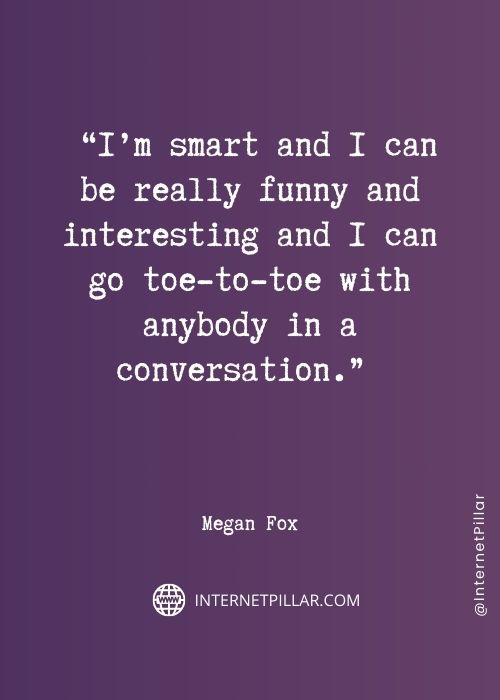 48. "I'm smart and I can be really funny and interesting and I can go toe-to-toe with anybody in a conversation." ~ (Megan Fox).
49. "I personally always find something really scary about watching little girls learning to manipulate their dads by baby talking. Then they grow up and use the same technique on their boyfriends or husbands. That scares me because it's just so sick on so many levels." ~ (Megan Fox).
50. "Some girls love to go to the airport and have 50 paparazzi on them. I go to the airport and have a mental breakdown." ~ (Megan Fox).
---
You Might Like