Self-care is the intentional act of prioritizing one's wellness and joy.
It involves recognizing personal needs and allocating time to fulfill them, thereby nurturing a harmonious balance between physical, mental and emotional health.
The value of self-care originates from its potential to boost happiness and well-being.
By regularly partaking in self-care rituals like physical exercise, healthy eating, mindfulness practices, or simply scheduling downtime, individuals can manage stress, evade burnout and enhance their life's overall quality.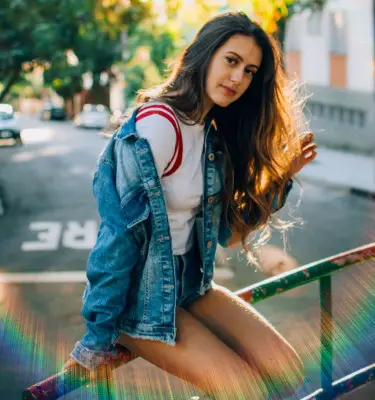 It serves as an indispensable instrument for maintaining both physical and psychological health, leading to a more equilibrium, fulfilling and resilient existence.
---
Self Care Quotes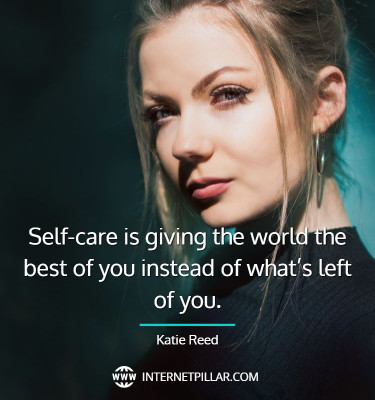 Self-care is giving the world the best of you instead of what's left of you. ~ Katie Reed.
Self-Care equals success. ~ Dixie Nichols.
Loving yourself isn't vanity. It's sanity. ~ Katrina Mayer.
We need to replace your vicious stress cycle with a vicious cycle of self care. ~ Dr. Sara Gottfried.
Self-care is never selfish, but it may feel that way when you live a frenzied life. ~ Arthur P. Ciaramicoli.
Self care is not a waste of time. Self care makes your use of time more sustainable. ~  Jackie Viramontez.
Taking care of myself doesn't mean 'me first.' It means 'me, too. ~ L.R. Knost.
Self-care should include the cold shower as well as the scented tub. ~ Mary Catherine Bateson.
Beauty is only temporary, but your mind lasts you a lifetime, ~ Alicia Machado.
I'm a big believer in that if you focus on good skincare, you really won't need a lot of make-up. ~ Demi Moore.
Self-care is the non-negotiable. That's the thing that you have to do. And beauty is the thing that can be the benefit of the self-care. Beauty is not the point. Beauty is just a cute side-effect from self-care. ~ Jonathan Van Ness.
Take care of your inner, spiritual beauty. That will reflect in your face. ~ Dolores del Rio.
Skin care is like dieting. You have to invest time and effort. There is no instant miracle cure. ~ Karen Grant.
Related Topics Quotes: 50 Seasons of Life Quotes to Move Forward and 50 Self Destruction Quotes about Pain and Suffering
Best Self Care Quotes
Self-care is so much more than a beauty regimen or an external thing you do. It has to start within your heart to know what you need to navigate your life. A pedicure doesn't last, but meditating every day does. ~ Carrie-Anne Moss.
By taking good care of your posture now, you will enjoy and savor lifelong health benefits and beauty. ~ Cindy Ann Peterson.
Mindfulness not only makes it possible to survey our internal landscape with compassion and curiosity but can also actively steer us in the right direction for self-care. ~ Bessel van der Kolk.
With every act of self-care your authentic self gets stronger, and the critical, fearful mind gets weaker. Every act of self-care is a powerful declaration: I am on my side, I am on my side, each day I am more and more on my own side. ~ Susan Weiss Berry.
Self-care is how you take your power back. ~ Lalah Delia.
An empty lantern provides no light. Self-care is the fuel that allows your light to shine brightly. ~ Unknown.
We must take care of our minds because we cannot benefit from beauty when our brains are missing. ~ Euripides.
Powerful Self-Care Quotes
The irony is that when we take care of ourselves first, we are in a much stronger place to take care of those we love. ~ Kate Hudson.
Self-care is taking all the pressures you are facing right now, and deciding to which you will respond, and how. ~ Imani Shola.
As important as it is to have a plan for doing work, it is perhaps more important to have a plan for rest, relaxation, self-care, and sleep. ~  Akiroq Brost.
It's not selfish to love yourself, take care of yourself, and to make your happiness a priority. It's necessary. ~ Mandy Hale.
Rest and self-care are so important. When you take time to replenish your spirit, it allows you to serve others from the overflow. You cannot serve from an empty vessel. ~ Eleanor Brownn.
Respect, love, and value yourself. Always remember to be good to yourself by taking care of yourself. Make yourself a priority and know that it's okay. Don't feel guilty for loving yourself, first! You're just as important as anybody else. ~ Stephanie Lahart.
Self-care is allowing yourself to appreciate the moment for what it is, instead of wishing it was something else. ~ Sharon Pearson.
By taking care of myself I have so much more to offer the world than I do when I am running on empty. ~ Ali Washington.
I believe that self-care is a daily practice that should involve your interests, needs and preferences. And it should have room to evolve with you over time. ~ Portia Jackson-Preston.
Saying no can be the ultimate self-care. ~ Claudia Black.
Be enough for yourself first, the rest of the world can wait. ~ Unknown.
To me, self-care isn't really shallow. Showing up for yourself, putting on a little moisturizer, can inspire so many different parts of your life. ~ Jonathan Van Ness.
Take care of your body. It's the only place you have to live. ~ Jim Rohn.
Famous Self Care Quotes
If you don't love yourself, how the hell you gon' love somebody else? ~ Ru Paul.
To be a good parent, you need to take care of yourself so that you can have the physical and emotional energy to take care of your family. ~ Michelle Obama.
You can't really be present for the people in your life if you aren't taking care of yourself. ~ Kerry Washington.
If we don't take care of ourselves, if we don't put on the oxygen mask first, we don't have the capacity to help those people we care so much about. ~ Megan McCormick.
Every one of us needs to show how much we care for each other and, in the process, care for ourselves. ~ Princess Diana.
When you recover or discover something that nourishes your soul and brings joy, care enough about yourself to make room for it in your life. ~ Jean Shinoda Bolen.
Self-care means giving yourself permission to pause. ~ Cecilia Tran.
Self-care doesn't necessarily mean jogging! ~ Sandra Oh.
Honestly, self-care is not fluffy. It's something we should take seriously. ~ Kris Carr.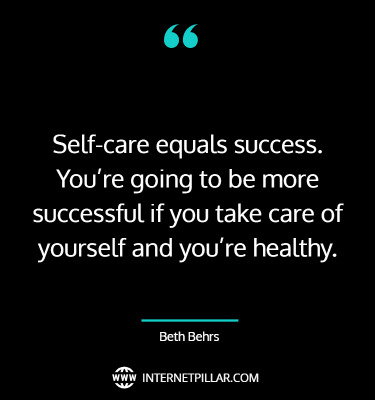 Self-care equals success. You're going to be more successful if you take care of yourself and you're healthy. ~ Beth Behrs.
One person's self-care isn't necessarily another's – there is going to be a lot of individuality. ~ Gail Saltz, M.D.
Top Self Care Quotes
Self-care is your fuel … Whatever the road ahead or the path you've taken, self-care is what keeps your motor running and your wheels turning. ~ Melissa Steginus.
Carve out and claim the time to care for yourself and kindle your own fire. ~ Amy Ippoliti.
Selfishness at the expense of others is bad. Self-care for the betterment of others is good. ~ Richie Norton.
Self-care isn't selfish. It's self esteem. ~ Ashley Judd.
Self-care is never a selfish act – it is simply good stewardship of the only gift I have, the gift I was put on earth to offer to others. ~ Parker Palmer.
Don't sacrifice yourself too much, because if you sacrifice too much there's nothing else you can give, and nobody will care for you. ~ Karl Lagerfeld.
If your compassion does not include yourself, it is incomplete. ~ Jack Kornfield.
Once you embrace your value, talents and strengths, it neutralizes when others think less of you. ~ Rob Liano.
If you don't love yourself, nobody will. Not only that, you won't be good at loving anyone else. Loving starts with the self. ~ Wayne Dyer.
To fall in love with yourself is the first secret to happiness. ~ Robert Morley.
I make it a point to practice self-care. I make an appointment with myself. ~ Manisha Singal.
Care for your psyche…know thyself, for once we know ourselves, we may learn how to care for ourselves. ~ Socrates.
Time you enjoy wasting is not wasted time. ~ Unknown.
Great Self Care Quotes
Self care is a deliberate choice to gift yourself with people, places, things, events, and opportunities that recharge our personal battery and promote whole health–body, mind, and spirit. ~ Laurie Buchanan.
Be you, love you. All ways, always. ~ Alexandra Elle.
Do something every day that is loving toward your body and gives you the opportunity to enjoy the sensations of your body. ~ Golda Poretsky.
It is so important to take time for yourself and find clarity. The most important relationship is the one you have with yourself. ~ Diane Von Furstenberg.
Self-care is not self-indulgence, it is self-preservation. ~ Audre Lorde.
Caring for myself is not self-indulgence, it is self-preservation, and that is an act of political warfare. ~ Audre Lorde.
Knowing how to be solitary is central to the art of loving. When we can be alone, we can be with others without using them as a means of escape. ~ Bell Hooks.
Ultimate Self Care Quotes
Breathe. Let go. And remind yourself that this very moment is the only one you know you have for sure. ~ Oprah Winfrey.
Almost everything will work again if you unplug it for a few minutes, including you. ~ Anne Lamott.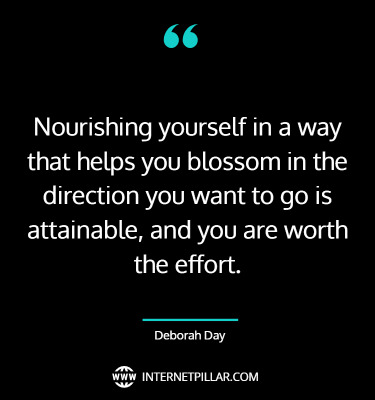 Nourishing yourself in a way that helps you blossom in the direction you want to go is attainable, and you are worth the effort. ~ Deborah Day.
The care, therefore, of every man's soul belongs unto himself. ~ John Locke.
I had the epiphany that laughter was light, and light was laughter, and that this was the secret of the universe. ~ Donna Tartt.
Sometimes the most important thing in a whole day is the rest we take between two deep breaths. ~ Etty Hillesum.
Caring for your body, mind, and spirit is your greatest and grandest responsibility. It's about listening to the needs of your soul and then honoring them. ~ Kristi Ling.
---
So these were the 75 quotes about Self-Care.
If you like these quotes and sayings, then you can also read my other popular blog posts on the topics of Living Simple quotes and Be Kind quotes and Materialism quotes and Choose Happiness quotes.
---
References: