Kindness is defined as courteousness and care for others, possesses the potential to reshape the world.
Even simple acts, such as listening to someone in need, smiling at a stranger, or feeding stray dogs, exemplify pure kindness.
These gestures are not just fulfilling but also inspire others to exhibit kindness and compassion in various contexts.
To further endorse this valuable trait, a collection of 'Be Kind' quotes has been curated.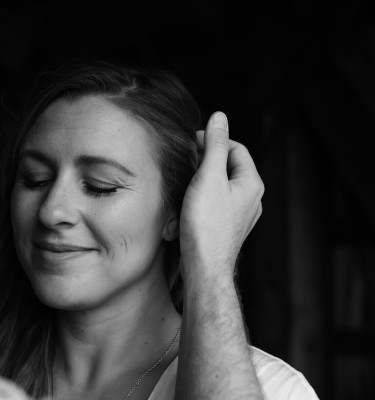 These quotes not only serve as personal reminders to embody kindness but also function as sharable messages to inspire others.
By practicing and promoting kindness, we can contribute to personal growth and a more compassionate world.
---
Be Kind Quotes
Kindness is wisdom. ~ Philip James Bailey.
Be a little kinder than you have to. ~ E. Lockhart.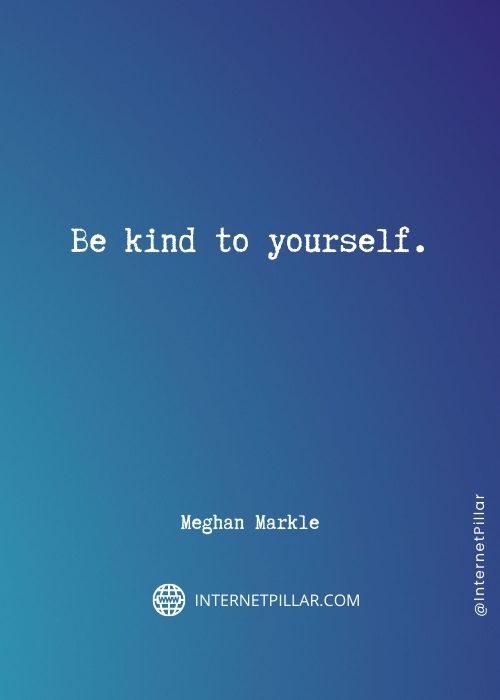 Be kind to yourself. ~ Meghan Markle.
A life is not important except in the impact it has on other lives. ~ Jackie Robinson.
I am my own experiment. I am my own work of art. ~ Madonna.
Kindness in ourselves is the honey that blunts the sting of unkindness in another. ~ Walter Savage Landor.
Everyone responds to kindness. ~ Richard Gere.
You just got to be kind and stay true to yourself and follow what makes you happy inside. ~ Diana Silvers.
Kindness is a language which the deaf can hear and the blind can see. ~ Mark Twain.
When you are kind to someone in trouble, you hope they'll remember and be kind to someone else. And it'll become like a wildfire. ~ Whoopi Goldberg.
Kindness and politeness are not overrated at all. They're underused. ~ Tommy Lee Jones.
Guard well within yourself that treasure, kindness. Know how to give without hesitation, how to lose without regret, how to acquire without meanness. ~ George Sand.
Best Be Kind Quotes
The level of our success is limited only by our imagination and no act of kindness, however small, is ever wasted. ~ Aesop.
We are all neighbors. Be kind. Be gentle. ~ Clemantine Wamariya.
Everyone should just be kind to one another. ~ JoJo Siwa.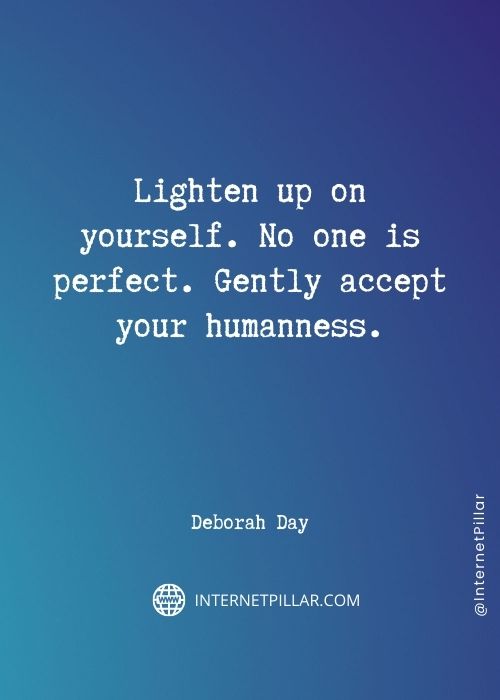 Lighten up on yourself. No one is perfect. Gently accept your humanness. ~ Deborah Day.
Don't let a cruel word escape your mouth. There's no greater sin than breaking a great. ~ Kamand Kojouri.
Love and kindness are never wasted. They always make a difference. ~ Helen James.
Always be kind, but kindness doesn't mean that you have to not say what you think. ~ Grace VanderWaal.
Related: Body Positivity quotes and Living Simple quotes.
Powerful Be Kind Quotes
We make a living by what we get. We make a life by what we give. ~ Winston Churchill.
If your compassion does not include yourself it is incomplete. ~ Jack Kornfield.
Courage. Kindness. Friendship. Character. These are the qualities that define us as human beings, and propel us, on occasion, to greatness. ~ R.J. Palacio.
Be good to people, be kind to people, show up, read the lines, hit the mark, and go home. ~ Pierce Brosnan.
Life is determined to introduce you to your true self. Be kind. ~ Richelle E. Goodrich.
You will never have a completely bad day if you show kindness at least once. ~ Greg Henry Quinn.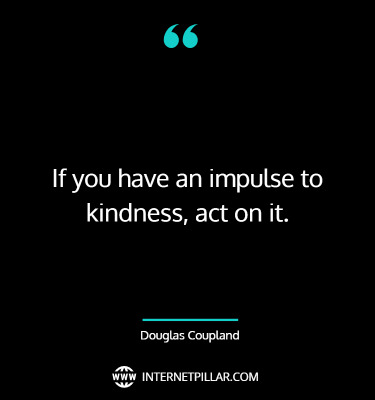 If you have an impulse to kindness, act on it. ~ Douglas Coupland.
There are two ways of spreading light. To be a candle or mirror that reflects it. ~ Edith Wharton.
The world is full of kind people… If you can't find one, be one. ~ Unknown.
Give more, don't expect to be repaid. Give more thanks for what you haven't expected but received! ~ Israelmore Ayivor.
Famous Be Kind Quotes
If you want others to be happy, practice compassion. If you want to be happy, practice compassion. ~ Dalai Lama.
Work hard, be kind, and amazing things will happen. ~ Conan O'Brien.
If you think you're too small to have an impact, try going to bed with a mosquito. ~ Anita Roddick.
You can accomplish by kindness what you cannot by force. ~ Publilius Syrus.
My religion is very simple. My religion is kindness. ~ Dalai Lama XIV.
We ought to be vigilantes for kindness and consideration. ~ Letitia Baldrige.
Be kind whenever possible. It is always possible. ~ Dalai Lama.
Never justify being rude; never forget to be kind. ~ Debasish Mridha.
Kindness is universal. Sometimes being kind allows others to see the goodness in humanity through you. Always be kinder than necessary. ~ Germany Kent.
Be kind, for everyone you meet is fighting a harder battle. ~ Plato.
There is too much negativity in the world. Do your best to make sure you aren't contributing to it. ~ Germany Kent.
Human kindness has never weakened the stamina or softened the fiber of a free people. A nation does not have to be cruel to be tough. ~ Franklin D. Roosevelt.
Tenderness and kindness are not signs of weakness and despair, but manifestations of strength and resolution. ~ Kahlil Gibran.
Great Be Kind Quotes
Kindness implies the recognition of being of the same nature as others, being of a kind, in kinship. ~ Penelope Campling.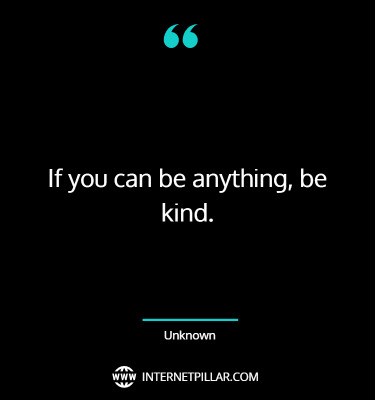 If you can be anything, be kind. ~ Unknown.
I've been searching for ways to heal myself, and I've found that kindness is the best way. ~ Lady Gaga.
He who fears to weep, should learn to be kind to those who weep. ~ Abu Bakr.
The world is a place that is so interconnected that what happens in another part of the world will impact us. ~ Anthony Fauci.
Be kind. It's worthwhile to make an effort to learn about other people and figure out what you might have in common with them. ~ Viggo Mortensen.
Kind people are always my kind of people. ~ Germany Kent.
Be so good they can't ignore you. ~ Steve Martin.
Treat everyone with politeness and kindness, not because they are nice, but because you are. ~ Roy T. Bennett.
You can't expect to make no effort. You still have to make the effort and be kind and understanding. ~ Zooey Deschanel.
Wise Be Kind Quotes
Kindness can become its own motive. We are made kind by being kind. ~ Eric Hoffer.
But remember, boy, that a kind act can sometimes be as powerful as a sword. ~ Rick Riordan.
Remember there's no such thing as a small act of kindness. Every act creates a ripple with no logical end. ~ Scott Adams.
Ask yourself: Have you been kind today? Make kindness your daily modus operandi and change your world. ~ Annie Lennox.
Be kind. It will reveal your true inner beauty. ~ Debasish Mridha.
True beauty is born through our actions and aspirations and in the kindness we offer to others. ~ Alek Wek.
Choosing kindness is just as easy as smiling. ~ Jacob Tremblay.
Three things in human life are important. The first is to be kind. The second is to be kind. And the third is to be kind. ~ Henry James.
Top Be Kind Quotes
Happiness is the new rich. Inner peace is the new success. Health is the new wealth. Kindness is the new cool. ~ Syed Balkhi.
I'm a big believer in acts of kindness, no matter how small. ~ Liam Neeson.
Treat others as you wish to be treated. Don't just be nice, but be kind to other people. That can be so rewarding. ~ Mary Lambert.
Just imagine how different the world could be if we all spoke to everyone with respect and kindness. ~ Holly Branson.
There's no greater gift than thinking that you had some impact on the world, for the better. ~ Gloria Steinem.
---
So these were the 65 quotes about Be Kind.
If you like these quotes and sayings, then you can also read my other popular blog posts on the topics of Stress Relief quotes and Community quotes and Zen quotes.