"Sisterhood" signifies an unbreakable bond of acceptance, support and love shared among sisters, irrespective of their flaws.
It is an empowering concept, especially when women are actively reshaping their societal roles and defining their individual identities.
This special relationship extends beyond blood ties, encompassing all women who share a strong connection akin to that of sisters.
The idea of considering everyone as our sisters and brothers can potentially make the world a more harmonious place.
These insights into sisterhood, as encapsulated by various quotes, underscore the irreplaceable value of such relationships in our lives.
---
Best Sisterhood Quotes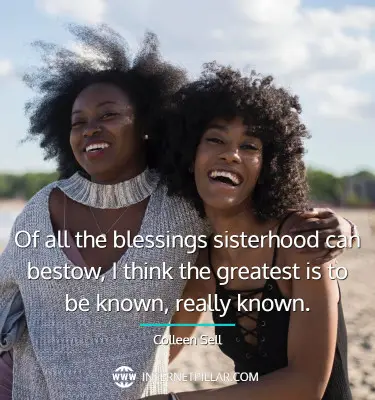 Of all the blessings sisterhood can bestow, I think the greatest is to be known, really known. ~ Colleen Sell.
We acquire friends and we make enemies, but our sisters come with the territory. ~ Evelyn Loeb.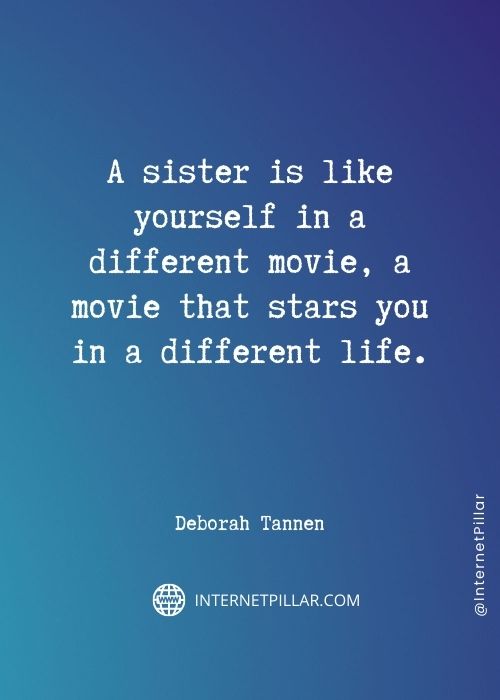 A sister is like yourself in a different movie, a movie that stars you in a different life. ~ Deborah Tannen.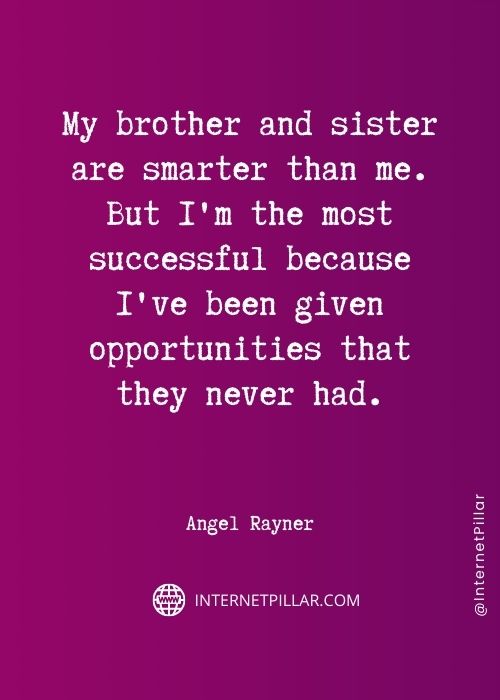 My brother and sister are smarter than me. But I'm the most successful because I've been given opportunities that they never had. ~ Angel Rayner.
Sisters never quite forgive each other for what happened when they were five.~ Pam Brown.
How wide and sweet and wild motherhood and sisterhood can be. ~ Rebecca Wells.
As I grew up, one of my strongest allies has been my sister. ~ Patti Smith.
Bless you, my darling, and remember you are always in the heart – oh tucked so close there is no chance of escape – of your sister. ~ Katherine Mansfield.
Is solace anywhere more comforting than that in the arms of a sister. ~ Alice Walker.
Having a sister is like having a best friend you can't get rid of. You know whatever you do, they`ll still be there. ~ Amy Li.
A nun of winter`s sisterhood kisses not more religiously; the very ice of chastity is in them. ~ William Shakespeare.
Powerful Sisterhood Quotes
For some reason, I have better luck when I work with women. I guess I have a good sense of sisterhood. ~ Dolly Parton.
Sisterhood is powerful. It kills. Mostly sisters. ~ Ti-Grace Atkinson.
A sister is a gift to the heart, a friend to the spirit, a golden thread to the meaning of life. ~ Isadora James.
One of the best things about being an adult is the realization that you can share with your sister and still have plenty for yourself. ~ Betsy Cohen.
There's nobody in the world that knows me better than my sister. ~ Tia Mowry.
There can be no situation in life in which the conversation of my dear sister will not administer some comfort to me. ~ Mary Wortley Montagu.
Sisters are different flowers from the same garden. ~ Unknown.
Participating in a sisterhood with other women is hugely important in my life and a source of joy. ~ Christy Turlington.
Famous Sisterhood Quotes
A sibling may be the keeper of one's identity, the only person with the keys to one's unfettered, more fundamental self. ~ Marian Sandmaier.
Sisters may share the same mother and father but appear to come from different families. ~ Unknown.
Our melanin will always make us marvelous…Just imagine what that sea of sisterhood would look like Magic!. ~ Alexandra Elle.
If a tie is like kissing your sister, losing is like kissing your grandmother with her teeth out. ~ George Brett.
There are two types of encryption: one that will prevent your sister from reading your diary and one that will prevent your government. ~ Bruce schnier.
Big sisters are the crab grass in the lawn of life. ~ Charles M. Schulz.
My sister was the singer, and I always had the mentality there could only be one in the family. ~ Julia Michael.
Great Sisterhood Quotes
Sisterly love is, of all sentiments, the most abstract. Nature does not grant it any functions. ~ Ugo Beti.
I would like more sisters, that the taking out of one, might not leave such stillness. ~ Emily Dickinson.
Sisterhood is a funny thing. It's easy to recognize, but hard to define. ~ B Pearl Cleage.
Help one another is part of the religion of our sisterhood. ~ Louisa May Alcott.
A sister can be seen as someone who is both ourselves and very much not ourselves a special kind of double. ~ Toni Morrison.
When my sister and I were growing up, she was made out to be the goody-goody one. ~ Princess Margaret.
You can kid the world, but not your sister. ~ Charlotte Gray.
Female bonobos form a strong sisterhood. they rule through female solidarity. ~ Frans De Waal.
Sometimes I wonder how you put up with me. Then I remember, oh I put up with you. So we're even. ~ Unknown.
You may be as different as the sun and the moon, but the same blood flows through both your hearts. You need her, as she needs you. ~ George R.R. Martin.
If you have a sister and she dies, do you stop saying you have one? Or are you always a sister, even when the other half of the equation is gone? ~ Jodi Picoult.
Sweet is the voice of a sister in the season of sorrow. ~ Benjamin Disraeli.
No matter what, they always had each other. How did people get through life without sisters? ~ Michelle Madow.
Sweet, crazy conversations full of half sentences, daydreams and misunderstandings more thrilling than understanding could ever be. ~ Toni Morrison.
Related Quotes: Younger Sister Quotes To Show Your Love and Best Sister Quotes to Share With Your Sis
Popular Sisterhood Quotes
Is solace anywhere more comforting than that in the arms of a sister. ~ Alice Walker.
The best thing about having a sister was that I always had a friend. ~ Cali Rae Turner.
We should conjure sisterhood wherever we can. ~ Ava Duvernay.
No life's worth more than any other, no sister worth less than any brother. ~ Michael Firanti.
Sisters function as safety nets in a chaotic world simply by being there for each other. ~ Carol Saline.
I sang a song at my sister's wedding. My mother forced me into that, too. But that one felt all right. ~ Adam Sandler.
If your sister is in a tearing hurry to go out and cannot catch your eye, she's wearing your best sweater. ~ Pam Brown.
A sister is a little bit of childhood that can never be lost. ~ Marion C. Garretty.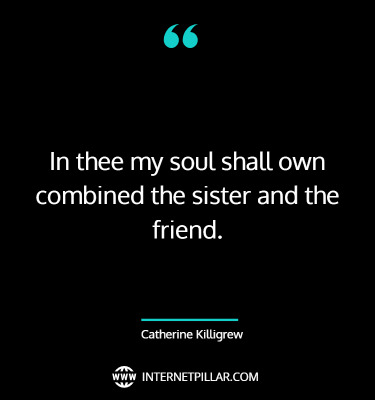 In thee my soul shall own combined the sister and the friend. ~ Catherine Killigrew.
Both within the family and without, our sisters hold up our mirrors: our images of who we are and of who we can dare to become. ~ Elizabeth Fishl.
Profound Sisterhood Quotes
The first-born in every family is always dreaming for an imaginary older brother or sister who will look out for them. ~ Bill Cosby.
I aspire to be the best sister I can be – wherever we end up – this is my heartfelt pledge of sisterhood. ~ Melanie J. Pellowski.
Our brothers and sisters are there with us from the dawn of our personal stories to the inevitable dusk. ~ Susan Scarf Merrell.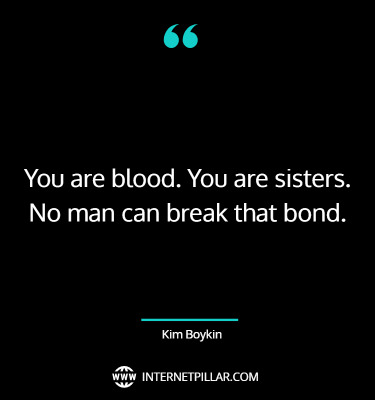 You are blood. You are sisters. No man can break that bond. ~ Kim Boykin.
We can have unity in diversity and diversity in unity. We don't have to be like one another to enjoy sisterhood. ~ Barbara W. Winder.
Women are going to form a chain, a greater sisterhood than the world has ever known. ~ Nellie L. McClung.
An older sister is a friend and defender – a listener, conspirator, a counselor and a sharer of delights. And sorrows too. ~ Pam Brown.
There is a special place in hell for women who don't help other women. ~ Madeleine Albright.
I think women are amazing and women's friendships are like a sisterhood and we should see more of it in television and film. ~ Laurie Holden.
We are sisters. We will always be sisters. Our differences may never go away, but neither, for me, will our song. ~ Elizabeth Fishel.
Top Sisterhood Quotes
Ladies and gentlemen, my mother thanks you, my father thanks you, my sister thanks you, and I thank you! ~ George M. Coran.
For there is no friend like a sister in calm or stormy weather. ~ Christina Rossetti.
Don't talk about my sister; don't play with me about my sister. If you do, you'll see another side of me.~ Beyonce.
Sisters share a bond unlike any other – thornier, but also tender, full of possibility. ~ Unknown.
A sister smiles when one tells one`s stories – for she knows where the decoration has been added. ~ Chris Montaigne.
I am a daughter, a sister, a wife and a mother. I am a friend of women and I am their advocate. ~ Carry Otis.
My sister is dyslexic, and she's so smart, so intelligent in all of the ways that matter. ~ Karin slaughter.
A sister is both your mirror and your opposite. ~ Elizabeth Fishel.
You keep your past by having sisters. As you get older, they're the only ones who don't get bored if you talk about your memories. ~ Deborah Moggach.
Because there's one thing stronger than magic: sisterhood. ~ Robin Benway.
A sister is like yourself in a different movie, a movie that stars you in a different life.~ Deborah Tannen.
There are rare people who will show up at the right time, help you through the hard times and stay into your best times… those are the keepers. ~ Nausicaa Twila.
Sisterhood is important to me. ~ Cheryl Cole.
---
So these were the 73 quotes about Sisterhood.
If these quotes and sayings connect with you, check out our other posts on good and evil quotes and emotion quotes.