Sisters are wonderful and they support and stand by their brothers through the difficult phases of life.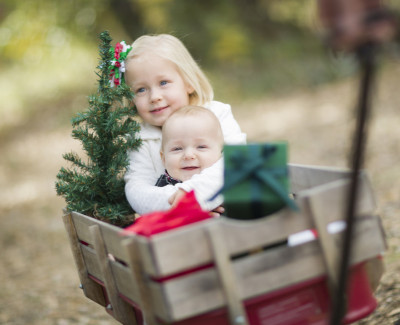 ---
Top 10 Sister Quotes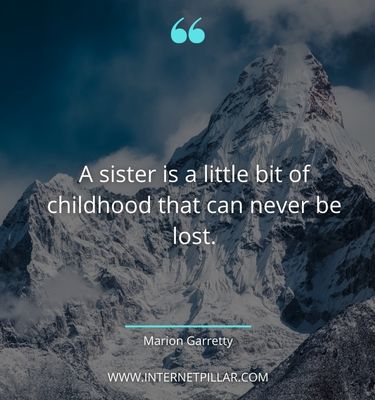 A sister is a little bit of childhood that can never be lost. ~ Marion Garretty.
You're not my best friend. You're my sister, and that's more. ~ Jenny Han.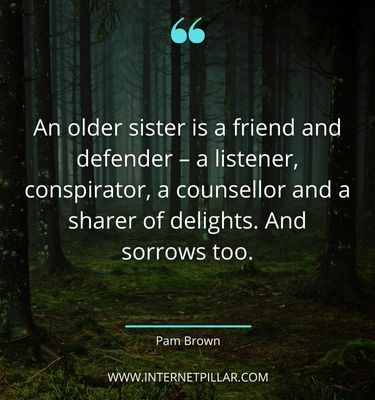 An older sister is a friend and defender – a listener, conspirator, a counsellor and a sharer of delights. And sorrows too. ~ Pam Brown.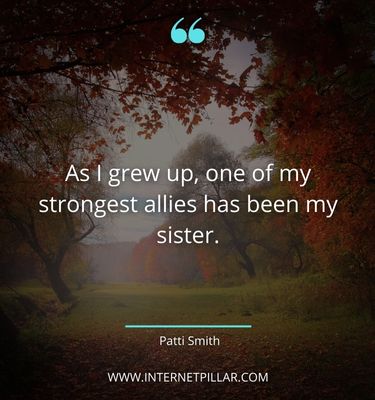 As I grew up, one of my strongest allies has been my sister. ~ Patti Smith.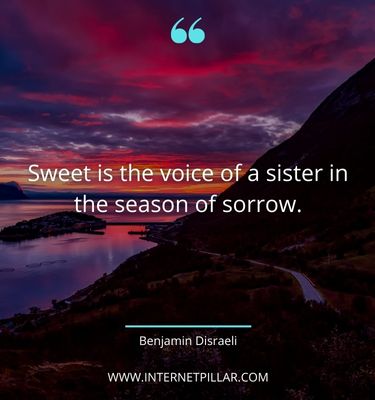 Sweet is the voice of a sister in the season of sorrow. ~ Benjamin Disraeli.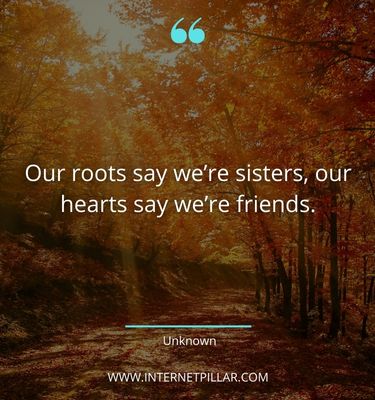 Our roots say we're sisters, our hearts say we're friends. ~ Unknown.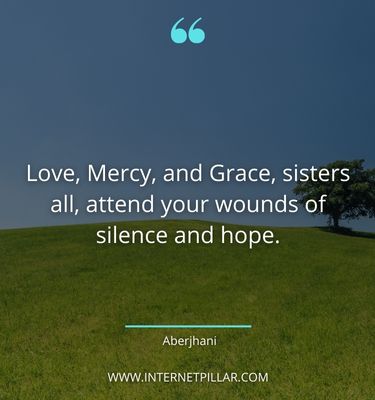 Love, Mercy, and Grace, sisters all, attend your wounds of silence and hope. ~ Aberjhani.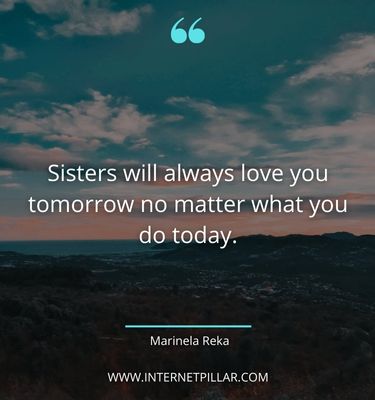 Sisters will always love you tomorrow no matter what you do today. ~ Marinela Reka.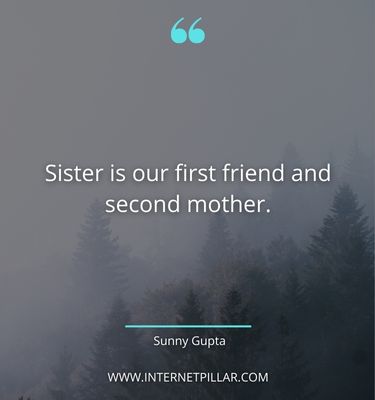 Sister is our first friend and second mother. ~ Sunny Gupta.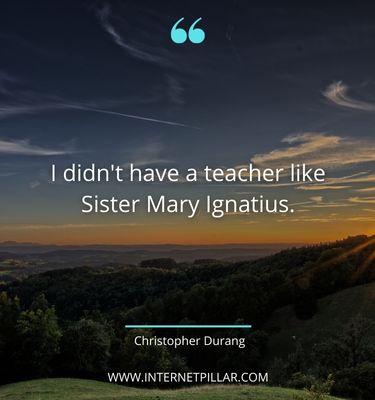 I didn't have a teacher like Sister Mary Ignatius. ~ Christopher Durang.
Best Sister Quotes | Quotes on Sisters
For there is no friend like a sister in calm or stormy weather; To cheer one on the tedious way, to fetch one if one goes astray, to lift one if one totters down, to strengthen whilst one stands. Christina Rossetti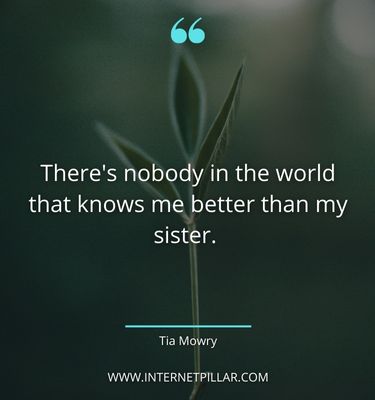 There's nobody in the world that knows me better than my sister. Tia Mowry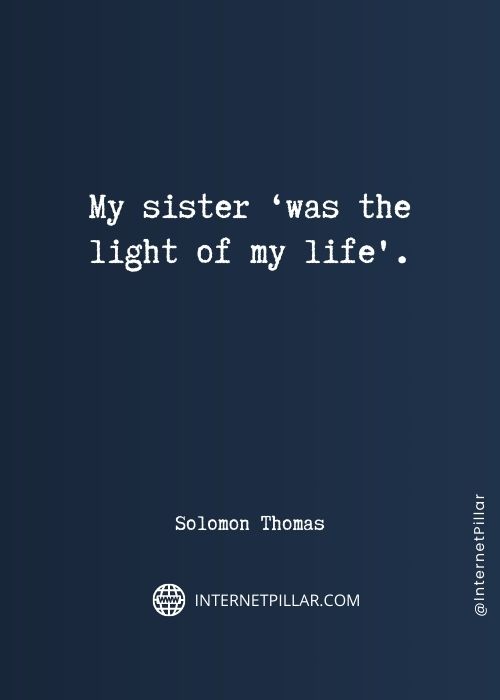 My sister 'was the light of my life'. Solomon Thomas.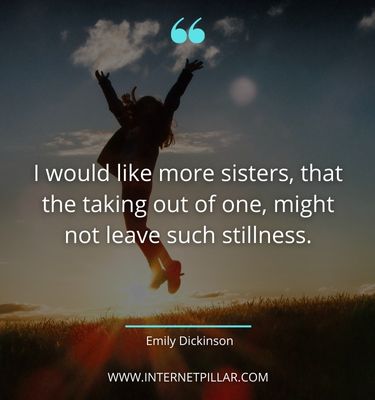 I would like more sisters, that the taking out of one, might not leave such stillness. Emily Dickinson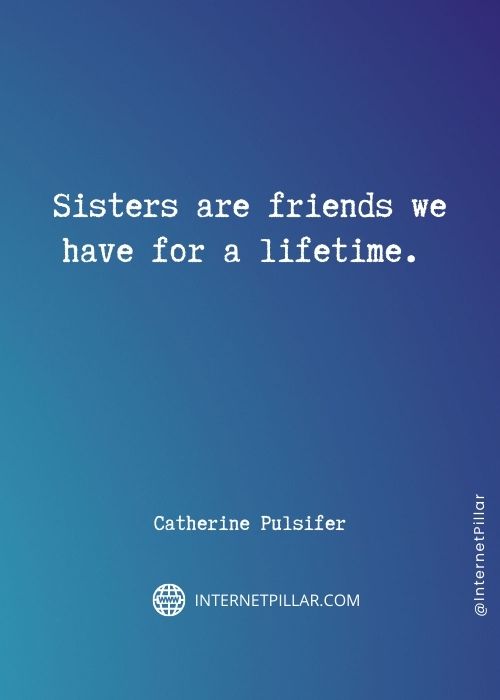 Sisters are friends we have for a lifetime. Catherine Pulsifer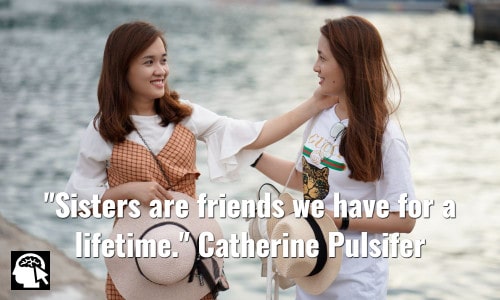 Sisters are reliably good for two things: hating and loving. Jessica Knoll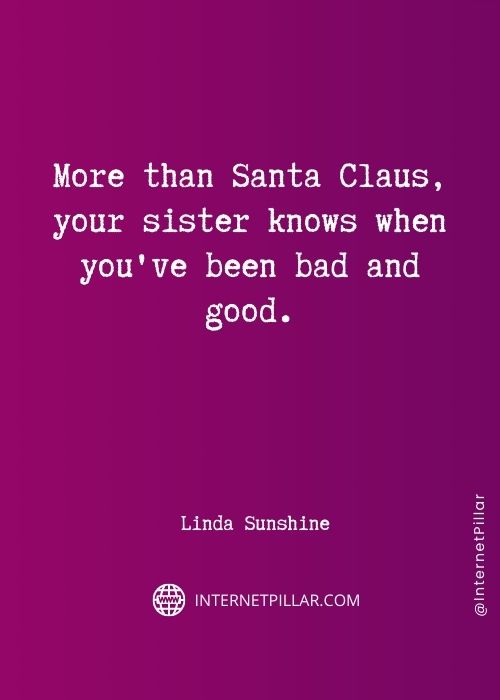 More than Santa Claus, your sister knows when you've been bad and good. Linda Sunshine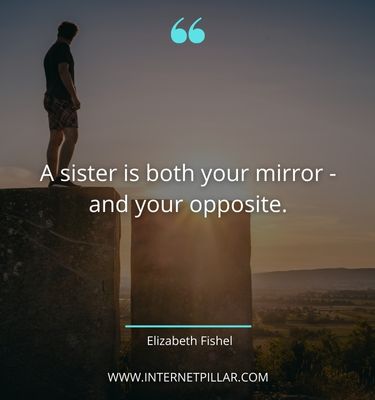 A sister is both your mirror – and your opposite. Elizabeth Fishel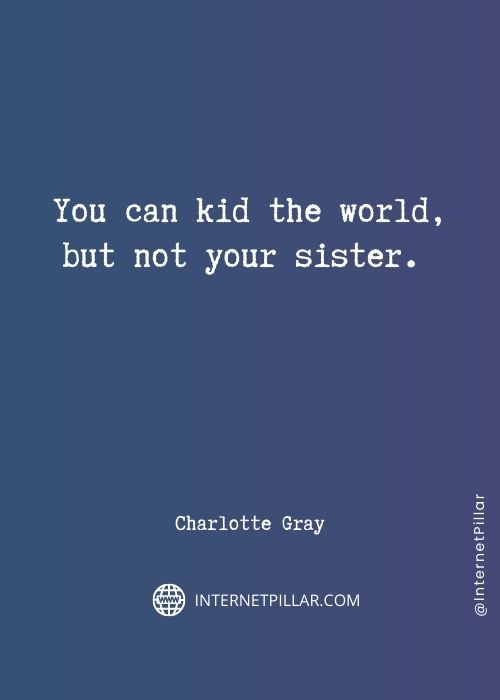 You can kid the world, but not your sister. Charlotte Gray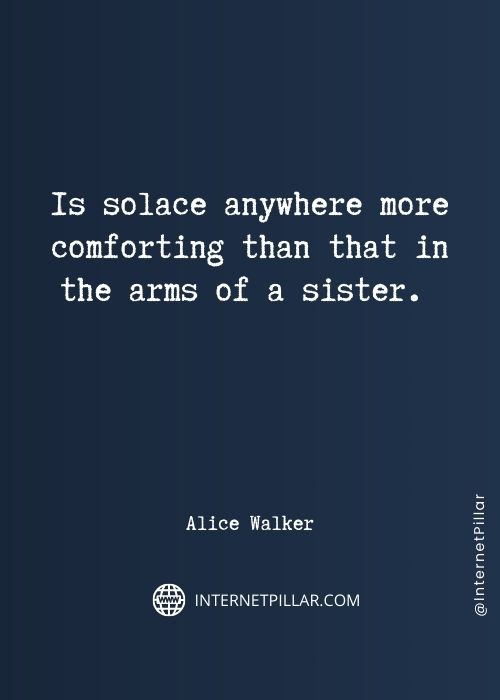 Is solace anywhere more comforting than that in the arms of a sister. Alice Walker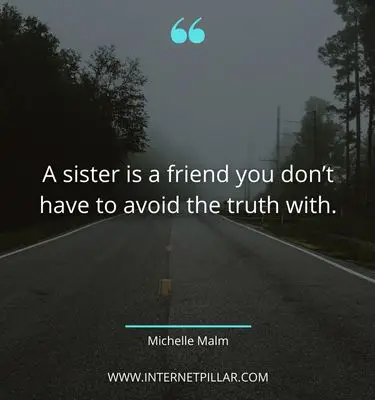 A sister is a friend you don't have to avoid the truth with. Michelle Malm
What are sisters for if not to point out the things the rest of the world is too polite to mention. Claire Cook
Sister is probably the most competitive relationship within the family, but once the sisters are grown, it becomes the strongest relationship. Margaret Mead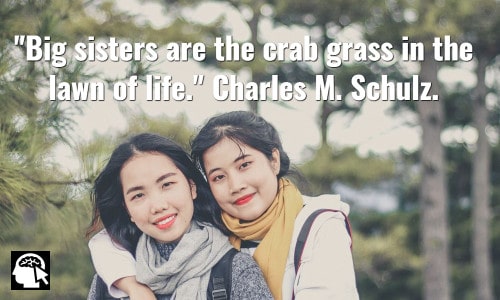 Big sisters are the crab grass in the lawn of life. ~ Charles M. Schulz.
A sister is a gift to the heart, a friend to the spirit, a golden thread to the meaning of life. Isadora James
When sisters stand shoulder to shoulder, who stands a chance against us? Pam Brown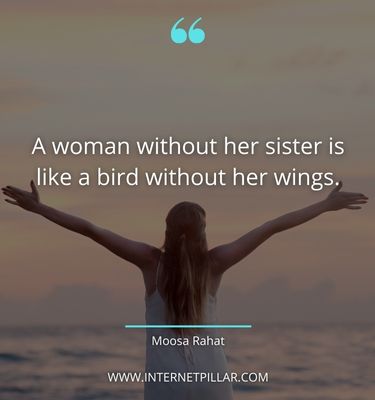 A woman without her sister is like a bird without her wings. Moosa Rahat
Nobody fights you like your own sister; nobody else knows the most vulnerable parts of you and will aim for them without mercy. Jojo Moyes.
Popular Sister Quotes
It is strange how sisters can be saviors or strangers and sometimes a bit of both. Amanda Lovelace
The best thing about having a sister was that I always had a friend. Cali Rae Turner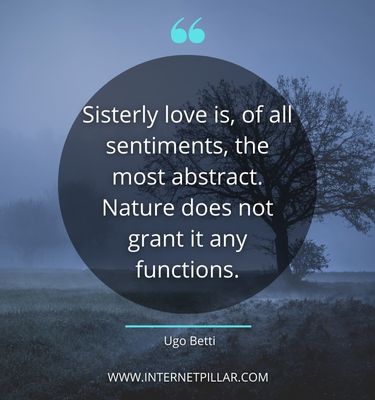 Sisterly love is, of all sentiments, the most abstract. Nature does not grant it any functions. Ugo Betti
How do people make it through life without a sister? Sara Corpening
Sisters are best friends, they are advisors, they are teachers, and best of all they are people with whom you can talk with about anything – someone you have a special bond with! Catherine Pulsifer
A sister is like yourself in a different movie, a movie that stars you in a different life. Deborah Tannen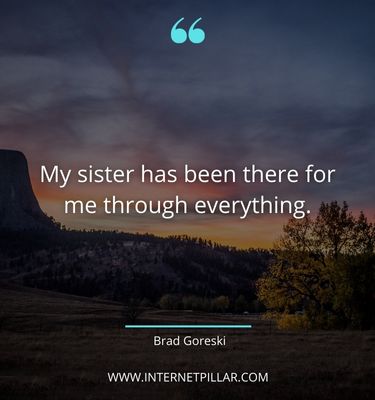 My sister has been there for me through everything. Brad Goreski
Sisters are like cats. They claw each other all the time but still snuggle up and daydream together. Unknown
Parents die, daughters grow up and marry out, but sisters are for life. Lisa Lee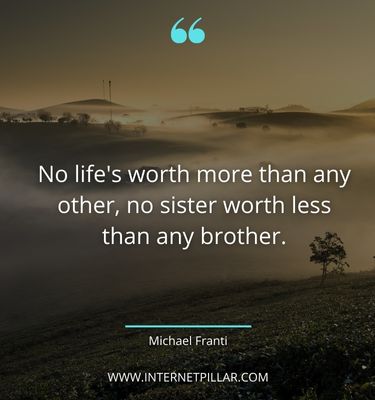 No life's worth more than any other, no sister worth less than any brother. Michael Franti
My sister and I are so close that we finish each other's sentences and often wonder who's memories belong to whom. Shannon Celebi
A sister smiles when one tells one's stories – for she knows where the decoration has been added. Chris Montaigne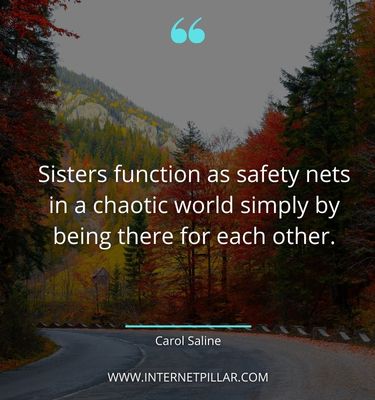 Sisters function as safety nets in a chaotic world simply by being there for each other. Carol Saline
A sister can be seen as someone who is both ourselves and very much not ourselves – a special kind of double. Toni Morrison.
Famous Sister Quotes
My sister is a big part of my actual style. Our style is not similar whatsoever, but she helped me find myself and find what I really liked. Sofia Richie
We acquire friends and we make enemies, but our sisters come with the territory. Evelyn Loeb
There can be no situation in life in which the conversation of my dear sister will not administer some comfort to me. Mary Montague
When our hair is white, we'll still have our sister love. Lisa See
Having a sister is like having a best friend you can't get rid of. You know whatever you do, they'll still be there. Amy Li
Big sisters are the crab grass in the lawn of life. Charlie Brown.
---
---
You Might Like