"Go to nature and smell the roses" is a popular phrase that urges people to take a break from their hectic life and spend some quality time in the nature to refresh and find joy.
The expression "smell the roses" is often used metaphorically to underline the need of slowing down, appreciating the beauty around us and enjoying the simple pleasures that life offers us.
Walking around a park or garden for example can offer you several mental, emotional and physical benefits.
Being in nature has been shown in studies to help reduce stress, boost mood and increase overall health.
The mere act of smelling flowers or just enjoying the sights, sounds and fragrances of nature might really offer pleasure and tranquility.
---
Best Smell the Roses Quotes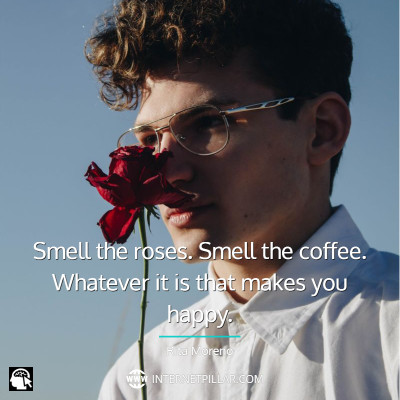 Smell the roses. Smell the coffee. Whatever it is that makes you happy. ~ Rita Moreno.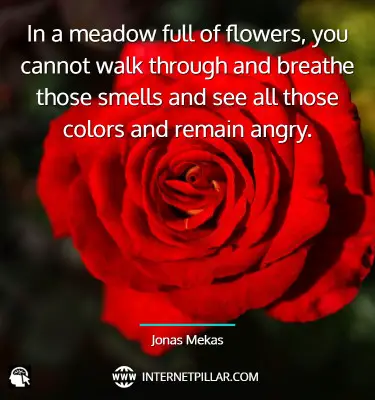 In a meadow full of flowers, you cannot walk through and breathe those smells and see all those colors and remain angry. ~ Jonas Mekas.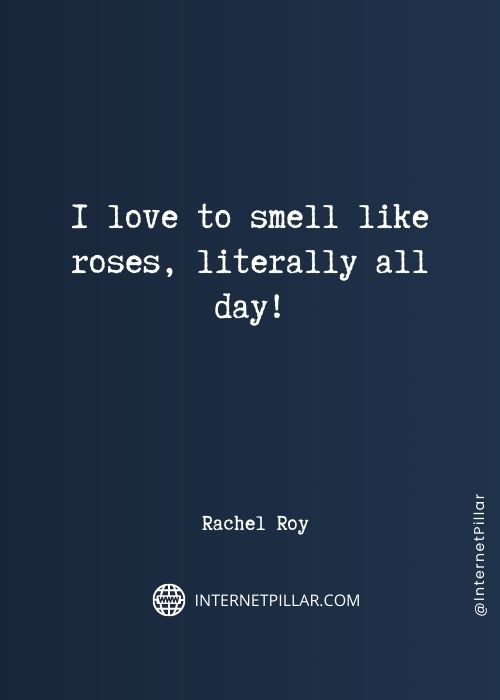 I love to smell like roses, literally all day! ~ Rachel Roy.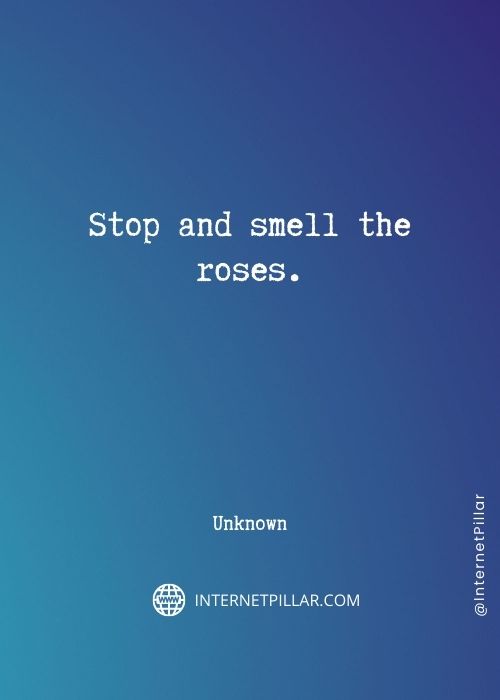 Stop and smell the roses. ~ Unknown.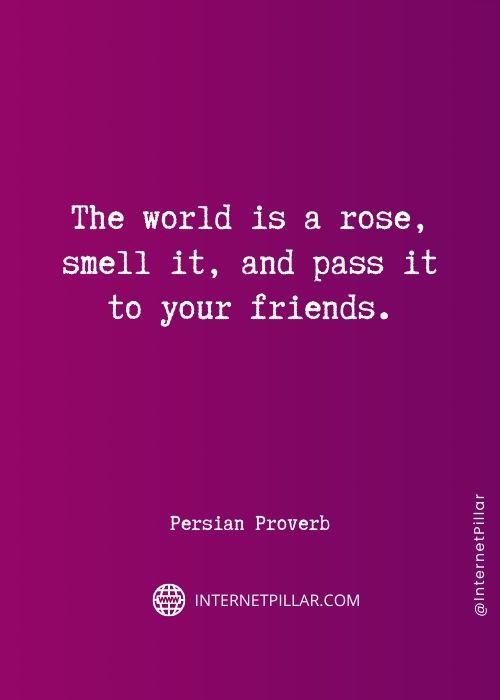 The world is a rose, smell it, and pass it to your friends. ~ Persian Proverb.
I've never really been one to stop and smell the roses. ~ Ryan Montgomery.
The beauty of life is in each precious moment! Stop and smell the roses! ~ Unknown.
I happen to be a pessimist, and maybe that's a good thing because I don't stop to smell the roses – which is not a good personal thing. I don't stop and enjoy those moments… Always on to the next and never in the moment. ~ Nicki Minaj.
Famous Smell the Roses Quotes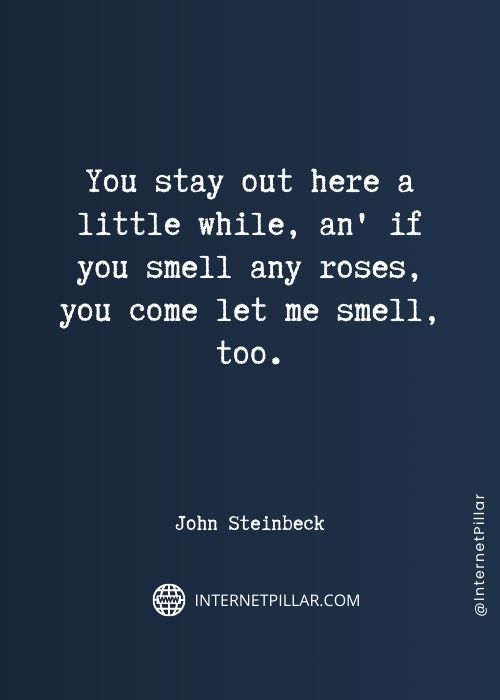 You stay out here a little while, an' if you smell any roses, you come let me smell, too. ~ John Steinbeck.
There's so much to appreciate about my life every single day, and I make a big point of taking time to smell the roses and noticing how lucky I am. I never want to take that for granted. ~ Josie Maran.
Take time to smell the roses. ~ Proverb.
It's easy to take the time to stop and smell the roses but one must be willing to give of themselves enough to also stop to admire and understand life's weeds. ~ Colleen Dougherty.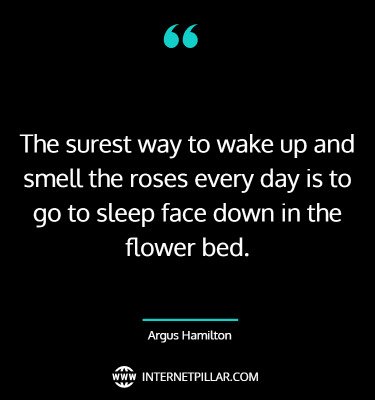 The surest way to wake up and smell the roses every day is to go to sleep face down in the flower bed. ~ Argus Hamilton.
Today, just take time to smell the roses, enjoy those little things about your life, your family, spouse, friends, job. Forget about the thorns -the pains and problems they cause you – and enjoy life. ~ Bernard Kelvin Clive.
Other Topics Quotes: 42 Sunflower Quotes and Sayings to Brighten Your Day and 35 Colors of Nature Quotes to Appreciate Beauty
Top Smell the Roses Quotes
Beauty is an ecstasy; it is as simple as hunger. There is really nothing to be said about it. It is like the perfume of a rose: you can smell it and that is all. ~ W. Somerset Maugham.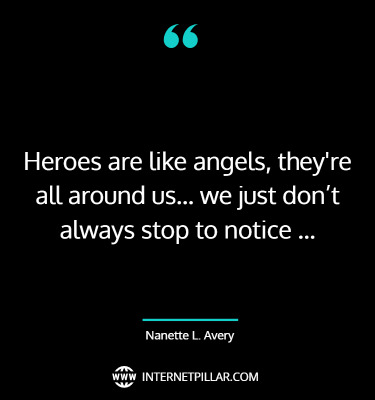 Heroes are like angels, they're all around us… we just don't always stop to notice … ~ Nanette L. Avery.
Who that has reason, and his smell, Would not among roses and jasmin dwell? ~ Abraham Cowley.
An idealist is one who, on noticing that roses smell better than a cabbage, concludes that it will also make better soup. ~ H. L. Mencken.
People tell me all the time I should stop and smell the roses, but I can't. I'm always thinking of what I can do to make what I have better and do more. ~ Eddie Trunk.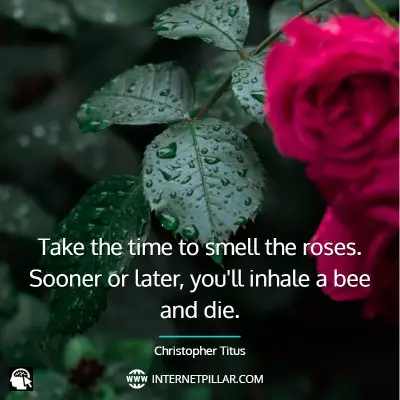 Take the time to smell the roses. Sooner or later, you'll inhale a bee and die. ~ Christopher Titus.
I feel thankful to God, first and foremost, allowing me to enjoy this 'smell the roses' kind of thing. ~ Stevie Wonder.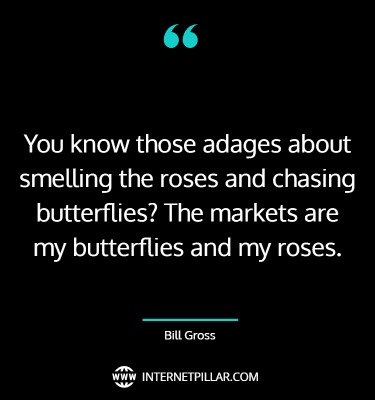 You know those adages about smelling the roses and chasing butterflies? The markets are my butterflies and my roses. ~ Bill Gross.
My girlfriend always told me, 'Send roses while they can still smell them, tell people you love them while they can still hear.' ~ Manti Te'o.
Popular Smell the Roses Quotes
Can anyone remember love? It's like trying to summon up the smell of roses in a cellar. You might see a rose, but never the perfume. ~ Arthur Miller.
A woman at the Limited once asked me, 'Why do you work?' She said, 'You made a lot of money as a young man, so why are you still working?' I had never thought about it before. Forced to consider it, I told her, 'You know why? Because I think that if you stop to smell the roses, you'll get hit by a truck.' ~ Les Wexner.
Heap not on this mound roses that she loved so well; why bewilder her with roses that she cannot see or smell. ~ Edna St. Vincent Millay.
A lot of people thought my career was over. If you're not releasing records, then something must be wrong. Either the record company doesn't like your music, or you've been dropped. It has to something negative. It's not like you wanted to take a break, or want some balance, or smell the roses. ~ Maxwell.
When I finished the trilogy of 'Pirates of the Caribbean' movies, I had a gear shift and thought, 'I need to take a moment to smell the roses.' ~ Orlando Bloom.
Profound Smell the Roses Quotes
But aesthetics is not religion, and the origins of religion lie somewhere completely different. They lie anyway, these roses smell too sweet and the deep roar of the breaking waves is too splendid, to do justice to such weighty matters now. ~ Rudolf Otto.
The money I pay for my cultural experiences came willingly from my own pocket – they were not the result of bread being removed from the mouths of the poor so that Miss Thing here could mince off to the circus smelling of roses. ~ Julie Burchill.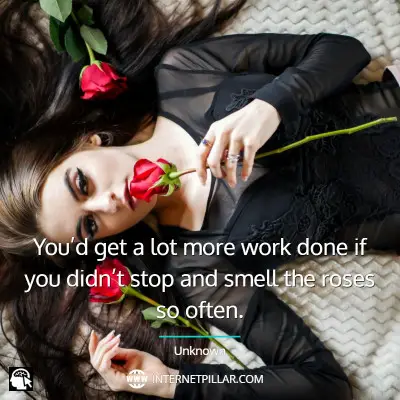 You'd get a lot more work done if you didn't stop and smell the roses so often. ~ Unknown.
It may be that which we call a rose by any other name would smell as sweet,' but I should be loath to see a rose on a maiden's breast substituted by a flower, however beautiful and fragrant it might be, that is went by the name of the skunk lily. ~ Alexander Henry.
I think I am quite wicked with roses. I like to gather them, and smell them till they have no scent left. ~ George Eliot.
Powerful Smell the Roses Quotes
Despite the weight of the world on my shoulders, the temptation to stop and smell the supernatural roses tugged on my sleeves a time or two. ~ John Corwin.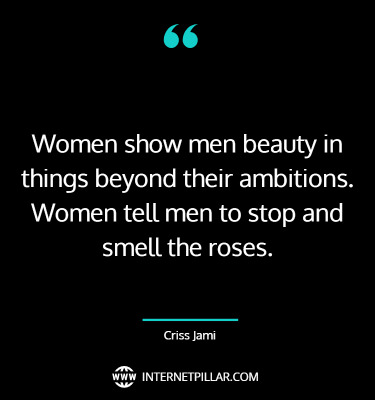 Women show men beauty in things beyond their ambitions. Women tell men to stop and smell the roses. ~ Criss Jami.
Take time to smell the roses. Appreciating the little things in life really can make all the difference. ~ Andy Puddicombe.
Out of the Slow Food movement has grown something called the Slow Cities movement, which has started in Italy but has spread right across Europe and beyond. And in this, towns begin to rethink how they organize the urban landscape so that people are encouraged to slow down and smell the roses and connect with one another. ~ Carl Honore.
Don't forget to stop and smell the roses. ~ Walter Hagen.
You're only here for a short visit. Don't hurry, don't worry. And be sure to smell the flowers along the way. ~ Walter Hagen.
I'm definitely a lash girl. I feel they are my best feature. I have tried lots of mascaras. I was drawn to Lancome Doll Lashes recently. Not only because of the name, but it smells like roses! I usually add a few coats of it for a night out. ~ Chloe Sevigny.
---
So these were the 43 top quotes about Smell the Roses.
If you like these quotes and sayings, then you can also read my other posts on Diamond and Pressure quotes and Relationship Doubts quotes.
---
Sources: