Spring is a transformative season, characterized by warming temperatures and blossoming flowers, symbolizing new beginnings and fresh hope.
Marking the end of cold, dark winter days, the arrival of spring allows us to venture outdoors again.
Regardless of the varying experiences of this season across the globe, spring universally represents a period of rejuvenation.
With snow melting, temperatures rising and the joyful sounds of birds and children playing filling the air, springtime generates a palpable excitement and uplifts spirits, including those of young learners.
Being the ideal time to engage in outdoor activities with children, it embodies renewal and revival.
This collection of spring quotes aims to inspire the maximization of this vibrant season, harnessing its essence of rebirth and rejuvenation.
---
Top 10 Spring Quotes
If winter comes, can spring be far behind? ~ Percy Bysshe Shelley.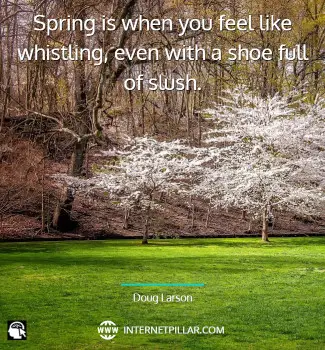 Spring is when you feel like whistling, even with a shoe full of slush. ~ Doug Larson.
Spring is when life's alive in everything. ~ Christina Rossetti.
Spring is the fountain of love for thirsty winter. ~ Munia Khan.
Spring is the time of plans and projects. ~ Leo Tolstoy.
It is spring again. The Earth is like a child that knows poems. ~ Rainer Maria Rilke.
Spring adds new life and new beauty to all that is. ~ Jessica Harrelson.
With the coming of spring, I am calm again. ~ Gustav Mahler.
Spring, when fragrance emerged from its cocoon, was her favourite time of year. ~ Mary Calvi.
Springtime is the land awakening. The March winds are the morning yawn. ~ Lewis Grizzard.
Beautiful Spring Quotes
If I had my life to live over, I would start barefoot earlier in the spring and stay that way later in the fall. ~ Nadine Stair.
Spring is the best life coach: It gives you all the energy you want, all the positive thoughts you wish and all the boldness you need! ~ Mehmet Murat ildan.
Spring is painted in daffodil yellows, robin egg blues, new grass green and the brightness of hope for a better life. ~ Toni Sorenson.
Spring makes its own statement, so loud and clear that the gardener seems to be only one of the instruments, not the composer. ~ Geoffrey B. Charlesworth.
If people did not love one another, I really don't see what use there would be in having any spring. ~ Victor Hugo.
The first day of spring is one thing, and the first spring day is another. The difference between them is sometimes as great as a month. ~ Henry Van Dyke.
Spring is nature's way of saying, 'Let's Party!' ~ Robin Williams.
Every spring is the only spring, a perpetual astonishment. ~ Ellis Peters.
In springtime, love is carried on the breeze. Watch out for flying passion and kisses whizzing by your head. ~ Emma Racine Defleur.
To be interested in the changing seasons is a happier state of mind than to be hopelessly in love with spring. ~ George Santayana.
Spring is a season of the soul to regain its strength. ~ Lailah Gifty Akita.
Spring passes and one remembers one's innocence. Summer passes and one remembers one's exuberance. Autumn passes and one remembers one's reverence. Winter passes and one remembers one's perseverance. ~ Yoko Ono.
Lovely Spring Quotes
Spring's greatest joy beyond a doubt is when it brings the children out. ~ Edgar Guest.
Science has never drummed up quite as effective a tranquilizing agent as a sunny spring day. ~ W. Earl Hall.
I glanced out the window at the signs of spring. The sky was almost blue, the trees were almost budding, the sun was almost bright. ~ Millard Kaufman.
Nostalgia in reverse, the longing for yet another strange land, grew especially strong in spring. ~ Vladimir Nabokov.
It's spring again. I can hear the birds sing again. See the flowers start to bud. See young people fall in love. ~ Lou Rawls.
If winter did not exist, the spring would not be so pleasant. ~ Davan Yahya Khalil.
Where flowers bloom so does hope. ~ Lady Bird Johnson.
I hear the passing echoes of winter and feel the warming spring on my face. ~ Terri Guillemets.
Related: July Quotes to Inspire Your Summer Season Hottest Month and Seasons Change Quotes to Welcome New Seasons
Inspirational Spring Quotes
Spring is the time of the year when it is summer in the sun and winter in the shade. ~ Charles Dickens.
The beautiful spring came, and when nature resumes her loveliness, the human soul is apt to revive also. ~ Harriet Ann Jacobs.
But only a person in the depths of despair neglected to look beyond winter to the spring that inevitably followed, bringing back color and life and hope. ~ Mary Balogh.
It is spring again. The earth is like a child that knows poems by heart. ~ Rainer Maria Rilke.
April is the kindest month. April gets you out of your head and out working in the garden. ~ Marty Rubin.
Never yet was a springtime, when the buds forgot to bloom. ~ Margaret Elizabeth Sangster.
The blooming spring is the smile of the ever-joyful nature. ~ Debasish Mridha.
The promise of spring's arrival is enough to get anyone through the bitter winter! ~ Jen Selinsky.
Yes, I deserve a spring – I owe nobody nothing. ~ Virginia Woolf.
Best Spring Quotes
I enjoy the spring more than the autumn now. One does, I think, as one gets older. ~ Virginia Woolf.
Spring will come and so will happiness. Hold on. Life will get warmer. ~ Anita Krizzan.
I suppose the best kind of spring morning is the best weather God has to offer. ~ Dodie Smith.
At the best of times, spring hurts depressives. ~ Angela Carter.
In the spring, I have counted 136 different kinds of weather inside of 24 hours. ~ Mark Twain.
Can words describe the fragrance of the very breath of spring? ~ Neltje Blanchan.
Despite the forecast, live like it's spring. ~ Lilly Pulitzer.
The day the Lord created hope was probably the same day he created Spring. ~ Bernard Williams.
A perfect spring day! Enjoy it while it lasts because you don't know what's coming. ~ Marty Rubin.
The first blooms of spring always make my heart sing. ~ S. Brown.
Famous Spring Quotes
Spring shows what God can do with a drab and dirty world. ~ Virgil A. Kraft.
Spring work is going on with joyful enthusiasm. ~ John Muir.
I love spring anywhere, but if I could choose I would always greet it in a garden. ~ Ruth Stout.
That is one good thing about this world… there are always sure to be more springs. ~ L. M. Montgomery.
April prepares her green traffic light and the world thinks 'Go.' ~ Christopher Morley.
I want to do to you what spring does with the cherry trees. ~ Pablo Neruda.
No matter how long the winter, spring is sure to follow. ~ English Proverb.
An optimist is the human personification of spring. ~ Susan J. Bissonette.
Spring won't let me stay in this house any longer! I must get out and breathe the air deeply again. ~ Gustav Mahler.
The earth laughs in flowers. ~ Ralph Waldo Emerson.
The deep roots never doubt spring will come. ~ Marty Rubin.
Inspiring Spring Quotes
If you've never been thrilled to the very edges of your soul by a flower in spring bloom, maybe your soul has never been in bloom. ~ Audra Foveo.
People ask me what I do in winter when there's no baseball. I'll tell you what I do. I stare out the window and wait for spring. ~ Roger Hornsby.
You can cut all the flowers but you cannot keep Spring from coming. ~ Pablo Neruda.
You make me feel so young, you make me feel so Spring has sprung. ~ Frank Sinatra,.
The flowers of late winter and early spring occupy places in our hearts well out of proportion to their size. ~ Gertrude Wister.
Spring unlocks the flowers to paint the laughing soil. ~ Bishop Reginald Heber.
In the spring, at the end of the day, you should smell like dirt. ~ Margaret Atwood.
If we had no winter, the spring would not be so pleasant: if we did not sometimes taste adversity, prosperity would not be so welcome. ~ Anne Bradstreet.
---
---
So these were the 72 quotes about Spring season.
If you like these quotes and sayings, then you can also read my other popular blog posts on the topics of Meditation quotes and Monday Motivational quotes.