Each season has its own distinct character, and we can learn a lot from the natural cycles.
Just as trees lose their leaves in the autumn and flowers blossom in the spring, we must adjust to the changes that each new season brings.
Let's look at some of the best quotes about seasons change.
---
Top 10 Seasons Change Quotes
Seasons change and so do we. ~ Unknown.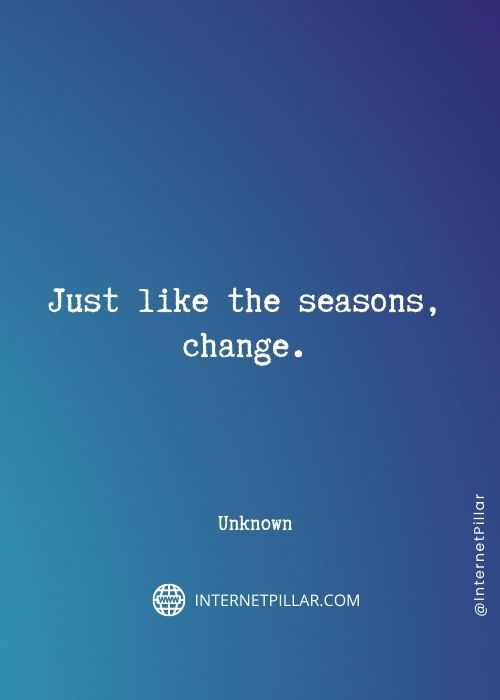 Just like the seasons, change. ~ Unknown.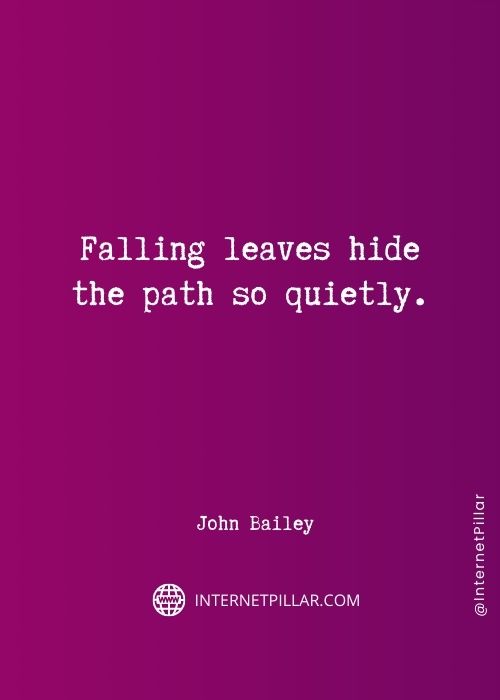 Falling leaves hide the path so quietly. ~ John Bailey.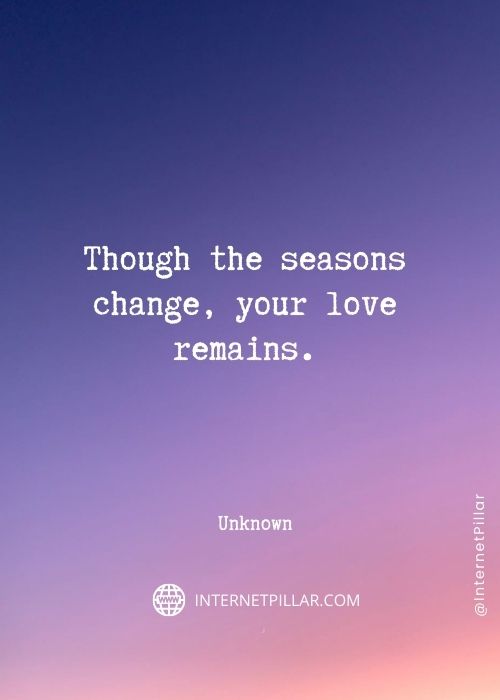 Though the seasons change, your love remains. ~ Unknown.
With the changing seasons comes new beginnings. ~ Unknown.
Look to the season when choosing your cures. ~ Hippocrates.
There is purpose in your season of waiting. ~ Megan Smalley.
In seed time learn, in harvest teach, in winter enjoy. ~ William Blake.
For one it's the change of seasons, for another, it's the season of change. ~ Unknown.
See stars in the changing season and dance among them, shining. ~ Mary Anne Radmacher.
Also read: Winter Quotes and Summer Quotes.
Short Seasons Change Quotes
Autumn arrives in early morning, but spring at the close of a winter day. ~ Elizabeth Bowen.
Be aware of what season you are in and give yourself the grace to be there. ~ Kristen Dalton.
As the seasons change so do we. May we be aware we are shifting just like the wind. ~ Unknown.
The fires burn and the kettles sing, and earth sinks to rest until next spring. ~ Clyde Watson.
It was early summer. And everything, as it always does, began to heave and change. ~ Helen Garner.
Best Seasons Change Quotes
Seasons change and so do people. But seasons do come back every year. But never do people. ~ Unknown.
We cannot change the circumstances, the seasons, or the wind, but we can change ourselves. ~ Unknown.
I think my favorite thing about seasons changing is the opportunity to look different. ~ Taylor Swift.
In the fall, I believe again in poetry, if nothing else it is a movement of the mind. ~ Jaakko A, Ahokas.
I like to think that to one in sympathy with nature, each season, in turn, seems the loveliest. ~ Mark Twain.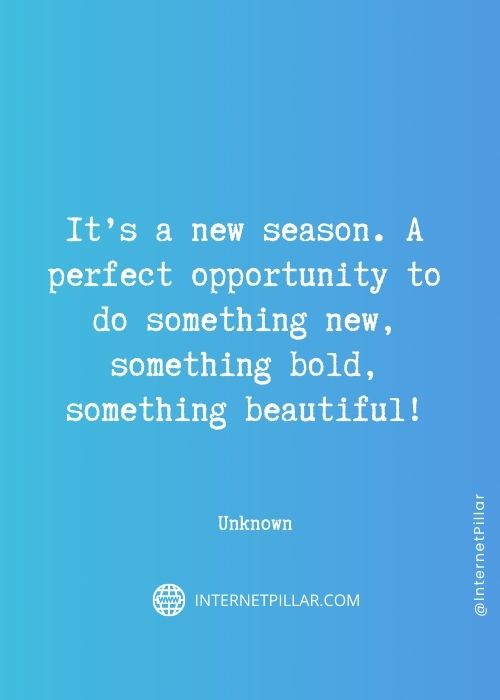 It's a new season. A perfect opportunity to do something new, something bold, something beautiful! ~ Unknown.
Also read: Bratz Quotes on Friendship and Kansas Quotes and Motivational Quotes for Students.
Quotes about Seasons Change
Seasons change, people grow together and apart, life moves on. You will be okay, embrace it. ~ Alexandra Elle.
And all the lives we ever lived and all the lives to be are full of trees and changing leaves. ~ Virginia Wolf.
I wonder how it is that people's philosophies have come to spin faster than the changing seasons. ~ Masanobu Fukuoka.
The seasons change their manners, as the year had found some months asleep and leapt them over. ~ William Shakespeare.
Inspirational Quotes About Changing Seasons
Winter is an etching, spring a watercolor, summer an oil painting, and autumn a mosaic of them all. ~ Stanley Horowitz.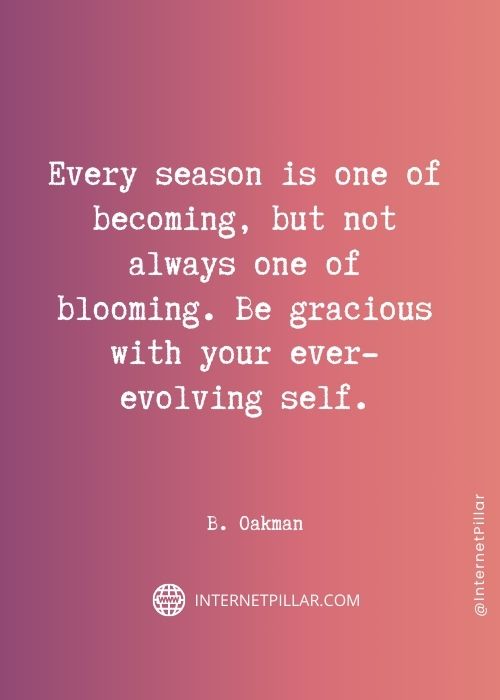 Every season is one of becoming, but not always one of blooming. Be gracious with your ever-evolving self. ~ B. Oakman.
Appreciate where you are in your journey, even if it's not where you want to be. Every season serves a purpose. ~ Unknown.
Expect to have hope rekindled. The dry seasons in life do not last. The spring rains will come again. ~ Sarah Ban Breathnach.
Seasons Change Quotes To Inspire Seasons Of Life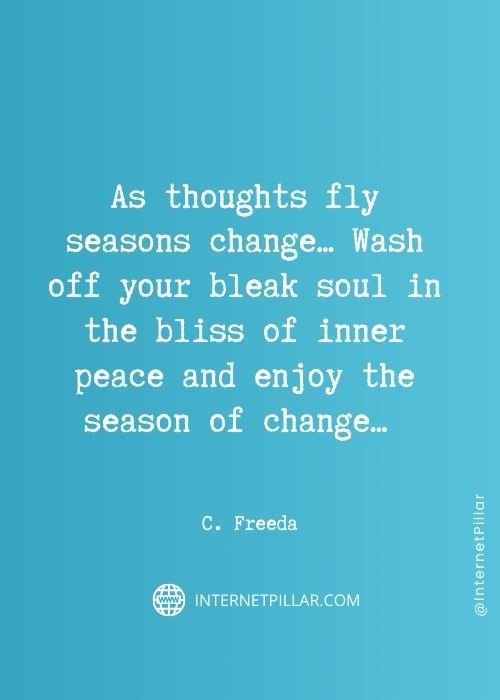 As thoughts fly seasons change… Wash off your bleak soul in the bliss of inner peace and enjoy the season of change… ~ C. Freeda.
Each new season grows from the leftovers from the past. That is the essence of change, and change is the basic law. ~ Hal Borland.
To be interested in the changing seasons is a happier state of mind than to be hopelessly in love with spring. ~ George Santayana.
The leaves fall, the wind blows, and the farm country slowly changes from the summer cottons into its winter woods. ~ Henry Beston.
Also read: Rays of Light Quotes and Aesthetic Quotes to Appreciate Your Life and Yoga Quotes to Celebrate Your Body and Mind.
Seasons Change Quotes
While waiting for things to change, don't be discontent with where you are. Learn to enjoy the season that you're in. ~ Joel Osteen.
Live each season as it passes; breathe the air, drink the drink, taste the fruit, and resign yourself to the influences of each. ~ Henry David Thoreau.
Or maybe spring is the season of love and fall the season of mad lust. Spring for flirting but fall for the untamed delicious wild thing. ~ Elizabeth Cohen.
The seasons change and you change, but the Lord abides evermore the same, and the streams of His love are as deep, as broad and as full as ever. ~ Charles Spurgeon.
---
---
So these were the 37 Quotes about Seasons Change.
If you like these quotes, then you can also read our other posts on Gift of Life Quotes and Priority Quotes and Seasons of Life Quotes.
References and Sources: