Winning is a feeling that many people describe as euphoric.
Winning can come in many different forms, such as winning a game, winning a race, or winning a battle.
Winning can give people a sense of accomplishment and can make them feel on top of the world.
Some people become addicted to the feeling of winning, and they will do whatever it takes to win.
Winning can also lead to fame and fortune. Many people dream of becoming a winner, and some people will do whatever it takes to achieve their goals.
I have curated some of the best 'Winning' quotes, sayings and captions for you to read and share with others.
---
Winning Quotes
If I persist long enough I will win. ~ Og Mandino.
If winning isn't everything, why do they keep score? ~ Vince Lombardi.
It's not whether you win or lose, it's how you play the game. ~ Grantland Rice.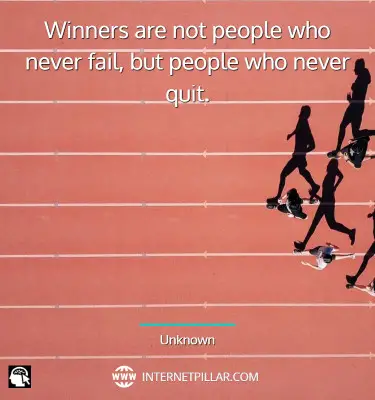 Winners are not people who never fail, but people who never quit. ~ Unknown.
Born to lose. Live to win. ~ Lemmy Kilmister.
Not all dreamers are winners, but all winners are dreamers. Your dream is the key to your future. ~ Mark Gorman.
Winners train, losers complain. ~ Unknown.
The future is ours to win. But to get there we can't just stand still… ~ Barack Obama.
You were born to win, but to be a winner, you must plan to win, prepare to win, and expect to win. ~ Zig Ziglar.
You've got to get to the stage in life where going for it is more important than winning or losing. ~ Arthur Ashe.
Winners are ordinary people with extraordinary heart. ~ Unknown.
Persistence is the quality of winners. Successful people never never give up. ~ Lynda Field.
Inspiring Winning Quotes
Winning is when you do something that makes you the best at what you are doing. Winning can make you feel happy and proud because you know that you did your best.
Winners don't wait for chances, they take them. ~ Unknown.
You will win if you don't quit. ~ Les Brown.
Monsters are real, and ghosts are real too. They live inside us, and sometimes, they win. ~ Stephen King.
The person that works the hardest wins. ~ Will Smith.
I was born to race and to win. ~ Lewis Hamilton.
I am not designed to come second or third. I am designed to win. ~ Ayrton Senna.
To winners, nothing seems unpleasant. ~ William Shakespeare.
Remember that it is not the lawyer who knows the most law, but the one who best prepares his case, who wins. ~ Napoleon Hill.
The critics are always right. The only way you shut them up is by winning. ~ Chuck Noll.
To win any battle, you must fight as if you are already dead. ~ Miyamoto Musashi.
Winning solves everything. ~ Tiger Woods.
Winning is fun… Sure. But winning is not the point. Wanting to win is the point. ~ Pat Summit.
Winning Quotes by Winners
Being a winner boils down to understanding how to develop as a person while maintaining healthy, happy relationships. The greatest approach to do this is to live a fulfilling life full of love and optimism. In your everyday existence, make an effort to create healthy attitudes, relationships, and habits.
It's not over until you win. ~ Les Brown.
History is written by winners. ~ Napoleon Bonaparte.
The person that said winning isn't everything, never won anything. ~ Mia Hamm.
I would tell players to relax and never think about what's at stake. Just think about the basketball game. If you start to think about who is going to win the championship, you've lost your focus. ~ Michael Jordan.
Winning isn't getting ahead of others. It's getting ahead of yourself. ~ Roger Staubach.
Success is not a sometimes thing. In other words, you don't do what is right once in awhile, but all the time. Success is a habit. Winning is a habit. ~ Vince Lombardi.
I think whether you're having setbacks or not, the role of a leader is to always display a winning attitude. ~ Colin Powell.
Winning takes precedence over all. There's no gray area. No almosts. ~ Kobe Bryant.
The determination to win is the better part of winning. ~ Daisaku Ikeda.
Obstacles are challenges for winners and excuses for losers. ~ M. E. Kerr.
You learn more from losing than winning. You learn how to keep going. ~ Morgan Wooten.
Winners must learn to relish change with the same enthusiasm and energy that we have resisted it in the past. ~ Tom Peters.
Famous Winning Quotes
No one is born a winner. Winners are made, and the first step is having the right mindset. Winners have grit, they never give up, and they always find a way to win.

They also have a positive outlook on life and believe that anything is possible. Lastly, winners are always learning and constantly growing. If you want to be a winner, start by adopting the mindset of a winner.
Show me a gracious loser and I'll show you a failure. ~ Knute Rockne.
Everyone Has A Will To Win But Very Few Have The Will To Prepare To Win. ~ Vince Lombardi.
Sometimes you win, sometimes you learn. ~ Robert T. Kiyosaki.
I play to win, whether during practice or a real game. ~ Michael Jordan.
Winning isn't everything, but it beats anything that comes in second. ~ Paul Bryant.
Winners are those that convert problems into opportunities. ~ Unknown.
It's not the will to win that matters – everyone has that. It's the will to prepare to win that matters. ~ Paul Bryant.
I just think winners win. And guys who won all the way through high school and college, the best player at every level, they have a way of making things happen and winning games. ~ Tony Dungy.
Oh the places you'll go! There is fun to be done! There are points to be scored. There are games to be won. And the magical things you can do with that ball will make you the winning-est winner of all. ~ Dr. Seuss.
A quitter never wins and a winner never quits. ~ Napoleon Hill.
Winning is not a sometime thing; it's an all the time thing. ~ Vince Lombardi.
When I was younger I was taught that a winner never quits, and a quitter never wins. ~ Angie Stone.
The rich are those who play to win. The middle class plays not to lose. ~ Robert T. Kiyosaki.
Best Winning Quotes
If you want to be successful in life, it's important to win. Winning means accomplishing your goals, and it can give you the confidence and motivation you need to keep going. Losing can sometimes make people feel down, so it's important to try your best and win as often as possible.
A champion is afraid of losing. Everyone else is afraid of winning. ~ Billie Jean King.
A champion needs a motivation above and beyond winning. ~ Pat Riley.
You will never change your life until you change something you do daily. The secret of your success is found in your daily routine. ~ John C. Maxwell.
When you win, say nothing. When you lose, say less. ~ Paul Brown.
I love the winning, I can take the losing, but most of all I just love to play. ~ Boris Becker.
You win battles by knowing the enemy's timing, and using a timing which the enemy does not expect. ~ Miyamoto Musashi.
Winning is great, sure, but if you are really going to do something in life, the secret is learning how to lose. ~ Wilma Rudolph.
Never play with the feelings of others. Because you may win the game but the risk is that you will surely lose the person for a lifetime. ~ William Shakespeare.
Winning is the most important thing in my life, after breathing. Breathing first, winning next. ~ George Steinbrenner.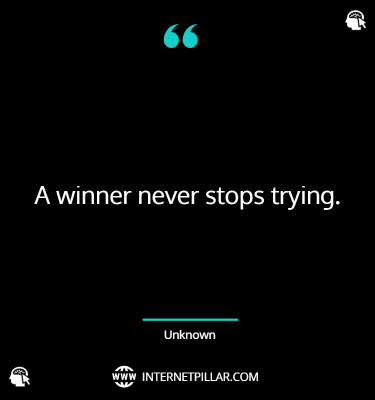 A winner never stops trying. ~ Unknown.
The real glory is being knocked to your knees and then coming back. That's real glory. That's the essence of it. ~ Vince Lombardi.
To win you have to risk loss. ~ Jean-Claude Killy.
Inspirational Winning Quotes
When you win a game or contest, you are the one who did the best. You may have won because you were the fastest, or because you had the most points. But either way, you are the one who came out on top. Winning is a good feeling, because it means that you did your best and succeeded.
If you think you are beaten, you are. If you think you dare not, you don't. If you'd like to win, but you think you can't, it is almost a cinch that you won't. ~ Walter D. Wintle.
When you move your focus from competition to contribution, life becomes a celebration. Never try to defeat people, just win their hearts. ~ Buddha.
They never said winning was easy. ~ DJ Khaled.
Success is almost totally dependent upon drive and persistence. The extra energy required to make another effort or try another approach is the secret of winning. ~ Denis Waitley.
Winning is something that builds physically and mentally every day that you train and every night that you dream. ~ Emmitt Smith.
You sleep on a win and you'll wake up with a loss. ~ Conor McGregor.
All I cared about in tennis was winning. ~ Pete Sampras.
Courage is the discovery that you may not win, and trying when you know you can lose. ~ Tom Krause.
Winning isn't everything, but wanting it is. ~ Arnold Palmer.
Don't let the fear of losing be greater than the excitement of winning. ~ Robert T. Kiyosaki.
You can't win unless you learn how to lose. ~ Kareem-Abdul Jabbar.
Losing feels worse than winning feels good. ~ Vin Scully
Winning once or twice is encouraging, but winning continuously is empowering. ~ Rosabeth Moss Kanter.
You're not obligated to win. You're obligated to keep trying. To the best you can do everyday. ~ Jason Mraz.
Motivational Winning Quotes
In life, it is important to win because winning means you are the best at something. Winning can mean you are the best at a sport, or you can be the best at your job. When you are the best, you get to be in charge and people look up to you. You also get to have more money and things than other people.
Don't just accept whatever comes your way in life. You were born to win; you were born for greatness; you were created to be a champion in life. ~ Joel Osteen.
If you think and achieve as a team, the individual accolades will take care of themselves. Talent wins games, but teamwork and intelligence win championships. ~ Michael Jordan.
Trust me I never lose. Either I win or learn from it. ~ Tupac Shakur.
Winning doesn't always mean being first. Winning means you're doing better than you've ever done before. ~ Bonnie Blair.
Vulnerability is not about winning, and it's not about losing. It's about having the courage to show up and be seen. ~ Brené Brown.
Too many people want the appearance of winning rather than the practices and hard work that create a true champion. ~ T.D. Jakes.
Powerful Winning Quotes
I'm never tired of winning, and I'm never tired of skiing. ~ Lindsey Vonn.
Wanting to win isn't enough. You have to go through a process to improve. That takes patience, perseverance, and intentionality. ~ John C. Maxwell.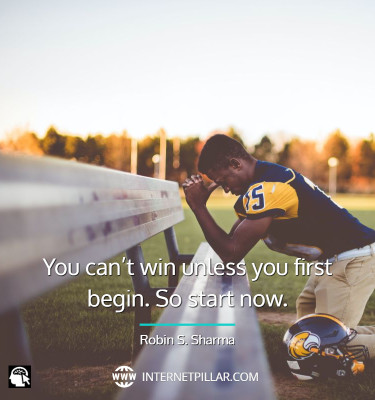 You can't win unless you first begin. So start now. ~ Robin S. Sharma.
The key is not the will to win… everybody has that. It is the will to prepare to win that is important. ~ Bobby Knight.
The only reason a warrior is alive is to fight, and the only reason a warrior fights is to win. ~ Miyamoto Musashi.
Always imitate the behavior of the winners when you lose. ~ George Meredith.
The only way to win is to fight on the side of your adversaries. ~ Francis Picabia.
---
Why not watch this powerful video on winning.
---
So these were the 90 quotes about Winning.
If you like these quotes and sayings, then you can also read my other popular blog posts on the topics of Philosophical quotes and Life is Short quotes and Victory quotes.
You are welcome to share these best quotes, sayings and phrases with your friends and family on social media platforms such as (Facebook, Twitter, Instagram, WhatsApp, and Pinterest).