Here is a collection of the top Successful Women Quotes on Strength and Leadership.
Successful women have made their mark not only in their homes but also in leading nations, fighting for human rights and helming key organizations worldwide.
You will find inspirational quotes from renowned women leaders, aimed to inspire readers in their personal and professional pursuits.
Despite historically uneven playing fields, women have boldly defied the odds to excel in diverse fields like athletics, astronomy, entertainment, business and politics.
The carefully curated quotes serve as a beacon of inspiration, especially during challenging times, encouraging the reader to channel their inner 'boss lady' and persist with determination.
---
Inspirational Successful Women Quotes
Women are the largest untapped reservoir of talent in the world. ~ Hilary Clinton.
Every woman has the right to be beautiful. ~ Elizabeth Arden.
Never give up, for that is just the place and time that the tide will turn. ~ Harriet Beecher Stowe.
The most successful entrepreneurs I know are optimistic. It's part of the job description. ~ Caterina Fake.
If you don't like being a doormat then get off the floor. ~ Al Anon.
I attribute my success to this: I never gave or took an excuse. ~ Florence Nightingale.
A confident woman, a woman who truly knows her worth and her power is a force to be reckoned with. ~ Mandy Hale.
I think a woman who is successful is critiqued more harshly than a man is critiqued. ~ Susan Stroman
Success isn't about how much money you make, it's about the difference you make in people's lives. ~ Michelle Obama.
It took me quite a long time to develop a voice, and now that I have it, I am not going to be silent. ~ Madeleine Albright.
As an entrepreneur, you can always find a solution if you try hard enough. ~ Lori Greiner.
One of the most courageous things you can do is identify yourself, know who you are, what you believe in and where you want to go. ~ Sheila Murray Bethel.
Life is not easy for any of us. But what of that? We must have perseverance and above all confidence in ourselves. We must believe that we are gifted for something and that this thing must be attained. ~ Marie Curie.
If you look at what you have in life, you'll always have more. If you look at what you don't have in life, you'll never have enough. ~ Oprah Winfrey.
Powerful Successful Women Quotes
Whenever you see a successful woman, look out for three men who are going out of their way to try to block her. ~ Yulia Tymoshenko.
Courage allows the successful woman to fail and to learn powerful lessons from the failure so that in the end, she didn't fail at all. ~ Maya Angelou.
To all the little girls who are watching, never doubt that you are valuable and powerful and deserving of every chance and opportunity in the world to pursue and achieve your own dreams. ~ Hillary Clinton.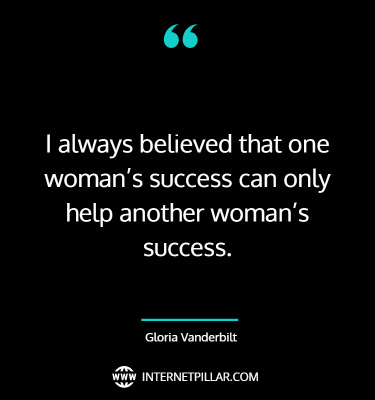 I always believed that one woman's success can only help another woman's success. ~ Gloria Vanderbilt.
A successful man is one who makes more money than his wife can spend. A successful woman is one who can find such a man. ~ Lana Turner.
Related: 92 Independent Women Quotes for Strong Women and 110+ Strong Women Quotes to Inspire Courage and Resilience
Best Successful Women Quotes
I always did something I was a little not ready to do. I think that's how you grow. When there's that moment of 'Wow, I'm not really sure I can do this,' and you push through those moments, that's when you have a breakthrough. ~ Marissa Mayer.
You get what you give. What you put into things is what you get out of them. ~ Jennifer Lopez.
I know God will not give me anything I can't handle. I just wish that He didn't trust me so much. ~ Mother Teresa.
Don't waste a single second. Just move forward as fast as you can, and go for it. ~ Rebecca Woodcock.
Never give up, for that is just the place and time that the tide will turn. ~ Harriet Beecher. Stowe.
There are no limitations on what's possible. ~ Jessica Alba.
Motivational Successful Women Quotes
You are more powerful than you know; you are beautiful just as you are. ~ Melissa Etheridge.
Work smart. Get things done. No nonsense. Move fast. ~ Susan Wojcicki.
Success is most often achieved by those who don't know that failure is inevitable. ~ Coco Chanel.
Life is not easy for any of us. But what of that? We must have perseverance and above all confidence in ourselves. We must believe that we are gifted for something and that this thing must be attained. ~ Marie Curie.
Lean in, speak out, have a voice in your organization, and never use the word, 'sorry'. ~ Trish Bertuzzi.
I never dreamed about success. I worked for it. ~ Estee Lauder.
Happiness is the gradual realization of a worthy ideal or goal. ~ Florence Nightingale.
Only do what your heart tells you. ~ Princess Diana.
Really take the time to focus on finding your voice and making sure that whatever you're creating is of high quality and is useful for people in their everyday lives. ~ Brit Morin.
Top Successful Women Quotes
I am not afraid, I was born to do this. ~ Joan Of Arc.
If this is something that you really want to do, if you believe in it, simply keep forging forward because success will come. ~ Cassandra Sanford.
Passion is energy. Feel the power that comes from focusing on what excites you. ~ Oprah Winfrey.
The question isn't who's going to let me; it's who is going to stop me. ~ Ayn Rand.
The thing women have yet to learn is nobody gives you power. You just take it. ~ Roseanne Barr.
I, with a deeper instinct, choose a man who compels my strength, who makes enormous demands on me, who does not doubt my courage or my toughness, who does not believe me naïve or innocent, who has the courage to treat me like a woman. ~ Anais Nin.
I don't believe in guilt, I believe in living on impulse as long as you never intentionally hurt another person, and don't judge people in your life. I think you should live completely free. ~ Angelina Jolie.
Destiny is a name often given in retrospect to choices that had dramatic consequences. ~ J. K. Rowling.
You have to do what you dream of doing, even while you're afraid. ~ Arianna Huffington.
As you grow older, you will discover that you have two hands, one for helping yourself, the other for helping others. ~ Audrey Hepburn.
Success and likeability are positively correlated for men and negatively for women. When a man is successful, he is liked by both men and women. When a woman is successful, people of both genders like her less. ~ Sheryl Sandberg.
Inspiring Successful Women Quotes
Don't limit yourself. Many people limit themselves to what they think they can do. You can go as far as you mind lets you. What you believe, you can achieve. ~ Mary Kay Ash.
A woman is the full circle. Within her is the power to create, nurture and transform. ~ Diane Mariechild.
I didn't know what I wanted to do, but I always knew the woman I wanted to be. ~ Diane Von Furstenberg.
Courage is not not being afraid, it's being afraid and doing it anyways. ~ Gina Bianchini.
A woman is the full circle. Within her is the power to create, nurture and transform. ~ Diane Mariechild.
Everything, and I mean everything, is about strong, powerful women. ~ Jesse Peyronel.
Women are as capable as men and this needs to be the focus of our education, that women can be whatever they want to be. ~ DJ Zinhle.
Famous Successful Women Quotes
Success is not the key to happiness. Happiness is the key to success. If you love what you are doing, you will be successful. ~ Herman Cain.
Always concentrate on how far you have come, rather than how far you have left to go. The difference in how easy it seems will amaze you. ~ Heidi Johnson.
It's never too late to make a comeback. ~ Christina Katz.
You must learn to be still in the midst of activity and to be vibrantly alive in repose. ~ Indira Gandhi.
I just love bossy women. I could be around them all day. To me, bossy is not a pejorative term at all. It means somebody's passionate and engaged and ambitious and doesn't mind leading. ~ Amy Poehler.
Whatever women do they must do twice as well as men to be thought half as good. Luckily, this is not difficult. ~ Charlotte Whitton.
Any woman who understands the problems of running a home will be nearer to understanding the problems of running a country. ~ Margaret Thatcher.
If it doesn't scare you, you're probably not dreaming big enough. ~ Tory Burch.
I think the key is for women not to set any limits. ~ Martina Navratilova.
If your actions create a legacy that inspires others to dream more, learn more, do more and become more, then, you are an excellent leader. ~ Dolly Parton.
As a woman I have no country. As a woman my country is the whole world. ~ Virginia Woolf.
If you are successful, it is because somewhere, sometime, someone gave you a life or an idea that started you in the right direction. Remember also that you are indebted to life until you help some less fortunate person, just as you were helped. ~ Melinda Gates.
Successful women have an aura that says I belong in this seat. ~ Cathie Black.
Success as a woman has changed me. That's what I feel is the first thing. When I feel like a successful woman as a rounded human being, then it feeds my work in a broader way so it becomes more interesting. ~ Jacqueline Bisset.
I think beauty comes from within. If you're happy and look at life in the best way you can, even when there are problems, it can make you beautiful on the outside. ~ Faith Hill.
I believe in pink. I believe that laughing is the best calorie burner. I believe in kissing, kissing a lot. I believe in being strong when everything seems to be going wrong. I believe that happy girls are the prettiest girls. I believe that tomorrow is another day and I believe in miracles. ~ Audrey Hepburn.
You only live once, but if you do it right, once is enough. ~ Mae West.
Stay true to yourself and your vision. Don't let any one person's opinion move you; listen, but be confident. ~ Amanda Kahlow.
Popular Successful Women Quotes
Although the world is full of suffering, it is also full of overcoming it. ~ Helen Keller.
Keep on going, and the chances are that you will stumble on something, perhaps when you are least expecting it. I never heard of anyone ever stumbling on something sitting down. ~ Charles F. Kettering.
Some positive creativity has got to start with humanity and when you're a human being, you feel, you suffer. ~ Marilyn Monroe.
Growth and comfort do not coexist. ~ Ginni Rometty.
Whatever you want in life, other people are going to want it too. Believe in yourself enough to accept the idea that you have an equal right to it. ~ Diane Sawyer.
When you love and accept yourself, when you know who really cares about you, and when you learn from your mistakes, then you stop caring about what people who don't know you think. ~ Beyoncé
I am an example of what is possible when girls from the very beginning of their lives are loved and nurtured by people around them. I was surrounded by extraordinary women in my life who taught me about quiet strength and dignity. ~ Michelle Obama.
When you're building a business, you're either all in, or you're not. ~ Barbara Corcoran.
Nothing is impossible; the word itself says I'm possible. ~ Audrey Hepburn.
Successful women are not liked. I think the biggest danger for women in science is colleagues who are not as good as you are. ~ Christiane Nusslein-Volhard.
Define success on your own terms, achieve it by your own rules, and build a life you're proud to live. ~ Anne Sweeney.
Be the kind of woman that makes other woman want to be you. ~ Topaz.
---
So these were the 83 quotes about Successful Women.
If these quotes and sayings connect with you, check out our other posts on evening quotes and transformation quotes.