Falling Apart means going through a challenging period in the life that can feel devastating not only for the person involved but also their friends and family.
During such times, individuals can become emotionally distressed, struggling to think clearly or cope with any difficult or unpleasant situations whether they occur at work, in relationships, or personal life.
Feeling as though the world has collapsed around them, they may experience emptiness, pain and a sense of irrevocable change.
However, these moments of hardship offer an opportunity to maintain positivity and find strength in adversity.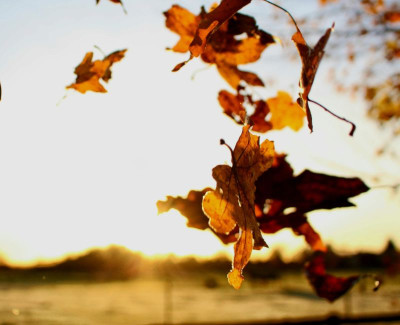 Inspirational quotes about "Falling Apart" can stimulate the mind, encouraging a different perspective on life.
They can provide solace, inspiration and even humor during these testing times, reminding individuals to persevere, remain hopeful and search for opportunities within adversity.
---
Table of Contents
Top 10 Falling Apart Quotes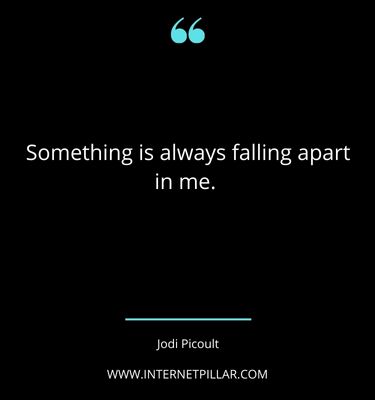 Something is always falling apart in me. ~ Jodi Picoult.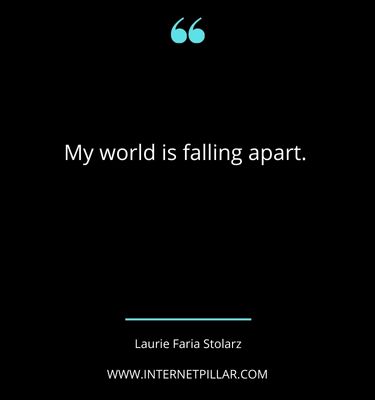 My world is falling apart. ~ Laurie Faria Stolarz.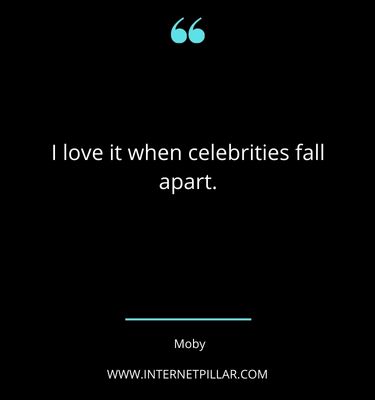 I love it when celebrities fall apart. ~ Moby.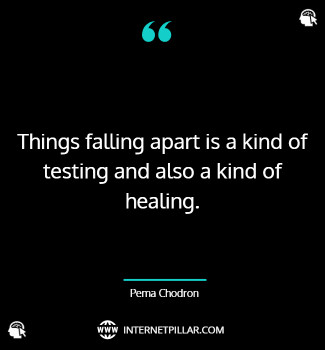 Things falling apart is a kind of testing and also a kind of healing. ~ Pema Chodron.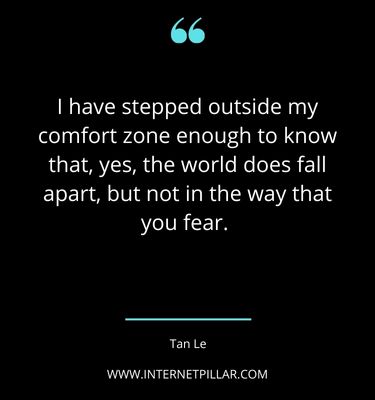 I have stepped outside my comfort zone enough to know that, yes, the world does fall apart, but not in the way that you fear. ~ Tan Le.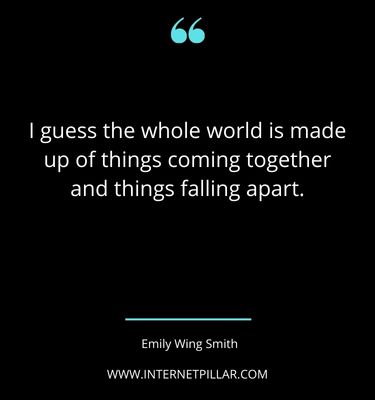 I guess the whole world is made up of things coming together and things falling apart. ~ Emily Wing Smith.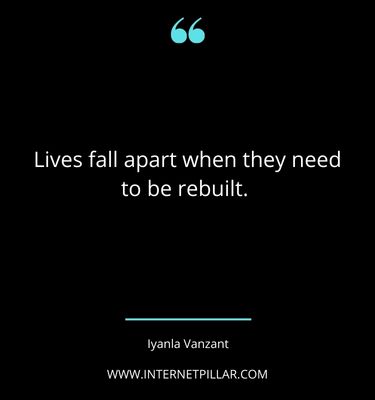 Lives fall apart when they need to be rebuilt. ~ Iyanla Vanzant.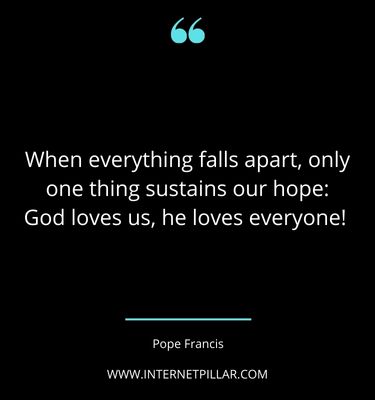 When everything falls apart, only one thing sustains our hope: God loves us, he loves everyone! ~ Pope Francis.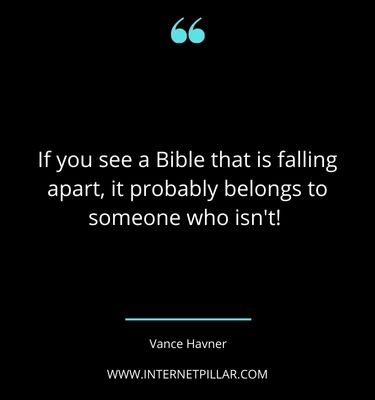 If you see a Bible that is falling apart, it probably belongs to someone who isn't! ~ Vance Havner.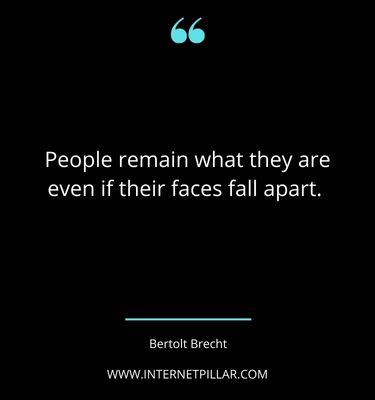 People remain what they are even if their faces fall apart. ~ Bertolt Brecht.
See also: Limits Quotes to Set You Free and Remove Boundaries and Power Quotes to Give You Strength and Resilience
Best Falling Apart Quotes
Just because your world is falling apart doesn't mean you have to fall apart. When everything seems crazy, you be calm. Don't let the outer chaos you are facing get inside of you. ~ Bryant H. McGill.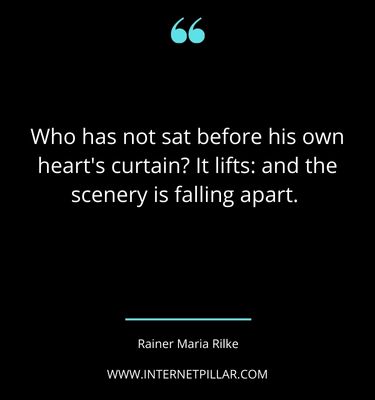 It takes ten times as long to put yourself back together as it does to fall apart. ~ Suzanne Collins.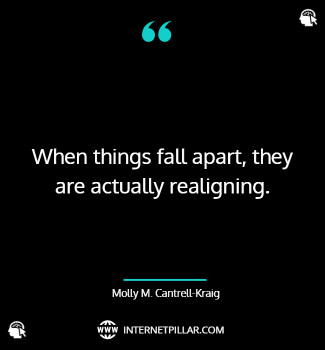 When things fall apart, they are actually realigning. ~ Molly M. Cantrell-Kraig.
Turning 60 was not a happy time. I didn't think 'I'm falling apart,' but I did re-examine my priorities. ~ Raquel Welch.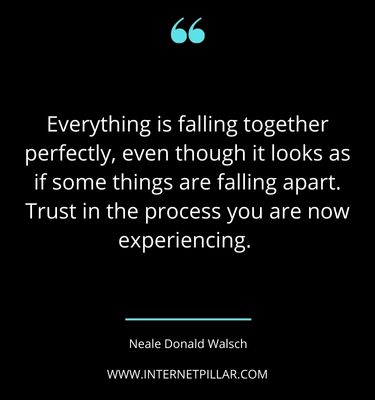 Everything is falling together perfectly, even though it looks as if some things are falling apart. Trust in the process you are now experiencing. ~ Neale Donald Walsch.
Just leave me alone. I'm not myself. I'm falling apart, and I don't want you here. ~ Daniel Keyes.
Change always involves a dark night when everything falls apart. Yet if this period of dissolution is used to create new meaning, then chaos ends and new order emerges. ~ Margaret J. Wheatley.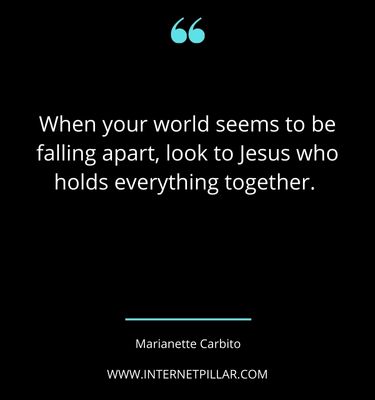 Apart from a small minority, teenage boys fall into three distinct categories: macho, metro, or just plain muddled. ~ Alexandra Adornetto.
That's what alcoholics do. It's in their job description: fall apart and then keep falling apart. ~ Audrey Niffenegger.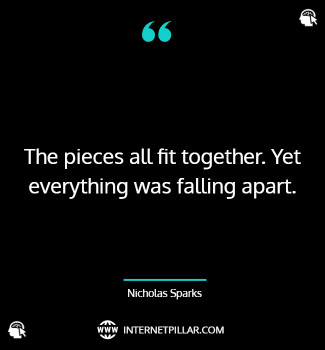 The pieces all fit together. Yet everything was falling apart. ~ Nicholas Sparks.
Sometimes good things fall apart so better things could fall together. ~ Marilyn Monroe.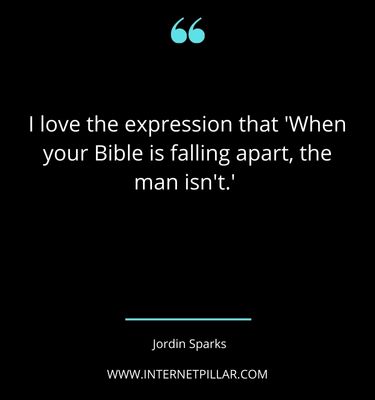 I love the expression that 'When your Bible is falling apart, the man isn't.' ~ Jordin Sparks.
Famous Falling Apart Quotes
When your own romantic life is falling apart, everyone else's looks fabulous. ~ James Patterson.
Everything is still falling apart. ~ Chuck Palahniuk.
The loneliest moment in someone's life is when they are watching their whole world fall apart, and all they can do is stare blankly. ~ F. Scott Fitzgerald.
It was always the power of love that pulled us through, and it was the power of laughter that kept us from falling apart. ~ Steve Rizzo.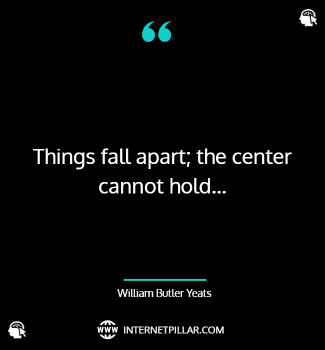 Things fall apart; the center cannot hold… ~ William Butler Yeats.
Sometimes, two people have to fall apart to realize how much they need to fall back together ~ Colleen Hoover.
A face that is really lovely in repose can fall apart if, when its owner stars to talk, she distorts every feature. ~ Loretta Young.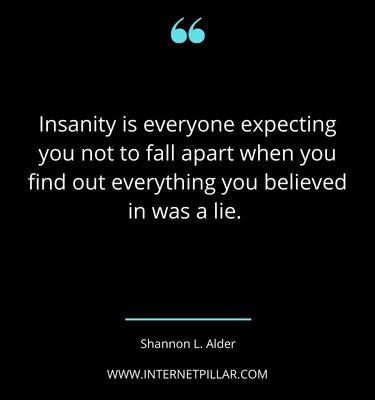 Things that came apart could be put together again, but never exactly the same. ~ Deb Caletti.
Powerful Falling Apart Quotes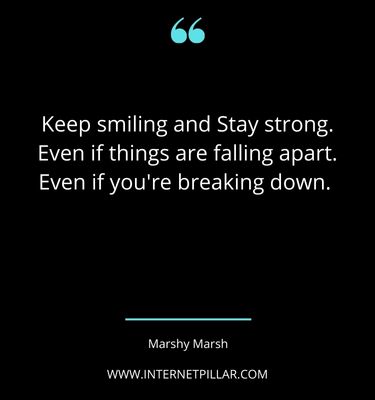 Keep smiling and Stay strong. Even if things are falling apart. Even if you're breaking down. ~ Marshy Marsh.
In the absence of love, we began slowly but surely to fall apart. ~ Marianne Williamson.
I love sleep. My life has the tendency to fall apart when I'm awake, you know? ~ Ernest Hemingway.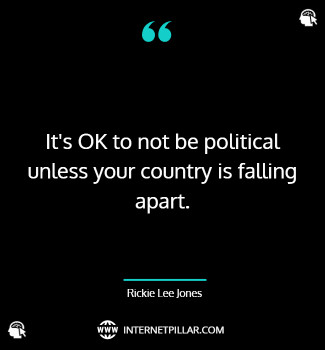 It's OK to not be political unless your country is falling apart. ~ Rickie Lee Jones.
Sometimes falling apart is the bravest act of all. ~ Sarah Hackley.
The world as we know it is falling apart at the seams, because it's an inadequate container for the truth of who we are. ~ Marianne Williamson.
There's always a race against time. I don't think for one moment that life gets better. How can it? One's body starts to fall apart. ~ Gloria Grahame.
I've either got an acute case of hypochondria or I'm falling apart at the age of twenty-three. ~ Chris Martin.
Don't hold together what must fall apart. The familiar life crumbles so the new life can begin. ~ Bryant H. McGill.
After all, computers crash, people die, relationships fall apart. The best we can do is breath and reboot. ~ Sarah Jessica Parker.
Popular Falling Apart Quotes
A man who stands for nothing will fall for anything. ~ Malcolm X.
I don't want to have my life fall apart for my work. ~ Jay McInerney.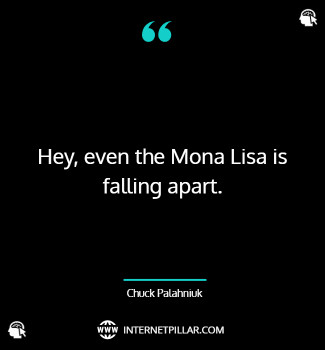 Hey, even the Mona Lisa is falling apart. ~ Chuck Palahniuk.
If one devalues rationality, the world tends to fall apart. ~ Lars von Trier.
Maybe working on the little things as dutifully and honestly as we can is how we stay sane when the world is falling apart. ~ Haruki Murakami.
Otherwise I'll fall apart. I'm going to fall apart. I am falling apart. ~ Tabitha Suzuma.
If you're gonna fall apart, do it in your own bedroom. ~ Margot Kidder.
There's people that get a chance to do the kind of work that changes the world, and make things really different. And there's the kind that just keeps the world from falling apart. ~ Bruce Springsteen.
Great Falling Apart Quotes
It's crazy that in a country where schools are falling apart, we're spending $20 billion on nuclear weapons. ~ Ben Cohen.
Women often find great roles in revolution, simply because the rules fall apart and everyone has agency, anyone can act. ~ Rebecca Solnit.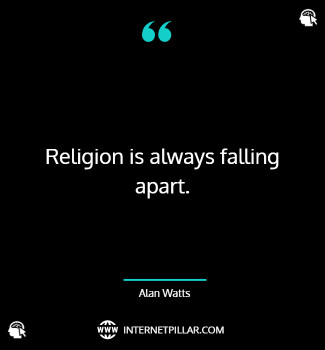 Religion is always falling apart. ~ Alan Watts.
It is good to realize that falling apart is not such a bad thing. Indeed, it is as essential to evolutionary and psychological transformation as the cracking of outgrown shells. ~ Joanna Macy.
Sometimes I got worried that my memory was falling apart. ~ John Marsden.
Sometimes when we think our lives are falling apart what we don't see, is that they might just be falling into place. ~ LJ Vanier.
Yes, my works… are enshrined in museums, but I don't care if the pieces fall apart in 20 years. ~ Sigmar Polke.
Once upon a time I was falling in love, now I'm only falling apart. ~ Bonnie Tyler.
---
So these were the 60 quotes about Falling Apart.
If you like these quotes and sayings, then you can also read my other popular blog posts on the topics of Yin Yang quotes and Beauty is Pain quotes.