Florida is known as the "Sunshine State" as it is a beautiful state with lovely beaches, superb weather, and has a variety of activities for you to do.
We have curated a list of the top Florida quotes and captions to make you love Florida.
---
Florida Quotes
Gone to Florida, be back never. ~ Unknown.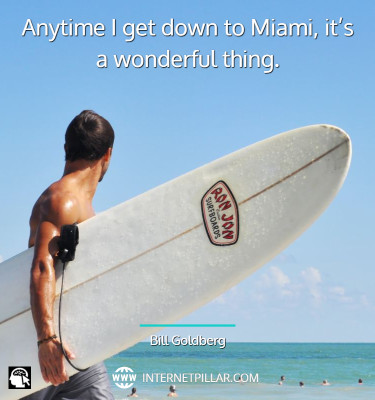 Anytime I get down to Miami, it's a wonderful thing. ~ Bill Goldberg.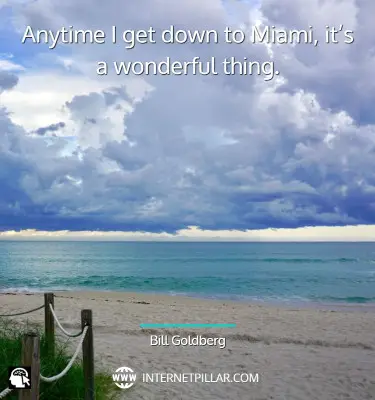 Almost everything strange washes up near Miami. ~ Rick Riordan.
The Florida sun seems not much a single thing overhead but a set of klieg lights that pursue you everywhere with an even white illumination. ~ John Updike.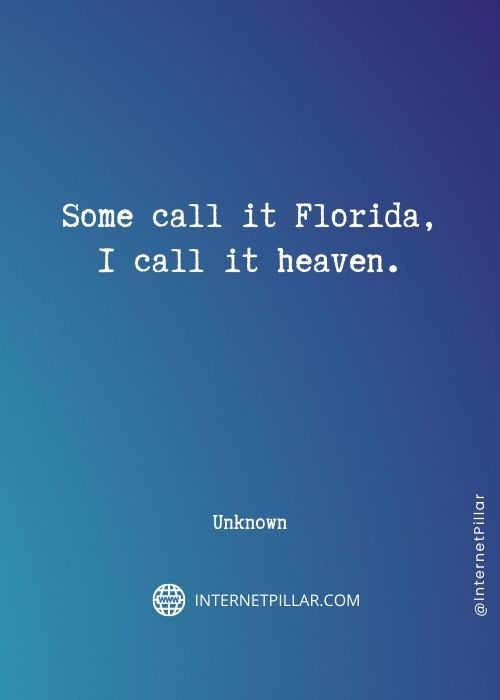 Some call it Florida, I call it heaven. ~ Unknown.
August in Florida is God's way of reminding us who's in charge. ~ Blaize Clement.
Every child in South Florida can dance. And every child there is amazing. ~ Abby Lee Miller.
The one thing I did learn at Florida State, I learned to talk trash, believe that. ~ Randy Moss.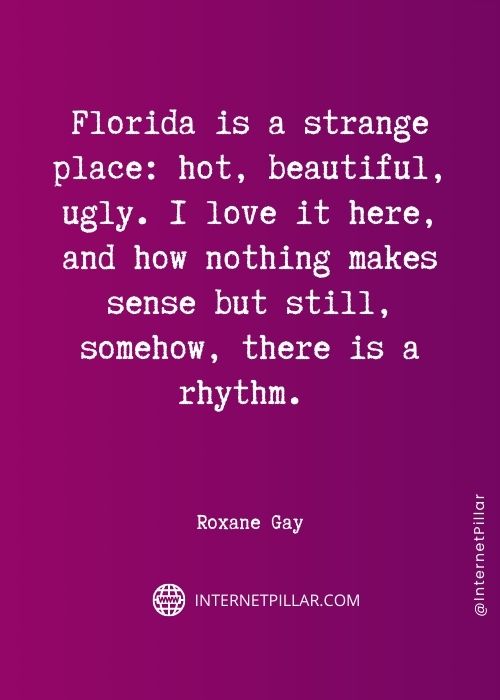 Florida is a strange place: hot, beautiful, ugly. I love it here, and how nothing makes sense but still, somehow, there is a rhythm. ~ Roxane Gay.
Florida is a golden word. The very name Florida carried the message of warmth and ease and comfort. It was irresistible. ~ John Steinbeck.
I am absolutely convinced that Florida will become the most exciting place in the world to live and work. ~ Rick Scott.
A person should always be willing to adjust for a rainy day. That was a good attitude in all of life but was a reality to the way of life for those residing in Florida. ~ M. Reali-Elliott.
Florida is a place of unparalleled diversity of backgrounds, experiences, and vision. It makes our culture unique, but it can also make it difficult to define a common identity and create a sense of community that reaches beyond our neighborhoods to all corners of our state. ~ Jeb Bush.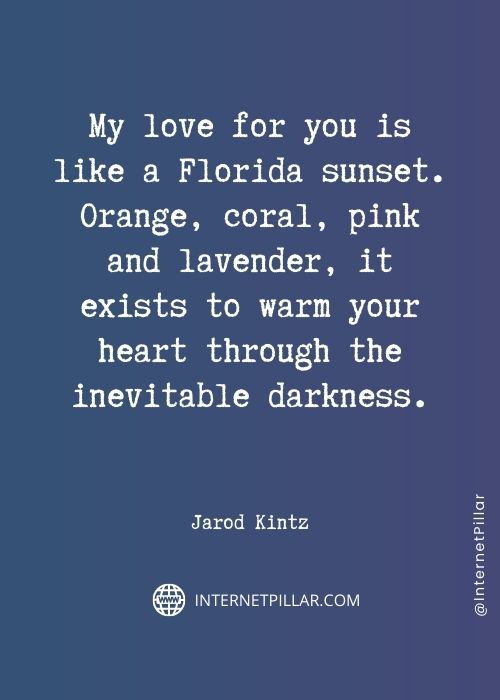 My love for you is like a Florida sunset. Orange, coral, pink and lavender, it exists to warm your heart through the inevitable darkness. ~ Jarod Kintz.
Also Read: 150 Colorado Quotes & Captions about The Centennial State and 35 Connecticut Quotes about The Constitution State
Best Florida Quotes
It doesn't matter how much I think I know about Florida, it still flips me on the head every time. It's just an absurd, electric place, and the stories that can come out of that place just never stop. ~ Matt Passmore.
I go to Florida sometimes for vacation. I actually really like Florida. It's a weird place, it's surreal. It's so close, but you feel like you're in another world or on an island. ~ Jemima Kirke.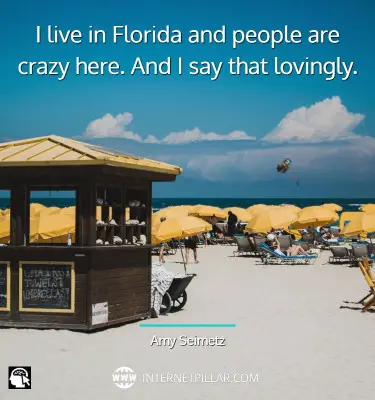 I live in Florida and people are crazy here. And I say that lovingly. ~ Amy Seimetz.
My backyard was replete with madness, it just grew indigenously in South Florida. ~ Karen Russell.
I represent Orlando, Florida, the world's number one vacation destination. ~ Ric Keller.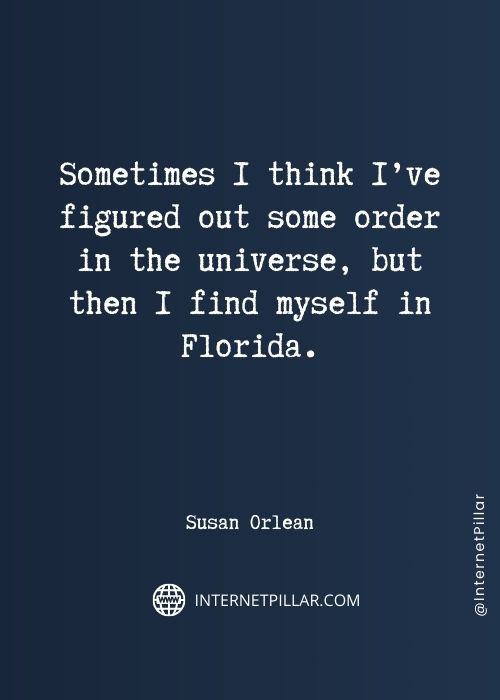 Sometimes I think I've figured out some order in the universe, but then I find myself in Florida. ~ Susan Orlean.
Writing fantasy lets me imagine a great deal more than, say, writing about alligators, and lets me write about places more distant than Florida, but I can tell you things about Florida and alligators, let you make the connection all on your own. ~ Terry Brooks.
Two things Florida can teach the other 49 states – how to make good margarita ad how to deal with the aftermath of a hurricane. ~ Tom Feeney.
I am a Florida guy. I don't do cold. ~ J. R. Ramirez.
The Florida peninsula is, in fact, an emerging plateau, honeycombed with voids and vents, caves, and underground waterways. Travelers on Interstate Highway I-75 have no idea that, beneath them, are cave labyrinths still being mapped by speleologists – 'cavers', they prefer to be called. ~ Randy Wayne White.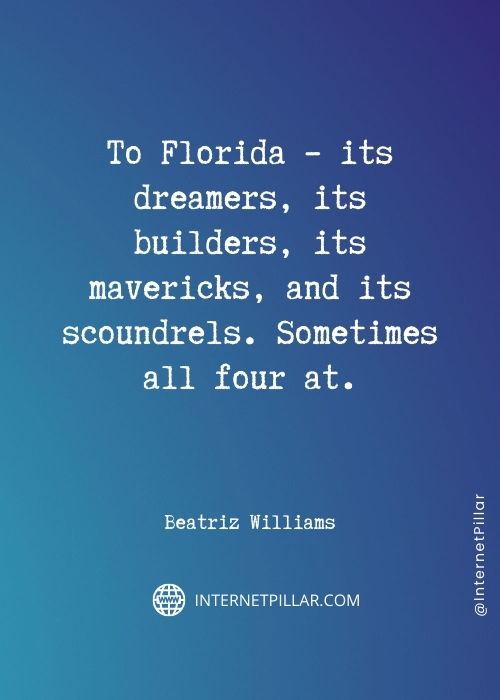 To Florida – its dreamers, its builders, its mavericks, and its scoundrels. Sometimes all four at. ~ Beatriz Williams.
There is only one problem in taking a winter vacation in Florida. You spend two weeks getting a deep, rich, golden tan – then they hand you the bill and you're pale again. ~ Robert Orben.
Beautiful Florida Quotes
They call Florida the Sunshine State, which is funny because in the twelve years I lived here, it was only sunny for like twenty minutes-when the eye of the hurricane passed over my house. ~ Seth Lyon.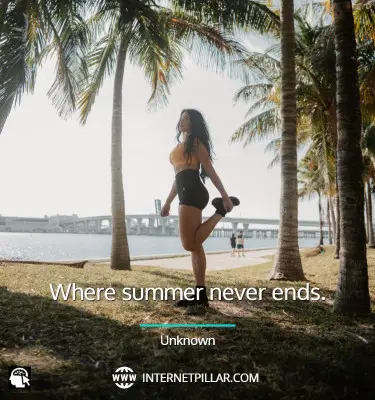 Where summer never ends. ~ Unknown.
Remember that Florida is a land of weirdos and bizarre happenings, and conduct yourselves accordingly. ~ Jeff Zentner.
A lot of people stop short. They don't actually die but they say, 'right I'm old, and I'm going to retire,' and then they dwindle into nothing. They go off to Florida and become jolly boring. ~ Mary Wesley.
Through the harsh design of fate, Florida was dealt the unfortunate circumstances of bearing the brunt of not one but two hurricanes, and it appears more dark clouds are poised to visit the Sunshine State. ~ Ginny Brown-Waite.
For me, it started as a child with one of those little wooden jigsaw maps of the US, where there are crocodiles on Florida and apples in Washington state. That was my very first map. ~ Ken Jennings.
Since traveling is such a big part of my life when I am working, I like to vacation relatively close to home. Florida is a great place for me to go and relax. It's so close, which is perfect because it's minimal travel time. ~ Hilary Rhoda.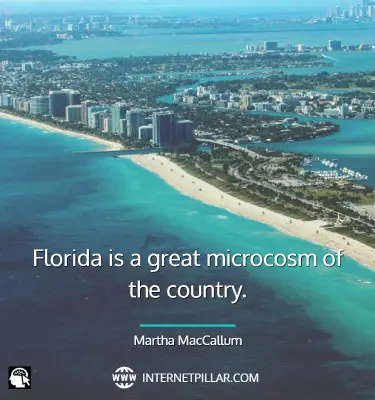 Florida is a great microcosm of the country. ~ Martha MacCallum.
I came from Michigan seven years ago, and every year I learn to love the winters in Florida even more. ~ Patrick Ennis.
Lovely Florida Quotes
Florida tends to be one of those places that people like to play in the winter. ~ Gary Bongiovanni.
I hear it's hot in Florida. And it's raining here tonight. But the sun's gonna shine tomorrow. And I'm gonna do alright. ~ Elton John.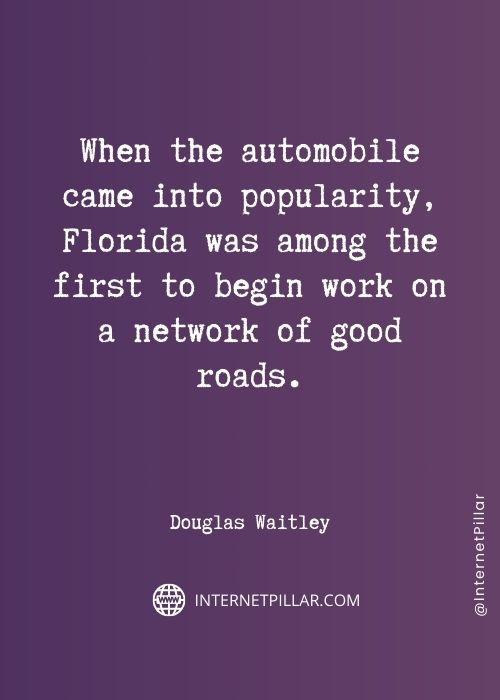 If I'm offered a good case in Florida or a good case somewhere else, South Florida will win every time. ~ F. Lee Bailey.
Florida Captions for Instagram
Take me to Florida.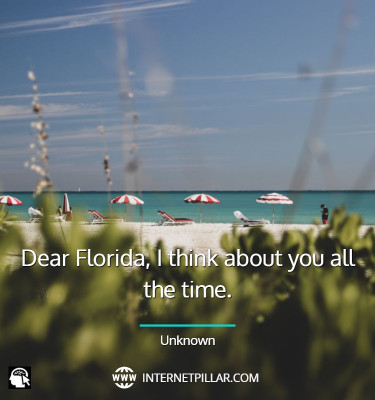 Dear Florida, I think about you all the time.
Sunny side up.
I'm all about the palm trees and the 80 degrees.
Once upon a time in Florida.
Florida mode: activated.
The land of sunshine.
Some call it Florida, I call it heaven.
Florida, where summer lasts 6 months, twice a year.
Got that Florida feeling.
I left my heart in Florida.
Living life in the sunshine state.
Gone to Florida, be back never.
Sunny Florida Quotes
One thing I will never do as long as I'm at Georgia is to lose to Florida. ~ Herschel Walker.
The railing of the balcony was cold but the blue-black night air was so warm in October, in Florida, it felt as if it could hold you, all that wetness like a blanket of kisses. ~ Heather Sellers.
There's no place like Florida.
Florida does beguile and gratify me, giving me my first and last evidently sense of the tropics, or a peu pres, the subtropics, and revealing to me blandness in nature of which I had no idea. ~ Henry James.
According to the State of Florida, the person with the gun has the right to defend him or herself. ~ Bill Cosby.
What I like about South Florida is there's a good quality of life here; the cost of living is much lower than Silicon Valley. ~ Rony Abovitz.
I think in the old days, the nexus of weirdness ran through southern California, and to a degree new york city. I think it's changed so that every bizarre story in the country now has a Florida connection. I don't know why except it must be some inversion of magnetic poles or something. ~ Carl Hiaasen.
There are so many colorful characters in Florida. There's a lot of money, development – not all of it good and corruption. ~ John Grisham.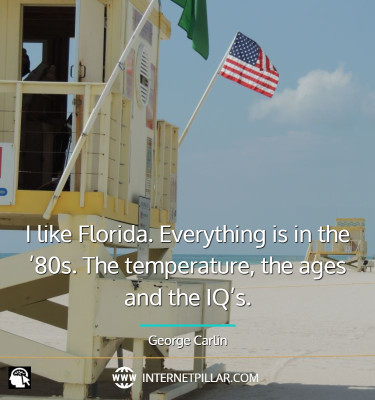 I like Florida. Everything is in the '80s. The temperature, the ages and the IQ's. ~ George Carlin.
Florida is the most unusual place. It can feel at once stifling and like anything is possible there. ~ Laura Van Den Berg.
Soothing Florida Quotes
I grew up down in Florida, and in the keys, there's this place called sea camp which was not unlike space camp, except you explored the sea. And so that kind of whetted my appetite for that. But then I ended up swimming in a lagoon full of Cassiopeia jellyfish, and that quickly quashed that desire to be a marine biologist. ~ Joe Lo Truglio.
The Florida skies are like no other, with cloud formations that are awesome! Even when it rains, the sun shines through the drops. ~ Connie Letang.
Sure as the summer in Florida's sunny, I'd say that's right down the middle, ain't no doubt, not even a little, will I love you for the rest of my life. ~ Clay Walker.
I'm pretty sure my house in Florida is haunted! He's a nice ghost though. ~ Ariana Grande.
I was born in Dallas, Texas, but I was raised in South Florida. 'Ice Ice Baby' is about the area. ~ Vanilla Ice.
I won't comment on the weather we had. Did you know they named a wine after the first bird whoever flew down to Florida for the winter? Cold duck. ~ Robert Orben.
I like anywhere with a beach. A beach and warm weather are all I really need. I like going to Florida – to Miami and to visit my mom in Fort Meyers. ~ Rob Gronkowski.
Florida is different things to different people. To some, Florida is a paradise. It is warm water, sun-drenched beaches, mysterious swamps, and stunning coral reefs. ~ Perry Chang.
I have to remind the people who put down East Coast surfing that Kelly Slater is from Florida. ~ Don Winslow.
Famous Florida Quotes
I grew up in Florida, where if you weren't comfortable dancing, you weren't going to get any girls. ~ Channing Tatum.
Florida was also very hot and full of mosquitoes and strange creatures such as alligators. ~ Teresa Wimmer.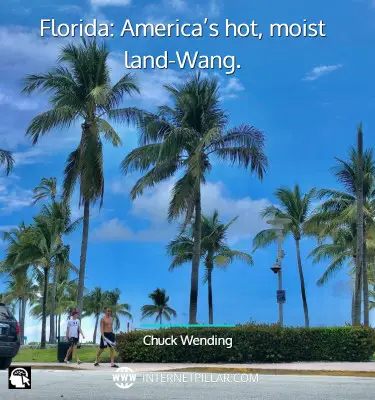 Florida: America's hot, moist land-Wang. ~ Chuck Wending.
You know how only you can insult your own family? That's how I feel about Florida. ~ Danielle Schneider.
It's always sunny in the Sunshine State. Except for at night. ~ Jarod Kintz.
You're from Florida. There's got to be more holes to hell in Florida than in any other state. ~ T. Kingfisher.
No winter coats in Florida, no boots, no chains, no salt, no plows, and shovels. In the balmy state of Florida, fruits fell in the meanest yard. ~ Christine Schutt.
The state with the prettiest name, the state that floats in brackish water, held together by mangrove roots. ~ Elizabeth Bishop.
Florida's number three industry, behind tourism and skin cancer, is voter fraud. ~ Dave Barry.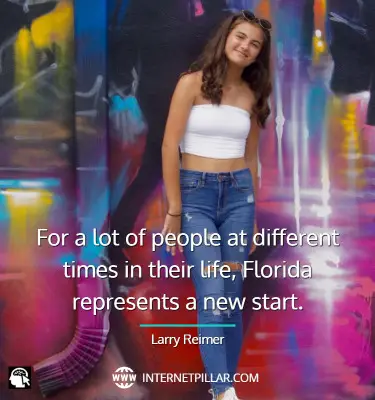 For a lot of people at different times in their life, Florida represents a new start. ~ Larry Reimer.
I love Florida. I love the beach. I love the sound of the crashing surfers against the rocks. ~ Emo Philips.
Great Florida Quotes
Florida is a place of unparalleled diversity of backgrounds, experiences, and vision. It makes our culture unique, but it can also make it difficult to define a common identity and create a sense of community that reaches beyond our neighborhoods to all corners of our state. ~ Jeb Blush.
The great thing about Florida is you – each city's about two hours' drive from everywhere else. ~ John Cleese.
Yet there is no spring in Florida, neither in boskage perdu nor on the nunnery beaches. ~ Wallace Stevens.
Florida is a cultural crossroads where people of different backgrounds have mingled, traded, and sometimes fought. ~ Perry Chang.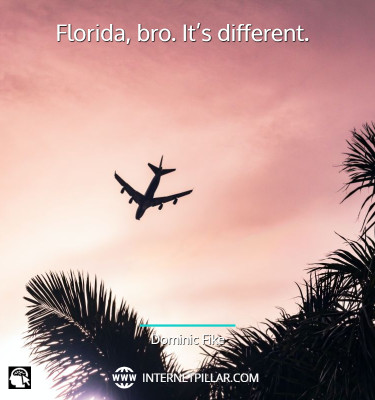 Florida, bro. It's different. ~ Dominic Fike.
Florida in my novels is not as seedy as the real Florida. It's hard to stay ahead of curve. Every time I write a scene that I think is the sickest thing I have ever dreamed up, it is surpassed by something that happens in real life. ~ Carl Hiaasen.
I happen to know that Florida is now working on something that could revolutionize its real estate market. It's an alligator that eats crabgrass. ~ Robert Orben.
Miami Beach is a completely interesting hybrid because it is, on the one hand, a resort and, on the other hand, a real city. The condition of the city and water on two sides I think really amazing. And in the heart of that city, it has put an enormous convention center, an enormous physical presence. ~ Rem Koolhaas.
You have to remember that in a state like Florida, independent voters will decide the election. ~ Jeb Blush.
The general intellectual level of South Florida is somewhere just above functionally retarded. ~ Tucker Max.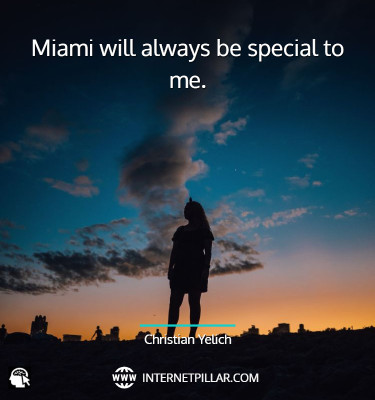 Miami will always be special to me. ~ Christian Yelich.
I have been traveling to every corner of the great state of Florida. I've met some great people and we've had an honest discussion about the failures of Washington. ~ Adam Hasner.
Ultimate Florida Quotes
If a novel were written about Florida's administration of its healthcare for the working poor, an appropriate title might be: 'don't get sick, and God help you if you do. ~ Joy Reid.
It's not a right to play at Florida. It's a privilege. ~ Will Muschamp.
It's Florida. Hair is just an extra sweater I'm forced to wear. ~ Emma Gonzalez.
Florida was a hotbed of a professional wrestling, one of the hottest in the country. ~ Eric Bischoff.
Here in Florida, we have something special we never enjoyed at Disneyland – the blessing of size. There's enough land here to hold all the ideas and plans we can possibly imagine. ~ Walt Disney.
Florida means land of flowers, not a land of ugly. ~ Bill Johnson.
I feel like Miami is way, way too hot. ~ Fred Armisen.
No matter where you put me, I don't care if it is North Carolina, Florida, California, New York City; I'm going to be who I am. ~ Chris Paul.
It's not palm trees and neon signs in Florida; it's strip malls, highways, hot sun beating down on you. ~ Patty Jenkins.
Powerful Florida Quotes
Florida isn't so much a place where one goes to reinvent oneself, as it is a place where one goes if one no longer wished to be found. ~ Douglas Coupland.
The miracle of the light pours over the green and brown expanse of saw grass and of water, shining and slow-moving below, the grass and water that is the meaning and the central fact of the Everglades of Florida. It is a river of grass. ~ Marjorie Stoneman Douglas.
We ought to be bragging about Florida! ~ Rick Scott.
Is Florida not hot and muggy enough for these people? They love the heat. I mean, if they ever decide to land men on the sun, I think these old retired guys would be the only ones that will be able to handle it. They'll just sit there on the sun, on the redwood benches, washcloth on the head going: I'm trying to get a sweat going. ~ Jerry Seinfeld.
Florida is the world's greatest amusement park. ~ Budd Schulberg.
If I stayed in Florida, I would have a house and a dog and a partner. And, honestly, I was so bored. ~ Tituss Burgess.
Florida is so hot that when old people retire and move to Florida it's because they want to start practicing to hell. ~ Seth Lyon.
A prosthetic leg with a Willie Nelson bumper sticker washed ashore on the beach, which meant it was Florida. Then it got weird. ~ Tom Dorsey.
If you can afford a vacation home in Florida, you should be able to pay the taxes. ~ Ken Wilkinson.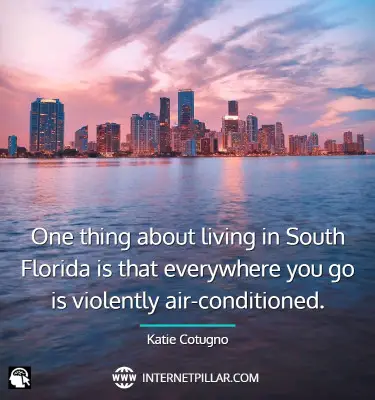 One thing about living in South Florida is that everywhere you go is violently air-conditioned. ~ Katie Cotugno.
I grew up in Florida riding horses, so for the majority of my life I was either in boots and jeans or a bathing suit. ~ Kate Upton.
Popular Florida Hashtags for Instagram and TikTok
#floridagirl #tampaflorida #floridageorgialine #destinflorida #instagram_florida #florida_greatshots #loveflorida #floridawedding #florida #miami #orlando #usa #tampa #southflorida #miamibeach #travel #photography #beach #floridalife #fortlauderdale #jacksonville #disney #tampabay #fl #orlandoflorida #floridaliving #southbeach #upsideofflorida #floridablogger #floridasunset #staysaltyflorida #floridastate #sarasotaflorida #jacksonvilleflorida #floridabound #floridahair #igersflorida #floridabeaches #floridasunset #floridakeys #centralflorida #naplesflorida #visitflorida #roamflorida #pureflorida #floridablanca #miamiflorida #floridaphotographer
Awesome Florida Quotes
I don't think about tennis 24/7. I enjoy time on the lake at my Florida home and just being lazy on the sofa. ~ Andy Roddick.
I live in Florida, and I live in a small lagoon. I sit and look out at the water all day – that's what my desk is. ~ Ted Bell.
Florida is a crazy place, and I have played some of the wildest shows of my life here. ~ Henry Rollins.
As frightening as this may sound, what you see in the books is the way I see the world. And so far I haven't seen anything, either in Florida or elsewhere, to dissuade me from it. ~ Carl Hiaasen.
Disney's something to be a little alarmed about. It's not just a little theme park anymore. It is now an ethic and outlook and strategy that goes way beyond centralReynolds Florida. ~ Carl Hiaasen.
Florida was the low point. The entire state, yep. I'm not sure I'd go back. ~ David Cross.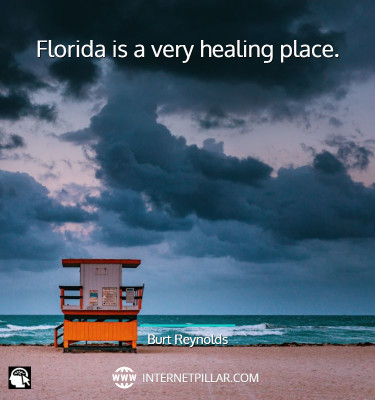 Florida is a very healing place. ~ Burt Reynolds.
Of all the places in the world, she belongs to Florida. How dispiriting to learn this of herself. ~ Lauren Groff.
My parents didn't want to move to Florida, but they turned 60 and that's just the law. ~ Jerry Seinfeld.
---
So these were the 125 quotes and captions about Florida state of United States.
If you like these quotes and sayings, then you can also read my other popular blog posts on the topics of Delaware quotes.
---
References and Sources: