Investing in oneself involves investing time, effort and resources to personal development and advancement.
It is all about trying to be a better version of yourself, enhancing your potential and broadening your talents.
Self-improvement activities vary from improving your well-being through exercise and mindfulness to expanding your knowledge and abilities through education or professional growth.
Investing in your education, learning new skills, reading books and attending career-focused seminars are just a few examples of methods to invest in yourself.
Each step toward self-improvement will help not only your personal and professional progress but it will also lead to increased self-confidence and happiness.
---
Top 10 Invest in Yourself Quotes
You have to invest in yourself and your surroundings. ~ Swizz Beatz.
You invest yourself in what you believe can succeed. ~ John C. Maxwell.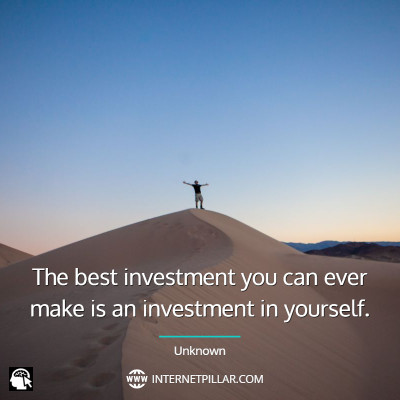 The best investment you can ever make is an investment in yourself. ~ Unknown.
Don't be afraid to lose. Listen. And always invest in yourself. ~ Pitbull.
Dream big, start small, but most of all, start. ~ Simon Sinek.
Invest the first hour of the day, the 'Golden Hour,' in yourself. ~ Brian Tracy.
You have to invest if you want to progress. ~ Erin Hatzikostas.
You invest in yourself by learning and growing in Your knowledge in critical areas. ~ Unknown.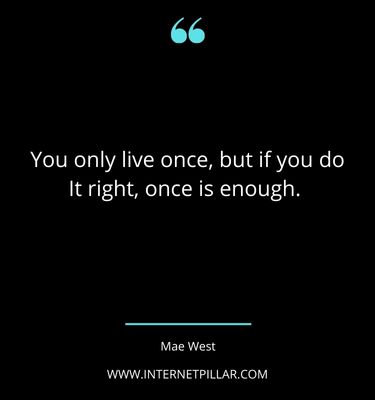 You only live once, but if you do It right, once is enough. ~ Mae West.
You have to be a romantic to invest yourself, your money, and your time in cheese. ~ Anthony Bourdain.
Related Quotes: 127 Best Self Improvement Quotes on Personal Growth and Progress and 80 Best Focus on Yourself Quotes to Make Yourself a Priority
Famous Invest in Yourself Quotes
Income seldom exceeds personal development. ~ Jim Rohn.
The only person you are destined to become is the person you decide to be. ~ Ralph Waldo Emerson.
It hurts like hell when the world won't invest in you. But it's excruciating, almost more than you can bear, when you don't believe and invest in yourself. ~ Julia Cameron.
There is nothing noble in being superior to Your fellow man; true nobility is being superior to Your former self. ~ Ernest Hemingway.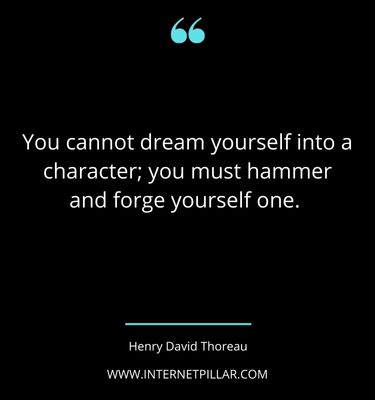 You cannot dream yourself into a character; you must hammer and forge yourself one. ~ Henry David Thoreau.
Investing in yourself is the best investment you will ever make. It will not only improve Your life, but It will also improve the lives of all those around you. ~ Robin Sharma.
One can choose to go back toward safety or forward toward growth. Growth must be chosen again and again; fear must be overcome again and again. ~ Abraham Maslow.
We are inviting you to invest yourself through the resources that God has given you – your energy, your prayers and your money – in this work to which God has called us. ~ Henri.
Invest time and energy in Your well-being. Create an atmosphere of emotional safety for yourself. ~ Amy Leigh Mercree.
Popular Invest in Yourself Quotes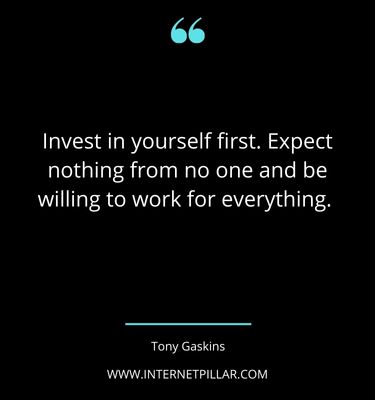 Invest in yourself first. Expect nothing from no one and be willing to work for everything. ~ Tony Gaskins.
Growth is the great separator between those who succeed and those who do not. When I see a person beginning to separate themselves from the pack, it's almost always due to personal growth. ~ John C. Maxwell.
Invest in yourself. Your career is the engine of Your wealth. ~ Paul Clitheroe.
What would Your life look like without today's obstacles in front of you? ~ Jerry Gladstone.
I think the number one safe haven where people put their money is to invest in yourself first. ~ Hill Harper.
Invest in yourself. It's like being a boxer, you've got to be in training so that when the bell rings, you get your direction you come out of the corner and you're ready. Do not let the audition be the first thing you've done in six months. ~ Karl Urban.
People will complain that they don't want to wait around for lightning to strike, but why not? If you invest yourself in chance, the potential for disappointment is pretty low. ~ John Darnielle.
A winner is someone who recognizes his talents, works his tail off to develop them into skills and uses these skills to accomplish his goals. ~ Larry Bird.
Best Invest in Yourself Quotes
There is no more profitable investment than investing in yourself. It is the best investment you can make; you can never go wrong with it. It is the true way to improve yourself to be the best version of you and lets you be able to best serve those around you. ~ Roy T. Bennett.
Man's life is independent. He is born not for the development of the society alone, but for the development of his self. ~ B. R. Ambedkar.
We can't become what we need to be by remaining what we are. ~ Oprah Winfrey.
Invest in yourself. You can afford it. Trust me. ~ Rashon Carraway.
You are not what you've done. You are what you keep doing. ~ Jack Butcher.
An investment in yourself will never lead to regret. ~ Germany Kent.
Thoughtful Invest in Yourself Quotes
Every moment of one's existence, one is growing into more or retreating into less. ~ Norman Mailer.
The best gift you can give to yourself is to invest in yourself. ~ Pooja Agnihotri.
Believing and investing in yourself is the best way to shift Your thinking from a paradigm of excuses to one of the solutions. ~ Farshad Asl.
If you want to change the way you feel about yourself, first you have to change the way you think about yourself. ~ Gavin Bird.
Doing what we love, investing in ourselves pays off. ~ Akiroq Brost.
Invest in yourself now and reap the dividends day after day after month after year. ~ Jack LaLanne.
If you realize that you're the #1 asset in anything you do, then you will begin to prioritize investment in yourself. ~ Unknown.
Amazing Invest in Yourself Quotes
Do not invest time and money into yourself to have others completely destroy it! ~ Stephen Richards.
In this world, you're either growing or you're dying, so get in motion and grow. ~ Lou Holtz.
Change equals self-improvement. Push yourself to places you haven't been before. ~ Pat Summitt.
Are you prepared to put in the time and energy to create change in Your life? Are you prepared to make and keep that commitment? If not you, then who? Invest in yourself. ~ Akiroq Brost.
Be patient with yourself. Self-growth is tender; it's holy ground. There's no greater investment. ~ Stephen Covey.
If you know Your true worth, you do not need anyone else to confirm it. ~ Alan Cohen.
If you don't invest your life in what you really care for, your life will be wasted. You will not fly – you will just drag yourself through life. ~ Jaggi Vasudev (Sadhguru).
Anything is possible once we believe and never relinquish hope. ~ Shadonna Richards.
Invest in yourself, in your education. There's nothing better. ~ Sylvia Porter.
Inspiring Invest in Yourself Quotes
Strive not to be a success, but rather to be of value. ~ Albert Einstein.
Personal development is the belief that you are worth the effort, time, and energy needed to develop yourself. ~ Denis Waitley.
Only make decisions that support Your self-image, self-esteem, and self-worth. ~ Oprah Winfrey.
Be a good person, but don't waste Your time trying to prove it. ~ Paulo Coelho.
What you do makes a difference, and you have to decide what kind of difference you want to make. ~ Jane Goodall.
Once you realize that you have identified a passion, invest in yourself. Figure out what you need to know, what kind of experience and expertise you need to develop to do the things that you feel in your heart you will enjoy and that will sustain you both mentally and economically. ~ Martha Stewart.
Personal confidence comes from making progress toward goals that are far bigger than Your present capabilities. ~ Dan Sullivan.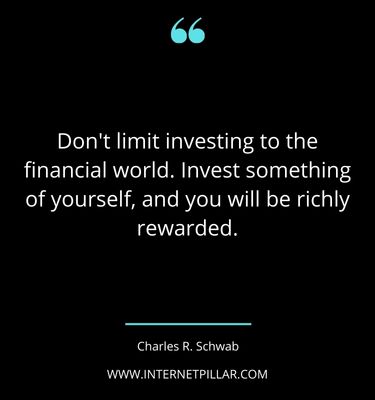 Don't limit investing to the financial world. Invest something of yourself, and you will be richly rewarded. ~ Charles R. Schwab.
Inspirational Invest in Yourself Quotes
Just invest in apps. Just download apps and then pay yourself the dividend. ~ Carrie Brownstein.
If you feel inferior to someone else, It is because of Your own beliefs. ~ Catherine Pulsifer.
Recessions are the best time to start a company. Companies fail. Others hold back capital. If you are willing to do the preparation and work, it is the best time to invest in yourself and start a business. ~ Mark Cuban.
Your sense of self-worth comes from you alone – never the opinion of others. ~ Robert Greene.
I hate to be obvious," added the Scarecrow, "but you'd have saved yourself a heap of trouble if you weren't too cheap to invest in a leash, Dorothy. ~ Gregory Maguire.
Passion is the overwhelming feeling, the burning desire, the drive that ultimately creates change. It is the total belief in yourself and Your abilities that nothing can stop you. ~ Diane Matyas.
Your beliefs about yourself often translate into Your convictions about yourself. It is difficult to achieve what you believe is beyond Your power. ~ Eugene C. Onyibo.
Ultimate Invest in Yourself Quotes
Invest three percent of your income in yourself (self-development) in order to guarantee your future. ~ Brian Tracy.
The greatest stock market you can invest in is yourself. Finding this truth is better than finding a gold mine. ~ Byron Katie.
Invest in as much of yourself as you can, you are your own biggest asset by far. ~ Warren Buffett.
We're scared and cautious and overthink everything, and although you have Your dreams and goals, and believe in what you're doing, it's easy to slip into a glass-half-empty mentality. ~ Matthew Turner.
Don't go through life, grow through life. ~ Eric Butterworth.
At the end of Your life's journey, what do you want to say you did with Your time? There is enough time if you choose to invest It in yourself. Inch by inch, day by day . . . make yourself a priority. ~ Jackie Cantoni.
Those who do not attempt to appear more than they are but are simply themselves, stand out as remarkable and are the only ones who truly make a difference in this world. ~ Eckhart Tolle.
Motivational Invest in Yourself Quotes
I prefer to be true to myself, even at the hazard of incurring the ridicule of others, rather than to be false, and to incur my own abhorrence. ~ Frederick Douglass.
Great things are accomplished by talented people who believe they will accomplish them. ~ Warren G. Bennis.
Invest yourself in everything you do. There's fun in being serious. ~ John Coltrane.
It's nice to invest yourself fully in whatever you're doing… I think it's best to try and give everything you've got; otherwise, what's the point? ~ Joshua Sasse.
The first business asset you should invest in is yourself. ~ Orrin Woodward.
Never invest yourself in anything so deeply that its failure could cost you your happiness. ~ Ian Caldwell.
Before you think of asking for support from someone for the success your dreams, ask yourself "how much of what I have can I invest?" Help yourself first! ~ Israelmore Ayivor.
---
So these were the 83 top quotes about Invest in Yourself.
If you like these quotes and sayings, then you can also read my other posts on City Lights quotes and Breaking Point quotes.
---
References: