Juice Wrld was a rapper who made songs about love, drugs, and money.
In March of 2019, the music world was shook by the death of an up-and-coming artist.
Juice WRLD was just 21 years old when he died of a seizure. He was best known for his hits "Lucid Dreams" and "All Girls Are The Same."
Juice WRLD's music was a unique blend of rap and rock, which helped him stand out from other artists in the industry.
He released his first album, "Goodbye & Good Riddance," in 2018, and it quickly rose to the top of the charts.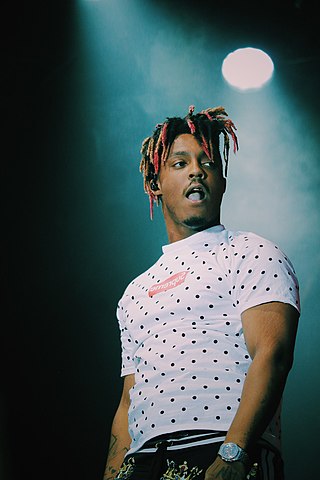 Despite his young age, Juice WRLD had already accomplished a lot in his short career.
He won two Billboard Music Awards and performed at some of the biggest music festivals in the world.
His death left many fans and colleagues grieving, but his legacy will continue to live on through his music.
I have curated some of the best 'Juice Wrld' quotes, sayings and captions for you to read and share with others.
---
Juice Wrld Quotes
It is hard to separate the art from the artist. ~ Juice Wrld.
Nobody on this earth is perfect. Everybody has their flaws; everybody has their dark secrets and vices. ~ Juice Wrld.
I can admit and say that I have feelings. ~ Juice Wrld.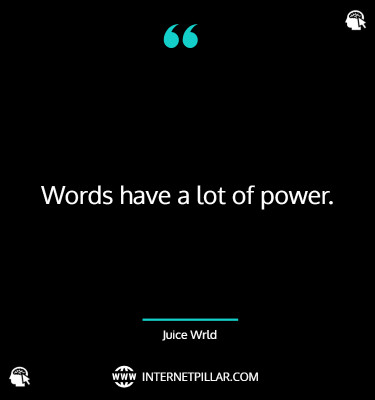 Words have a lot of power. ~ Juice Wrld.
I don't want to get lost in everything. I just want to keep the same work ethic. ~ Juice Wrld.
What's the 27 club? We ain't making it past 21. ~ Juice WRLD.
Elevate elevate elevate me now I am on the ground on the ground have not been myself. ~ Juice WRLD.
If you ain't payin' a hundred thousand, get the features out my face. ~ Juice WRLD.
Wait until my next girl finds out. Then I'm scared we gon' break up and fall out. Drownin' in my thoughts baby looking for a lighthouse. ~ Juice WRLD.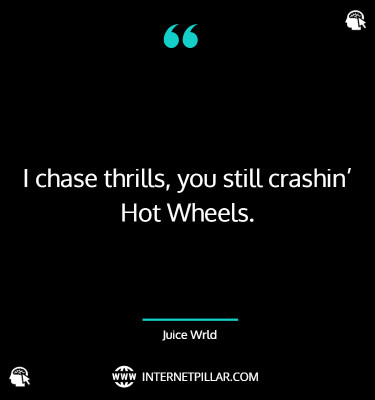 I chase thrills, you still crashin' Hot Wheels. ~ Juice WRLD.
I kinda grew up in different places. I was just from everywhere. ~ Juice Wrld.
I talk about a lot of issues I go through and some of my fans go through and try to create a fellowship where people can relate to each other. ~ Juice Wrld.
My music is straightforward because I want to give people me and let them know they're not alone in going through the things that they go through. ~ Juice Wrld.
It's good to put money back into communities. ~ Juice Wrld.
I started recording in my sophomore year in high school. I recorded things on my cell phone in my basement. ~ Juice Wrld.
I'm probably one of the biggest Drake fans you could ever find. ~ Juice Wrld.
Best Juice Wrld Quotes
Music is the best way that I can communicate with other people. ~ Juice Wrld.
Lucid dreaming is dreaming but you being aware that you're doing it. ~ Juice Wrld.
I never thought about college, but my mom thought about it for me. I knew 100 percent it wasn't for me. ~ Juice Wrld.
Everybody stay positive no matter how negative life gets. ~ Juice WRLD.
I still see your shadows in my room. ~ Juice WRLD.
I'm running to the money all the time so I can never be late. ~ Juice WRLD.
You left me falling and landing inside my grave I know that you want me dead. ~ Juice WRLD.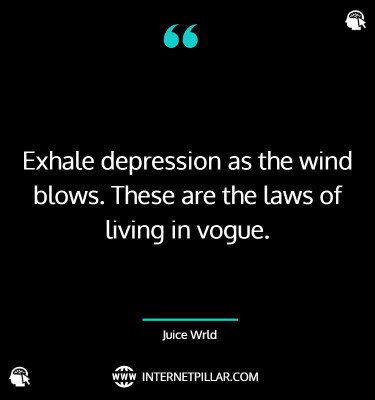 Exhale depression as the wind blows. These are the laws of living in vogue. ~ Juice WRLD.
I don't know if it's because my heart hurts or if I am insecure. ~ Juice WRLD.
Famous Juice Wrld Quotes
It's funny how the blessed ones had the most curses. ~ Juice WRLD.
Music turns up neighbors telling me to pipe down. ~ Juice WRLD.
Trust me: it's cool to invest. ~ Juice WRLD.
We're perfectly imperfect children. Rose from the dust, all of us are on a mission. ~ Juice WRLD.
Even in high school, I went through a lot of relationship issues, and that's at the center of my music. ~ Juice Wrld.
I feel like that's what's going to be most respected at the end of the day, that I'm able to do so many different things and become less of a rapper and just more as a musician. ~ Juice Wrld.
I got family members that's police officers. I don't got no problem if you a cop, as long as y'all doing y'all job, and y'all not harassing. ~ Juice Wrld.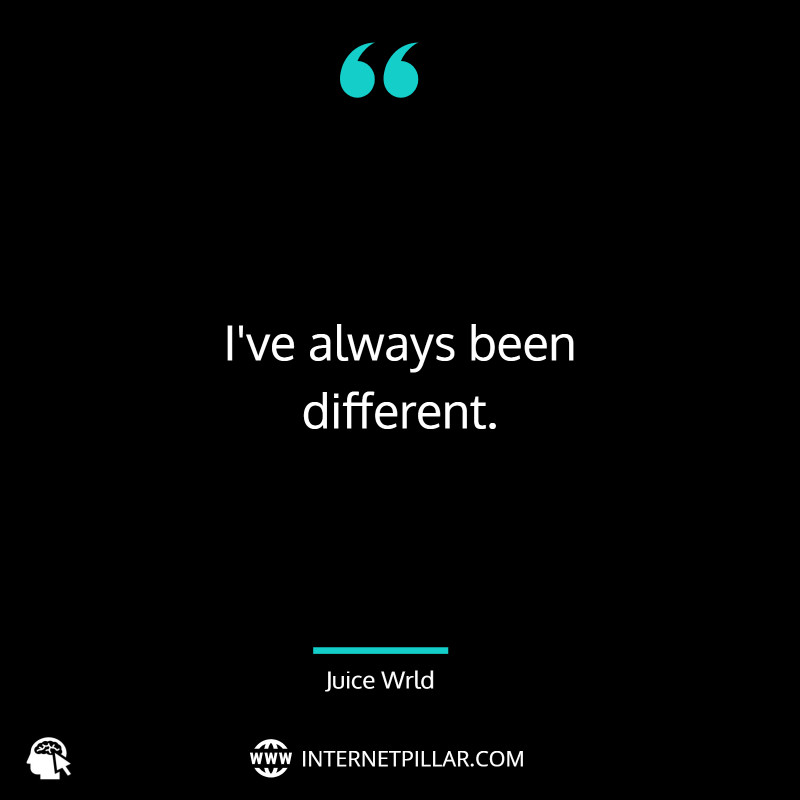 I've always been different. ~ Juice Wrld.
Even if I'm talking about something that's negative, I look at it as putting my mistakes out there for people to learn from it. ~ Juice Wrld.
Trust me: it's cool to invest. ~ Juice Wrld.
Juice Wrld Song Quotes
He became famous after his song "Lucid Dreams" went viral on the internet. Some of his other popular songs include "All Girls Are the Same" and "Sicko Mode".
You found another one, but I am the better one. I won't let you forget me. ~ Juice WRLD.
Telling you right now, all you'll find is a lost soul, rich and blind. ~ Juice WRLD.
I've been through the wringer, tryna put a diamond ring on her finger. ~ Juice WRLD.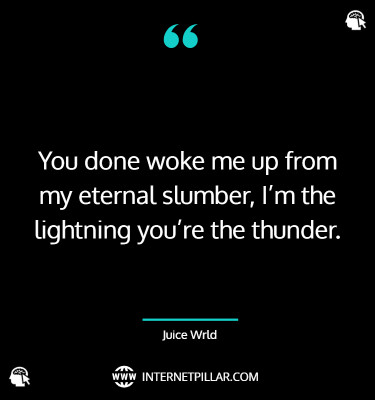 You done woke me up from my eternal slumber, I'm the lightning you're the thunder. ~ Juice WRLD.
I feel like I inspire more people than I think I do. I just need to remember that. ~ Juice Wrld.
Shout out to Sting: that's the G.O.A.T. right there. The goat. Greatest of all time. ~ Juice Wrld.
I've always been involved in music. Whether it be taking piano lessons or something, I always have. ~ Juice Wrld.
I had phases of listening to rap and trap, and then I had phases where I'd listen to post-hardcore, rap, grunge, metal… all that. I had different time periods of listening to different music. And now it all clashes together. ~ Juice Wrld.
Honestly, the way I make music, you know – it's like, I don't want to sound cocky or anything, but I try my best to make time with music that doesn't have an expiration date. ~ Juice Wrld.
I feel as though, if you're able to control your dreams, you have more power and control over your mind, like you could reach more areas of your mind. Therefore, I feel like it creates the ability for you to achieve more things in reality. ~ Juice Wrld.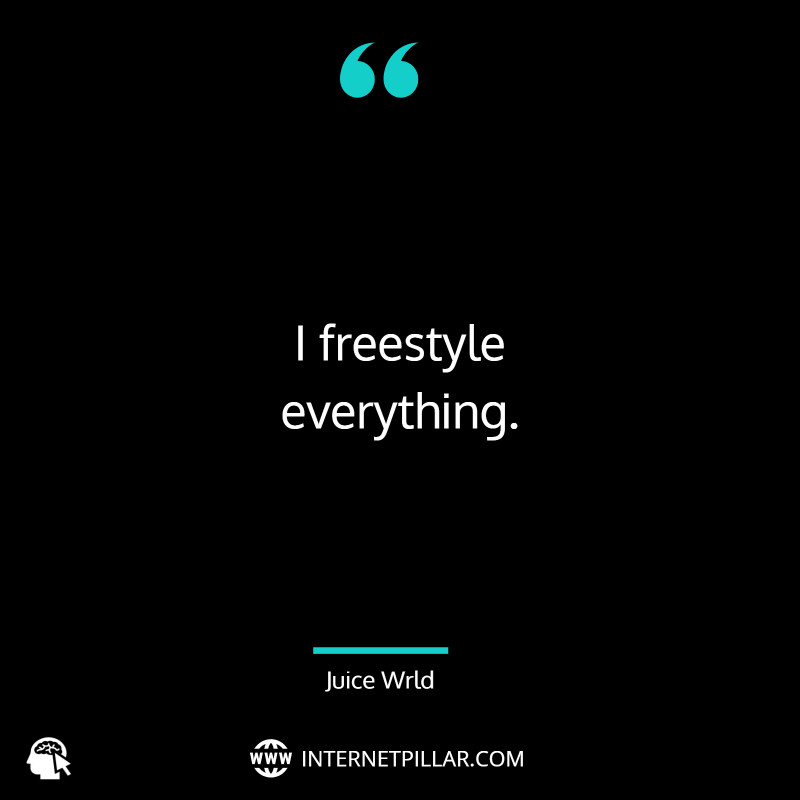 I freestyle everything. ~ Juice Wrld.
My school had a radio show, and when I first decided to become a rapper, I was on there, and I would, like, freestyle. ~ Juice Wrld.
I think it's important to add a personal aspect to your music – that's what makes it authentic at the end of the day. ~ Juice Wrld.
Top Juice Wrld Quotes
The goal in life is not to live forever but to create something that will. ~ Juice Wrld.
You were my everything. Thoughts of a wedding ring. Now I'm just better off dead. ~ Juice Wrld.
Tell me that it is all okay I have been waiting on this all damn day. ~ Juice Wrld.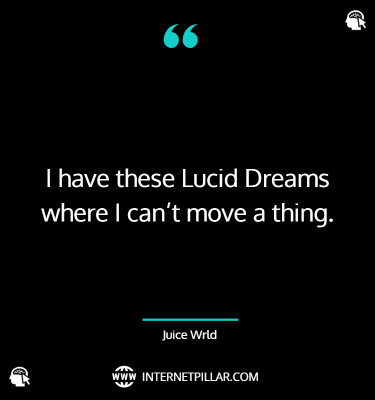 I have these Lucid Dreams where I can't move a thing. ~ Juice Wrld.
Ain't nothing like the feeling of uncertainty, the eeriness of silence. ~ Juice Wrld.
You just gotta learn to live and love on. ~ Juice Wrld.
I really just like making music. People call that 'work.' Like, 'Oh, you're going to the studio to work?' No, that's even what I do in my off day. I love recording. ~ Juice Wrld.
---
Here is one of the popular song from Juice WRLD for you to enjoy.
---
So these were the 55 quotes about Juice Wrld.
If you like these quotes and sayings, then you can also read my other popular blog posts on the topics of Drake quotes and Del Boy quotes.
You are welcome to share these best quotes, sayings and phrases with your friends and family on social media platforms such as (Facebook, Twitter, Instagram, WhatsApp, and Pinterest).
---
About Juice Wrld
Jarad Anthony Higgins, better known by his stage name Juice Wrld (pronounced "juice world"; stylized as Juice WRLD), was an American rapper, singer, and songwriter from Chicago, Illinois, who died on December 8, 2019.
He is regarded as a key character in the emo-rap and SoundCloud rap genres, both of which gained popularity in the mid-late 2010s.
---
Other Articles