Aubrey Drake Graham, widely known as Drake, is a Canadian rap artist who initially rose to fame as an actor on the TV series "Degrassi: The Next Generation."
Born in Toronto in 1986, Drake's parents divorced early in his life. His musical journey began when he self-published a mixtape in 2006.
His music career took off with the 2009 mixtape "So Far Gone." He soon signed with Lil Wayne's Young Money Entertainment and released multiple award-winning albums, including "Thank Me Later," "Take Care," and "Nothing Was the Same."
His 2015 mixtape "If You're Reading This It's Too Late" and "Views" in 2016 further established him as a leading artist. "Scorpion" in 2018 revealed personal details about his fatherhood.
Drake's other significant works include "Certified Lover Boy" and "Honestly, Nevermind."
Besides music, Drake co-founded the collective October's Very Own (OVO), which expanded into a record label and successful fashion line, collaborating with brands like Nike and Timberland.
Outside of music, he voiced a character in "Ice Age 4" and produced the HBO series "Euphoria."
Here are some of the amazing quotes by Drake.
---
Best Drake Quotes
1. "I was born to make mistakes, not to fake perfection." ~ (Drake).
2. "Pain makes you stronger. Fear makes you braver. Heartbreak makes you wiser." ~ (Drake).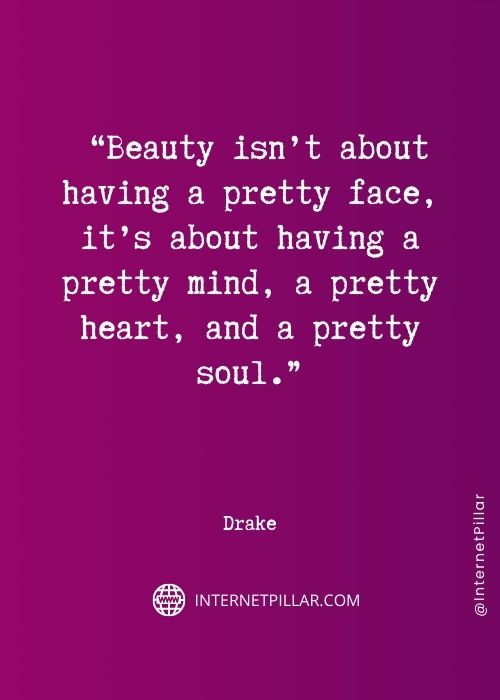 3. "Beauty isn't about having a pretty face, it's about having a pretty mind, a pretty heart, and a pretty soul." ~ (Drake).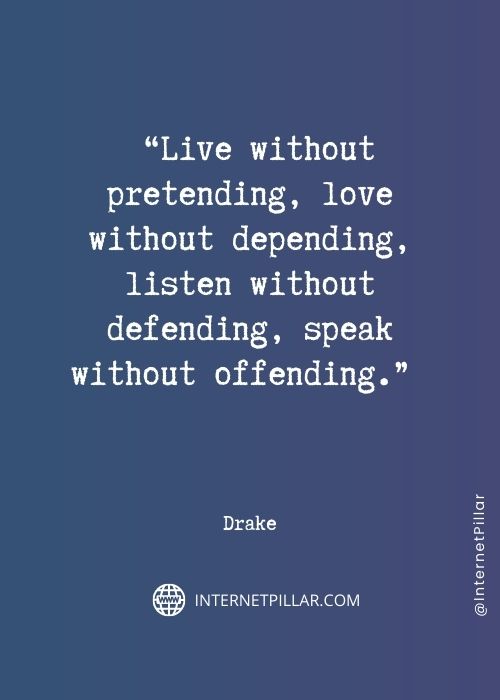 4. "Live without pretending, love without depending, listen without defending, speak without offending." ~ (Drake).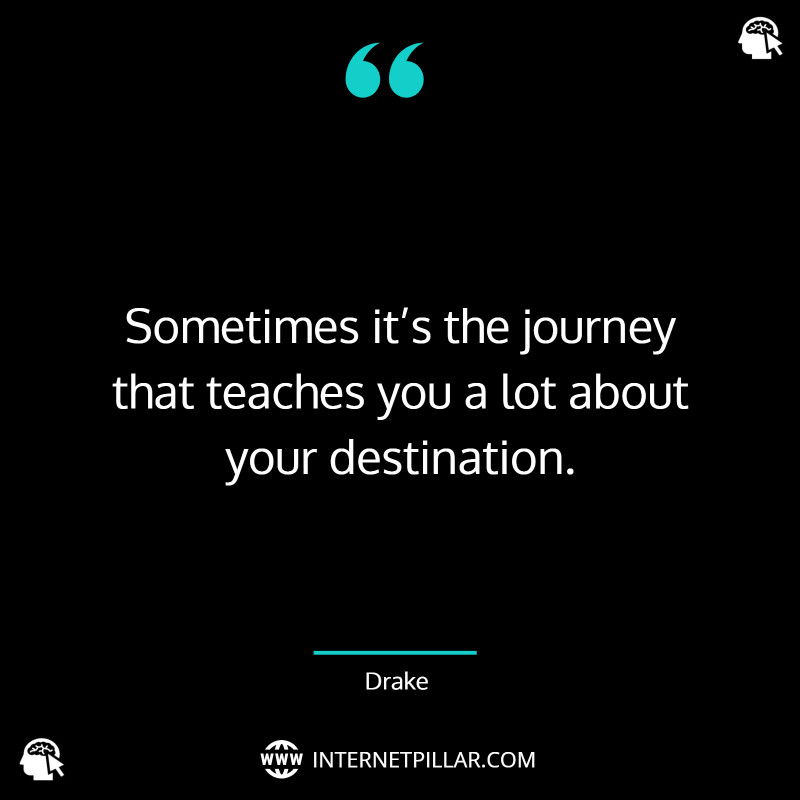 5. "Sometimes it's the journey that teaches you a lot about your destination." ~ (Drake).
6. "Sometimes you have to erase the messages, delete the numbers, and move on. You don't have to forget who that person was to you, but you do have to accept that they aren't that person anymore." ~ (Drake).
7. "No matter how dirty your past is, your future is still spotless." ~ (Drake).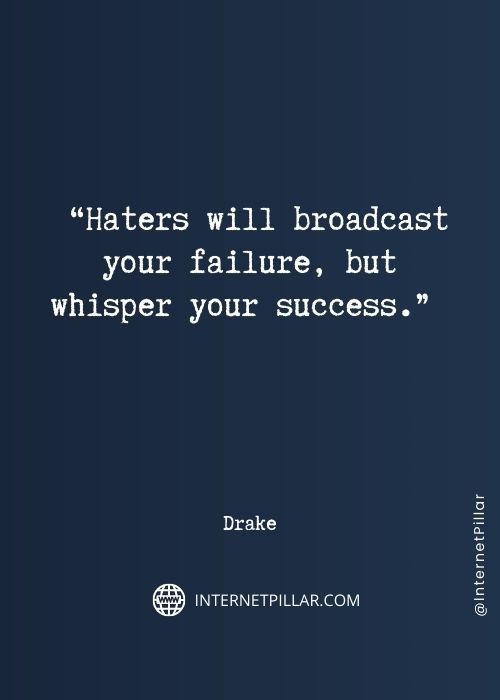 8. "Haters will broadcast your failure, but whisper your success." ~ (Drake).
9. "When you look ahead and darkness is all you see, faith and determination will pull you through." ~ (Drake).
10. "Insecurity is an ugly thing. It makes you hate people you don't even know." ~ (Drake).
11. "I learned working with the negatives could make for better pictures." ~ (Drake).
Top Drake Quotes
12. "You know it's real when you are who you think you are." ~ (Drake).
13. "Boys will break your heart. Real men will pick up the pieces." ~ (Drake).
14. "Jealousy is just love and hate at the same time." ~ (Drake).
15. "To be human is to be broken and broken is its own kind of beautiful." ~ (Drake).
16. "The worse feeling is when someone makes you feel special, then suddenly leaves you hanging, and you have to act like you don't care at all." ~ (Drake).
17. "The hardest thing about the business is minding your own." ~ (Drake).
18. "I'm obsessed with perfection. I want to work. I don't want to stop. I want to take advantage and make myself the best possible me that I can be." ~ (Drake).
19. "I live for the nights that I can't remember, with the people that I won't forget." ~ (Drake).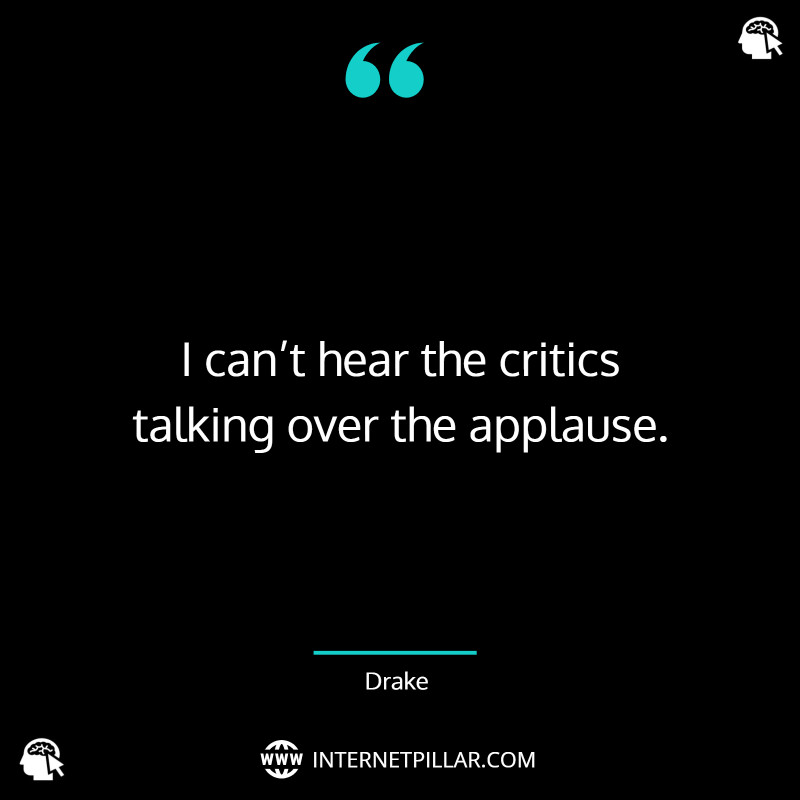 20. "I can't hear the critics talking over the applause." ~ (Drake).
21. "Lights get low and that's when I have my brightest ideas." ~ (Drake).
22. "It's great when two strangers become best friends but not when best friends become two strangers." ~ (Drake).
23. "Seven days without love makes one weak." ~ (Drake).
24. "You never worry about the last laugh if you've been laughing the whole time." ~ (Drake).
Famous Drake Quotes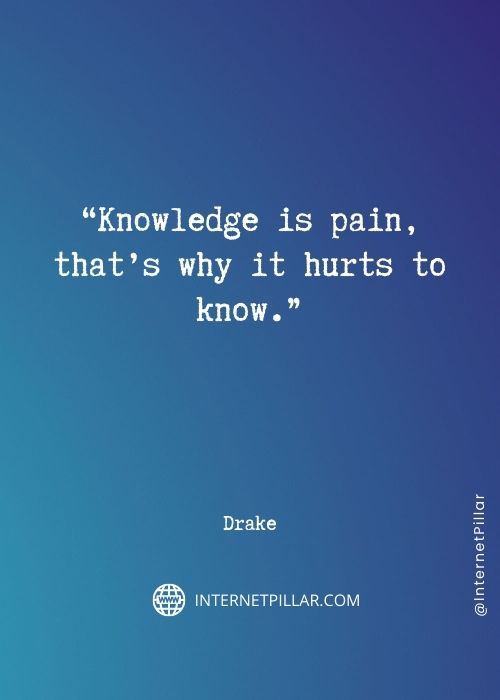 25. "Knowledge is pain, that's why it hurts to know." ~ (Drake).
26. "Never say that you regret something, because at one point in your life, you wanted it." ~ (Drake).
27. "A girl should have two things: a smile, and a guy who inspires it." ~ (Drake).
28. "Patience is key for getting over a breakup. That, and trailing off your interaction after the breakup." ~ (Drake).
29. "If you were a star you'd be the one I'm searching for" ~ (Drake).
30. "I took a chance with my heart and I feel it taking over." ~ (Drake).
31. "The game ain't always fair and that's the thing though. You can play your heart out, everyone don't get a ring though." ~ (Drake).
32. "You don't make stupid internet videos or show people you have too much free time, you just say the right things and they'll be like, Damn this dude's a real person and I can relate to that. That can make somebody's life, that can make somebody's day, that can be a line that they never forget." ~ (Drake).
33. "When I'm writing, I'm thinking about how the songs are going to play live. Fifty bars of rap don't translate onstage. No matter how potent the music, you lose the crowd. They want a hook; they want to sing your stuff back to you." ~ (Drake).
Popular Drake Quotes
34. "Always gone but never hard to find. And since you can't escape me, do I ever cross your mind?" ~ (Drake).
35. "I always view my music like a city at night, like Atlanta. I view my music in lights. So Far Gone would be my experiences in Toronto at night." ~ (Drake).
36. "If a guy can't handle you in sweatpants, than he doesn't deserve you in a wedding dress." ~ (Drake).
37. "Reviews condition people. At the end of the day, a lot of human minds are malleable. They can be easily shaped with strong words." ~ (Drake).
Inspiring Drake Quotes
38. "There will be days when I walk in an arena and people will cheer and then there might be days when I walk in an arena and people might boo, but it all sounds the same to me because it's all just noise that lets me know that I'm relevant." ~ (Drake).
39. "They say real girls ain't never perfect, perfect girls ain't never real." ~ (Drake).
40. "Im sitting in a chair but in the future its a throne." ~ (Drake).
41. "I know they say that first love is the sweetest, but that first cut is the deepest." ~ (Drake).
---
You Might Like