March is a pivotal month that embodies the essence of transformation.
As it rolls in, the world experiences a palpable shift. The days gradually stretch out, gifting us longer hours of daylight.
Alongside the temperature gently ascends signaling the departure of the harsh winter and the welcome arrival of spring.
March carries within its stride the promise of new growth. As the dormant seeds wake from their winter slumber, life bursts forth in myriad forms, making March a testament to the resilience and vitality of nature.
Symbolically, March is represented by the Daffodil, a vibrant flower that stands for forgiveness, trust, honesty and true love.
Its blooming is a reminder of the virtue of these qualities, encouraging us to embrace them.
As March unfolds, it brings along countless opportunities for joy, tucked away in seemingly inconspicuous moments.
It is a time for self-reflection and discovery urging you to understand yourself better.
It is hoped that this transformative month of March will fill your life with abundant happiness and profound self-discovery.
---
Best March Quotes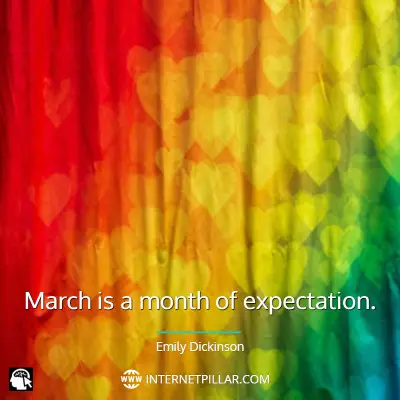 March is a month of expectation. ~ Emily Dickinson.
If you have no winter, the spring would not be so important. ~ Anne Bradstreet.
March brings breezes loud and shrill, stirs the dancing daffodil. ~ Sara Coleridge.
Goodbye February, Hello March. ~ Unknown.
Springtime is the land awakening. The March winds are the morning yawn. ~ Lewis Grizzard.
March is here. It reminds me of sports day at school, 3rd March, full day on the field. ~ Faraz.
Hello, March! Surprise me. ~ Unknown.
Our life is March weather, savage and serene in one hour. ~ Ralph Waldo Emerson.
You can cut all the flowers but you cannot keep Spring from coming. ~ Pablo Neruda.
Welcome March, one day at a time. ~ Unknown.
For sports fans, watching events like this weekend's Super Bowl or the upcoming March Madness tournament in crystal clear HD is the next best thing to being in the front row. ~ Dave Watson.
As it rains in March so it rains in June. ~ Unknown.
Related Quotes: 72 Spring Quotes to Welcome Season of New Beginnings and 60 October Quotes to Welcome Fall and Autumn
Famous March Quotes
To welcome her the Spring breath's forth Elysian sweets; March strews the Earth With violets and posies. ~ Edmund Waller.
One swallow does not make a summer, but one skein of geese, cleaving the murk of March thaw, is the spring. ~ Aldo Leopold.
Where did Gabriel get a lily, in the month of March, when the green is hardly seen on the early larch? ~ Grace James.
March, when days are getting long, Let thy growing hours be strong to set right some wintry wrong. ~ Caroline May.
March Madness brings April Sadness. ~ Unknown.
Boredom is when the same naïve flowers blossom again in the month of March. ~ Iwan Goll.
March came in that winter like the meekest and mildest of lambs, bringing days that were crisp and golden and tingling, each followed by a frosty pink twilight which gradually lost itself in an elfland of moonshine. ~ L.M. Montgomery.
March is that month where you need your full wardrobe as day to day you don't know if you need your winter hat or your shorts… ~ Unknown.
Inspiring March Quotes
March, master of winds, bright minstrel and marshal of storms that enkindle the season they smite. ~ Algernon C. Swinburne.
They captured in their ramble all the mysteries and magics of a March evening. ~ L.M. Montgomery.
Match the right things in March. ~ Ernest Agyemang Yeboah.
Spring is nature's way of saying, Let's party!. ~ Robin Williams.
A wet March, a wet Spring. ~ Unknown.
It was one of those March days when the sun shines hot and the wind blows cold: when it is summer in the light, and winter in the shade. ~ Charles Dickens.
Spring work is going on with joyful enthusiasm. ~ John Muir.
The March wind roars, Like a lion in the sky, And makes us shiver, As he passes by. ~ Unknown.
Top March Quotes
A cloud comes over the sunlit arch, a wind comes off a frozen peak, and you're two months back in the middle of March. ~ Robert Frost.
No one's gonna give a damn in July if you lost a game in March. ~ Earl Weaver.
So many mists in March, so many frosts in May. ~ Unknown.
The stormy March has come at last, With winds and clouds and changing skies; I hear the rushing of the blast That through the snowy valley flies. ~ William C. Bryant.
A perfect spring day! Enjoy it while it lasts because you don't know what's coming. ~ Marty Rubin.
March comes in like a lion and goes out like a lamb. ~ English Proverb.
A dry March and a wet May, fill barns and bays, with corn and hay. ~ Unknown.
Daffodils, That come before the swallow dares, and take The winds of March with beauty. ~ William Shakespeare.
Inspirational March Quotes
You are reborn with the roses, in every spring. ~ Juan Ramón Jiménez.
If you want to see a fistfight between Winter and Spring then take a look at March! ~ Unknown.
March is an example of how beautiful new beginnings can be. ~ Anamika Mishra.
March gives a perfect message to hold on and never give up because spring will come and life will get warmer. ~ Unknown..
February is merely as long as is needed to pass the time until March. ~ J.R. Stockton.
March winds and April showers bring forth May flowers. ~ English Proverb.
A light exists in Spring, not present in the year at any other period when March is scarcely here. ~ Emily Dickinson .
March's birth flower is the daffodil. It's all too appropriate that cheerful yellow flowers represent the first month of spring. ~ FTD.
Popular March Quotes
In winter, I plot and plan. In spring, I move. ~ Henry Rollins.
Believe in yourself because every February gust is followed by a March spring. ~ Unknown.
It was March. The days of March creeping gustily on like something that man couldn't hinder and God wouldn't hurry. ~ Enid Bagnold.
Spring shows what God can do with a drab and dirty world. ~ Virgil A. Kraft.
Hello March! Be good to me! ~ Unknown.
Winds of March, we welcome you, there is work for you to do. Work and play and blow all day, blow the winter wind away. ~ Unknown.
I hope your decisions in life aren't as ill-conceived as your March Madness bracket. ~ Unknown.
In March winter is holding back and spring is pulling forward. Something holds and something pulls inside of us too. ~ Jean Hersey.
Powerful March Quotes
This is the perfume of March: rain, loam, feathers, mint. ~ Lisa Kleypas.
By March, the worst of the winter would be over. The snow would thaw, the rivers begin to run and the world would wake into itself again. ~ Neil Gaiman.
March is a tomboy with tousled hair, a mischievous smile, mud on her shoes and a laugh in her voice. ~ Hal Borland.
Hello March. Please Be Awesome! ~ Unknown.
Indoors or out, no one relaxes in March, that month of wind and taxes, the wind will presently disappear, the taxes last us all the year. ~ Ogden Nash.
March bustles in on windy feet, and sweeps my doorstep and my street. ~ Susan Reiner.
It was the second week in March . . . The magnolia trees had already bloomed, and tulips, daffodils, and wildflowers were shooting up all around the convent's gardens. ~ Rosanna Chiofalo.
Positive March Quotes
A windy March is lucky. Every pint of March dust brings a peck of September corn, and a pound of October cotton. ~ Julia Peterkin.
In March the soft rains continued, and each storm waited courteously until its predecessor sunk beneath the ground. ~ John Steinbeck.
I like college football, but I'm a huge college basketball fan. I could sit and watch every game of March Madness and be happy. That could be a vacation. ~ Lewis Black.
March is a celebration of the dead season ending and life beginning! ~ Unknown.
The first day of spring is one thing, and the first spring day is another. The difference between them is sometimes as great as a month. ~ Henry Van Dyke.
Hello March! Bring love & happiness in our lives. ~ Unknown.
---
So these were the 70 top quotes about March month.
If you like these quotes and sayings, then you can also read my other posts on January quotes and February quotes.
---
External Sources: