Prayer works and it has provided comfort, solace and strength to countless people.
Prayer provides a sense of calmness and comfort in the midst of our life's ups and downs.
The quotes given in this blog post serve as a reminder of the prayer's transformational power and how they can help us discover the inner strength that we need to overcome difficulties, hurdles and confront problems with grace and bravery.
---
Top 10 Power of Prayer Quotes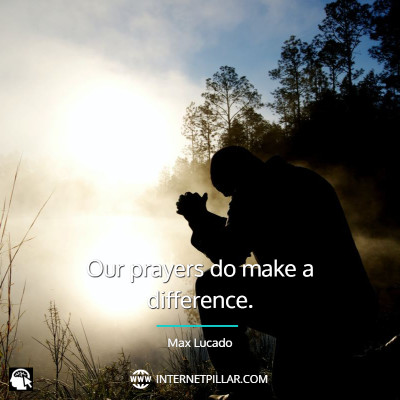 Our prayers do make a difference. ~ Max Lucado.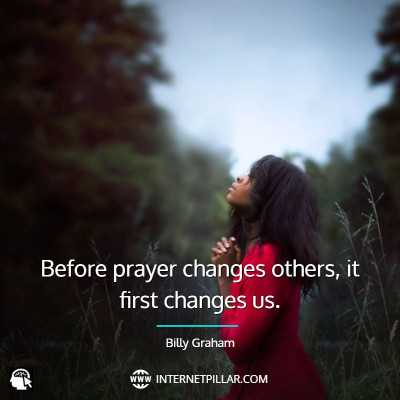 Before prayer changes others, it first changes us. ~ Billy Graham.
Prayer is where the action is. ~ John Wesley.
The power of prayer is like turning on a light as it illuminates God's purpose for our lives. ~ Thomas Kinkade.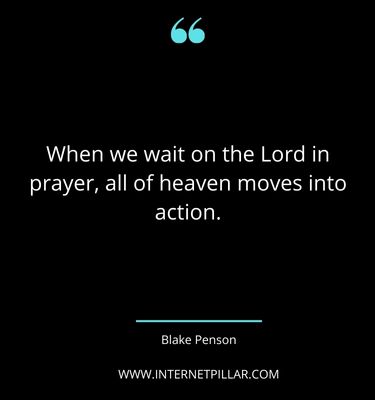 When we wait on the Lord in prayer, all of heaven moves into action. ~ Blake Penson.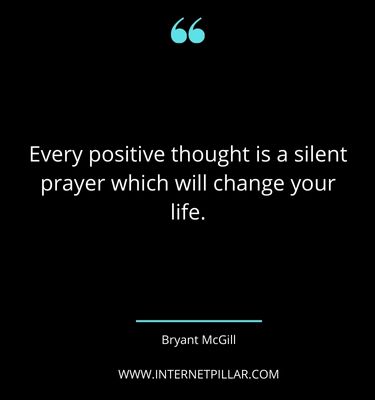 Every positive thought is a silent prayer which will change your life. ~ Bryant McGill.
Prayer does not change God, but it changes him who prays. ~ Soren Kierkegaard.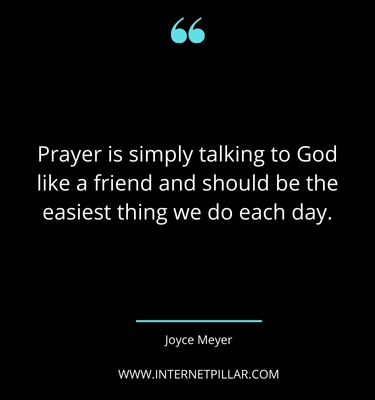 Prayer is simply talking to God like a friend and should be the easiest thing we do each day. ~ Joyce Meyer.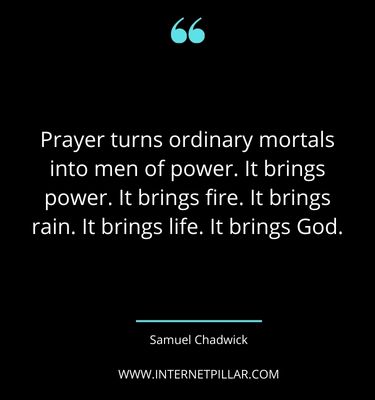 Prayer turns ordinary mortals into men of power. It brings power. It brings fire. It brings rain. It brings life. It brings God. ~ Samuel Chadwick.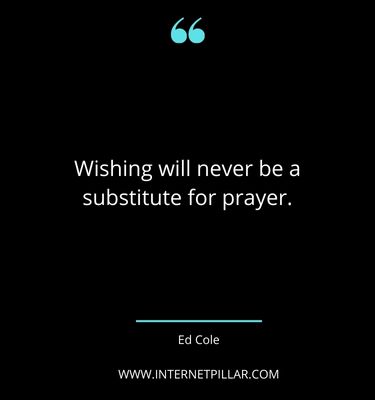 Wishing will never be a substitute for prayer. ~ Ed Cole.
Also Read: Prayer Quotes to Give You Powerful Encouragement & Inspiration and Thank You God Quotes to Express Gratitude and Prayer
Popular Power of Prayer Quotes
Prayer is the one prime, eternal condition by which the Father is pledged to put the Son in possession of the world. Christ prays through His people. ~ E. M. Bounds.
To keep God at the center of one's life requires frequent renewal of power through prayer. ~ Georgia Harkness.
Prayer is the nearest approach to God. ~ William Law.
Prayer is the key that unlocks all the storehouses of God's infinite grace and power. ~ R.A. Torrey.
If you want your prayers answered, get up off your knees and do something about them. ~ Wally Lamb.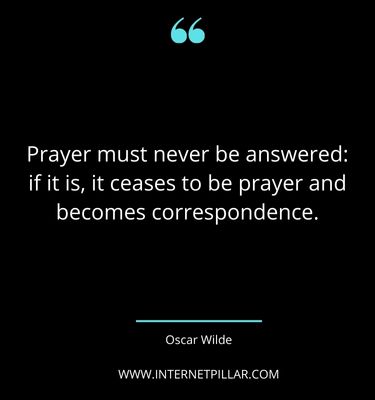 Prayer must never be answered: if it is, it ceases to be prayer and becomes correspondence. ~ Oscar Wilde.
Prayer is simply a two-way conversation between you and God. ~ Billy Graham.
Prayer is not asking. Prayer is putting oneself in the hands of God, at His disposition, and listening to His voice in the depth of our hearts. ~ Mother Teresa.
God does nothing but by prayer, and everything with it. ~ John Wesley.
We have to pray with our eyes on God, not on the difficulties. ~ Oswald Chambers.
When life itself has become a prayer, we are connected to that source of love and life. ~ Brian Hardin.
A powerful prayer is one that does not let go. It does not quit. It is profitable and powerful because it is persistent. ~ Michael Catt.
Perfect prayer does not consist in many words, silent remembering and pure intention raises the heart to that supreme Power. ~ Amit Ray.
Pray as though everything depended on God. Work as though everything depended on you. ~ St. Augustine.
Prayer breaks all bars, dissolves all chains, opens all prisons, and widens all straits by which God's saints have been held. ~ Edward Mckendree Bounds.
The reason why we obtain no more in prayer is because we expect no more. God usually answers us according to our own hearts. ~ Richard Alleine.
Prayer makes your heart bigger, until it is capable of containing the gift of God himself. ~ Unknown.
God can handle your doubt, anger, fear, grief, confusion, and questions. You can bring everything to him in prayer. ~ Rick Warren.
Best Power of Prayer Quotes
God's purposes and plans will not fail. Before you spend all your prayer time telling him about yours, ask about his. ~ Louie Gigli.
God lives. He is near. He is real. He is not only aware of us but cares for us. He is our father. He is accessible to all who will seek Him. ~ Gordon B. Hinckley.
Helplessness becomes prayer the moment that you go to Jesus and speak candidly and confidently with him about your needs. This is to believe. ~ Ole Hallesby.
Prayer is communication with the divine. It can be whispered or chanted or written or expressed in the work you do. ~ Donna wilk.
Prayer should not be regarded as a duty which must be performed, but rather as a privilege to be enjoyed, a rare delight that is always revealing some new beauty. ~ E.M. Bounds.
Prayer is aligning ourselves with the purposes of God. ~ E. Stanley Jones.
Prayer is not conquering God's reluctance, but taking hold of God's willingness. ~ Phillip Brooks.
Prayer is less about changing the world than it is about changing ourselves. ~ David Wolpe.
It is better in prayer to have a heart without words than words without heart. ~ Mahatma Gandhi.
Pray as if everything depended upon God and work as if everything depended upon man. ~ Francis Cardinal Spellman.
Miracle Power of Prayer Quotes
The best way to obtain truth and wisdom is not to ask from books, but to go to God in prayer, and obtain divine teaching. ~ Joseph Smith Jr.
The great thing in prayer is to feel that we are putting our supplications into the bosom of omnipotent love. ~ Andrew Murray.
Prayer indeed is good, but while calling on the gods a man should himself lend a hand. ~ Hippocrates.
Prayer is simply a vertical conversation with the powers that be, rather than a horizontal conversation with other people. ~ Saskia Lightstar.
Never underestimate the power of prayer! Constant prayer, with full conviction, without loss of hope, really does create miracles. ~ Ritu Ghatourey.
Prayer is the means of sustaining a faith that at times can grow weak, the power of prayer is enriching, uplifting to hear our God speak. ~ Greta Zwaan.
Those who pray from the heart do not think about the prayer they are saying, but about the God to whom they pray. ~ Saint Francis De Sales.
Our prayers are heard, not because we are in earnest, not because we suffer, but because Jesus suffered. ~ Oswald Chambers.
Prayer is the raising of one's mind and heart to God or the requesting of good things from God. ~ St. John Damascene.
Famous Power of Prayer Quotes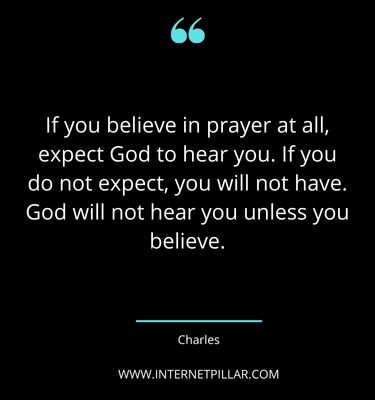 If you believe in prayer at all, expect God to hear you. If you do not expect, you will not have. God will not hear you unless you believe. ~ Charles.
The greatest answer to prayer is that I am brought into a perfect understanding with God, and that alters my view of actual things. ~ Oswald Chambers.
Time spent in prayer is never wasted. ~ Francis Fenelon.
Prayer begets faith, faith begets love, and love begets service on behalf of the poor. ~ Mother Teresa.
In prayer, it is better to have a heart without words than words without a heart. ~ John Bunyan.
Prayer is powerful, and paves the way for the both of you to come together in God's perfect timing. ~ Tiffany Langford.
Prayer enlarges the heart until it is capable of Containing God's gift of himself. ~ Mother Theresa.
Prayer is powerful. It can heal, prayer can give, and it can change lives. ~ Shane DeCreshio.
In the morning, prayer is the key that opens to us the treasures of God's mercies and blessings; in the evening, it is the key that shuts us up. ~ Billy Graham.
Do not pray for easy lives. Pray to be stronger men! Do not pray for tasks equal to your powers. Pray for powers equal to your tasks. ~ Phillips Brooks.
Ultimate Power of Prayer Quotes
Prayer is not a preparation for the battle; it is the battle ! ~ Leonard Ravenhill.
Whether we realize it or not, prayer is the encounter of God's thirst with ours. God thirsts that we may thirst for him. ~ St. Augustine.
Whatever a man prays for, he prays for a miracle. Every prayer reduces itself to this: great God, grant that twice two be not four. ~ Ivan Turgenev.
You only talk to yourself when you pray without believing and having faith in your prayers. ~ Ernest Agyemang Yeboah.
Do not make prayer a monologue…make it a conversation. ~ Unknown.
Your prayer for someone may or may not change them, but it always changes you. ~ Craig Groeschel.
I believe in prayer. It's the best way we have to draw strength from heaven. ~ Josephine Baker.
Prayer is nothing but the breathing that out before the Lord, that was first breathed into us by the spirit of the Lord. ~ Thomas Brooks.
A vital and personal relationship with the living and true God. This relationship is prayer ~ Para.
Prayer is not only asking, but an attitude of mind which produces the atmosphere in which asking is perfectly natural. ~ Oswald Chambers.
Great Power of Prayer Quotes
Prayers are the very highest energy of which the mind is capable. ~ Samuel Taylor Coleridge.
Every great movement of God can be traced to a kneeling figure. ~ D.L. Moody.
The world was made partly that there may be prayer; partly that our prayers might be answered. ~ C.S. Lewis.
It is true that a prayer that comes from the heart can move mountains, it increases your faith, and brings you closer to God. ~ Rebecca Small.
Prayer doesn't just change things – it changes us. If we are diligent in seeking God, slowly and surely we become better people. ~ Joyce Meyer.
Prayer does not fit us for the greater work; prayer is the greater work. ~ Oswald Chambers.
The Lord is faithful to those who are faithful and earnestly seek Him. ~ Ben Lance.
As you read or listen to God's word and spend time talking to him in prayer, your spirit will eventually become stronger than your flesh. ~ Joyce Meyer.
Prayer changes us in ways that we never thought would be possible. When we are unhappy, prayer can lift our hearts and fill it with unspeakable joy. ~ Julia Bristol.
Change can be accomplished most of all through the power of prayer, because with God all things are possible. ~ Wilfred Peterson.
Prayer is not asking for what you think you want, but asking to be changed in ways you can't imagine. ~ Kathleen Norris.
Prayer is the inner bath of love into which the soul plunges itself. ~ St. John Vianney.
God speaks in the silence of the heart. Listening is the beginning of prayer. ~ Mother Teresa.
The power of prayer is beyond the understanding of men. ~ Lailah Gifty Akita.
Wise Power of Prayer Quotes
Prayer gives a man the opportunity of getting to know a gentleman he hardly ever meets. I do not mean his maker, but himself. ~ William Inge.
When man is with God in awe and love, then he is praying. ~ Karl Rahner.
The Lord longs to hear all of our concerns – any concern too small to be turned into a prayer is too small to be made into a burden. ~ Corrie ten Boom.
Prayer is the link that connects us with God. ~ A.B. Simpson.
Prayer requires more of the heart than of the tongue. ~ Adam Clarke.
Prayer is a strong wall and fortress of the church; it is a goodly Christian weapon. ~ Martin Luther.
Prayer is the open admission that without Christ we can do nothing. And prayer is the turning away from ourselves to God in the confidence that He will provide the help we need. Prayer humbles us as needy and exalts God as wealthy. ~ John Piper.
A day without prayer is a day without blessing, and a life without prayer is a life without power. ~ Edwin Harvey.
Some people pray just to pray and some people pray to know God. ~ Andrew Murray.
The whole reason why we pray is to be united into the vision and contemplation of God to whom we pray. ~ Julian of Norwich.
Inspirational Power of Prayer Quotes
Prayer is God's ordained way to bring his miracle power to bear in human need. ~ Wesley L Duewel.
Speak to Him, thou, for He hears, and Spirit with Spirit shall meet, Closer is He than breathing, and Nearer than hands and feet. ~ Tennyson.
God does nothing except in response to believing prayer. ~ John Wesley.
God shapes the world by prayer. The more praying there is in the world the better the world will be, the mightier the forces against evil. ~ Mother Teresa.
Most of us know about God, but that is quite different from knowing God. ~ Billy Graham.
I think of prayer as a spiritual life-line back to where I most want to be. ~ Marianne Williamson.
No matter what, never underestimate the power of prayer, love and faith. ~ Anurag Prakash Ray.
Pray as you can, not as you can't. ~ Dom Chapman.
To pray rightly, you must make God your hope, stay, and all. Right prayer sees nothing substantial or worth being concerned about except God. ~ John Bunyan.
Prayer is the song of the heart. It reaches the ear of God even if it is mingled with the cry and tumult of a thousand men. ~ Kahlil Gibran.
If you have faith, don't overlook the power of just praying for strength every day. ~ Jennifer Roskamp.
The greatest use of your words is prayer. Talk to God about everything, all the time. Maintain a running conversation. ~ Rick Warren.
---
So these were the 102 top Power of Prayer quotes and sayings.
If you like these quotes and sayings, then you can also read my other posts on brotherhood quotes and No regrets quotes.
---
Sources and Inspiration