Self-talk is a potent instrument that, when employed appropriately, can yield substantial benefits in our lives.
It denotes the inner conversation that transpires within our minds, sculpting our understanding of ourselves and our environment.
Our self-talk can profoundly influence our mindset, convictions and emotional responses.
Engaging in positive self-talk, peppered with reassuring and affirmative statements, can bolster self-esteem, enhance our mood and foster resilience when confronted with challenges.
It assists us in maintaining an optimistic outlook and cultivating self-confidence, propelling us toward our aspirations.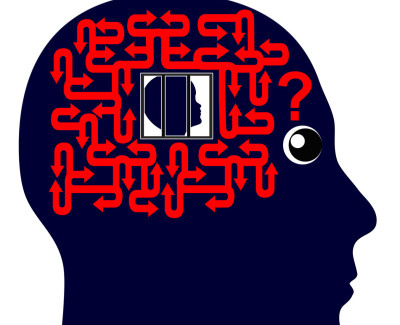 However, negative self-talk can be counterproductive, as it fuels feelings of insufficiency and self-doubt.
Consequently, consciously adjusting our inner narrative to be more positive and inspiring can be a transformative step.
It can lead to improved mental wellbeing and a more gratifying life experience.
---
Top 10 Self Talk Quotes That Are Positive
Words matter. And the words that matter most are the ones you say to yourself. ~ David Taylor-Klaus.
Your self-talk is the channel of behavior change. ~ Gino Norris.
We talk of choosing our friends, but our friends are self-elected. ~ Ralph Waldo Emerson.
Learn to live more in the Self. Come down a little bit to eat and talk as necessary. ~ Goswami Kriyananda.
Talk to yourself as you would to someone you love. ~ Brene Brown.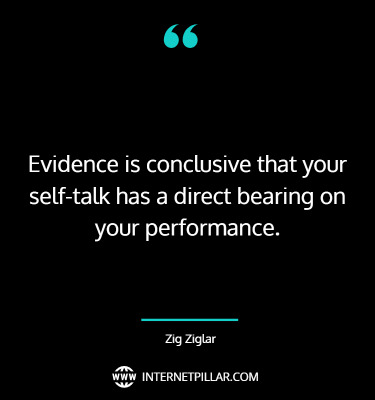 Evidence is conclusive that your self-talk has a direct bearing on your performance. ~ Zig Ziglar.
I'm trying to stop lying to myself about little things. I'm still working on the big ones. ~ Terry McMillan.
I monitor my self-talk, making sure that it is uplifting and supportive of myself and others. ~ Louise Hay.
Negative self-talk and negative affirmation can keep you anchored in old thought patterns and identities. ~ Bryant McGill.
We should self-examine and talk about things like our own white privilege and these phony senses of being an artist. ~ Geoff Rickly.
Related Topic Quotes: 84 Self Discovery Quotes and Sayings to Find Yourself and 84 Today Quotes to Inspire and Motivate You
Best Self Talk Quotes
Effective self-talk strategies can give us a greater sense of control over our doubts, worries, and fears. ~ Noel Brick.
Everything you attract into your life is a reflection of the story you believe and keep telling yourself. ~ Farshad Asl.
We talk about self-expression but need to pause and remember that self-expression requires a self to express… ~ Julia Cameron.
There's not a woman in the world who hasn't felt self-conscious about something! We as women all experience it but we never talk about it. ~ Coco Rocha.
Doubt, not self-reflection, comes from a destructive energy, and when it rears its head, I talk to it like a lunatic. ~ Gwyneth Paltrow.
If human emotions largely result from thinking, then one may appreciably control one's feelings by controlling one's thoughts – or by changing the internalized sentences, or self-talk, with which one largely created the feeling in the first place. ~ Albert Ellis.
When we talk about self-confrontations, we are speaking about moral issues rather than social issues. ~ Asghar Farhadi.
I wanted to talk to very young kids about self-image and about being different and how that can be your strength, especially from the immigrant perspective. ~ Gloria Estefan.
Poetry connects you to yourself, to the self that doesn't know how to talk or negotiate. ~ Rita Dove.
Convince yourself everyday that you are worthy of a good life. Let go of stress, breathe. Stay positive, all is well. ~ Germany Kent.
One ounce of the practice of righteousness and of spiritual Self-realization outweighs tons and tons of frothy talk and nonsensical sentiments. ~ Swami Vivekananda.
The most important key to the permanent enhancement of self esteem is the practice of positive inner-talk. ~ Denis Waitley.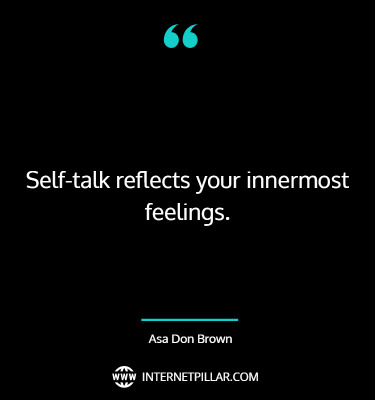 Self-talk reflects your innermost feelings. ~ Asa Don Brown.
Famous Self Talk Quotes
No level of obstacle can prevail in crippling a mind that's continuously fed with positive self-talk. ~ Edmond Mbiaka.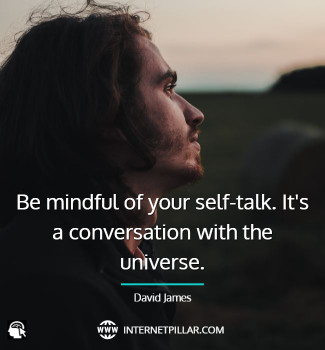 Be mindful of your self-talk. It's a conversation with the universe. ~ David James.
Via self-talk we give our mind instructions on what we expect of ourselves and so behave accordingly. Change the instructions and we change the outcomes. ~ Sam Owen.
There's a lot of talk these days about giving children self-esteem. It's not something you can give; it's something they have to build. ~ Randy Pausch.
It is very noble hypocrisy not to talk of one's self. ~ Friedrich Nietzsche.
We have to give our brain permission to search for, and find, answers. This permission comes in the form we talk to ourselves. ~ Sam Owen.
The more faithfully you listen to the voices within you, the better you will hear what is sounding outside. ~ Dag Hammarskjold.
Positive self-talk, you should try it. ~ Unknown.
Turn off any self-talk that tells you that you are destined to live a small life. You're not. ~ Loral Langemeier.
Never to talk to oneself is a form of hypocrisy. ~ Lord Byron.
The quality of your life is the quality of your communication. ~ Anthony Robbins.
Inspirational Self Talk Quotes
Learn to catch yourself and stop yourself immediately when you are engaging in negative self-talk. ~ Bryant McGill.
To talk about realizing the Self is discontinuous because there is nothing to realize but the Self. There is nothing but realization. ~ Frederick Lindemann.
Don't be a victim of your thoughts. ~ Darlene Lancer.
I've puzzled over the difficulty that students have with editing, and I think I've identified its source: It's their self-talk. We all talk to ourselves, inside our heads. That's what consciousness is. ~ Richard Rhodes.
Positive self-talk can build your self-confidence. ~ Stanley T. Crawford.
My body wasn't the problem; my thoughts and beliefs were. ~ Anne Poirier.
The more man meditates upon good thoughts, the better will be his world and the world at large. ~ Confucius.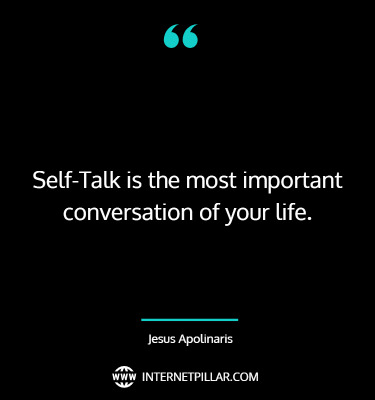 Self-Talk is the most important conversation of your life. ~ Jesus Apolinaris.
Popular Self Talk Quotes
Be careful how you are talking to yourself because you are listening. ~ Lisa Hayes.
There is no inspiration without being armed with the ability of self-talk. ~ Mwanandeke Kindembo.
Relentless, repetitive self talk is what changes our self-image. ~ Denis Waitley.
Talking to yourself is okay. Answering back is risky. ~ Brian Spellman.
I always feel so pretentious talking about comedy and deconstructing it. It always feels somehow self-centered to talk about any sort of process. ~ Steve Carell.
If I'm not talking myself out of depression, I'm talking myself into depression. ~ Curtis Tyrone Jones.
Inspiring Self Talk Quotes
A self-help book can't really address a problem unless it's individualized. It's not going to talk about a globalized problem. ~ Hank Azaria.
The thoughts in your mind will always be more important than the things in your life. Choose happiness. ~ John C. Maxwell.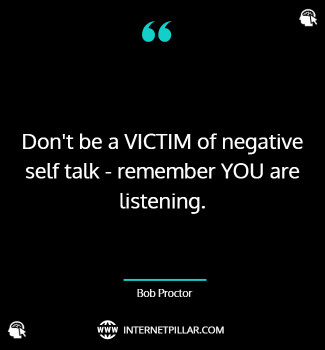 Don't be a VICTIM of negative self talk – remember YOU are listening. ~ Bob Proctor.
Bring acceptance and compassionate self-talk. Say nice things to yourself – you're the only one listening. Tell yourself, I am doing the best I can. ~ Gabrielle Bernstein.
Self-suggestion makes you master of yourself. ~ W. Clement Stone.
Be very careful what you say to yourself because someone very important is listening . . . YOU! ~ John Assaraf.
---
So these were the 57 top quotes about Self-Talk.
If you like these quotes and sayings, then you can also read my other popular blog posts on the topics of Positive Mental Health quotes and Existentialism quotes.
---
References: