It's important to believe in yourself when times are hard and you feel like giving up.
These quotes about survival can boost your confidence and provide the much needed support.
---
Survival Quotes to Inspire You to Keep Going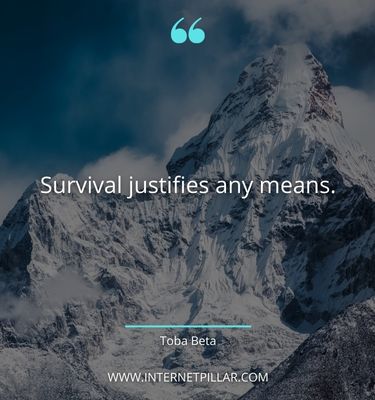 Survival justifies any means. ~ Toba Beta.
Escapism is survival to me. ~ Johnny Depp.
Survival requires movement. ~ Bear Grylls.
Survival is triumph enough. ~ Harry Crews.
We each survive in our own way. ~ Sarah J. Maas.
Credibility is a basic survival tool. ~ Rebecca Solnit.
Survival is nothing more than recovery. ~ Dianne Feinstein.
By perseverance the snail reached the ark. ~ Charles Spurgeon.
Best Survival Quotes On Success In Life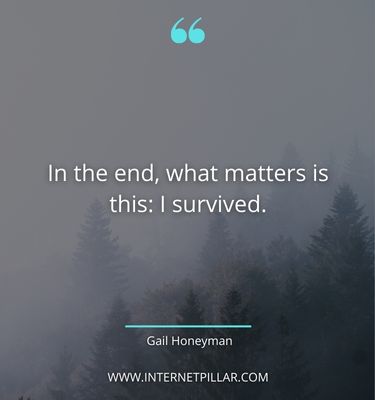 In the end, what matters is this: I survived. ~ Gail Honeyman.
Part of surviving is being able to move on. ~ Alexandra Bracken.
Extinction is the rule. Survival is the exception. ~ Carl Sagan.
The strong survive, but the courageous triumph. ~ Michael Scott.
Survival… is an infinite capacity for suspicion. ~ John Le Carre.
Survival is the ability to swim in strange water. ~ Frank Herbert.
The secret of survival is a defective imagination. ~ John Banville.
Survival Quotes That Will Bring Toughness Out In You
If we truly trust no one, we cannot survive. ~ Megan Whalen Turner.
Humor is one of the best ingredients of survival. ~ Aung San Suu Kyi.
Your fear is 100% dependent on you for its survival. ~ Steve Maraboli.
When you're in survival mode, you numb yourself. ~ Clemantine Wamariya.
If you live among wolves you have to act like a wolf. ~ Nikita Khrushchev.
People will do amazing things to ensure their survival. ~ Patricia Briggs.
Survival is my only hope. Success is my only revenge. ~ Patricia Cornwell.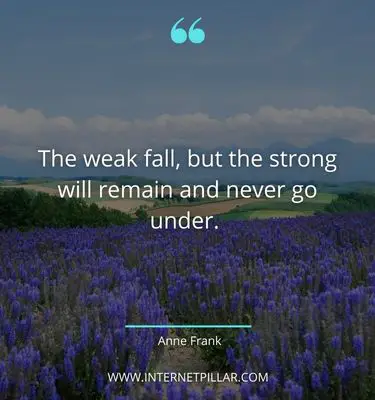 The weak fall, but the strong will remain and never go under. ~ Anne Frank.
Survival Quotes To Keep You Motivated
Peace is the one condition of survival in this nuclear age. ~ Adlai Stevenson.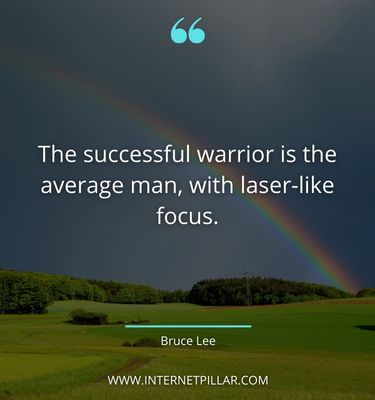 The successful warrior is the average man, with laser-like focus. ~ Bruce Lee.
You have to be self-reliant and strong to survive in this town. ~ Joan Crawford.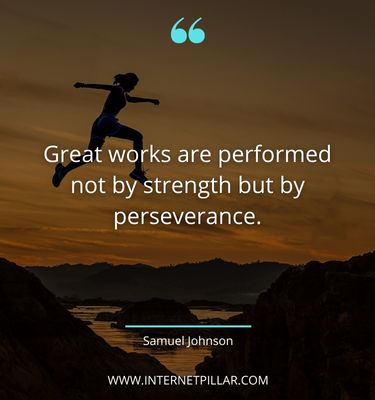 Great works are performed not by strength but by perseverance. ~ Samuel Johnson.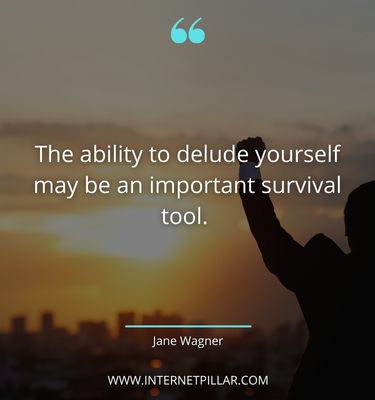 The ability to delude yourself may be an important survival tool. ~ Jane Wagner.
Survival Quotes to Motivate You to Keep Going
Be happy – if you're not even happy, what's so good about surviving? ~ Tom Stoppard.
We need to be fit and ready for anything that might come our way. ~ Aaron B. Powell.
This survival of the fittest implies multiplication of the fittest. ~ Herbert Spencer.
Temper us in fire, and we grow stronger. When we suffer, we survive. ~ Cassandra Clare.
Living in a small town, one of the keys to survival was your imagination. ~ Nick Nolte.
Survival is the second law of life. The first is that we are all one. ~ Joseph Campbell.
Quotes About Survival
Each loss is an occasion to remember that survival is a gift. ~ Harriet McBryde Johnson.
Life is not a problem to be solved, but a reality to be experienced. ~ Soren Kierkegaard.
Don't just survive while waiting for someone's revolution to clear your head. ~ Hakim Bey.
The rules of survival never change, whether you're in a desert or in an arena. ~ Bear Grylls.
I survived that, I'm still surviving it, but bring it on. Better me than you. ~ Carrie Fisher.
Scars are not signs of weakness, they are signs of survival and endurance. ~ Rodney A. Winters.
Best Quotes about Survival
Life comes from physical survival, but the good life comes from what we care about. ~ Rollo May.
I'm a survivor – a living example of what people can go through and survive. ~ Elizabeth Taylor.
Being a survivor, then, is making peace with the catastrophe and it's wake. ~ Thomas L. Underwood.
Just remember: Surviving is the best revenge, no matter what the disaster has been. ~ Joan Rivers.
To survive it is often necessary to fight and to fight you have to dirty yourself. ~ George Orwell.
We shall require a substantially new manner of thinking if mankind is to survive. ~ Albert Einstein.
Fear is always there; it's a survival instinct. You just need to know how to manage it. ~ Jimmy Chin.
Survival Quotes To Empower The Survivor In You
I used to tell myself – boy, if you can survive this, you can survive anything at all. ~ Tom Lichtenberg.
Keeping an active mind has been vital to my survival, as has been maintaining a sense of humor. ~ Stephen Hawking.
The key to the survival of liberty in the modern world is the embrace of multiple identities. ~ Timothy Garton Ash.
Being a survivor, however, implies persistence and recovery, despite the abuse that has occurred. ~ Vernon R. Wiehe.
One can survive everything, nowadays, except death, and live down everything except a good reputation. ~ Oscar Wilde.
Sustainability is the key to our survival on this planet and will also determine success on all levels. ~ Shari Arison.
Survival can be summed up in three words, never give up. That's the heart of it really. Just keep trying. ~ Bear Grylls.
Survival Quotes Pictures and Images
To cherish what remains of the Earth and to foster its renewal is our only legitimate hope of survival. ~ Wendell Berry.
The more we exploit nature, The more our options are reduced, until we have only one: to fight for survival. ~ Mo Udall.
Survivors aren't always the strongest; sometimes they're the smartest, but more often simply the luckiest. ~ Carrie Ryan.
We do not live to think, but, on the contrary, we think in order that we may succeed in surviving. ~ José Ortega y Gasset.
We cannot survive if we are entirely isolated. History tells us we must engage with the outside world. ~ Paolo Bacigalupi.
It is not the strongest or the most intelligent who will survive but those who can best manage change. ~ Leon C. Megginson.
Famous Survival Quotes and Sayings
A survivor is someone who was once a victim like you and through time and healing was able to move forward. ~ Karen Williams.
In the kind of world we have today, transformation of humanity might well be our only real hope for survival. ~ Stanislav Grof.
Luck is a very thin wire between survival and disaster, and not many people can keep their balance on it. ~ Hunter S. Thompson.
The man who goes afoot, prepared to camp anywhere and in any weather, is the most independent fellow on earth. ~ Horace Kephart.
Self-interest is but the survival of the animal in us. Humanity only begins for man with self-surrender. ~ Henri Frederic Amiel.
Inspiring Survival Quotes and Sayings
Nobody talks of entrepreneurship as survival, but that's exactly what it is and what nurtures creative thinking. ~ Anita Roddick.
Resilience is distinct from mere survival, and more than mere endurance. Resilience is often endurance with direction. ~ Eric Greitens.
It is not the strongest of the species that survive, nor the most intelligent, but the one most responsive to change. ~ Charles Darwin.
Survival, in the cool economics of biology, means simply the persistence of one's own genes in the generations to follow. ~ Lewis Thomas.
Surviving a failure gives you more self-confidence. Failures are great learning tools.. but they must be kept to a minimum. ~ Jeffrey Immelt.
---
So these were the 70 quotes about survival to motivate you to keep going in life.
If you like these quotes, then you can also read our other posts on Prayer Quotes for Encouragement and Inspiration and Cartoon Characters Quotes for Inspiration and Inspirational Quotes about Life and Struggles and Church Quotes and Grace Quotes to Lighten Your Load.