"Walk Alone" means you are acting independently from other people.
These inspiring Walk Alone quotes will help you to bounce back in life.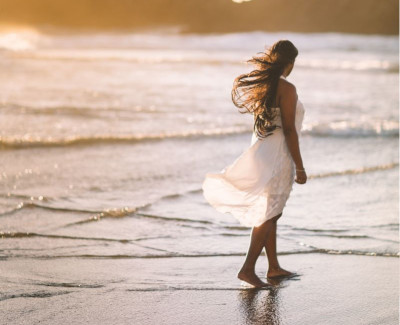 ---
Walk Alone Quotes
Be willing to walk alone. Many who started with you won't finish with you. ~ Unknown.
Don't be scared to walk alone. Don't be scared to like it. ~ John Mayer.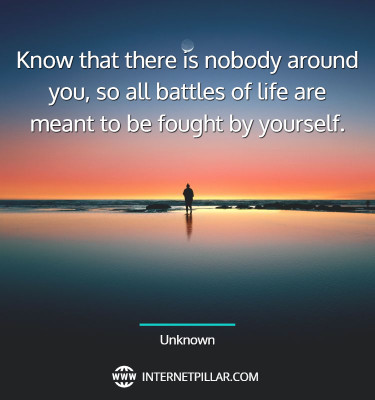 Know that there is nobody around you, so all battles of life are meant to be fought by yourself. ~ Unknown.
I used to think that the worst thing in life was ending up all alone, it is not. ~ Unknown.
The only time we waste is the time we spend thinking we are alone. ~ Mitch Albom.
I like to be alone. But I hate being lonely. ~ Unknown.
Love, and love alone, is capable of giving you a happier life. ~ Ludwig Van Beethoven.
The woman who follows the crowd will usually go no further than the crowd. The woman who walks alone is likely to find herself in places no one has ever been before. ~ Albert Einstein.
Never depend on others too much. Because someday you will have to walk alone. ~ Unknown.
Best Walk Alone Quotes
I want to be with those who know secret things or else alone. ~ Rainer Maria Rilke.
Most often, walking alone with my shadow is how I find my answer, the result of gathering together all agreeable parties. ~ Robert Breault.
Walk on, walk on with hope in your heart, and you'll never walk alone, you'll never walk alone. ~ Oscar Hammerstein II.
A man may enjoy walking alone, but in his mind, he abhors being left to himself. ~ Unknown.
The hardest walk is walking alone, but it's also the walk that makes you the strongest. ~ Unknown.
Powerful Walk Alone Quotes
Two possibilities exist: either we are alone in the Universe or we are not. Both are equally terrifying. ~ Arthur C. Clarke.
Sometimes you need to be alone. Not to be lonely, but to enjoy your free time being yourself. ~ Unknown.
I lost a lot of people when I found myself. ~ Nikki Rowe.
I love walking in the woods, on the trails, along the beaches. I love being part of nature. I love walking alone. It is therapy. One needs to be alone, to recharge one's batteries. ~ Grace Kelly.
Learn to be alone and to like it. There is nothing more empowering or freeing than learning to like your own company. ~ Mandy Hale.
Be the first when no one comes, be the last when all are gone. ~ Abhijit Naskar.
The worst thing in life is ending up with someone who makes you feel alone. ~ Unknown.
Profound Walk Alone Quotes
The soul that sees beauty may sometimes walk alone. ~ Johann Wolfgang von Goethe.
A real friend is one who walks in when the rest of the world walks out. ~ Walter Winchell.
If you want to be strong, learn to walk alone. ~ Chandan Negi.
Nothing is expensive when you promise. ~ Ljupka Cvetanova.
Those who love and free nature are never alone. ~ Rachel Carson.
Walking with a friend in the dark is better than walking alone in the light. ~ Helen Keller.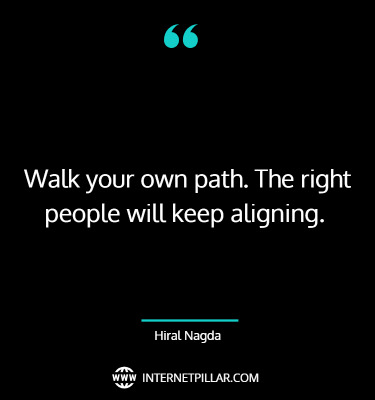 Walk your own path. The right people will keep aligning. ~ Hiral Nagda.
Famous Walk Alone Quotes
When the crowd is headed in the wrong direction, walk alone. ~ Matshona Dhliwayo.
Loneliness adds beauty to life. It puts a special burn on sunsets and makes night air smell better. ~ Henry Rollins.
I am falling apart, and no one knows, and there is no one I can talk to, and I am alone. ~ Unknown.
Don't go away. I don't want to be alone. I can't stand being alone. ~ Arnold Rothstein.
The greatest thing in the world is to know how to belong to oneself. ~ Michel de Montaigne.
The lion is never afraid to walk alone. ~ Lailah Gifty Akita.
It's better to walk alone, than with a crowd going in the wrong direction. ~ Diane Grant.
Top Walk Alone Quotes
I finally faced the fact that it isn't a crime not having friends. Being alone means you have fewer problems. ~ Whitney Houston.
People think being alone makes you lonely, but I don't think that's true. Being surrounded by the wrong people is the loneliest thing in the world. ~ Kim Culbertson.
If one's different one's bound to be lonely. ~ Aldous Huxley.
Walking alone is not difficult but when we have walked a mile worth a thousand years with someone then coming back alone is what is difficult. ~ Faraaz Kazi.
…walk with the knowledge that you are never alone. ~ Audrey Hepburn.
---
So these were the 45 quotes about Walk Alone.
If you like these quotes and sayings, then you can also read my other popular blog posts on the topics of Dream Big quotes and Short Dreams quotes and Kintsugi quotes and Chapter Closed quotes and Kid President quotes.