Families are the bedrock of our existence, bestowing upon us unwavering love, aid and a sense of belonging.
We frequently unearth the courage to grapple with life's challenges and revel in its victories amidst our families.
Valuing and acknowledging the significant roles our loved ones fill in our lives is paramount in nurturing robust and enduring familial relationships.
We've assembled a distinctive compilation of family quotes and sayings to inspire and assist you in expressing your gratitude towards your family.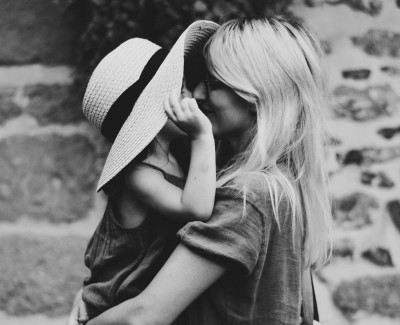 These meticulously selected quotes encapsulate the profound love, reverence and bond shared among family members.
They act as perfect conduits for conveying your deep affection for your kin and serve as poignant reminders of the invaluable worth of family.
These quotes about family are sure to resonate with anyone who cherishes their family.
---
Table of Contents
Top 10 Family Quotes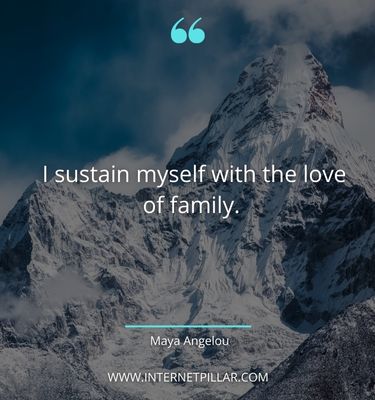 I sustain myself with the love of family. ~ Maya Angelou.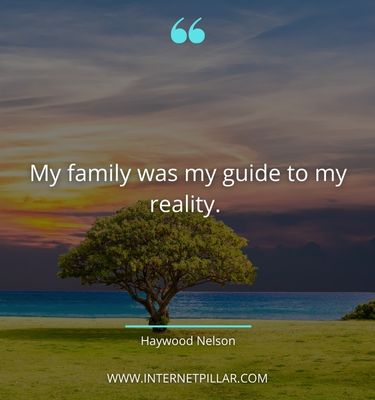 My family was my guide to my reality. ~ Haywood Nelson.
A family is a place where principles are hammered and honed on the anvil of everyday living. ~ Charles R. Swindoll.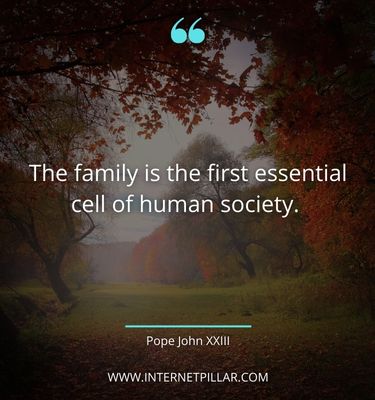 The family is the first essential cell of human society. ~ Pope John XXIII.
Families are the compass that guides us. They are the inspiration to reach great heights, and our comfort when we occasionally falter. ~ Brad Henry.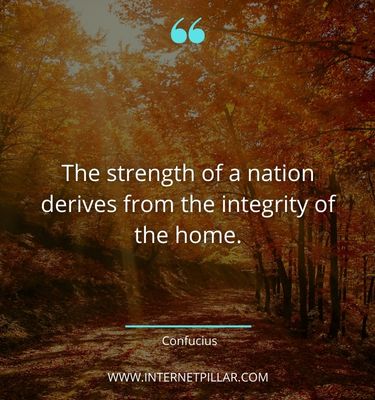 The strength of a nation derives from the integrity of the home. ~ Confucius.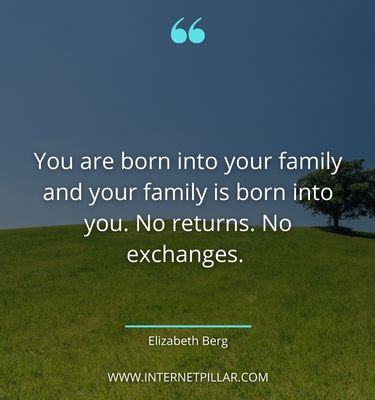 You are born into your family and your family is born into you. No returns. No exchanges. ~ Elizabeth Berg.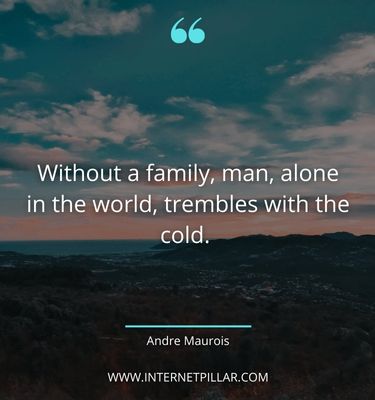 Without a family, man, alone in the world, trembles with the cold. ~ Andre Maurois.
I believe the world is one big family, and we need to help each other. ~ Jet Li.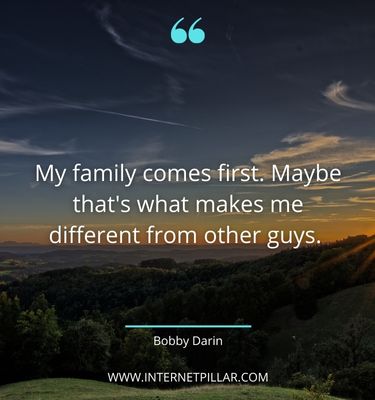 My family comes first. Maybe that's what makes me different from other guys. ~ Bobby Darin.
Related Quotes: 75 Family Love Quotes to Share With Your Relatives and 85 Broken Family Quotes to Help You Grow and Heal
Family Quotes and Family Sayings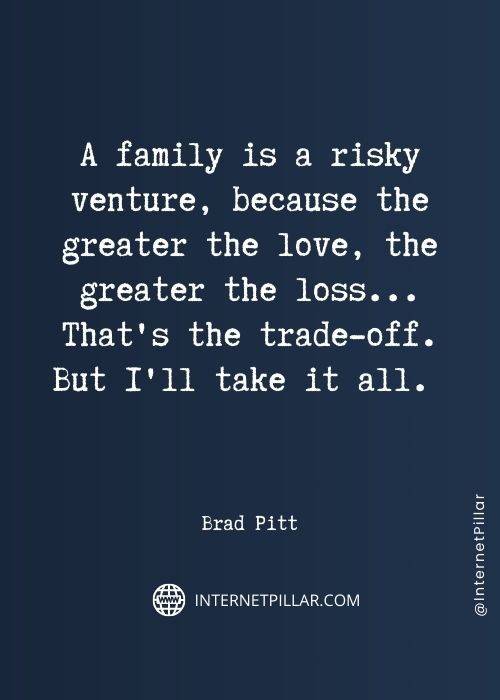 A family is a risky venture, because the greater the love, the greater the loss… That's the trade-off. But I'll take it all. Brad Pitt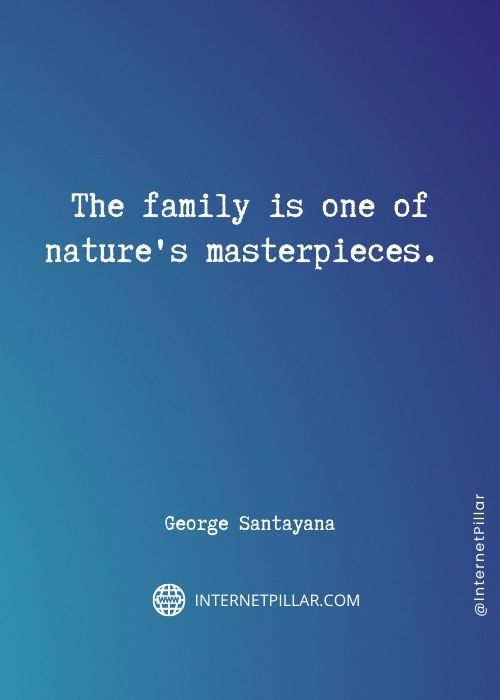 The family is one of nature's masterpieces. George Santayana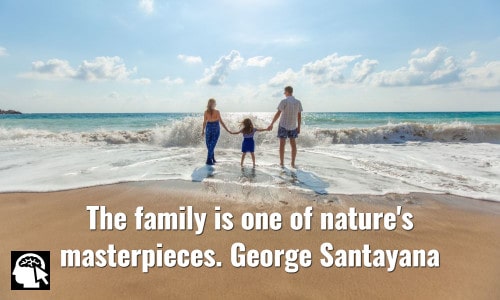 Family is more than blood. Cassandra Clare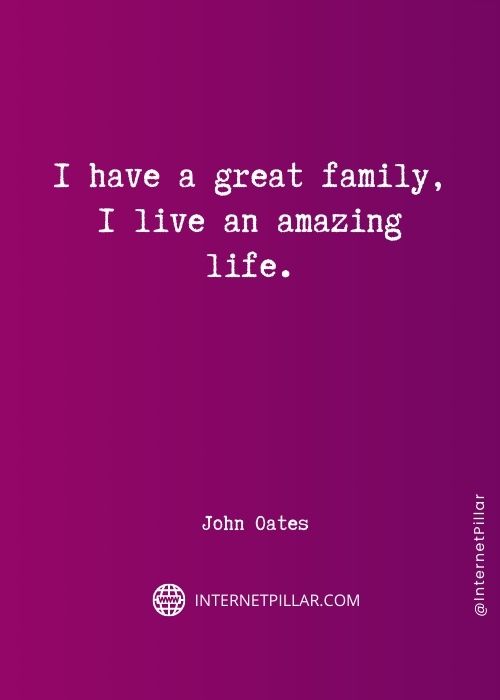 I have a great family, I live an amazing life. John Oates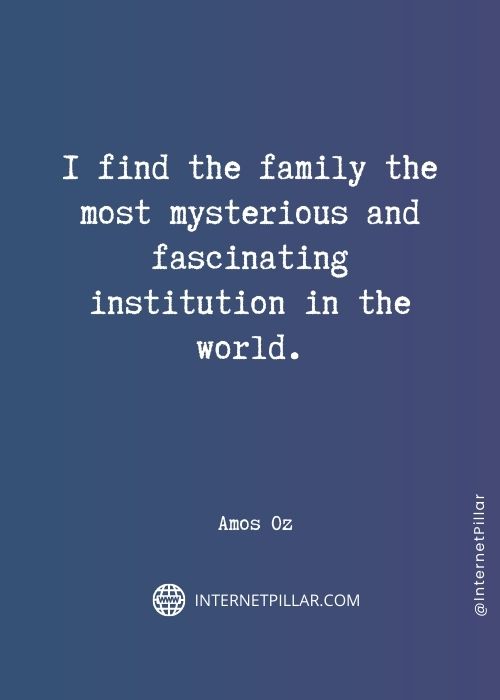 I find the family the most mysterious and fascinating institution in the world. Amos Oz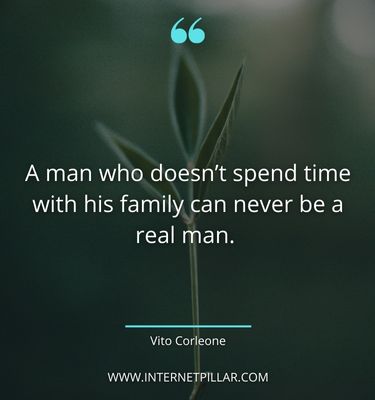 A man who doesn't spend time with his family can never be a real man. Vito Corleone.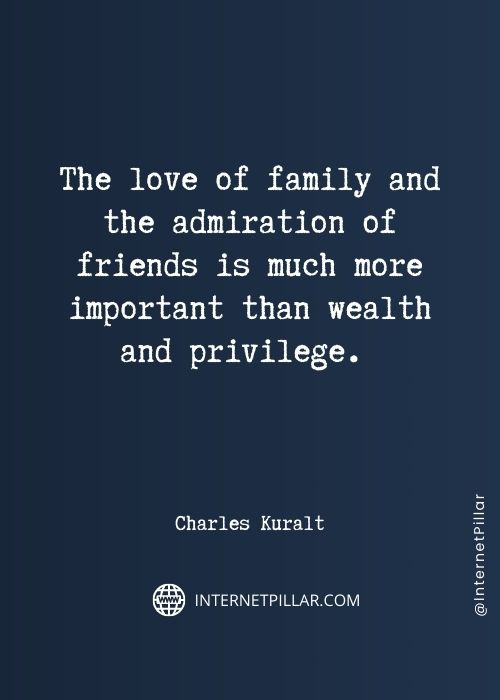 The love of family and the admiration of friends is much more important than wealth and privilege. Charles Kuralt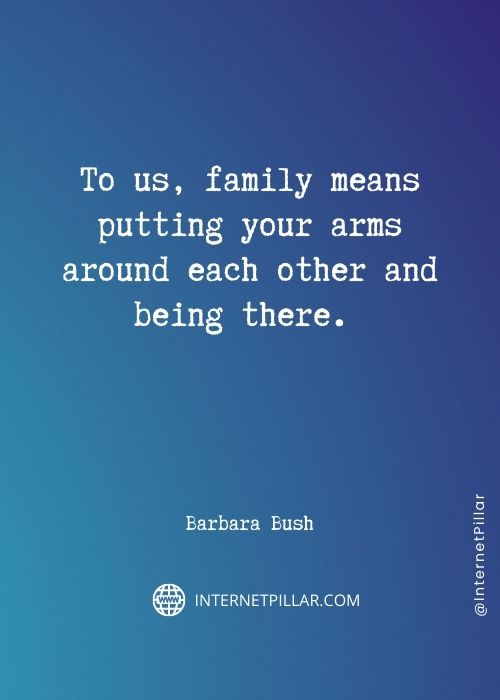 To us, family means putting your arms around each other and being there. Barbara Bush
Best Family Quotes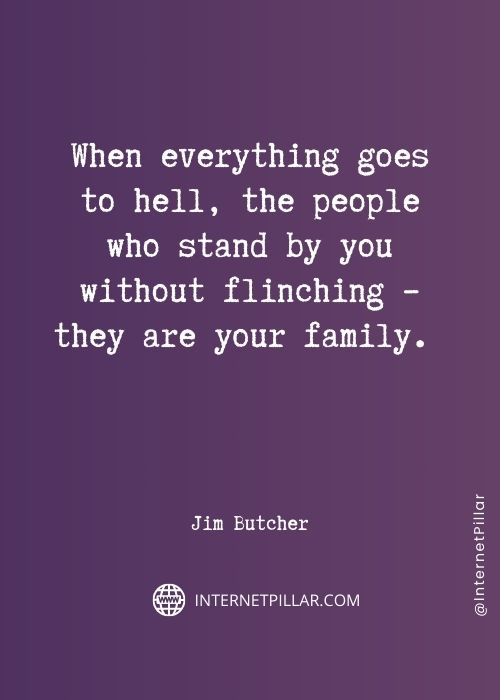 When everything goes to hell, the people who stand by you without flinching – they are your family. Jim Butcher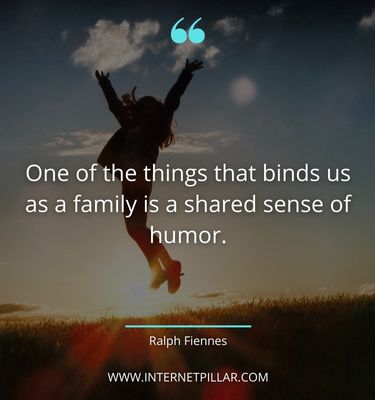 One of the things that binds us as a family is a shared sense of humor. Ralph Fiennes
When trouble comes, it's your family that supports you. Guy Lafleur.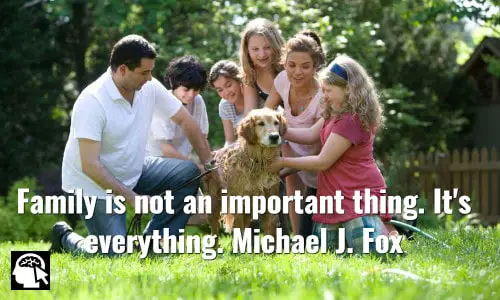 Family is not an important thing. It's everything. Michael J. Fox
A woman can take care of the family. It takes a man to provide structure, to provide stability. Tom DeLay
Family is the most important thing in the world. Princess Diana
Famous Family Quotes
Friends are the family you choose. Jess C. Scott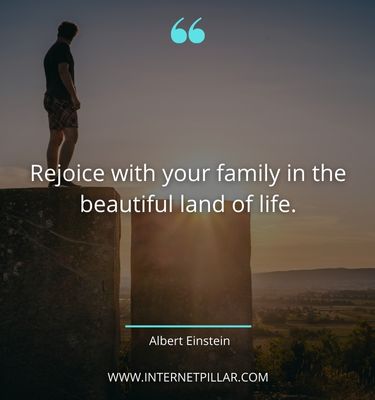 Rejoice with your family in the beautiful land of life. Albert Einstein
Sticking with your family is what makes it a family. Mitch Albom
I think togetherness is an important ingredient of family life. Barbara Bush
Family means no one gets left behind or forgotten. David Ogden Stiers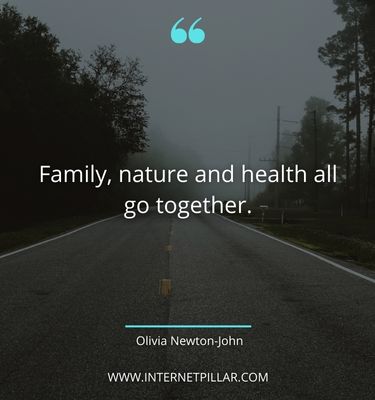 Family, nature and health all go together. Olivia Newton-John
Stick to the basics, hold on to your family and friends – they will never go out of fashion. Niki Taylor
You don't choose your family. They are God's gift to you, as you are to them. Desmond Tutu
The family is the first essential cell of human society. Pope John XXIII.
Inspirational Quotes About Family to Show Your Love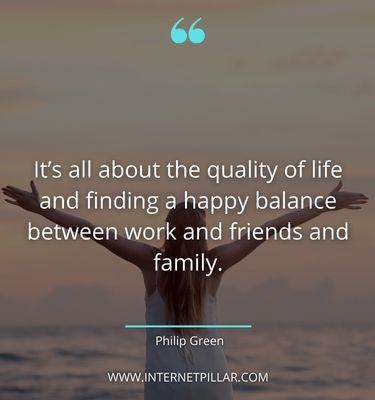 It's all about the quality of life and finding a happy balance between work and friends and family. Philip Green
There's nothing I value more than the closeness of friends and family, a smile as I pass someone on the street. Willie Stargell
Show me a family of readers, and I will show you the people who move the world. Napoleon Bonaparte
One's family is the most important thing in life. I look at it this way: One of these days I'll be over in a hospital somewhere with four walls around me. And the only people who'll be with me will be my family. Robert Byrd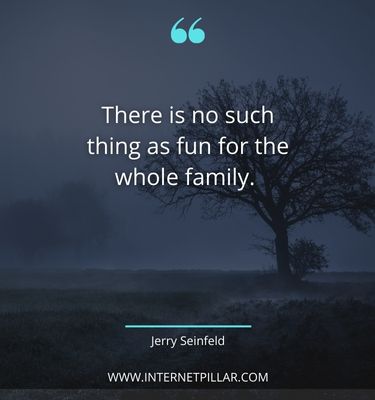 There is no such thing as fun for the whole family. Jerry Seinfeld
The only rock I know that stays steady, the only institution I know that works, is the family. Lee Iacocca
A family is a bunch of people who keep confusing you with someone you were as a kid. Robert Brault
Having family responsibilities and concerns just has to make you a more understanding person. Sandra Day O'Connor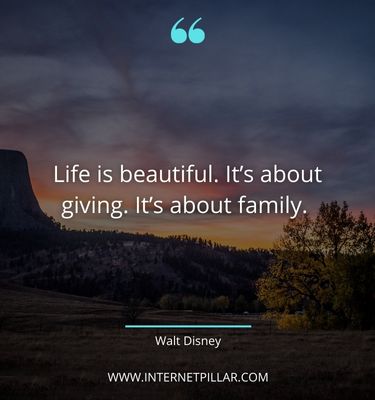 Life is beautiful. It's about giving. It's about family. Walt Disney
Our most basic instinct is not for survival but for family. Paul Pearsall
Having a family is like having a bowling alley installed in your brain. Martin Mull
I don't think quantity time is as special as quality time with your family. Reba McEntire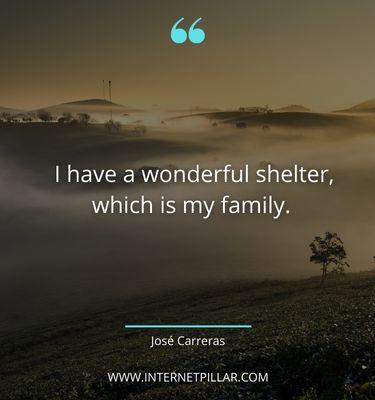 I have a wonderful shelter, which is my family. José Carreras
The one thing that kept our family together was the music. The only thing that our family would share emotionally was to have our dad cry over something the kids did with music. Dennis Wilson
My family is more important than my party. Zell Miller.
Popular Family Quotes
I come from that society and there is a common thread, specifically family values – the idea that you do anything for your family, and the unconditional love for one's children. Ednita Nazario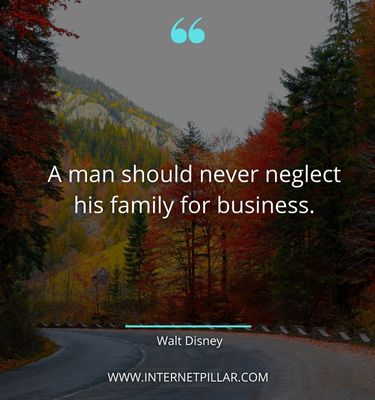 A man should never neglect his family for business. Walt Disney
The informality of family life is a blessed condition that allows us all to become our best while looking our worst. Marge Kennedy
The family is the nucleus of civilization. Will Durant
Family is family. Linda Linney
If the family were a boat, it would be a canoe that makes no progress unless everyone paddles. Letty Cottin Pogrebin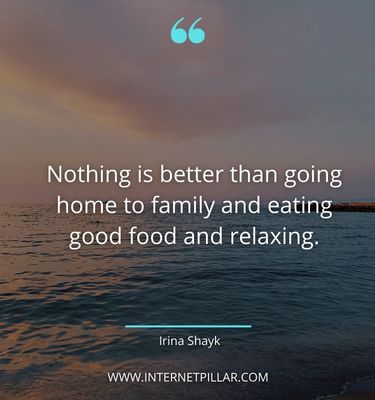 Nothing is better than going home to family and eating good food and relaxing. Irina Shayk
The greatest thing in family life is to take a hint when a hint is intended-and not to take a hint when a hint isn't intended. Robert Frost
For me, nothing has ever taken precedence over being a mother and having a family and a home. Jessica Lange
Quotes about Family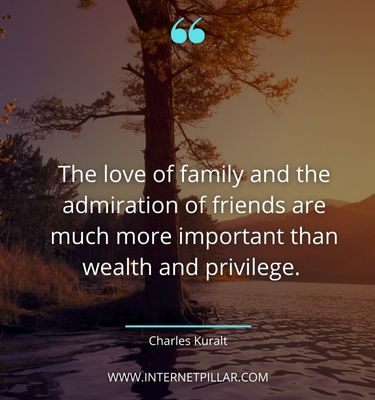 The love of family and the admiration of friends are much more important than wealth and privilege. Charles Kuralt
The family is the test of freedom; because the family is the only thing that the free man makes for himself and by himself. Gilbert K. Chesterton
Family faces are magic mirrors. Looking at people who belong to us, we see the past, present, and future. Gail Lumet Buckley
In family life, love is the oil that eases friction, the cement that binds closer together, and the music that brings harmony. Friedrich Nietzsche
Pray in your family daily, that yours may be in the number of the families who call upon God. Christopher Love.
Short Family Quotes and Sayings
I love cooking for myself and cooking for my family. Al Roker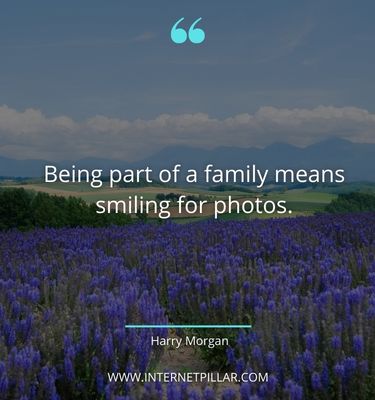 Being part of a family means smiling for photos. Harry Morgan
The most important thing in the world is family and love. John Wooden
The strength of a family, like the strength of an army, lies in its loyalty to each other. Mario Puzo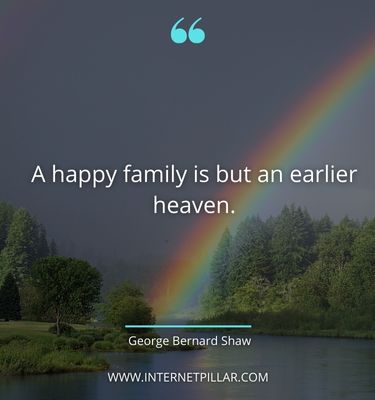 A happy family is but an earlier heaven. George Bernard Shaw
My family is my life, and everything else comes second as far as what's important to me. Michael Imperioli
Everyone needs a house to live in, but a supportive family is what builds a home. Anthony Liccione.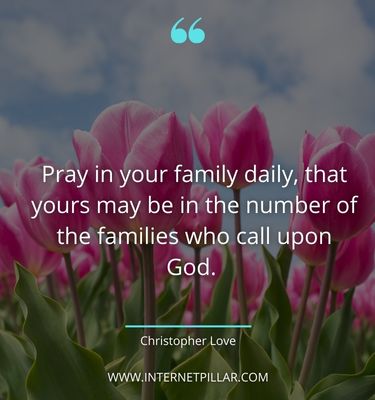 The family is one of nature's masterpieces. George Santayana
---
---
You Might Like
---
References: