Cacti are fascinating plants that have evolved to thrive in dry settings.
These spiky marvels not only captivated our attention but also inspired many creative minds throughout history.
Cactus quotes and sayings have been used to communicate a broad variety of feelings and concepts from ancient folklore to modern-day popular culture.
You'll like these cactus quotes and sayings, whether you're a plant enthusiast, a desert resident, or just seeking for some inspiration.
---
Cactus Quotes
I want my body to help fertilize the growth of a cactus or cliff rose or sagebrush or tree. ~ Edward Abbey.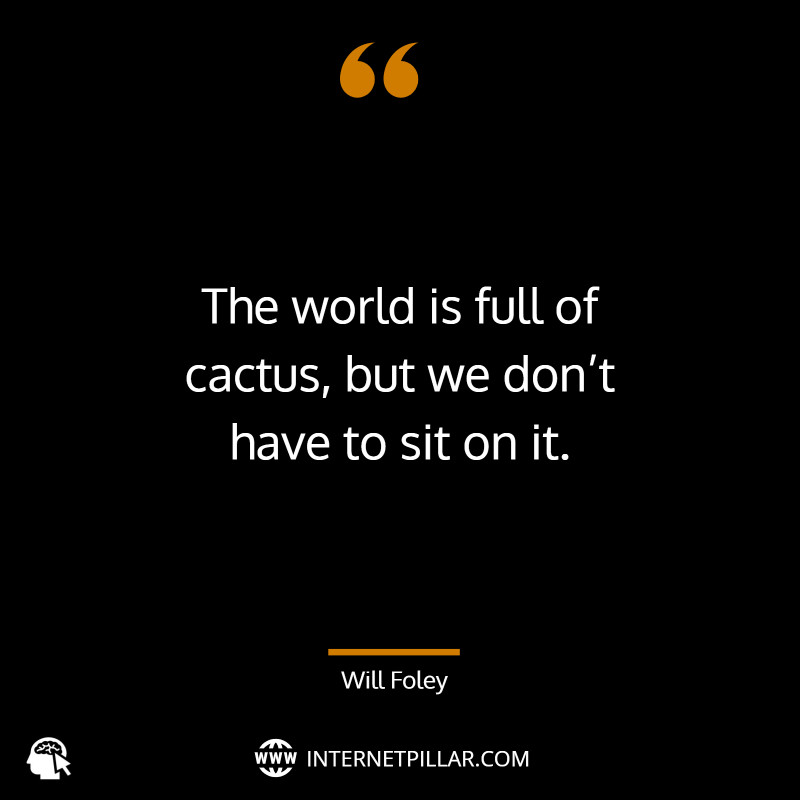 The world is full of cactus, but we don't have to sit on it. ~ Will Foley.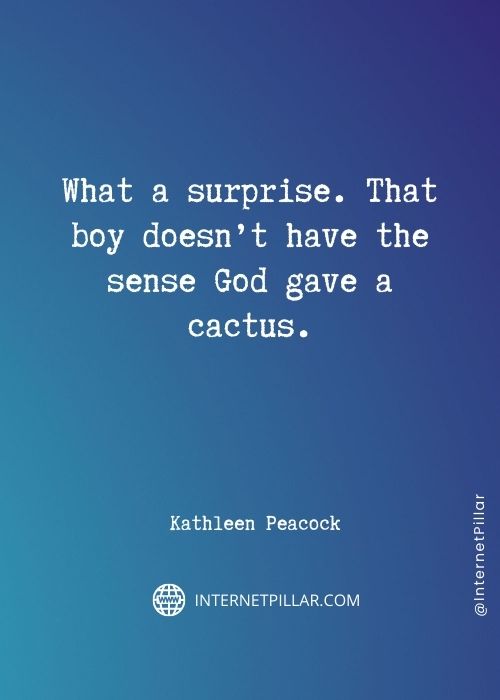 What a surprise. That boy doesn't have the sense God gave a cactus. ~ Kathleen Peacock.
I have learned the difference between a cactus and a caucus. On a cactus, the pricks are on the outside. ~ Mo Udall.
Anger was simple, self-sustaining as a cactus. You couldn't look too closely at it, lest the spines get you in the eye. ~ Rebecca Scherm.
Very often, people are obsessed with what others think of them. It's like if a flower wants to be a cactus or a palm but it's not. A flower is a flower, and that's enough. That's all you have to do is be a flower. ~ Stephan Hauser.
Being negative only makes a difficult journey more difficult. You may be given a cactus, but you don't have to sit on it. ~ Joyce Meyer.
Deserts are very dry places, but plants can still grow there. Desert plants collect and use water in special ways. ~ Julie Penn.
People are not cactuses, they need plenty of water and, when talking about friendship, the water is our time. ~ Birute Sol.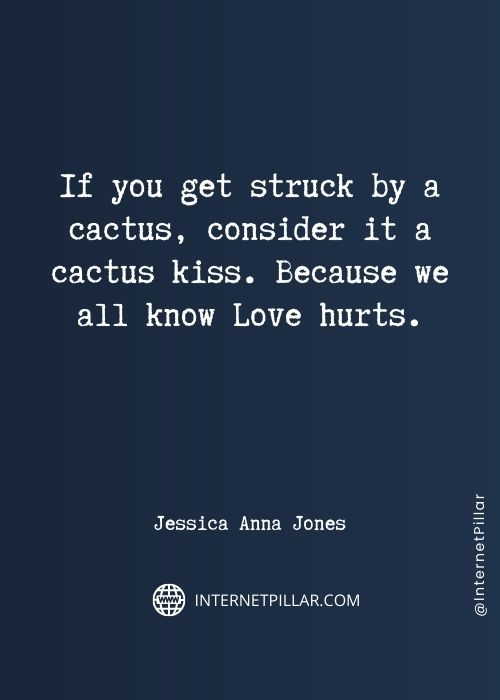 If you get struck by a cactus, consider it a cactus kiss. Because we all know Love hurts. ~ Jessica Anna Jones.
I bought a cactus. A week later it died. And I got depressed, because I thought, Damn. I am less nurturing than a desert. ~ Demetri Martin.
I'm like the trunk of a cactus… I take in a dose of culture and time with friends, then I retreat and go live on it for a while until I get thirsty again. ~ Nancy Horan.
Also Read: Plant Quotes and Sayings for Plant Lovers and Houseplant Quotes to Inspire Indoor Gardeners
Meaningful Cactus Quotes
What a surprise. That boy doesn't have the sense God gave a cactus. ~ Kathleen Peacock.
I read books so dry even a cactus couldn't grow on them. But who cares? I'm not a farmer, I'm a thinker. ~ Jarod Kintz.
A cactus doesn't live in the desert because it likes the desert; it lives there because the desert hasn't killed it yet. ~ Hope Jahren.
I hope that while so many people are out smelling the flowers, someone is taking the time to plant some. ~ Herbert Rappaport.
A whale is as unique as a cactus. But don't ask a whale to survive Death Valley. We all have special gifts. Where we use them and how determines whether we actually complete something. ~ Max De Pree.
A cactus is a desert's rose. ~ Matshona Dhliwayo.
I consider it the highest compliment when my employees go out and start their own companies in competition with me. I always send them a plant to wish them well. Of course, it's a cactus. ~ Norman Brodsky.
Beautiful Cactus Quotes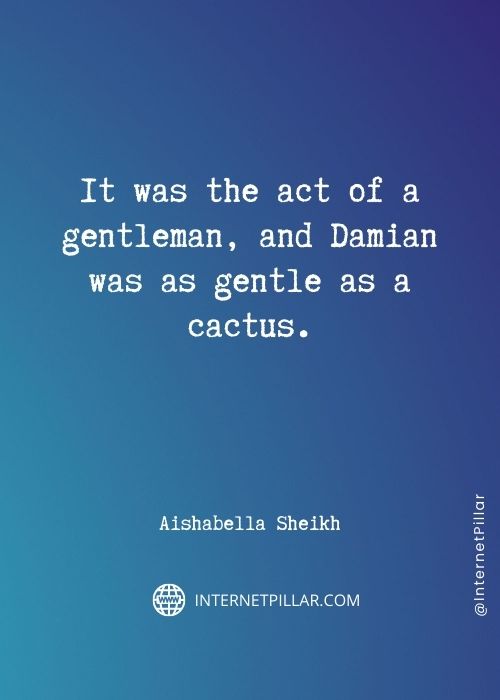 It was the act of a gentleman, and Damian was as gentle as a cactus. ~ Aishabella Sheikh.
Adolescence is like cactus. ~ Anais Nin.
Play with a cactus and you will get pricked! ~ Anthony T. Hincks.
My dad is like a cactus ~ introverted and tough. ~ Gary Anarchic.
Be sharp like a cactus, people are afraid to touch and not a sort of rubbish. ~ Sophieya.
People trample over flowers, yet only to embrace a cactus. ~ James Joyce.
It was the act of a gentleman, and Damian was as gentle as a cactus. ~ Isabella Sheikh.
Don't jack off a cactus, you'll only hurt your hand and the cactus' feelings. ~ Tre Cool.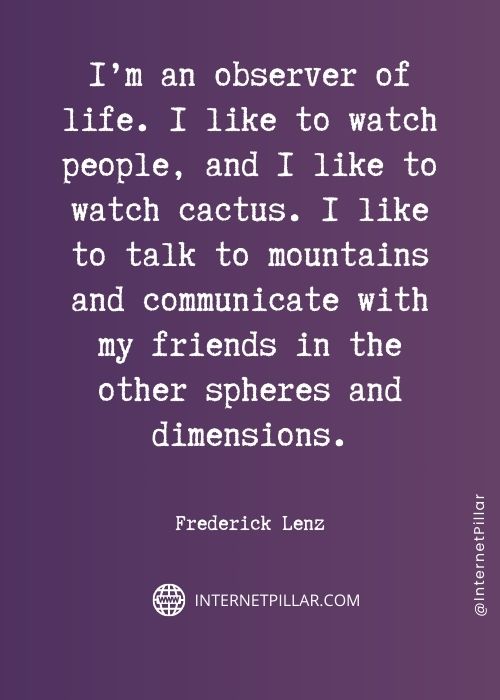 I'm an observer of life. I like to watch people, and I like to watch cactus. I like to talk to mountains and communicate with my friends in the other spheres and dimensions. ~ Frederick Lenz.
---
Other Articles
References and Sources: