Change management is a systematic approach to achieving desired results by organizing, executing and tracking changes to an organization's structures, procedures and systems.
It is an essential component of an organization's strategy since it guarantees that changes are executed easily and effectively avoiding interruptions and opposition while increasing efficiency and effectiveness.
Identifying the need for change, generating a vision, designing a thorough strategy, conveying the change and ensuring its acceptance across the business are all part of this process.
It also entails recording these modifications in order to assess their effect and making appropriate adjustments along the route.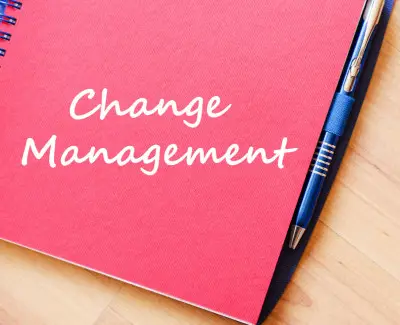 Organizations may adapt to market trends, react to difficulties, enhance their processes and develop a culture that accepts change through change management therefore generating innovation and growth.
It is primarily about planning and coordinating the organization's transition to its future condition.
---
Top 10 Change Management Quotes
People don't resist change. They resist being changed! ~ Peter Senge.
Everyone thinks of changing the world, but no one thinks of changing himself. ~ Leo Tolstoy.
People change. I wouldn't like to be accountable for the interviews I've done, or the person I was when I was 20, 21. ~ Robbie Williams.
Change is the law of life, and those who look only to the past and present are certain to miss the future. ~ John F. Kennedy.
Change before you have to. ~ Jack Welch.
The measure of intelligence is the ability to change. ~ Albert Einstein.
You must welcome change as the rule but not as your ruler. ~ Denis Waitley.
The greatest danger in times of turbulence is not the turbulence – it is to act with yesterday's logic. ~ Peter Drucker.
Things do not change; we change. ~ Henry David Thoreau.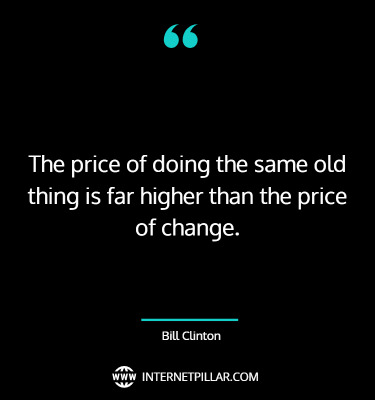 The price of doing the same old thing is far higher than the price of change. ~ Bill Clinton.
Related Topics Quotes: 75 Time Management Quotes to Take Control of Life and 42 Financial Management Quotes about Finances and Credit
Famous Change Management Quotes
To exist is to change, to change is to mature, to mature is to go on creating oneself endlessly. ~ Henri Bergson.
They always say time changes things, but you actually have to change them yourself. ~ Andy Warhol.
The rate of change is not going to slow down anytime soon. If anything, competition in most industries will probably speed up even more in the next few decades. ~ John P. Kotter.
The greatest discovery of all time is that a person can change his future by merely changing his attitude. ~ Oprah Winfrey.
Some changes look negative on the surface but you will soon realize that space is being created in your life for something new to emerge. ~ Eckhart Tolle.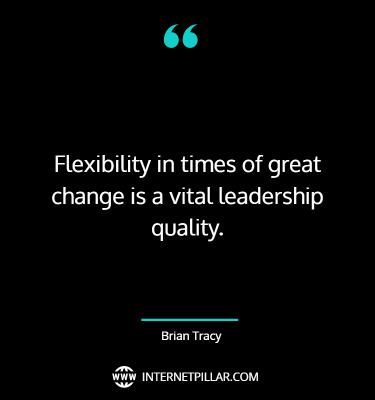 Flexibility in times of great change is a vital leadership quality. ~ Brian Tracy.
Change is hard because people overestimate the value of what they have and underestimate the value of what they may gain by giving that up. ~ James Belasco and Ralph Stayer.
Inspiring Change Management Quotes
Change cannot be put on people. The best way to instill change is to do it with them. Create it with them. ~ Lisa Bodell.
If you always do what you've always done, you'll always get what you've always got. ~ Unknown.
All great changes are preceded by chaos. ~ Deepak Chopra.
There is nothing more difficult to take in hand, more perilous to conduct, or more uncertain in its success, than to take the lead in the introduction of a new order of things. ~ Niccolo Machiavelli.
Our ability to adapt is amazing. Our ability to change isn't quite as spectacular. ~ Lisa Lutz.
As dealing with change becomes a regular activity, leading it becomes a skill to hone, an internal capacity to master. ~ Arnaud Henneville.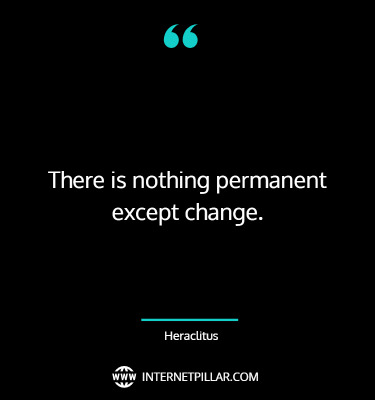 There is nothing permanent except change. ~ Heraclitus.
Best Change Management Quotes
Changes are inevitable and not always controllable. What can be controlled is how you manage, react to and work through the change process. ~ Kelly A. Morgan.
People change over the years, and that changes situations for good and for bad. ~ Bobby Knight.
Things don't have to change the world to be important. ~ Steve Jobs.
Money and success don't change people; they merely amplify what is already there. ~ Will Smith.
Each of us has the opportunity to change and grow until our very last breath. Happy creating. ~ M F Ryan.
Few things are more important during a change event than communication from leaders who can paint a clear and confidence-inspiring vision of the future. ~ Sarah Clayton.
The secret of change is to focus all of your energy not on fighting the old, but on building the new. ~ Socrates.
Do not let what you cannot do interfere with what you can do. ~ John Wooden.
Success comes from the inside out. In order to change what is on the outside, you must first change what is on the inside. ~ Idowu Koyenikan.
Inspirational Change Management Quotes
It is not the strongest or the most intelligent who will survive but those who can best manage change. ~ Charles Darwin.
The business changes. The technology changes. The team changes. The team members change. The problem isn't change, per se, because change is going to happen; the problem, rather, is the inability to cope with change when it comes. ~ Kent Beck.
The path of least resistance is the path of the loser. ~ H. G. Wells.
Times and conditions change so rapidly that we must keep our aim constantly focused on the future. ~ Walt Disney.
It is not the strongest of the species that survives, nor the most intelligent that survives. It is the one that is most adaptable to change. ~ Darwin.
It always seems impossible until it's done. ~ Nelson Mandela.
Change hurts. It makes people insecure, confused, and angry. People want things to be the same as they've always been, because that makes life easier. But, if you're a leader, you can't let your people hang on to the past. ~ Richard Marcinko.
Vision without action is merely a dream. Action without vision just passes the time. Vision with action can change the world. ~ Joel A. Barker.
You never change things by fighting the existing reality. To change something, build a new model that makes the existing model obsolete. ~ Buckminster Fuller.
Popular Change Management Quotes
Culture does not change because we desire to change it. Culture changes when the organization is transformed ~ the culture reflects the realities of people working together every day. ~ Frances Hesselbein.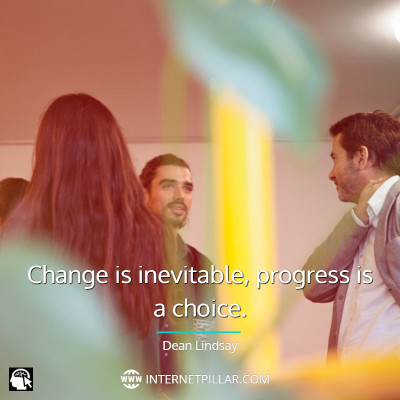 Change is inevitable, progress is a choice. ~ Dean Lindsay.
The world hates change, yet it is the only thing that has brought progress. ~ Charles Kettering.
If you don't like something, change it. If you can't change it, change your attitude. ~ Maya Angelou.
The world is changing very fast. Big will not beat small anymore. It will be the fast beating the slow. ~ Rupert Murdoch.
Powerful Change Management Quotes
I cannot say whether things will get better if we change; what I can say is they must change if they are to get better. ~ Georg C. Lichtenburg.
If you do not change employee behavior, you will not get organizational change and performance improvement. ~ Peter F Gallagher.
Your success in life isn't based on your ability to simply change. It is based on your ability to change faster than your competition, customers and business. ~ Mark Sanborn.
I've learned that for many people, change is uncomfortable. Maybe they want to go through it, and they can see the benefit of it, but at a gut level, change is uncomfortable. ~ Mitchell Baker.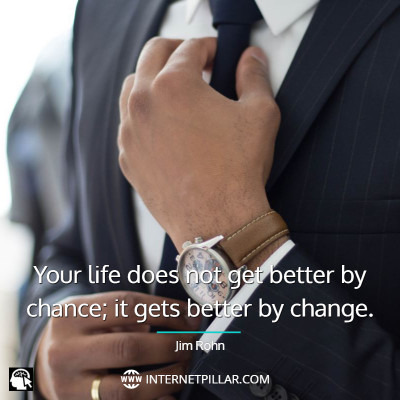 Your life does not get better by chance; it gets better by change. ~ Jim Rohn.
Companies that change may survive, but companies that transform thrive. Change brings incremental or small-scale adaptations, while transformation brings great improvements that ripple through the future of an organization. ~ Nick Candito.
Be the change you want to see in the world. ~ Mahatma Gandhi.
Change is inevitable – except from a vending machine. ~ Robert C Gallagher.
Positive Change Management Quotes
Our only security is our ability to change. ~ John Lilly.
Resistance at all cost is the most senseless act there is. ~ Friedrich Durrenmatt.
The most difficult thing is the decision to act, the rest is merely tenacity. The fears are paper tigers. You can do anything you decide to do. ~ Amelia Earhart.
If you want to make enemies, try to change something. ~ Woodrow Wilson.
The key to change is to let go of fear. ~ Rosanne Cash.
Great companies start because the founders want to change the world, not make a fast buck. ~ Guy Kawasaki.
Expecting things to change without putting in any effort, is like waiting for a ship at the airport. ~ Bright Vibes.
Change will not come if we wait for some other person or some other time. We are the ones we've been waiting for. We are the change that we seek. ~ Barack Obama.
Thought-Provoking Change Management Quotes
To improve is to change; to be perfect is to change often. ~ Winston Churchill.
I can't change the direction of the wind, but I can adjust my sails to always reach my destination. ~ Jimmy Dean.
By changing nothing, nothing changes. ~ Tony Robbins.
Change your thoughts and you change your world. ~ Norman Vincent Peale.
Change is the law of life and those who look only to the past or present are certain to miss the future. ~ John F. Kennedy.
Motivational Change Management Quotes
If you are not willing to risk the unusual, you will have to settle for the ordinary. ~ Jim Rohn.
Slowness to change usually means fear of the new. ~ Philip Crosby.
When in doubt, choose change. ~ Lily Leung.
Change your opinions, keep to your principles; change your leaves, keep intact your roots. ~ Victor Hugo.
The reality is that the only way change comes is when you lead by example. ~ Anne Wojcicki.
If you do not change direction, you may end up where you are heading. ~ Lao Tzu.
---
So these were the 77 top quotes about Change Management.
If you like these quotes and sayings, then you can also read my other post on Team Communication quotes.
---
References: