Deere & Company, one of the world's largest and foremost agricultural and construction equipment manufacturers, was founded by John Deere, an American blacksmith and manufacturer.
John Deere was born in Rutland, Vermont, on February 7, 1804.
After a brief period of schooling at Middlebury College, he began an apprenticeship with Captain Benjamin Lawrence, a successful Middlebury blacksmith, at the age of 17 in 1821, and went into business by himself in 1826.
In 1827, he married Demarius Lamb and had nine children with her. Deere began his career in Burlington before founding his own stores in Vergennes and Leicester.
John Deere started his own company to manufacture steel plows in 1837.
The company was called the Deere Manufacturing Company. In 1848, the company name was changed to John Deere & Company.
John Deere died on May 17, 1886.
We have compiled a list of the top quotes from John Deere for you.
---
Best John Deere Quotes
Strike while the iron is hot. ~ John Deere.
I will never put my name on a product that does not have in it the best that is in me. ~ John Deere.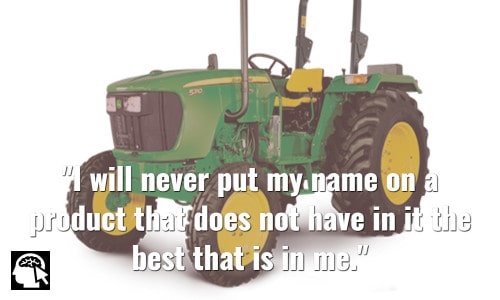 It is a source of consolation to me to know that I never willfully wronged any man and that I never put on the market a poorly-made implement. ~ John Deere.
To create an exceptional and sustained experience of genuine value for customers, employees and shareholders – a performance that endures. ~ John Deere.
Quality, innovation, integrity and commitment. ~ John Deere.
Top John Deere Quotes
A performance that endures. ~ John Deere.
They haven't got to take what we make and somebody else will beat us, and we will lose our trade. ~ John Deere.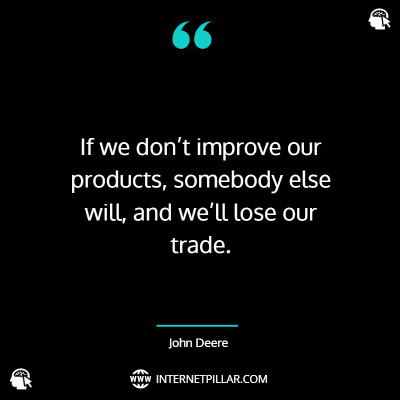 If we don't improve our products, somebody else will, and we'll lose our trade. ~ John Deere.
I'll take you for a ride on my Big Green Tractor. ~ John Deere.
Whoever said that country life was simple, never lived on a farm. ~ John Deere.
---
Interesting Facts about John Deere and Deere & Company
When John Deere designed his first steel plow in 1837, he had never seen a gasoline tractor.
John Deere was elected mayor of Moline in 1873 and served two years.
In 1894, Deere introduced a new line of "safety" bicycles with two identically sized wheels. The Deere Roadster and the Moline Special were among the models available.
Deere & Company began publishing The Furrow, an agricultural journal, in 1895. By 1907, the journal had grown to 500,000 readers and was published in 14 languages in 115 countries. Content marketing is said to have been invented by the magazine.
Five of the ten Deere CEOs have been Deere family members.
Eero Saarinen, a Finnish-American architect best known for the Gateway Arch in St. Louis, designed Deere & Company World Headquarters.
Deere & Company joined the tractor business in 1918 by acquiring the Waterloo Boy tractor maker.
Deere & Company has only had 9 CEOs since 1837.
For more than 140 years, John Deere has been represented by the leaping deer trademark.
John Deere's slogan "Nothing Runs Like A Deere" was designed for a snowmobile line and is still in use today.
Since 1837, almost 700 tractor models have been developed.
The official John Deere trademark logo has gone through eight variations.
---
Frequently Asked Questions (FAQs) about Deere and Deere & Company
What was John Deere famous?
John Deere is one of the most recognizable brands in the world.
The company produces a wide variety of agricultural products, including tractors, trucks, and other machinery.
John Deere has a long history of innovation and production excellence. John Deere products are known for their durability and performance.
What is the most popular John Deere?
John Deere is a well-known and popular tractor company. They make a variety of tractors for different needs, but which one is the most popular?
There are many factors to consider when answering this question, such as what part of the world you are asking, what type of terrain the tractor will be used on, or what features are important to the customer.
However, one tractor that seems to be always at the top of the list is the John Deere 8R. This machine is designed for larger farms and has a lot of power and options that other tractors in its class do not have.
It can handle a wide range of tasks and is perfect for growers who need to get work done quickly and efficiently. Another good choice is John Deere 5105.
Did John Deere have other inventions?
John Deere is most commonly known for his invention of the steel plow. However, he had many other inventions as well.
Deere invented new products such as a corn planter, a reaper, and a threshing machine.
Is John Deere American owned?
John Deere is an American company that produces agricultural, construction, and forestry machinery.
Where are John Deere tractors made?
Tractors made by John Deere are made in nine countries across the world.
Tractors and harvesters are manufactured in three plants in Brazil. Argentina, Finland, France, two facilities in Germany, the Netherlands, and four factories in India manufacture more John Deere equipment.
---
You Might Like