"If it's meant to be, it's meant to be, no matter how long it takes," is a deep expression conveying a feeling of destiny and inevitability.
It implies that particular events, relationships, or situations are predetermined or fated to occur, regardless of how long it takes.
This view often indicates a surrender to the forces of the cosmos or a higher authority, sometimes referred to as God, implying that these predetermined or'meant to be' events are essentially beyond human control or influence.
It implies the presence of a great plan or design that lays out certain elements of our life where our particular efforts may have little impact.
A belief system like this can assist people deal with unexpected or difficult events.
If a person feels that whatever occurs to them, good or terrible, was predestined or 'meant to be,' and that there was no way to avoid it, the shock or surprise of that event happening may be reduced.
This could end up in a more tolerant attitude toward life's ups and downs, bringing tranquility and perseverance through difficult times.
Rather of feeling victimized by circumstance, one can see these events as part of a broader cosmic plan that will finally unfold in its own time.
---
Meant To Be Quotes
What-ifs are for fools. We are here because we are meant to be. ~ Obert Skye.
We weren't supposed to be anyone; we were supposed to know someone. ~ Unknown.
Realize that if a door closed, it's because what was behind it wasn't meant for you. ~ Mandy Hale.
If it's meant to happen, it will find its way. ~ Drasen.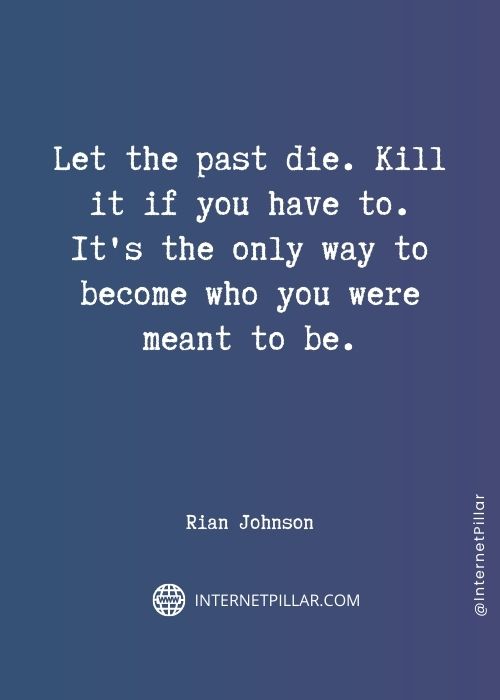 Let the past die. Kill it if you have to. It's the only way to become who you were meant to be. ~ Rian Johnson.
Someone that's meant for you will gravitate back to you no matter how far you'll both wander. ~ Verliza Gajeles.
Some people were meant to be in your life to help you realize the best version of you. ~ Hopal Green.
Something about the way you looked at me made me think for a moment that maybe we were meant to be . ~ Michelle Branch.
Failure is not meant to be final and fatal…. It is meant to refine you to be all that you are meant to be. ~ Jon Gordon.
We're not meant to be perfect. It took me a long time to learn that. ~ Jane Fonda.
It is as though he listened and such listening as his enfolds us in silence in which at last we begin to hear what we are meant to be. ~ Laozi.
We are not meant to be perpetually solemn: We must play. ~ C. S. Lewis.
We were all heading for each other on a collision course, no matter what. Maybe some people are just meant to be in the same story. ~ Jandy Nelson.
Related Quotes: 70 New Week Quotes to Start Your Week Positively and 70 Opportunity Quotes to Grab and Seize the Moment
Meant To Be Sayings and Quotes
I wanted to believe that in the end, the universe would take care of us, and we would end up exactly where we were meant to be. ~ Julianne MacLean.
Why does anyone love someone? Some things are just meant to be. ~ Melanie A. Smith.
Do not rush, for God's secret is patience. Everything that is meant to be, will come at the designated time. ~ Leon Brown.
The golden rule in the arts, as far as I am concerned, is that all rules are meant to be broken. ~ Michael Kenna.
A worker may be the hammer's master, but the hammer still prevails. A tool knows exactly how it is meant to be handled, while the user of the tool can only have an approximate idea. ~ Milan Kundera.
Some things aren't meant to be known. Only believed. ~ Mary E. Pearson.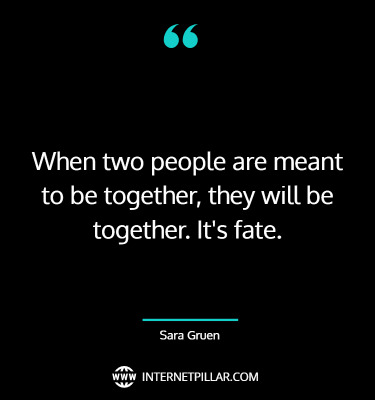 When two people are meant to be together, they will be together. It's fate. ~ Sara Gruen.
There is no paycheck that can equal the feeling of contentment that comes from being the person you are meant to be. ~ Oprah Winfrey.
You may not always end up where you thought you were going, But you will always end up where you were meant to be. ~ Jessica Taylor.
Best Meant To Be Quotes
Women are meant to be loved, not to be understood. ~ Oscar Wilde.
Life was meant to be lived. ~ Eleanor Roosevelt.
Run, run, run – with everything you have – into everything you are meant to be. ~ Tama J. Kieves.
He stirred my soul in the most subtle way and the story between us wrote itself. ~ Nikki Rowe.
Some people are meant to fall in love with each other, but not meant to be together. ~ Scott Neustadter.
Sometimes nothing is the best something. If a thing is meant to be sometimes it's best to just let it happen, rather than try to force it. ~ David Greenwalt.
This moment, we are right where we need to be, right where we are meant to be. ~ Melody Beattie.
Some people are just not meant to be in this world. It's just too much for them. ~ Phoebe Stone.
If it's meant to be for you, it's going to happen. ~ Michael Vick.
This is your moment. You're meant to be here. ~ Herb Brooks.
If two people are meant to be together, nothing can keep them apart. ~ Sarah.
A goal is not always meant to be reached, it often serves simply as something to aim at. ~ Bruce Lee.
Powerful Meant To Be Quotes
Life is meant to be a challenge, because challenges are what make you grow. ~ Manny Pacquiao.
Anger is supposed to be acted on. It is not intended to be performed. ~ Unknown.
You can do anything as long as you don't stop believing. When it is meant to be, it will be. You just have to follow your heart. ~ Keke Palmer.
We were meant to be together. ~ Terri Farley.
It's a sword. said the Hogfather. They're not meant to be safe. ~ Terry Pratchett.
Why travel – because the world was meant to be experienced, not imagined. ~ Chris Guillebeau.
Sometimes pain and illness are not meant to be removed. You can't second-guess God. Rather than praying for it to go away, it's often wiser to pray that you learn as much from it as you possibly can. ~ Stephen Levine.
People want to be happy, and all the other things they want are typically meant to be a means to that end. ~ Daniel Gilbert.
Be patient and loving with yourself. You weren't meant to be your biggest critic, but your biggest fan. ~ Emily Kinney.
Getting lost along your path is a part of finding the path you are meant to be on. ~ Robin Sharma.
We weren't meant to be somebody–we were meant to know Somebody ~ John Piper.
Great Meant To Be Quotes
You are meant to be going somewhere, to be headed to a destination. The poorest person in the world is a person without a dream ~ Myles Munroe.
The world like our heads was meant to be escaped from, they are prisons world and head alike. ~ Michael Chabon.
What's meant to be will always find a way. ~ Trisha Yearwood.
I have to remind myself that some birds aren't meant to be caged. Their feathers are just too bright. ~ Stephen King.
Life is not meant to be hard: if it is, we make it so. ~ Ivan Panin.
Your life was meant to be epic. Stand up for your best today. ~ Robin Sharma.
Because some things are never meant to be anything more than a moment. And that was one of them. ~ Kevin Brooks.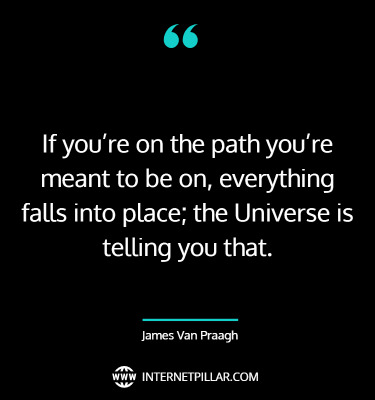 If you're on the path you're meant to be on, everything falls into place; the Universe is telling you that. ~ James Van Praagh.
If they were meant to be together they would find a way to do it. ~ Nicholas Sparks.
Fashion is meant to be fun. ~ Ivanka Trump.
Famous Meant To Be Quotes
Anger is meant to be acted upon. It is not meant to be acted out. ~ Julia Cameron.
Perhaps nothing was ever meant to be. There was just life, and right now, and doing your best. Being a bit bendy. ~ Liane Moriarty.
It wasn't meant to be. There's nothing to be scared of, it's just a storm. ~ Don Mancini.
Life is funny…we never know what's in store for us and time brings on what is meant to be. ~ April Mae Monterrosa.
Some things were never meant to be recycled. ~ John Kenneth Galbraith.
Everything happens for a reason. ~ Chandan Negi.
We are not meant to be solemn all of the time; we must have fun. ~ Unknown.
We're all meant to be in someone's life for a reason. ~ Chandan Negi.
You may not be where you want to be. But that is where you are meant to be. The only reason why you are here. ~ Suyasha Subedi.
Everything lost is meant to be found. Don't worry. ~ Dean Georgaris.
---
So these were the 70 quotes about Meant To Be.
If you like these quotes and sayings, then you can also read my other popular blog posts on the topics of Self Control quotes and Firefighter quotes and Never Too Late quotes.
---
Sources: