Miracles are amazing things that go beyond reason and science. Many people believe they happen because of a higher power.
Even with our advanced technology today, there are still unexplainable events. These events show us that miracles are real.
Miracles may not be a part of our everyday lives, but they occur when only divine help can solve a problem.
To appreciate miracles, we must be open to inspiration from different sources.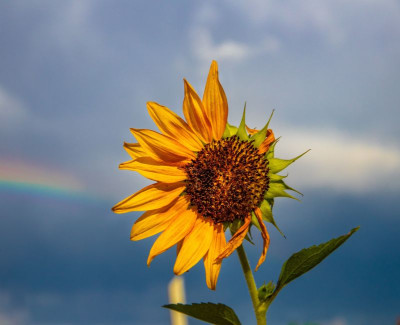 Here are 80 wonderful quotes about miracles.
They cover miracles from God, love, Einstein, Christmas and more. These quotes are meant to inspire and uplift you.
Feel free to share these quotes on social media platforms like Instagram, Facebook and Pinterest.
By spreading inspiration and positivity, you can contribute to making the world a better place.
---
Top 10 Miracle Quotes
I had a few miracles happen out there today. ~ Crenshaw.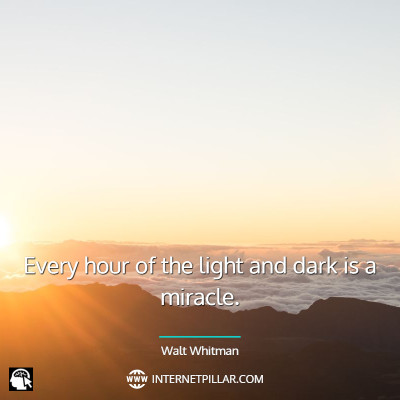 Every hour of the light and dark is a miracle. ~ Walt Whitman.
When we do the best that we can, we never know what miracle is wrought in our life, or in the life of another. ~ Helen Keller.
Miracles happen to those who believe in them. ~ Bernard Berenson.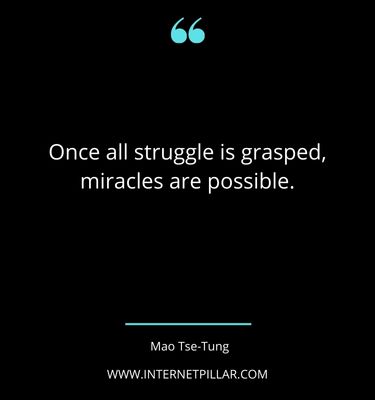 Once all struggle is grasped, miracles are possible. ~ Mao Tse-Tung.
Where there is a monster, there is a miracle. ~ Ogden Nash.
He is proof that miracles do happen. ~ DeAugustino.
Each of my days are miracles. I won't waste my day; I won't throw away miracle. ~ Kelley Vicstrom.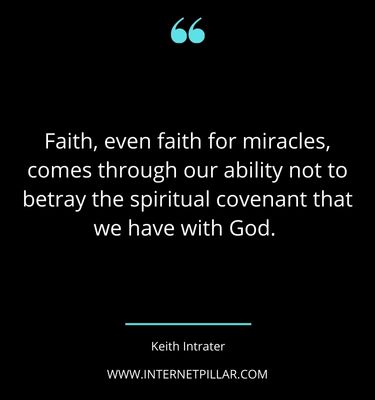 Faith, even faith for miracles, comes through our ability not to betray the spiritual covenant that we have with God. ~ Keith Intrater.
When God doesn't grant your miracles, remember that you are the miracle he sent for somebody else. ~ Nick Vujicic.
Famous Miracle Quotes
Miracles are a retelling in small letters of the very same story which is written across the whole world in letters too large for some of us to see. ~ C. S. Lewis.
Suppose you ask God for a miracle and God says yes, very well. How do you live the rest of your life? ~ Walker Percy.
Look at the birth of a child, how can you not believe in miracles? ~ Catherine Pulsifer.
Every day holds the possibility of a miracle. ~ Elizabeth David.
Maybe God has a bigger plan than I had for myself. Like this journey never ends. ~ Nicholas Sparks.
One of the main reasons that we lose our enthusiasm is because we become ungrateful, we let what was once a miracle become common to us. ~ Joel Osteen.
Miracles cannot be probabilistically impossible. ~ Yujin Nagasawa.
Best Miracle Quotes
What things I have missed today, I know very well seeing of them each new time is miracle. ~ Ivor Gurney.
Miracles don't happen to you. They happen through you. ~ Mary Davis.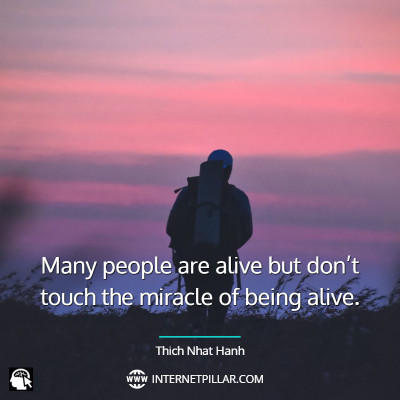 Many people are alive but don't touch the miracle of being alive. ~ Thich Nhat Hanh.
You're not close to your miracle when everything is calm…sometimes it's the opposite. ~ Joel Osteen.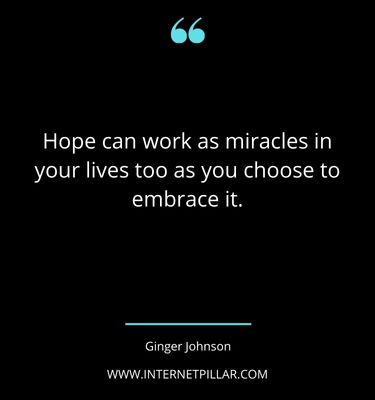 Hope can work as miracles in your lives too as you choose to embrace it. ~ Ginger Johnson.
Believe in miracles. I have seen so many of them come when every other indication would say that hope was lost. Hope is never lost. ~ Jeffrey R. Holland.
A miracle is an event which creates faith. An event which creates faith does not deceive: therefore it is not a fraud, but a miracle. ~ G. B. Shaw.
Miracles are not in contradiction to nature. They are only in contradiction with what we know of nature. ~ Saint Augustine.
I'm going to believe in miracles, celebrate life, and hope my choices will create a positive ripple effect in the lives of others. ~ Mike Ericksen.
Thought-Provoking Miracle Quotes
When I'm trusting and being myself as fully as possible, everything in my life reflects this by falling into place easily. ~ Shakti Gawain.
Fertilizer does no good in a heap, but a little spread around works miracles all over. ~ Sheridan.
Be realistic. Plan for a miracle. ~ Wayne Dyer.
Do not underestimate the positive energies you create when you know how to be grateful with the daily miracles surrounding you. ~ Henry Good.
When God is our strength, we begin to not only see miracles in the lives of others, but in our lives as well. ~ E'yen A Gardner.
Self-sacrifice is the real miracle out of which all the reported miracles grow. ~ Emerson.
Prayer is powerful and miracles come from it every day. But if we fail to pray, we make it nearly impossible to be who God wants us to be. ~ J.W. Boggs.
Related: Positive Vibes Quotes to Spread Positivity and Reciprocity Quotes on Giving and Receiving to Inspire You
Wise Miracle Quotes
It is a miracle that curiosity survives formal education. ~ Albert Einstein.
A miracle is nothing more or less than this. Anyone who has come into a knowledge of his oneness with wisdom and power, this makes it possible for laws higher than the ordinary mind knows of to be revealed to him. ~ Trine.
Everything is a miracle. It is a miracle that one does not dissolve in one's bath like a lump of sugar. ~ Pablo Picasso.
Rationally I have no hope, irrationally I believe in miracles. ~ Joni Mitchell.
Miracles happen every day you just have to look for them, they are there. ~ Catherine Pulsifer.
Miracles start to happen when you give as much energy to your dreams as you do to your fears. ~ Richard Wilkins.
Where there is great love, there are always miracles. ~ Willa Cather.
The most incredible thing about miracles is that they happen. ~ G.K. Chesterton.
Deep Miracle Quotes
The fact that something so fragile, so unbearably tender had survived, was a miracle. ~ Arundhati Roy.
It was such a boost for everyone. It was like, 'You guys are walking miracles.' We had a lot of help. That's the kind of stuff that doesn't happen. It's way beyond what you can fathom happening. ~ Mark Lye.
I prefer you to make mistakes in kindness than work miracles in unkindness. ~ Mother Teresa.
You have to see the miracles for there to be miracles. ~ Jandy Nelson.
When you wake up to your power and snatch it back, miracles happen. ~ Lalah Delia.
Miracles are not meant to be understood, they are meant to be believed. ~ D. Martyn Lloyd-Jones.
You can learn to go way beyond believing to the place of knowing. It is in this realm of your mind that miracles are produced. ~ Wayne Dyer.
Popular Miracle Quotes
For the truly faithful, no miracle is necessary. For those who doubt, no miracle is sufficient. ~ Nancy Gibbs.
You have to take risks. We will only understand the miracle of life fully when we allow the unexpected to happen. ~ Paulo Coelho.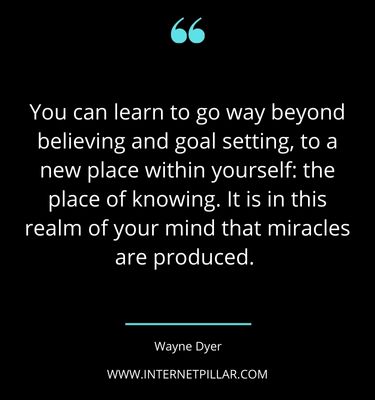 You can learn to go way beyond believing and goal setting, to a new place within yourself: the place of knowing. It is in this realm of your mind that miracles are produced. ~ Wayne Dyer.
Miracles are those lovely things that you see when you shift your focus from your thoughts to the present moment. ~ Liam Tinker.
I knew God was awesome, and could do miracles, but had no idea how to get him to change me. ~ Alexander Powys.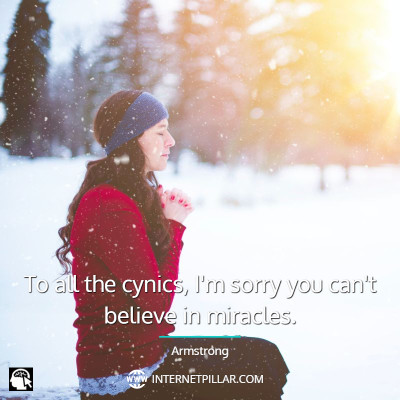 To all the cynics, I'm sorry you can't believe in miracles. ~ Armstrong.
If you don't get a miracle become one. ~ Nick Vujicic.
Some people think great miracles no longer happen, they no longer believe, but if they believed, their eyes would be open to them as they happen everyday. ~ Catherine Pulsifer.
Great Miracle Quotes
Miracles do not, in fact, break the laws of nature. ~ C. S. Lewis.
Love is always a miracle. But a little different. I don't want to say it's more miraculous. It is though. ~ John Green.
If we could see the miracle of a single flower clearly, our whole life would change. ~ Buddha.
Remember, the moment you accept total responsibility for everything in your life is the moment you claim the power to change anything in your life. ~ Hal Elrod.
Life is a series of thousands of tiny little miracles. Notice them. ~ Unknown *
Once miracles are admitted, every scientific explanation is out of the question. ~ Johannes Kepler.
Seeing a miracle will inspire you, but knowing you are a miracle will change you. ~ Deborah Brodie.
There were grief and the ruins, and you were the miracle. ~ Pablo Neruda.
Miracles are like pimples, because once you start looking for them you find more than you ever dreamed you'd see. ~ Lemony Snicket.
There is little you can do about the stars in your eyes and the stardust in your hair. I guess you just have to face it: You're a miracle. ~ Noah Tinker.
Positive Miracle Quotes
We are, each of us, a miracle. Within every one of us, the pilot light of hope never dies. ~ Og Mandino.
You will face your greatest opposition when you are closest to your biggest miracle. ~ Shannon L. Alder.
Gratitude opens our eyes to the miracles that surround us. ~ D. Denise Dianaty.
Love is the most common miracle. ~ John Green.
Miracles are effortless. ~ Llewellyn Vaughan-Lee.
To me, every hour of the day and night is an unspeakably perfect miracle. ~ Walt Whitman.
There are only two ways to live your life. One is as though nothing is a miracle. The other is as though everything is a miracle. ~ Albert Einstein.
---
So these were the 80 top quotes about Miracles.
If you like these quotes and sayings, then you can also read my other posts on Apology quotes and Spirituality quotes.