Miserable people can be challenging to deal with, often inciting feelings of despair and helplessness.
Miserable individuals are typically characterized by their profound unhappiness or discomfort.
Their presence can be particularly overwhelming in environments like hospitals, where suffering and frustration are already high.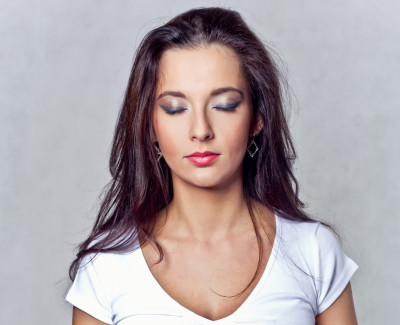 Despite their outward appearances of laughter and smiles, they often harbor intense anger, resentment and unresolved insecurities within.
In this article, you will find a collection of 78 poignant quotes and captions about miserable people, which may resonate deeply with many readers.
---
Top 10 Miserable People Quotes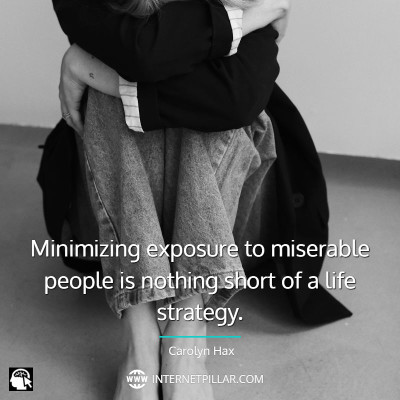 Minimizing exposure to miserable people is nothing short of a life strategy. ~ Carolyn Hax.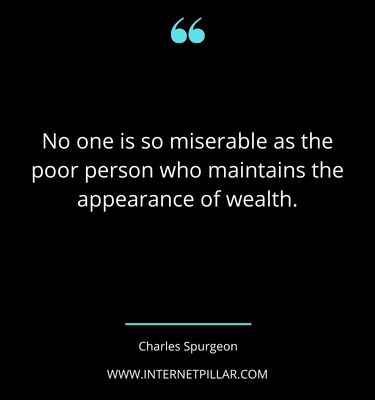 No one is so miserable as the poor person who maintains the appearance of wealth. ~ Charles Spurgeon.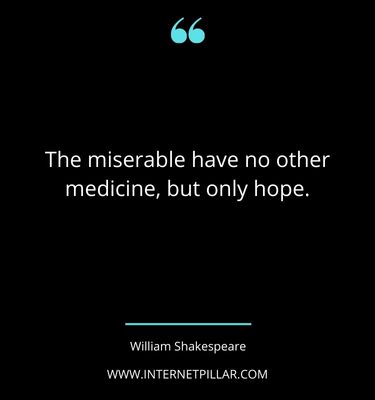 The miserable have no other medicine, but only hope. ~ William Shakespeare.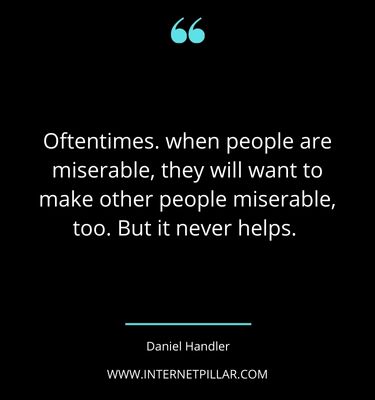 Oftentimes. when people are miserable, they will want to make other people miserable, too. But it never helps. ~ Daniel Handler.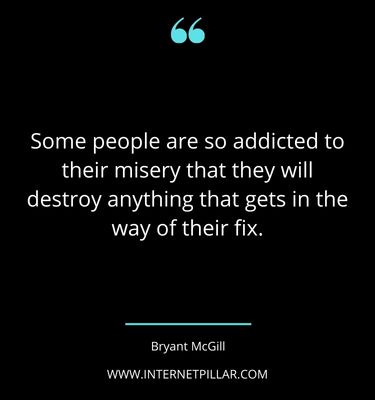 Some people are so addicted to their misery that they will destroy anything that gets in the way of their fix. ~ Bryant McGill.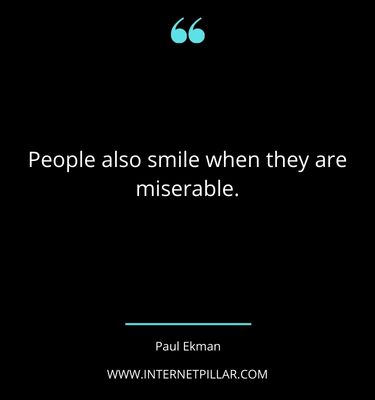 People also smile when they are miserable. ~ Paul Ekman.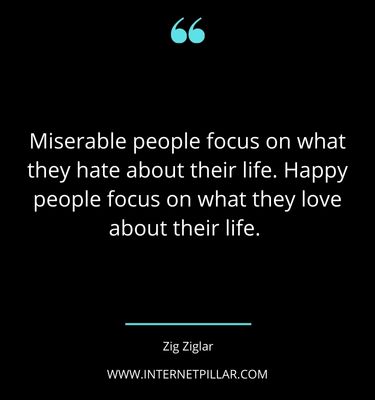 Miserable people focus on what they hate about their life. Happy people focus on what they love about their life. ~ Zig Ziglar.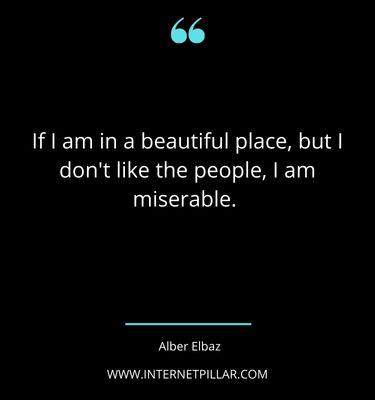 If I am in a beautiful place, but I don't like the people, I am miserable. ~ Alber Elbaz.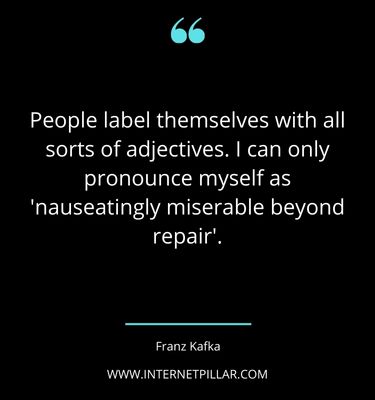 People label themselves with all sorts of adjectives. I can only pronounce myself as 'nauseatingly miserable beyond repair'. ~ Franz Kafka.
People, whether they know it or not, like their blues singers miserable. They like their blues singers to die afterwards. ~ Janis Joplin.
Famous Miserable People Quotes
None of those material possessions do anything to make your life any better…. I know a lot of people who have a lot of everything, and they're absolutely the most miserable people in the world. So it won't do anything for you unless you're a happy person and can have peace with yourself. ~ Lenny Kravitz.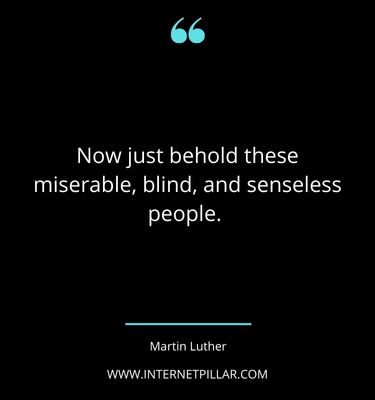 Now just behold these miserable, blind, and senseless people. ~ Martin Luther.
The only way to avoid being miserable is not to have enough leisure to wonder whether you are happy or not. ~ George Bernard Shaw.
Success is not a destination: It is a journey. The happiest people I know are those who are busy working toward specific objectives. The most bored and miserable people I know are those who are drifting along with no worthwhile objectives in mind. ~ Zig Ziglar.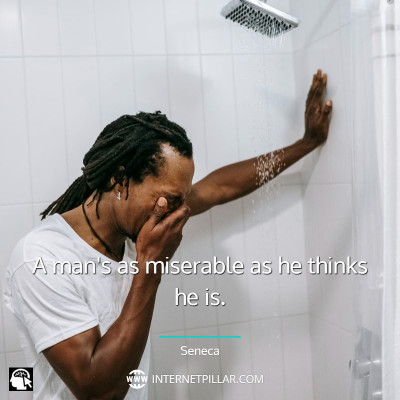 A man's as miserable as he thinks he is. ~ Seneca.
Righteousness exalts a nation. Hate just makes people miserable. ~ Fannie Lou Hamer.
People don't really want to be happy. They go out of their way to be miserable. ~ Frederick Lindemann.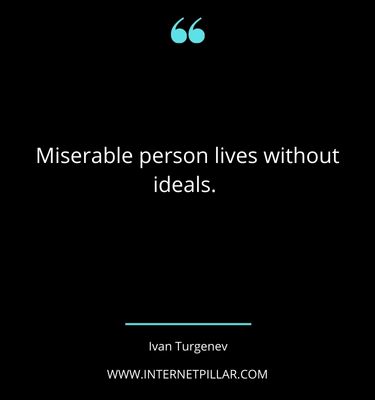 Miserable person lives without ideals. ~ Ivan Turgenev.
The more you make this world about you, the more miserable you will be. ~ Matt Chandler.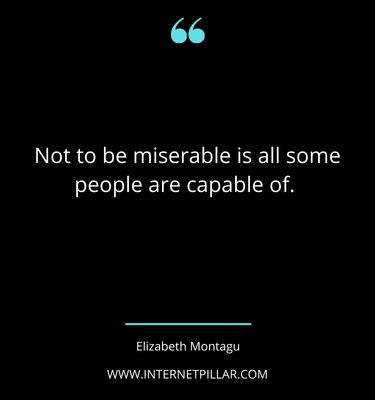 Not to be miserable is all some people are capable of. ~ Elizabeth Montagu.
If you want to be miserable, think about yourself, about what you want, what you like, what respect people ought to pay you and what people think of you. ~ Charles Kingsley.
Gay people got a right to be as miserable as everybody else. ~ Chris Rock.
I think people like feeling miserable just as much as they like feeling happy. ~ Frank Fairfield.
Human beings may be miserable specimens, in the main, but we can learn, and, through learning, become decent people. ~ Orson Scott Card.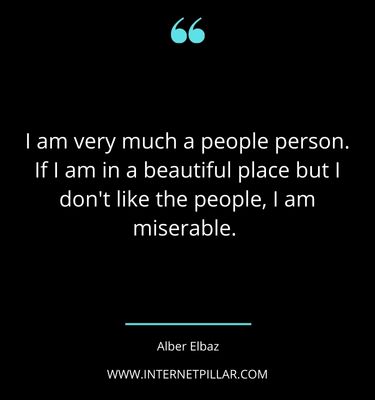 I am very much a people person. If I am in a beautiful place but I don't like the people, I am miserable. ~ Alber Elbaz.
Related: Broken Promises Quotes about Fake People and Relationships and Misery Loves Company Quotes and Sayings to Move On In Life
Popular Miserable People Quotes
Only married people understand you can be miserable and happy at the same time. ~ Chris Rock.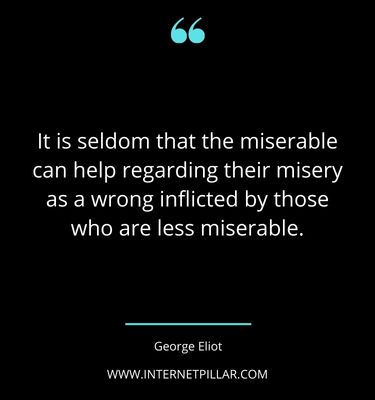 It is seldom that the miserable can help regarding their misery as a wrong inflicted by those who are less miserable. ~ George Eliot.
I'm not done yet making people miserable. If they're going to make me miserable, then I'm going to make them miserable. ~ Brett Hull.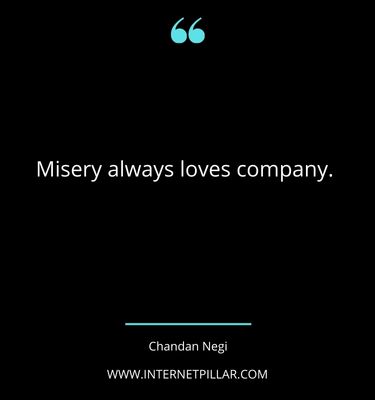 Misery always loves company. ~ Chandan Negi.
There is always more misery among the lower classes than there is humanity in the higher. ~ Victor Hugo.
The greatest source of unhappiness comes from inside. ~ Jim Rohn.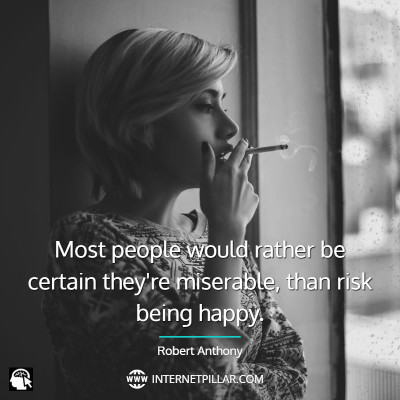 Most people would rather be certain they're miserable, than risk being happy. ~ Robert Anthony.
A lot of people depend on their mate or spouse to make them happy and those are the people that are the most miserable. ~ Cindy Meehl.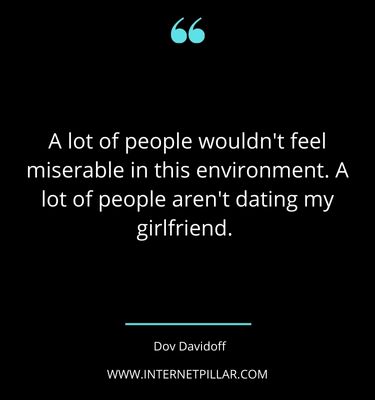 There's nothing worse than walking into a hospital and seeing people sick and miserable and having a horrible treatment. ~ Anne Wojcicki.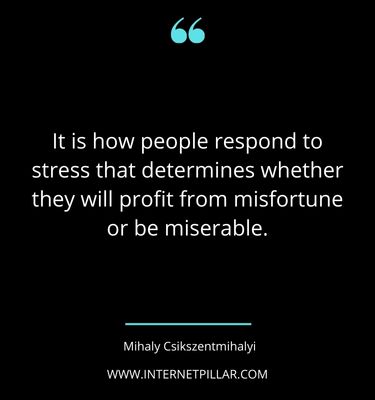 It is how people respond to stress that determines whether they will profit from misfortune or be miserable. ~ Mihaly Csikszentmihalyi.
People have the absolute right to be just as unhappy and miserable as they want to be. ~ Bill Crawford.
People who always want to be happy and pursue it above all else are some of the most miserable people in the world. ~ Henry Cloud.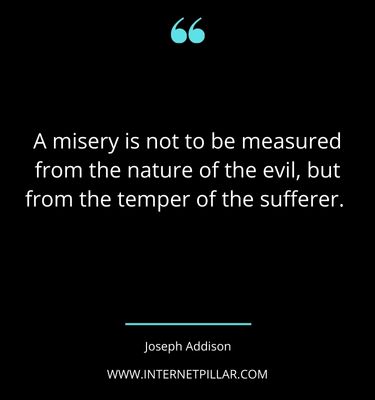 A misery is not to be measured from the nature of the evil, but from the temper of the sufferer. ~Joseph Addison.
People are really concerned about my relationship status. When I tell people I'm happy being single, they don't believe me. They say: 'You have to be miserable being alone'. ~ Kelly Clarkson.
People want you to be a crazy, out-of-control teen brat. They want you miserable, just like them. They don't want heroes; what they want is to see you fall. ~ Leonardo DiCaprio.
Great Miserable People Quotes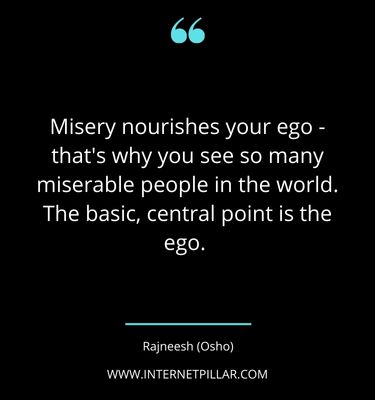 Misery nourishes your ego – that's why you see so many miserable people in the world. The basic, central point is the ego. ~ Rajneesh (Osho).
Let us hope that life grant an opportunity to those miserable who live in the golden palaces to taste the infinite peace of a wooden cottage in the countryside and so their misery ends! ~ Mehmet Murat ildan.
The most reliable ways to make oneself miserable are attempting to change people and not attempting to change circumstances. ~ Carolyn Hax.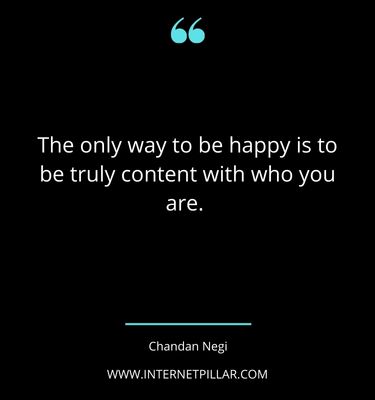 The only way to be happy is to be truly content with who you are. ~ Chandan Negi.
One sees more and more people who are miserable and demented and you feel it would be both kind and wise to leave them a few pills. ~ Deborah Moggach.
Some of the most miserable people I know are some of the richest people in America, they are the most miserable individuals I've ever seen. ~ Chuck Norris.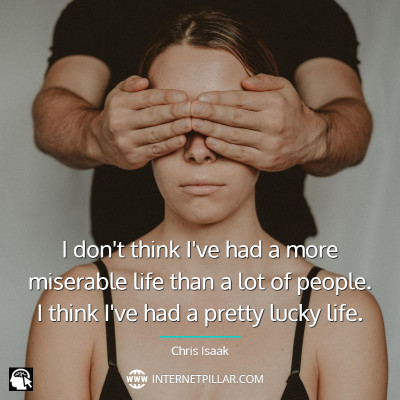 I don't think I've had a more miserable life than a lot of people. I think I've had a pretty lucky life. ~ Chris Isaak.
The fact that the public are mesmerized by Britney Spears, Lindsay Lohan and all these miserable people makes me laugh because those celebrities are more miserable than the people reading about them for escapism. ~ Corey Taylor.
People think I'm a miserable sod but it's only because I get asked such bloody miserable questions. ~ Nick Cave.
Miserable people focus on the things they hate about their life. Happy people focus on the things they love about their life. ~ Sonya Parker.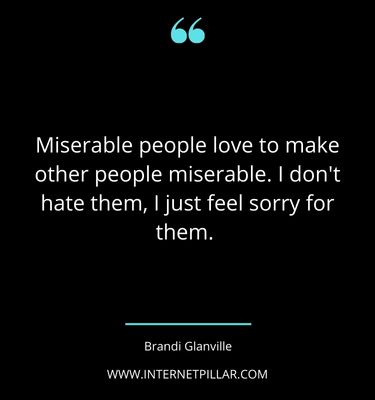 Miserable people love to make other people miserable. I don't hate them, I just feel sorry for them. ~ Brandi Glanville.
The best way to live a miserable life is to pay attention to what other people are saying about you. ~ Paulo Coelho.
Best Miserable People Quotes
Most people are good at a handful of things and utterly miserable at most. ~ Tim Ferriss.
Your whole life people tell you to do what you love. But if you gotta do something else to pay the bills, you don't automatically have to be miserable. ~ Jeph Jacques.
Generally speaking, the most miserable people I know are those who are obsessed with themselves; the happiest people I know are those who lose themselves in the service of others…By and large, I have come to see that if we complain about life, it is because we are thinking only of ourselves. ~ Gordon B. Hinckley.
There are so many miserable people out there who have not fulfilled their dreams. I believe you should do something that you love. ~ John Tesh.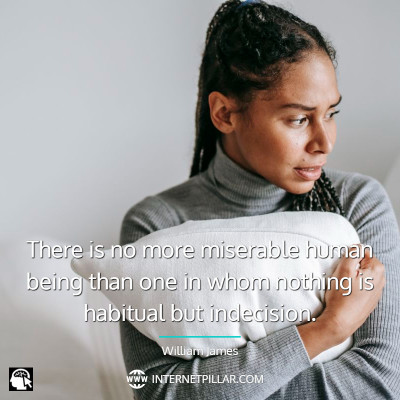 There is no more miserable human being than one in whom nothing is habitual but indecision. ~ William James.
The truly miserable have a timbre in their voices strong enough to erase smiles from the faces and souls of the contented. ~ Jerome.
People on a mission are unstoppable. God bless them for it. It would be a poorer, more miserable world without them. ~ Gerald Nicosia.
Besides, nowadays, almost all capable people are terribly afraid of being ridiculous, and are miserable because of it. ~ Fyodor Dostoevsky.
People think you have to be tortured or miserable to write, but I'm finding that I get inspired a lot more these days before I'm happy. ~ Billy Bob Thornton.
I cannot bear successful people who are miserable. ~ Elton John.
I suppose that's what happens when you make other people's lives miserable: life gets miserable back at you. ~ Sonya Hartnett.
The question is not whether you have a right to render people miserable, but whether it is not in your best interest to make them happy. ~ Edmund Burke.
Don't criticize something you know nothing about. It only brings people down and makes everyone miserable. ~ Laura Hall.
Meaningful Miserable People Quotes
It's a lot easier to like people when they can't make life miserable for you anymore. ~ Carol Kendall.
People might love themselves with the most entire and unbounded affection, and yet be extremely miserable. ~ Joseph Butler.
You definitely meet a lot of extremely powerful, successful, wealthy people in Hollywood who are extremely miserable. ~ Diablo Cody.
Unfortunately this is where comedy works, where people are the most miserable. ~ Doug Stanhope.
In this country, some people start being miserable about growing old while they are still young. ~ Margaret Mead.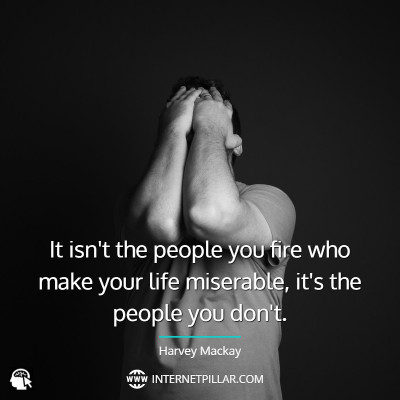 It isn't the people you fire who make your life miserable, it's the people you don't. ~ Harvey Mackay.
The key to sitcom success is miserable people. If you see a happy couple, it's just gone, like when Sam and Diane got together on Cheers. ~ Matthew Perry.
The happiest people are those who do the most for others. The most miserable are those who do the least. ~ Booker T. Washington.
It turned out that capitalism alone could make people not only rich and happy but also poor, hungry, miserable, and powerless. ~ Masha Gessen.
---
So these were the 78 top quotes about Miserable People.
If you like these quotes and sayings, then you can also read my other posts on Stay Humble quotes and This Too Shall Pass quotes.