The mother's love for her child is unconditional. She will go to any extent to ensure that the child is safe, fed, and happy.
They do anything for their children and will stop at nothing to make them happy.
It doesn't matter what the situation; they will always be there for their children with no hesitation or question. The love they have for their children is pure and natural and it makes your heart feel like it's melting from joyous happiness.
To give a tribute to our beautiful mothers, we have selected some of the most inspiring quotes about mother's love for you.
---
Best Mother's Love Quotes | Inspiring Mom Sayings | Mother Quotes
A mother's arms are made of tenderness and children sleep soundly in them. Victor Hugo
All that I am, or hope to be, I owe to my angel mother. Abraham Lincoln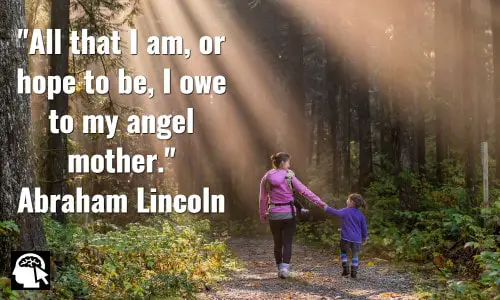 When you are looking at your mother, you are looking at the purest love you will ever know. Charley Benetto
A mother's love endures through all. Washington Irving
We are born of love; Love is our mother. Rumi
A mother's love is more beautiful than any fresh flower. Debasish Mridha
When you look at your mother, you are looking at the purest love you will ever know. Mitch Albom
Mothers can look through a child's eyes and see tomorrow. Reed Markham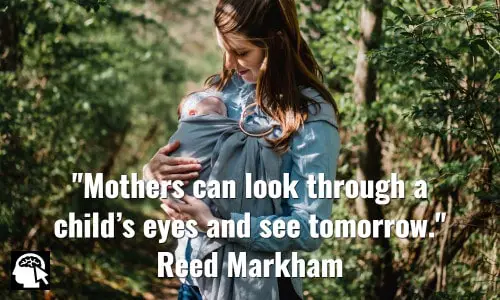 Mothers possess a power beyond that of a king on his throne. Mabel Hale
Mother is the name for God in the lips and hearts of little children. William Makepeace Thackeray
Youth fades; love droops; the leaves of friendship fall; A mother's secret hope outlives them all. Oliver Wendell Holmes
A mother is she who can take the place of all others but whose place no one else can take. Cardinal Meymillod.
Most mothers are instinctive philosophers. Harriet Beecher Stowe
A mother is not a person to lean on, but a person to make leaning unnecessary. Dorothy Canfield Fisher
A mother's love for her child is like nothing else in the world. It knows no law, no pity. It dares all things and crushes down remorselessly all that stands in its path. Agatha Christie
The most important thing a father can do for his children is to love their mother. Theodore Hesburgh
My mother is a strong woman. Her strength comes from being tested by life's unpredictability. It comes from soldiering on for her children, even when she might rather have given up. I know it hasn't always come easily, but I also know it's her greatest gift. Matt Lauer
To describe my mother would be to write about a hurricane in its perfect power. Or the climbing, falling colors of a rainbow. Maya Angelou
The best place to cry is on a mother's arms. Jodi Picoult
God could not be everywhere, and therefore he made mothers. Rudyard Kipling
Mother love is the fuel that enables a normal human being to do the impossible. Marion C. Garretty
Mama was my greatest teacher, a teacher of compassion, love and fearlessness. If love is sweet as a flower, then my mother is that sweet flower of love. Stevie Wonder
To a child's ear, 'mother' is magic in any language. Arlene Benedict
My mother's love has always been a sustaining force for our family, and one of my greatest joys is seeing her integrity, her compassion, her intelligence reflected in my daughters. Michelle Obama
Only mothers can think of the future because they give birth to it in their children. Maxim Grosky
Life began with waking up and loving my mother's face. George Eliot
Mother: the most beautiful word on the lips of mankind. Kahil Gibran
Mother is the heartbeat in the home; and without her, there seems to be no heart throb. Leroy Brownlow
When you look into your mother's eyes, you know that is the purest love you can find on this earth. Mitch Albom
The heart of a mother is a deep abyss at the bottom of which you will always find forgiveness. Honore de Balzac
Mother's love is peace. It need not be acquired, it need not be deserved. Erich Fromm
There is nothing in the world of art like the songs mother used to sing. Billy Sunday
Motherhood: All love begins and ends there. Robert Browning
The mother's heart is the child's schoolroom. Henry Ward Beecher
Mothers are like glue. Even when you can't see them, they're still holding the family together. Susan Gale
---
Frequently Asked Questions (FAQs) about Mother's Love
What is a mother's love?
A mother's love is a mother's unconditional love that a mother has for her child.
What makes a mother's love special?
I think it's the way they try to understand you and support you, even if you're different from them.

They always want to hear about what's going on with your life and seem interested in trying to help.

They want to know what's good for us, so they'll teach us things like how to eat our vegetables or brush our teeth or how sometimes out of everything, we need some time alone.
Is Mother's love unconditional?
It is important for mothers to always love their children unconditionally.

Children need the unconditional love that only a mother can provide. The mother fulfills her child's needs and provides him or her with security through their unconditional love.

Mothers need to love their children unconditionally because it forms the foundation for the future relationship between them and their child.
What is the power of a mother's love?
The power of a mother's love is absolute. It changes shape to meet each need. It can be strong and steady or soothing and soft, depending on the need.

Mothers know what their children need even before they ask, so their love is always perfect for them – just like their mothers.
Why Moms are important?
Moms are the most important people in everybody's life. It is imperative that we keep them healthy and happy because they take care of us for such a long time.

Mothers also help to shape who we become as adults and teach us many lessons that will last with us throughout our lifetime.
---
You Might Like
---