Conrad Hilton was the founder of one of the world's largest hotel chains.
Born in 1887 in San Antonio, New Mexico, he turned his family's home into an inn as a young boy.
By 1915, he was running a general store and later served in both the state legislature and World War I.
After his father passed away in 1918, Hilton expanded the family business by buying hotels in Texas.
Despite challenges in the 1930s, his hotel chain grew.
He founded the Hilton Hotels Corporation in 1946 and expanded internationally in 1948.
In 1954, he acquired the Statler Hotel chain. Hilton also ventured into credit cards and car rentals.
By the 1960s, the company began franchising and partnering with other companies and governments.
In 1966, his son Barron took over. Hilton also wrote books including "Be My Guest" in 1957.
Below is a great collection of quotes by Conrad Hilton.
---
Best Conrad Hilton Quotes
To achieve big things you have to have big dreams. ~ Conrad Hilton.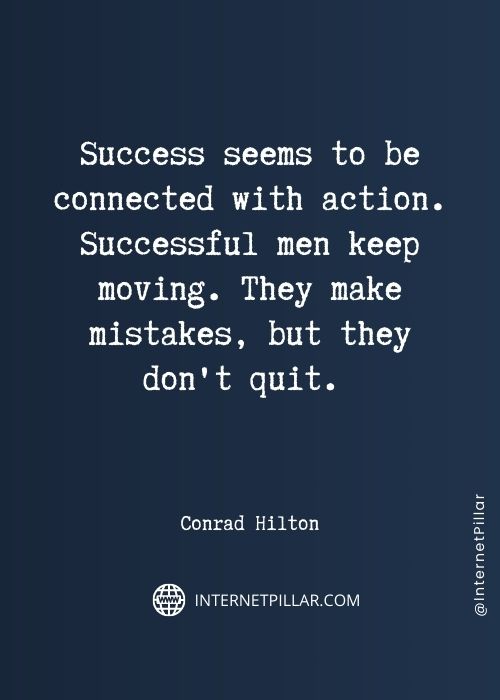 Success seems to be connected with action. Successful men keep moving. They make mistakes, but they don't quit. ~ Conrad Hilton.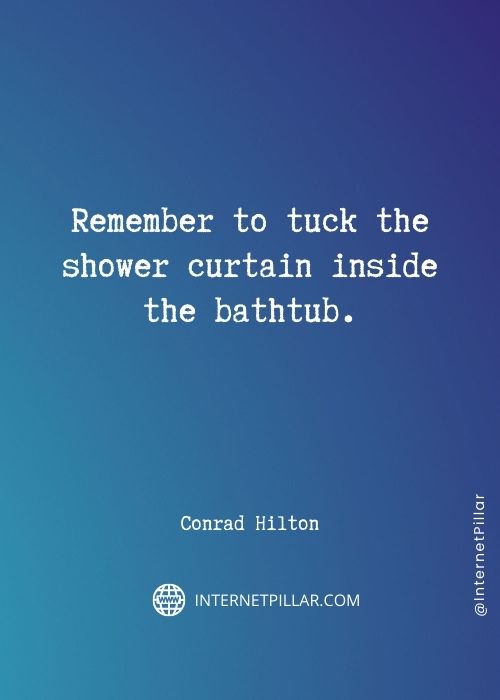 Remember to tuck the shower curtain inside the bathtub. ~ Conrad Hilton.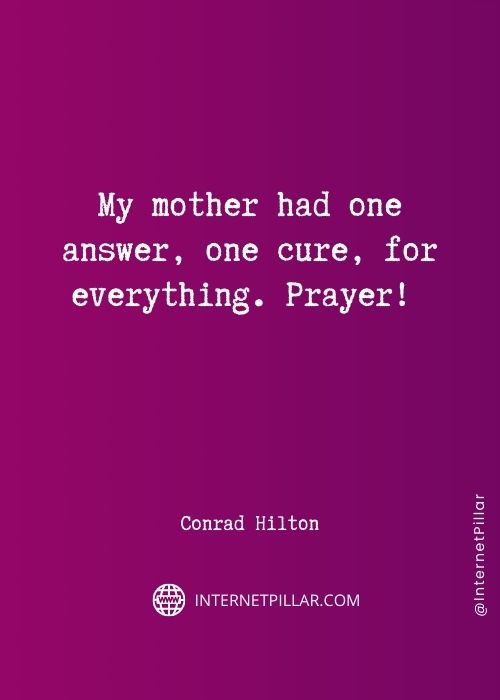 My mother had one answer, one cure, for everything. Prayer! ~ Conrad Hilton.
Success is never final; failure is never fatal. ~ Conrad Hilton.
The buyer is entitled to a bargain. The seller is entitled to a profit. So there is a fine margin in between where the price is right. I have found this to be true to this day whether dealing in paper hats, winter underwear or hotels. ~ Conrad Hilton.
Famous Conrad Hilton Quotes
To accomplish big things, I am convinced you must first dream big dreams. ~ Conrad Hilton.
To some degree, you control your life by controlling your time. ~ Conrad Hilton.
Soap, water and elbow grease; those are the three ingredients for success in the hotel business. ~ Conrad Hilton.
When you start planting acorns, the full-fledged oak may take years. And I was beginning to learn what all gardeners must know – patience. ~ Conrad Hilton.
If you want the dull, tame life, if you have no compelling dreams or head for achievement, stay on the ground, away from big business. ~ Conrad Hilton.
There's a vastness here and I believe that the people who are born here breathe that vastness into their soul. They dream big dreams and think big thoughts, because there is nothing to hem them in. ~ Conrad Hilton.
Inspiring Conrad Hilton Quotes
I learned that you don't get anywhere by sitting comfortably in a chair. ~ Conrad Hilton.
I wanted the largest hotel in the world. ~ Conrad Hilton.
Dig for gold. It means utilization of every possible foot of space for the production of maximum income. ~ Conrad Hilton.
There is a natural law, a Divine law, that obliges you and me to relieve the suffering, the distressed and the destitute. ~ Conrad Hilton.
The man who wins is the average man, not built on any particular plan; Not blessed with any particular luck. ~ Conrad Hilton.
If you climb Mount Everest, no matter how carefully you plan, anything can happen. Your ice axe slips, your oxygen gives out. A concealed crevasse swallows you up. Well, that's about the way it was building my first Hilton Hotel. ~ Conrad Hilton.
We earned every penny we got. ~ Conrad Hilton.
It always started with a dream. ~ Conrad Hilton.
Inspirational Conrad Hilton Quotes
No matter how late we worked into the night, I started the day on my knees. ~ Conrad Hilton.
To be haunted by past failures or satisfied with past successes is to arrest forward motion. ~ Conrad Hilton.
I can think of no greater God-given responsibility we have than that of extending a helping hand to our fellow man. ~ Conrad Hilton.
Worrying has never solved anything yet. Prayer, thought, action – yes. Just worrying, no! ~ Conrad Hilton.
Be ever watchful for the opportunity to shelter little children with the umbrella of your charity; be generous to their schools, their hospitals, and their places of worship. For, as they must bear the burdens of our mistakes, so are they in their innocence the repositories of our hopes for the upward progress of humanity. ~ Conrad Hilton.
Charity is a supreme virtue, and the great channel through which the mercy of God is passed onto mankind. ~ Conrad Hilton.
I think intuition can be a form of answered prayer. You do the best you can – thinking, figuring, planning – and then you pray. ~ Conrad Hilton.
Enthusiasm is a vital element toward the individual success of every man or woman. ~ Conrad Hilton.
To see a seed flower, it has to be planted. ~ Conrad Hilton.
---
---
You Might Like