Born Calvin Cordozar Broadus Jr. on October 20, 1971, Snoop Dogg is an esteemed American rapper and actor known for his unique gangster image and fusion of rap and reggae music.
Hailing from Long Beach, California, his mother gave him the moniker Snoop Dogg, likening him to Snoopy from the Peanuts cartoon.
As a child, he demonstrated musical prowess, singing and playing piano at a local Baptist church.
His breakthrough came in 1992 when Dr. Dre discovered him, featuring him on the album "The Chronic." Snoop Dogg's debut album, "Doggystyle," launched in 1993, made history by entering the Billboard 200 chart at number one.
He has since released numerous albums, such as "Tha Doggfather," "R&G (Rhythm & Gangsta): The Masterpiece," and "Doggumentary."
Related: Lil Wayne Quotes and Drake Quotes.
Alongside his music career, Snoop Dogg has made notable appearances in films and TV shows like "Training Day" and "Starsky & Hutch."
Here are the quotes from Snoop Dogg for you to read and enjoy.
---
Best Snoop Dogg Quotes
1. "My mind on my money, my money on my mind." ~ (Snoop Dogg).
2. "Drop it like it's hot." ~ (Snoop Dogg).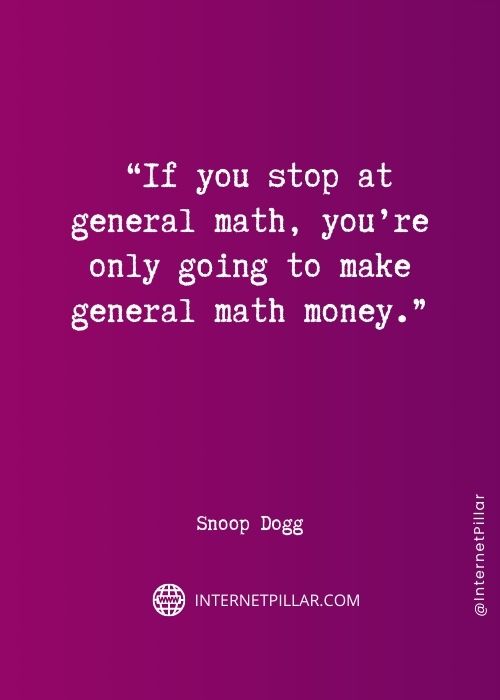 3. "If you stop at general math, you're only going to make general math money." ~ (Snoop Dogg).
4. "There'll be ups and downs, smiles and frowns." ~ (Snoop Dogg).
5. "The more medicated the more dedicated." ~ (Snoop Dogg).
6. "You don't get respect if you don't deserve it." ~ (Snoop Dogg).
Also read: Juice Wrld Quotes
7. "If it's flipping hamburgers at McDonald's, be the best hamburger flipper in the world. Whatever it is you do you have to master your craft." ~ (Snoop Dogg).
8. "It ain't no fun if the homies can't have none." ~ (Snoop Dogg).
9. "Be your own leader, be your own self, step out of my shadows and be your own person." ~ (Snoop Dogg).
10. "Don't get upset girl, that's how it goes. I don't love you hoes, I'm out the door." ~ (Snoop Dogg).
11. "You might not have a car or a big gold chain, stay true to yourself and things will change." ~ (Snoop Dogg).
12. "I'm here to impress only one man. He don't live here with us. He's on top. So that's all I'm concerned about. My work is not for the public or for man to view or make judgment on me, I work for one person…" ~ (Snoop Dogg).
13. "With so much drama in the L-B-C, It's kinda hard bein Snoop D-O-double-G." ~ (Snoop Dogg).
Top Snoop Dogg Quotes
14. "Everybody wants to be a winner. Winning for you is everything, right? Wrong, winning is the only thing!" ~ (Snoop Dogg).
15. "If the ride is more fly, then you must buy." ~ (Snoop Dogg).
16. "The fact is, the truth will come out. The truth will come out when it's time." ~ (Snoop Dogg).
17. "Do what you feel is right, baby." ~ (Snoop Dogg).
18. "You've got to always go back in time if you want to move forward." ~ (Snoop Dogg).
19. "Growing up, I didn't dream of being nothing, of living in the ghetto my whole life. I wanted to get out." ~ (Snoop Dogg).
20. "It makes me feel the way I need to feel." ~ (Snoop Dogg).
21. "Why do people carry guns? Protection, right? To protect me and myself. Whether it's home protection or street protection." ~ (Snoop Dogg).
22. "You're turned into the biggest balls of them all, DJ Suk T Nutts." ~ (Snoop Dogg).
23. "Trump says he wants to run for president. Why not? It wouldn't be the first time he pushed a black family out of their home." ~ (Snoop Dogg).
Famous Snoop Dogg Quotes
24. "I really don't do anything to break myself. As far as the damages to my body, I'm not a drinker. I let the gin and juice alone." ~ (Snoop Dogg).
25. "If you're trying to get somebody and this might be the only time you're going to catch him, but he is holding his baby and with his mama, you ain't gonna let that chance go by. That's the mentality of the streets. If you let that chance go by, he might catch your ass." ~ (Snoop Dogg).
26. "It's old white ladies, old black ladies, old black men, who don't even listen. Everyone else, everyone who understands, likes Snoop Dogg. They like my music." ~ (Snoop Dogg).
27. "So don't blame me for the problems. You can't fault me for it. You can't blame me. You want to blame me but I'm just trying to express what is going on, and trying to keep America open to it." ~ (Snoop Dogg).
28. "Love goes unappreciated a lot of times, but you still gotta keep giving it." ~ (Snoop Dogg).
29. "It's an unexplainable feeling, an expression. It's a touch, it's a feel. Once you feel it, it's like no other thing in the world." ~ (Snoop Dogg).
30. "Sometimes if you're lucky, someone comes into your life who'll take up a place in your heart that no one else can fill, someone who's tighter than a twin, more with you than your own shadow, who gets deeper under your skin than your own blood and bones." ~ (Snoop Dogg).
Popular Snoop Dogg Quotes
31. "Sometimes a loss is the best thing that can happen. It teaches you what you should have done next time." ~ (Snoop Dogg).
32. "The biggest nuts and guess what? He is I and I am him." ~ (Snoop Dogg).
33. "There's no such thing as losing touch. You can take me out of the ghetto, but you can't take the ghetto out of me." ~ (Snoop Dogg).
34. "I tell the truth. And I know what I'm talking about. That's why I'm a threat." ~ (Snoop Dogg).
35. "You can take your boy out the hood but you can't take the hood out the homie." ~ (Snoop Dogg).
36. "It's natural. I freestyle, meaning that I just rap. I might put words on paper, but I just put a beat on my rap, and go off the top of my head. It's something I've been able to do for a long time." ~ (Snoop Dogg).
Inspiring Snoop Dogg Quotes
37. "I'm so sick and tired of all this violence, this gun violence. And how could I speak on it – you know – being one who has advocated violence and gun violence? The only way I could do it was through a song that spoke from the heart." ~ (Snoop Dogg).
38. "What people don't understand is joining a gang ain't bad, it's cool, it's fine. When you are in the hood, joining a gang it's cool because all your friends are in the gang, all your family's in the gang. We're not just killing people every night, we're just hanging out, having a good time." ~ (Snoop Dogg).
39. "I'm just doing what I do best and that's what makes good music, and that's how you can relate to people." ~ (Snoop Dogg).
40. "When I turned 16, I thought I was a man. I needed the money. When you don't have it, crazy thoughts go through your mind." ~ (Snoop Dogg).
41. "Well, hip-hop is what makes the world go around." ~ (Snoop Dogg).
42. "When I'm no longer rapping, I want to open up an ice cream parlor and call myself Scoop Dogg." ~ (Snoop Dogg).
43. "I'm not complicated at all. I say raps that your two-year-old son can learn." ~ (Snoop Dogg).
44. "They say I'm greedy, but I still want more, cause my eyes want to journey." ~ (Snoop Dogg).
46. "I used to get stressed out all the time when I thought winning was important. I wanted to try to win and help my kids win. Once I figured out it wasn't about winning or losing, it was about teaching these kids about being men, that's when I started to relax." ~ (Snoop Dogg).
47. "When you're dead, you don't breathe, you don't see, you don't feel, you don't love." ~ (Snoop Dogg).
48. "My trigger finger itching, positioned at your dome, one twitch and it's on. No remorse or second thoughts." ~ (Snoop Dogg).
49. "Just giving the people a great show, leaving it all on the stage. Like when I'm finished I don't want to go home with nothing, I want to leave it all there on the stage, that's what I'm thinking about before I hit the stage." ~ (Snoop Dogg).
50. "People don't understand that you can actually lose your life going to jail. There's more violence in the jail-house than there is on the streets." ~ (Snoop Dogg).
---
You Might Like