Commitment is the act of making and keeping a promise.
Embracing commitment might be difficult, but being committed can pave way to attaining goals that were previously just desires.
Commitment is the unwavering will to continue even after the initial rush of energy has worn off.
Commitment is persisting in pursuing a project, idea, relationship, or goal in the face of hurdles or adversities.
It is the driving force that allows us to overcome obstacles and keep moving ahead, even when the road is difficult.
We can unleash our potential, nurture personal development and eventually achieve heights we previously considered unachievable through establishing dedication.
Remember that dedication is the key to turning dreams become realities.
---
Commitment Quotes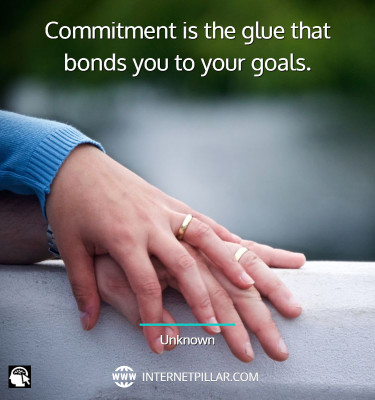 Commitment is the glue that bonds you to your goals. ~ Unknown.
Commitment is an act, not a word. ~ Jean-Paul Sartre.
You need to make a commitment, and once you make it, then life will give you some answers. ~ Les Brown.
Only to the extent that we expose ourselves over and over to annihilation can that which is indestructible in us be found. ~ Pema Chödrön.
A great commitment to the Great Commandment and the Great Commission will grow a great church. ~ Rick Warren.
Once you have commitment, you need the discipline and hard work to get you there. ~ Haile Gebrselassie.
Realize that the hardest step in achieving anything is making a true commitment. ~ Tony Robbins.
Love is not maximum emotion. Love is maximum commitment. ~ Sinclair B. Ferguson.
Commitment is that turning point in your life when you seize the moment to alter your destiny. ~ Denis Waitley.
Related: 129 Friendship Quotes to Dedicate to Your Best Friend and 130 Strawberry Quotes, Sayings and Captions for You
Best Commitment Quotes
Remember that all success is based on long-term commitment, faith, discipline, attitude and a few stepping stones along the way. ~ Jim Rohn.
It still takes a serious commitment and honest effort for your goals to come to fruition. ~ Alex Altman.
There's a higher form of happiness in commitment. I'm counting on it. ~ Claire Forlani.
Your commitments can develop you or destroy you, but either way, they will define you. ~ Rick Warren.
Your silence will not protect you. ~ Audre Lorde.
If you want to take the island, then burn your boats. With absolute commitment come the insights that create real victory. ~ Tony Robbins.
I will demand a commitment to excellence and to victory, and that is what life is all about. ~ Vince Lombardi.
The road to success is through commitment. ~ Will Smith.
The way you get meaning into your life is to devote yourself to loving others, devote yourself to your community around you, and devote yourself to creating something that gives you purpose and meaning. ~ Mitch Albom.
Inspiring Commitment Quotes
Every man has his own destiny: the only imperative is to follow it, to accept it, no matter where it leads him. ~ Henry Miller.
Accountability is the glue that ties commitment to the result. ~ Bob Proctor.
Love is just a word until someone comes along and gives it meaning. Dream is also just a word until you decide to fight for it with all your enthusiasm and commitment. ~ Paulo Coelho.
Courage is the commitment to begin without any guarantee of success. ~ Johann Wolfgang von Goethe.
Commitment leads to action. Action brings your dream closer. ~ Marica Wieder.
Tolerance implies no lack of commitment to one's own beliefs. Rather it condemns the oppression or persecution of others. ~ John F. Kennedy.
Lighthouses don't go running all over an island looking for boats to save; they just stand there shining. ~ Anne Lamott.
True peace must be anchored in justice and an unwavering commitment to universal rights for all humans, regardless of ethnicity, religion, gender, national origin or any other identity attribute. ~ Desmond Tutu.
Success awaits those who steadfastly commit to any requisite sacrifice. ~ Ken Poirot.
Nature loves courage. You make the commitment and nature will respond to that commitment by removing impossible obstacles. Dream the impossible dream and the world will not grind you under, it will lift you up. ~ Terence McKenna.
Famous Commitment Quotes
Commitment unlocks the doors of imagination, allows vision, and gives us the right stuff to turn our dream into reality. ~ James Womack.
The time to hesitate is through. ~ Jim Morrison.
Our only hope lies in the power of our love, generosity, tolerance and understanding and our commitment to making the world a better place for all… ~ Muhammad Ali.
Once a man has made a commitment to a way of life, he puts the greatest strength in the world behind him. It's something we call heart power. Once a man has made this commitment, nothing will stop him short of success. ~ Vince Lombardi.
Honor your commitments with integrity. ~ Les Brown.
The only limit to your impact is your imagination and commitment. ~ Tony Robbins.
Desire is the key to motivation, but it's determination and commitment to an unrelenting pursuit of your goal – a commitment to excellence – that will enable you to attain the success you seek. ~ Mario Andretti.
Without involvement, there is no commitment. Mark it down, asterisk it, circle it, underline it. ~ Stephen Covey.
Commitment turns a promise into reality with words that speak boldly of your intentions and actions that speak louder than words. ~ Steve Brunkhorst.
Powerful Commitment Quotes
Don't take no for an answer, determine your target, show your commitment, do what it takes to achieve your goal. ~ Tony Clark.
The greatest things in life all require commitment, sacrifice, some struggle and hardship. It's not easy. But absolutely worth it. ~ Robin S. Sharma.
At the moment of commitment the entire universe conspires to assist you. ~ Johann Wolfgang von Goethe.
Until one is committed, there is hesitancy, the chance to draw back, always ineffectiveness. Concerning all acts of initiation – creation – there is one elementary truth, the ignorance of which kills countless ideas and splendid plans… ~ Johann Wolfgang von Goethe.
The most important thing is to have a sense of responsibility, commitment, and concern for each of our fellow human beings. ~ Dalai Lama.
You always have two choices: your commitment versus your fear. ~ Sammy Davis, Jr.
As a peaceful warrior, I would choose when, where and how I would behave. With that commitment, I began to live the life of a warrior. ~ Dan Millman.
Aspire greatly; anything less than a commitment to excellence becomes an acceptance of mediocrity. ~ Brian Tracy.
Trust only movement. Life happens at the level of events, not of words. Trust movement. ~ Alfred Adler.
Fall in love with some activity, and do it! Nobody ever figures out what life is all about, and it doesn't matter. ~ Richard P. Feynman.
Popular Commitment Quotes
Most people fail not because of a lack of desire but because of a lack of commitment. ~ Vince Lombardi.
You have to be un-compromised in your level of commitment to whatever you are doing, or it can disappear as fast as it appeared. Commitment cannot be compromised by rewards. ~ Michael Jordan.
Commitment is the little choices every day that lead to the final results we're striving for. ~ Unknown.
The most important element in the failure equation is your personal commitment to keep trying. ~ Catherine Pulsifer.
What makes the difference between a great player and just a normal player is dedication, work, commitment. ~ Thierry Henry.
Unless a man believes in himself and makes a total commitment to his career and puts everything he has into it – his mind, his body, his heart – what's life worth to him? ~ Vince Lombardi.
The how will show up after the commitment to the what. ~ Tony Robbins.
The biggest commitment you must keep is your commitment to yourself. ~ Neale Donald Walsch.
Commitment means staying loyal to what you said you were going to do long after the mood you said it in has left you. ~ Unknown.
Top Commitment Quotes
When you make a commitment, you guarantee that you will follow through on it. ~ Chandan Negi.
You need to have a commitment to do what you do better than anyone else. ~ Amy Dix.
Anyone can dabble, but once you've made that commitment, your blood has that particular thing in it, and it's very hard for people to stop you. ~ Bill Cosby.
One person with commitment accomplishes more than a thousand with an opinion. ~ Orrin Woodward.
Without commitment, nothing happens. ~ T.D. Jakes.
You can be committed to Church but not committed to Christ, but you cannot be committed to Christ and not committed to church. ~ Joel Osteen.
Commitment gets the Universal wheels turning on your behalf. ~ Jeannette Maw.
Most people fail, not because of lack of desire, but, because of lack of commitment. ~ Vince Lombardi.
Unless commitment is made, there are only promises and hopes… but no plans. ~ Peter F. Drucker.
Commitment is the foundation of great accomplishments. ~ Heidi Reeder.
Compassion is not a virtue – it is a commitment. It's not something we have or don't have – it's something we choose to practice. ~ Brené Brown.
Productivity is never an accident. It is always the result of a commitment to excellence, intelligent planning, and focused effort. ~ Paul J. Meyer.
It takes a deep commitment to change and an even deeper commitment to grow. ~ Ralph Ellison.
Integrity is keeping a commitment even after circumstances have changed. ~ David Jeremiah.
---
Here is a power-packed video on the value of Commitment.
---
So these were the 72 quotes about Commitment.
If you like these quotes and sayings, then you can also read my other popular blog posts on the topics of Courage quotes and Focus quotes and Buddhist quotes.
---
Sources: