When it comes to adventure, it all depends on your attitude. Try something new or distinctive from what you've already done.
It's a good idea to get outside your comfort zone. the deliberate choice to choose an unknown route.
---
Best Adventure Quotes
1. "Don't ask for security, ask for adventure." ~ Jim Rohn.
2. "To travel is to live." ~ Hans Christian Andersen.
3. "If you think adventure is dangerous, try routine; it is lethal." ~ Paulo Coelho.
4. "Be brave. Take risks. Nothing can substitute experience." ~ Paulo Coelho.
5. "Life is an adventure, it's not a package tour." ~ Eckhart Tolle.
6. "The greatest adventure is what lies ahead." ~ J. R. R. Tolkien.
7. "Not all who wander are lost." ~ J. R. R. Tolkien.
8. "You the people have the power to make this life free and beautiful, to make this life a wonderful adventure…" ~ Charlie Chaplin.
9. "It's not an adventure until something goes wrong." ~ Yvon Chouinard.
10. "To travel is to discover that everyone is wrong about other countries." ~ Aldous Huxley.
Other Topics Quotes: 70 Quotes about Exploration to Inspire Your Adventure and 77 Growth Mindset Quotes to Transform Your Life
Top Adventure Quotes
11. "The adventure of life is to learn…" ~ William Arthur Ward
12. "The adrenaline and stress of an adventure are better than a thousand peaceful days." ~ Paulo Coelho
13. "Have your adventures, make your mistakes, and choose your friends poorly – all these make for great stories." ~ Chuck Palahniuk
14. "Keep trying. Stay humble, Trust your instincts. Most importantly, act. When you come to a fork in the road, take it." ~ Yogi Berra
15. "In the universe, there are things that are known, and things that are unknown, and in between, there are doors." ~ William Blake
16. "I wanted real adventures to happen to myself. But real adventures, I reflected, do not happen to people who remain at home: they must be sought abroad." ~ James Joyce
17. "The clearest way into the Universe is through a forest wilderness." ~ John Muir
18. "Some 80% of your life is spent working. You want to have fun at home; why shouldn't you have fun at work?" ~ Richard Branson.
Famous Adventure Quotes
19. "In that world, you'll be able to rise in the morning with the spirit you had known in your childhood: that spirit of eagerness, adventure and certainty which comes from dealing with a rational universe." ~ Ayn Rand
20. "I like adventures, and I'm going to find some." ~ Louisa May Alcott
21. "You can destroy your now by worrying about tomorrow." ~ Janis Joplin
22. "If adventures will not befall a young lady in her own village, she must seek them abroad." ~ Jane Austen
23. "There are so many adventures that you miss because you're waiting to think of a plan. To find them, look for tiny interesting choices. And remember that you are always making up the future as you go." ~ Randall Munroe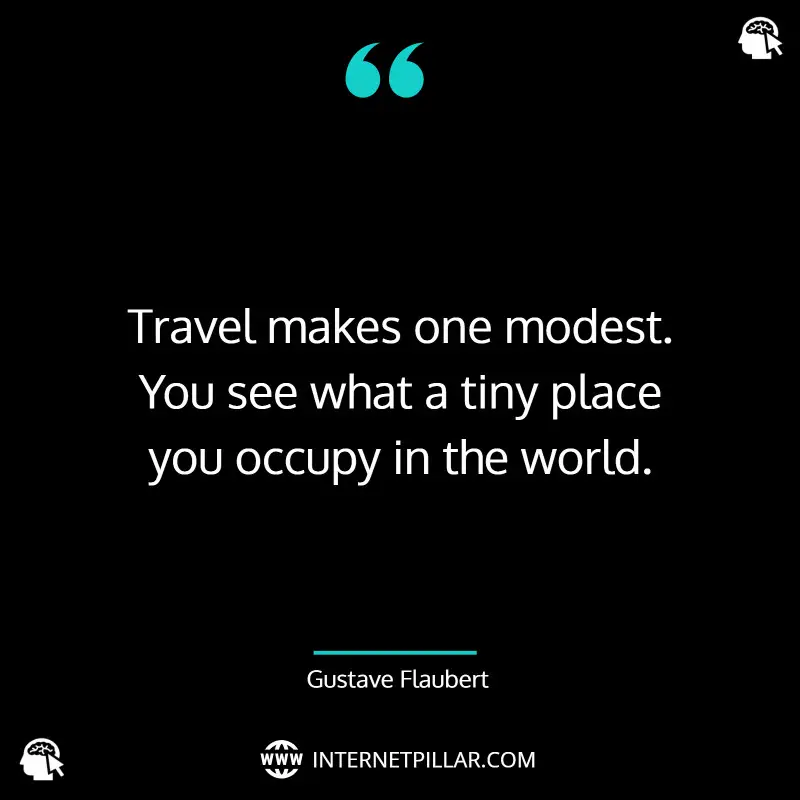 24. "Travel makes one modest. You see what a tiny place you occupy in the world." ~ Gustave Flaubert
25. "Tourists don't know where they've been, travelers don't know where they're going." ~ Paul Theroux
26. "None but the ignorant can be bored by life. To the lovers of learning, life is pure adventure shared with adventurers." ~ Pearl S. Buck.
Popular Adventure Quotes
27. "You aren't nearly through this adventure yet." ~ J. R. R. Tolkien
28. "Why do you go away? So that you can come back. So that you can see the place you came from with new eyes and extra colors. And the people there see you differently, too. Coming back to where you started is not the same as never leaving." ~ Terry Pratchett
29. "No one realizes how beautiful it is to travel until he comes home and rests his head on his old, familiar pillow." ~ Lin Yutang
30. "I like to set myself a new adventure challenge at least once or twice a year because I love that side of my life. I love getting fit and training for it." ~ Richard Branson
31. "Life with Christ is a wonderful adventure." ~ Pope John Paul II.
32. "All too often, the security of a mediocre present is more comfortable than the adventure of trying to be more in the future." ~ Tony Robbins.
Inspiring Adventure Quotes
33. "I know not all that may be coming, but be it what it will, I'll go to it laughing." ~ Herman Melville
34. "Journalism combines adventure with culture." ~ Oriana Fallaci
35. "The whole purpose of an adventure is to gain some spiritual or emotional insight. When you compromise the process, you compromise the gain." ~ Yvon Chouinard
36. "My day begins with gratitude and joy. I look forward with enthusiasm to the adventures of the day, knowing that in my life, All is good." ~ Louise Hay
37. "The adventure of the Christian life begins when we dare to do what we would never tackle without Christ." ~ William Penn.
---
You Might Like
---
References and Sources: