Life is a complicated tapestry weaved with many obstacles and chances.
The adage "Nothing comes easy in life and we have to work hard at it" is a timeless truism that emphasizes the significance of tenacity, resilience and persistence in achieving our objectives.
The basic idea of effort lies at the center of this belief.
Success in any field does not happen by luck or wishful thinking. It is the consequence of perseverance, hard effort and a reluctance to accept failure and still move ahead.
Hard labor is more than just a mechanical effort. It is about committing totally to a job or goal, devoting time and energy to it and not getting discouraged by difficulties or setbacks.
There may be instances when we face apparently insurmountable obstacles. We could feel overwhelmed, disappointed, or like giving up.
However, it is at these times that the core of our dedication is put to the test.
It is critical to remember that these obstacles are not dead ends, but rather stepping stones on our path to achievement.
They provide opportunities for development, learning and displaying our determination.
---
Table of Contents
Nothing Comes Easy Quotes
IF IT WAS EASY, EVERYONE WOULD DO IT – UNKNOWN.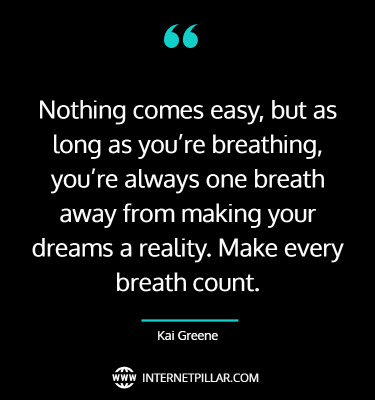 Nothing comes easy, but as long as you're breathing, you're always one breath away from making your dreams a reality. Make every breath count. ~ Kai Greene.
To achieve success you will have to work hard and pray hard. Nothing worth having comes easy. ~ Jeanette Coron.
Nothing good in life comes easy. The best things take work. ~ Unknown.
Nothing comes easy, and if you want to be safe your entire life, you can miss out on the things that make it worth living. ~ R. E. Blake.
Nothing great ever come that easy. ~ Unknown.
Every time I wake, I understand how easy it is to be nothing. ~ Antonio Porchia.
Nothing is easy in writing. I don't think for anyone. But dialogue is probably what comes most naturally to me. ~ David Bezmozgis.
When something comes easy, you usually let it go the same way. ~ Nora Roberts.
Nothing worthwhile comes easily. Work, continuous work and hard work, is the only way to accomplish results that last. ~ Hamilton Holt.
It don't take much to see that something is wrong, but it does take some eyesight to see what will put it right again. ~ Will Rogers.
Related Quotes: 123 Famous Hard Work Quotes To Succeed In Life & Business and 80 Perseverance Quotes on Never Giving Up
Best Nothing Comes Easy Quotes
Without labor, nothing prospers. ~ Sophocles.
Nothing worth while comes easy. Hard work just makes you appreciate it more. ~ Constance O'Day-Flannery.
Ain't nothing in this life comes easy to any of us, child. Every road you walk down's got a price. Sooner you learn that the better. Don't matter the direction you go, there'll be some bad mixed in with the good and you just gotta learn to take the one with the other. ~ Victoria Forester.
Folks don't give themselves enough credit. The mother who endures cavities so her children can get braces. The father who works a dead-end job so his kids can have a roof over their heads. The daughter who sacrifices college so she can take care of her disabled mother. They are all heroes. ~ Ray Smith.
This is my philosophy on all life, not just when it comes to love. All the best things are terrifying, but that's why they're the best things. Nothing worth having comes easy. You have to be afraid to want it, afraid to lose it, afraid to try. If you feel that, then you know you're on to a winner. ~ Thomas S. Monsoon.
Nothing in life that's worth having comes easy… Money is work, love is work, life is work. ~ Unknown.
Nothing really worth having is easy to get. The hard-fought battles, the goals won with sacrifice, are the ones that matter. ~ Aisha Tyler.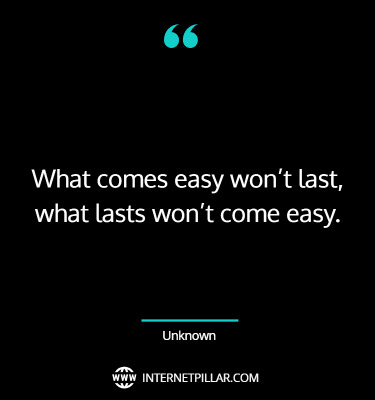 What comes easy won't last, what lasts won't come easy. ~ Unknown.
Great Nothing Comes Easy Quotes
Nothing in the world is worth having or worth doing unless it means effort, pain, difficulty… I have never in my life envied a human being who led an easy life. I have envied a great many people who led difficult lives and led them well. ~ Theodore Roosevelt.
Even when people didn't think I was the real champion, I got called out anyway. So now when you get a good win the first person people think of is me. I guess they thought it would be easy, but nothing comes easy. ~ Danny Garcia.
If loving comes easy, nothing else seems hard. ~ Marty Rubin.
My advice to an aspiring actor would be to never stop learning or working for what you want. Nothing comes easy, ever, if you want something, you have to work for it. By working for it I mean work on your craft, learn from people who have something to teach. It's just like anything else, practice makes perfect. ~ James Lafferty.
The struggles, challenges, and obstacles that it takes to succeed in life is what makes success more valuable. Nothing great comes easy, and nothing easy can ever equate to greatness. ~ Edmond Mbiaka.
Once you can accept the universe as being something expanding into nothing that is something, wearing stripes with plaid comes easy. ~ Albert Einstein.
Look, man. Nothing worth having comes easy. You gotta fight for what you want in this life. You taught me that. Just thought you might need a reminder. ~ Jennifer Bonds.
Nothing comes easy in life. If you wait for sunrise… You must survive in dark night… ~ Diganta.
Nothing comes easy. Nothing comes overnight and you may not be where you want to be for weeks, months or even years. But eventually you will be where you want to be if you don't give up. And trust me the wait is worth. You will smile at yourself for waiting it out through some seriously hard and unsatisfying times. More than anyone else you will be proud of yourself. ~ Arzoo Vishani.
Famous Nothing Comes Easy Quotes
Nothing in life comes easy and without a price. The trick is learning to never give up. ~ Michael Alexander Beas.
If your dream is a big dream, and if you want your life to work on the high level you say you do, there's no way around doing the work it takes to get you there. ~ Joyce Chapman.
You'll find out that nothing that comes easy is worth a dime. As a matter of fact, I never saw a football player make a tackle with a smile on his face. Never. ~ Woody Hayes.
I want us to be together, Evelyn, which I know won't be easy, but nothing worth having ever comes easy. If there's something you want, you have to work hard to have it. And I want you. ~ Jaci Burton.
There is no substitute for hard work. ~ Thomas A. Edison.
Nothing in this world that's worth having comes easy. ~ Unknown.
Nothing in life that is of value comes easy. If good things came easily then the value would be diminished. When we have a vested interest, when we give everything we have, then, and only then are those good times valuable. ~ George M. Gilbert.
Nothing worthwhile comes easy … a worthy pursuit, for the right reasons, is more precious than gold! ~ Chris Vonada.
The difference between who you are and who you want to be. What you do. What you have to do, get where you want to be, not be pretty or may not come easy. ~ Unknown.
Powerful Nothing Comes Easy Quotes
Happiness isn't about the events going on in your life; it's about how you handle them. It's about falling down and standing up straighter than you did before. It's about realizing that nothing comes easy. ~ Jodie Sweetin.
Experience comes from bad judgment. ~ Mark Twain.
Nothing worth fighting for ever comes easy … If it's too easy to grasp, then one should never reach for it. ~ Amelia Hutchins.
The complexity of things – the things within things – just seems to be endless. I mean nothing is easy, nothing is simple. ~ Alice Munro.
Everything is easy when you are busy. But nothing is easy when you are lazy. ~ Swami Vivekananda.
Nothing comes easy and nothing ever truly does. ~ Abdulazeez Henry Musa.
Nothing worth having comes easy. ~ Theodore Roosevelt.
It won't be as easy, but lots of things that are worth doing aren't easy. It just takes commitment, discipline, and, most important, faith that it's all going to work out. ~ Jason Fried.
Nothing comes easy when nothing is handed to you. ~ Unknown.
Top Nothing Comes Easy Quotes
Nothing comes easy, when I'm in character, because everything I do in character, I take seriously. ~ Vin Diesel.
Nothing comes easy in life. Even Santa comes with a Clause. ~ Unknown.
There's nothing in this world that comes easy. There are a lot of people who aren't going to bother to win. We learn in football to get up and go once more. ~ Woody Hayes.
There are no secrets to success. It is the result of preparation, hard work, and learning from failure. ~ Colin Powell.
I could describe my career in two words: who knew. I was on the path to becoming a professional baseball player, but I got injured in college. When I decided to move out to L.A. to try acting, nobody was betting on me, not even my family. But it's always been that way for me; nothing has come easy. ~ Shemar Moore.
Nothing in life comes easy. Everything comes with a sacrifice. ~ Rihanna.
Nothing great ever came that easy. ~ Unknown.
Popular Nothing Comes Easy Quotes
In life, what you really want; will never come easy. ~ Unknown.
There's nothing special about me. Nothing has come easy. ~ Rodney Atkins.
I ain't going to say everything I touch turns to gold or camouflage. I've got to work hard to keep what I've got. Nothing comes easy to me. It never has. ~ Boo Weekley.
Hard work and determination equals success. Nothing comes easy. Put your mind to something. ~ Kevin Hart.
Nothing is easy, but who wants nothing? ~ Donald Trump.
Whatever you want is behind the mountain of struggles. Nothing great comes with ease. ~ Israelmore Ayivor.
Life would be easy if common sense ruled; but sometimes the easy way doesn't feel like the right way. ~ Dean Koontz.
God wants you to have a good life, a life filled with love, joy, peace, and fulfillment. That doesn't mean it will always be easy, but it does mean that it will always be good. ~ Joel Osteen.
---
So these were the 60 quotes about Nothing Comes Easy.
If you like these quotes and sayings, then you can also read my other popular blog posts on the topics of Chapter Closed quotes and Kid President quotes and Walk Alone quotes and Green Revolution quotes and Better Days Will Come quotes and Keep it Simple quotes.
---
Sources: