Decisions are key to shaping our destiny, leading us either down the right or wrong path.
This underlines the importance of learning from past mistakes and improving future decisions.
This collection of 82 decision quotes aims to inspire you to make wise choices, helping you carve a path towards a life of greatness.
The power of decisions lies in the fact that they are inherently ours, contrary to the belief of many who feel helpless and angry thinking they lack control.
We are all required to make decisions to progress in life.
Through these decisions, we gain a clearer understanding of our current position and our desired destination in life.
---
Table of Contents
Decision Quotes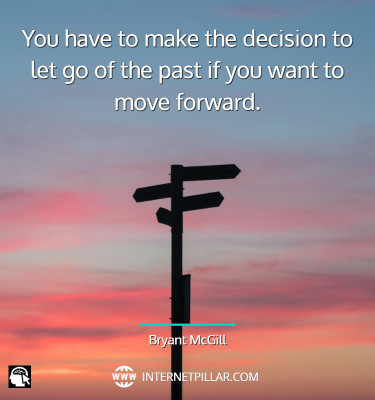 You have to make the decision to let go of the past if you want to move forward. ~ Bryant McGill.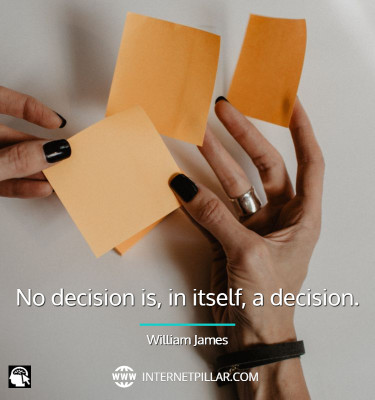 No decision is, in itself, a decision. ~ William James.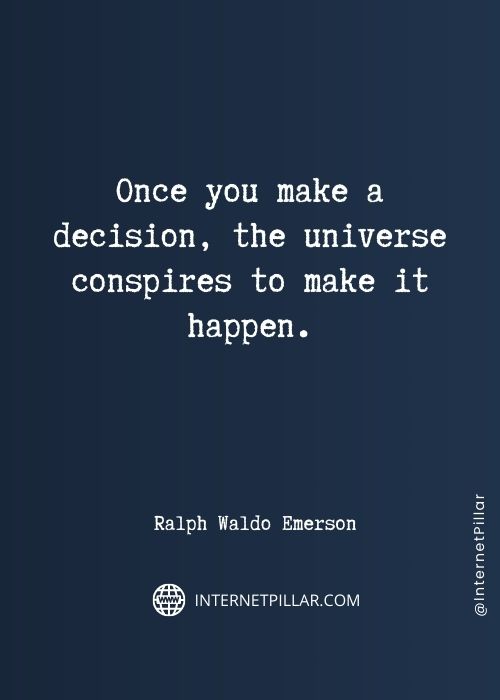 Once you make a decision, the universe conspires to make it happen. ~ Ralph Waldo Emerson.
Life by the yard is hard; by the inch it's a cinch. Decisions Determine Destiny. ~ Thomas S. Monson.
The thing that cowardice fears most is decision. ~ Soren Kierkegaard.
It is only in our decisions that we are important. ~ Jean-Paul Sartre.
It is in your moments of decision that your destiny is shaped. ~ Tony Robbins.
Concision in style, precision in thought, decision in life. ~ Victor Hugo.
People make decisions, and maybe you don't always agree, but those choices are still their own. ~ Brenna Yovanoff.
Related: Inspiring Indecision Quotes to Break The Shackles and Taking Advantage Quotes on Being Used by People
Take Your Decision Quotes
Don't mourn over your bad decisions. Just start overcoming them with good ones. ~ Joyce Meyer.
Your biography is not your destiny, your decisions are. ~ Tony Robbins.
You and only you are responsible for your life choices and decisions. ~ Robert T. Kiyosaki.
The hardest thing about the road not taken is that you never know where it might have led. ~ Lisa Wingate.
A wise man makes his own decisions. An ignorant man follows public opinion. ~ Chinese Proverb.
You don't have to defend or explain your decisions to anyone. It's your life. Live it without apologies. ~ Unknown.
Never make a permanent decision based on a temporary storm.. No matter how raging the billows are today, remind yourself: This too shall pass! ~ T.D. Jakes.
Decisions decide destiny, there is no action without decision. ~ Tony Robbins.
When you face a problem, solve it then and there if you have the facts necessary to make a decision. Don't keep putting off decisions. ~ Dale Carnegie.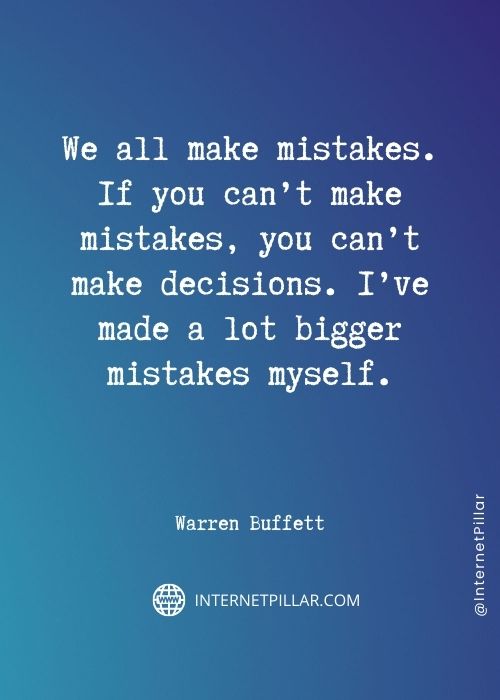 We all make mistakes. If you can't make mistakes, you can't make decisions. I've made a lot bigger mistakes myself. ~ Warren Buffett.
In a world where death is the hunter, my friend, there is no time for regrets or doubts. There is only time for decisions. ~ Carlos Castaneda.
Once a decision is made, you should stop worrying and start working. It's not always what we know that makes it a good decision. It is what we do to implement and execute it that makes it a good decision. ~ John C. Maxwell.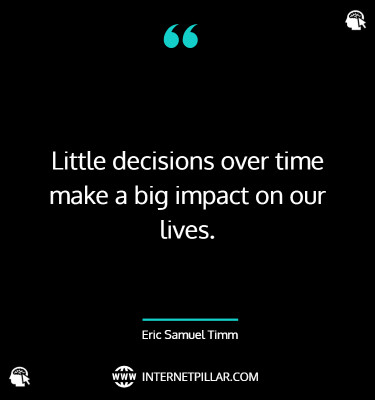 Little decisions over time make a big impact on our lives. ~ Eric Samuel Timm.
Don't let adverse facts stand in the way of a good decision. ~ Colin Powell.
Best Decision Quotes
You have a brain and mind of your own. Use it, and reach your own decisions. ~ Napoleon Hill.
The most difficult thing is the decision to act, the rest is merely tenacity. The fears are paper tigers. You can do anything you decide to do. You can act to change and control your life; and the procedure, the process is its own reward. ~ Amelia Earhart.
Contentment with life is not a feeling, but it is a decision we must make. ~ Joyce Meyer.
When a decision has to be made, make it. There is no totally right time for anything. ~ George S. Patton Jr.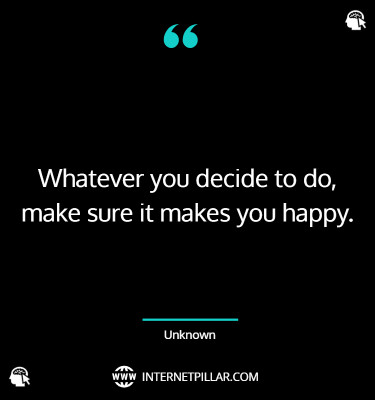 Whatever you decide to do, make sure it makes you happy. ~ Unknown.
Indecision is a decision. ~ Unknown.
Nothing happens until you decide. Make a decision and watch your life move forward. ~ Oprah Winfrey.
Inspiring Decision Quotes
Make and be confident in your own decisions. Stop looking for people's approval for everything. Live your life and do what you want. ~ Unknown.
You cannot change your destination overnight, but you can change direction overnight. ~ Jim Rohn.
True grit is making a decision and standing by it, doing what must be done. ~ John Wayne.
If only I had more money is the easiest way to postpone the intense self-examination and decision-making necessary to create a life of enjoyment – now and not later. ~ Tim Ferriss.
The best decisions aren't made with your mind, but with your Instinct. ~ Lionel Messi.
Sometimes the hardest thing and the right thing are the same. ~ Unknown.
Decision is a risk rooted in the courage of being free. ~ Paul Tillich.
You must be single minded. Drive for the one thing on which you have decided. ~ George S. Patton Jr.
If your belief system is not founded in an objective reality, you should not be making decisions that affect other people. ~ Neil deGrasse Tyson.
You are the CEO of your own life, start making executive decisions today. ~ Stephen Luke.
This is about your future. Nobody else can make the decision for you. ~ Cathy Bramley.
A major life decision is never a choice but rather a realization that the decision has already been made. ~ Doug Cooper.
Famous Decision Quotes
Stay committed to your decisions, but stay flexible in your approach. ~ Tony Robbins.
Whenever you see a successful business, someone once made a courageous decision. ~ Peter F. Drucker.
Sometimes in life, you have to make decisions that are best for you, not for everyone else. ~ Unknown.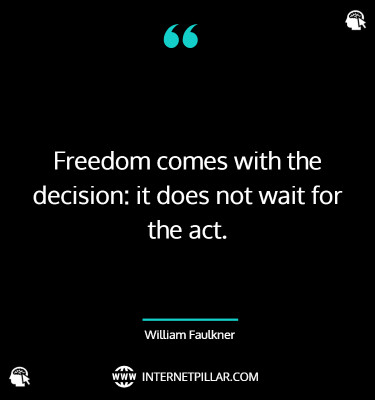 Freedom comes with the decision: it does not wait for the act. ~ William Faulkner.
We all make choices, but in the end our choices make us. ~ Ken Levine.
Sometimes it's the smallest decisions that can change your life forever. ~ Unknown.
Decision is the ultimate power. Decisions shape destiny. ~ Tony Robbins.
A decision made from fear is always the wrong decision. ~ Tony Robbins.
The most difficult thing is the decision to act! ~ Amelia Earhart.
Your choices and decisions are a reflection of how well you've set and followed your priorities. ~ Elizabeth George.
In the end, we only regret the chances we didn't take and the decisions we waited to make. ~ Unknown.
Inspirational Decision Quotes
Good decisions come from experience, and experience comes from bad decisions. ~ Unknown.
If you chase two rabbits, both will escape. ~ Unknown.
To change a habit, make a conscious decision, then act out the new behavior. ~ Maxwell Maltz.
Don't waver. Make a decision. Do it now. ~ Billy Graham.
Our lives will depend upon the decisions which we make, for decisions determine destiny. ~ Thomas S. Monson.
Every decision you make reflects your evaluation of who you are. ~ Marianne Williamson.
Your decisions in life will define your destiny. ~ Lailah Gifty Akita.
Don't base your decisions on the advice of those who don't have to deal with the results. ~ Unknown.
Your legacy is being written by yourself. Make the right decisions. ~ Gary Vaynerchuk.
All my life, whenever it comes time to make a decision, I make it and forget about it. ~ Harry S. Truman.
Powerful Decision Quotes
The risk of a wrong decision is preferable to the terror of indecision. ~ Maimonides.
The man of decision cannot be stopped! The man of indecision cannot be started! Take your own choice. ~ Napoleon Hill.
There is no decision that we can make that doesn't come with some sort of balance or sacrifice. ~ Simon Sinek.
Where you are going to spend your time and your energy is one of the most important decisions you get to make in life. ~ Jeff Bezos.
Life is filled with difficult decisions, and winners are those who make them. ~ Dan Brown.
Never cut a tree down in the wintertime. Never make a negative decision in the low time. Never make your most important decisions when you are in your worst moods. Wait. Be patient. The storm will pass. The spring will come. ~ Robert H. Schuller.
Don't get stuck where you are, keep growing. It's a decision you have to make because it is easy to get stuck. Make a decision to develop better habits, to have better relationships and just to keep the enthusiasm for life. ~ Joel Osteen.
Where there is no decision there is no life. ~ JJ Dewey.
Decisions determine the directions of your destiny. ~ Bobby Sullivan.
You can't make decisions based on fear and the possibility of what might happen. ~ Michelle Obama.
When people will not weed their own minds, they are apt to be overrun by nettles. ~ Horace Walpole.
Wise Decision Quotes
You cannot make progress without making decisions. ~ Jim Rohn.
Life presents many choices, the choices we make determine our future. ~ Catherine Pulsifer.
The opportunity to do what is right is available at all times. ~ Jim George.
You are only one decision from a totally different life. ~ Unknown.
A real decision is measured by the fact that you've taken a new action. If there's no action, you haven't truly decided. ~ Tony Robbins.
When making a decision of minor importance, I have always found it advantageous to consider all the pros and cons. ~ Sigmund Freud.
When faced with a decision, many people say they are waiting for God. But I understand, in most cases, God is waiting for me. ~ Andy Andrews.
---
Watch this great video on how to make a decision.
---
So these were the 82 quotes about Decision.
If you like these quotes and sayings, then you can also read my other popular blog posts on the topics of Gratitude quotes and Imagination quotes and Faith quotes.