Tom Brady, born August 3, 1977, is a renowned American football quarterback. With seven Super Bowl wins and five MVP titles, he's a sports icon.
He idolized Joe Montana as a child and shone in football and baseball in high school.
Opting for football, Brady played for the University of Michigan before being drafted by the New England Patriots in 2000.
Over 20 seasons, he secured six Super Bowl wins for the Patriots. Joining the Tampa Bay Buccaneers, he achieved his seventh win.
Despite a 2022 retirement announcement, he came back, setting records in pass completions, yards and touchdowns.
Author of "The TB12 Method", he married Gisele Bündchen in 2009, had two children and divorced in 2022.
I have listed below the top quotes by Tom Brady.
---
Best Tom Brady Quotes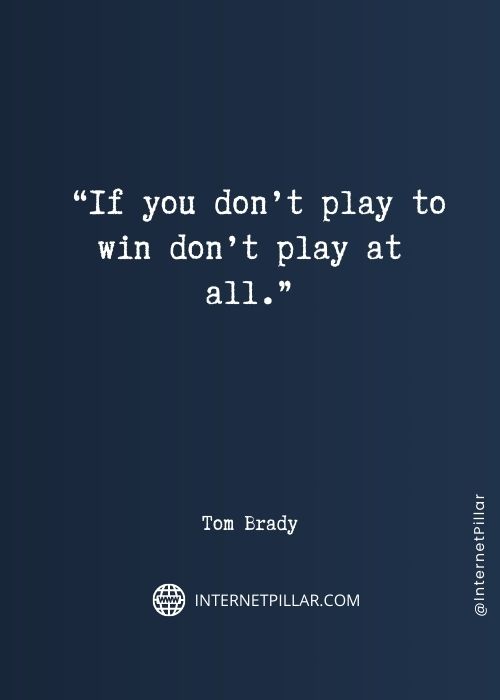 1. "If you don't play to win don't play at all." ~ (Tom Brady).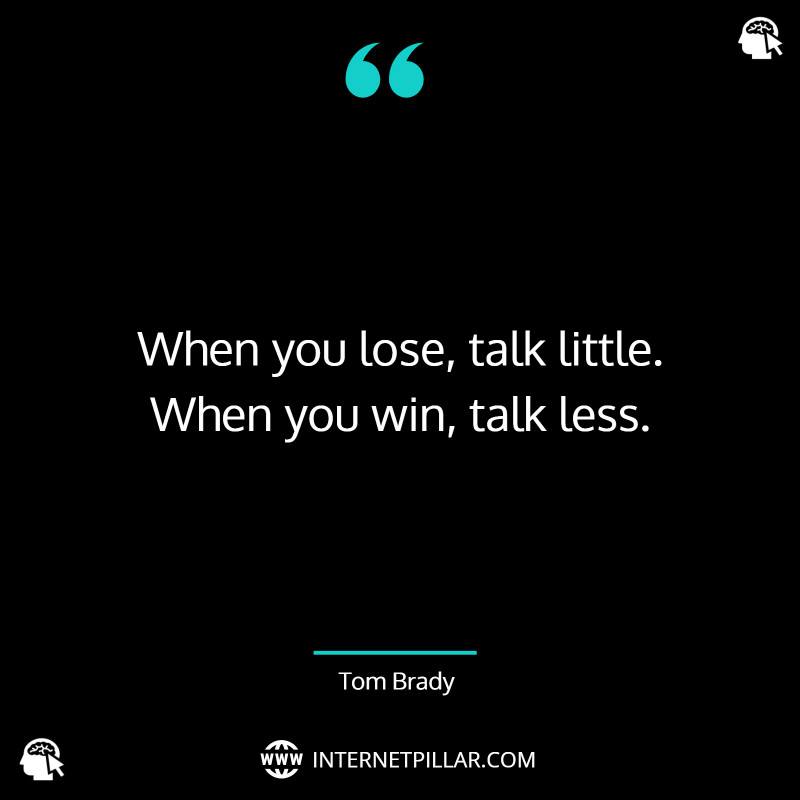 2. "When you lose, talk little. When you win, talk less." ~ (Tom Brady).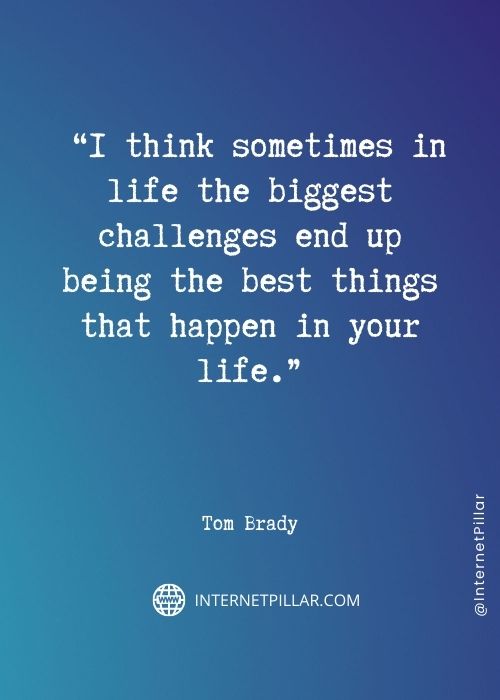 3. "I think sometimes in life the biggest challenges end up being the best things that happen in your life." ~ (Tom Brady).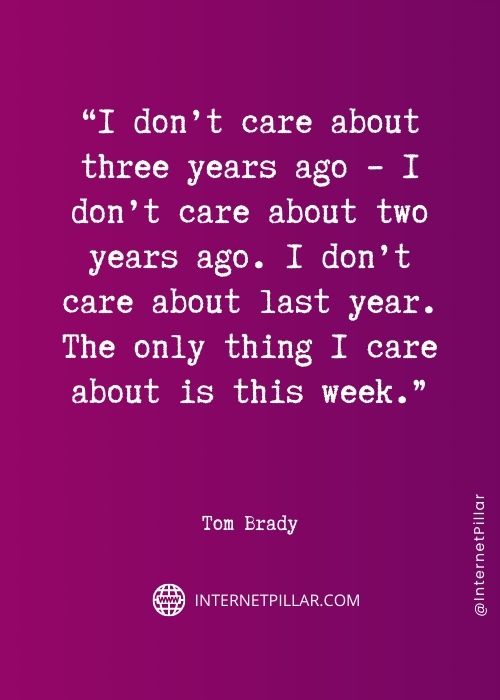 4. "I don't care about three years ago – I don't care about two years ago. I don't care about last year. The only thing I care about is this week." ~ (Tom Brady).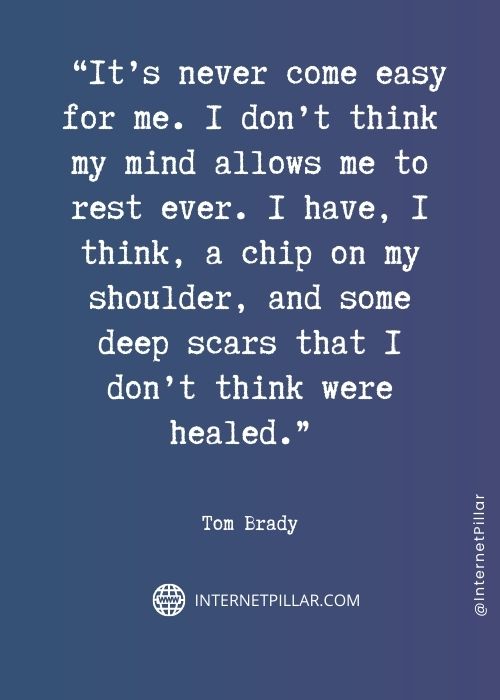 5. "It's never come easy for me. I don't think my mind allows me to rest ever. I have, I think, a chip on my shoulder, and some deep scars that I don't think were healed." ~ (Tom Brady).
6. "Some of the best motivation in life is trying to impress a girl." ~ (Tom Brady).
7. "You can't go out and practice average on Wednesday, average on Thursday, okay on Friday and then expect to play well on Sunday." ~ (Tom Brady).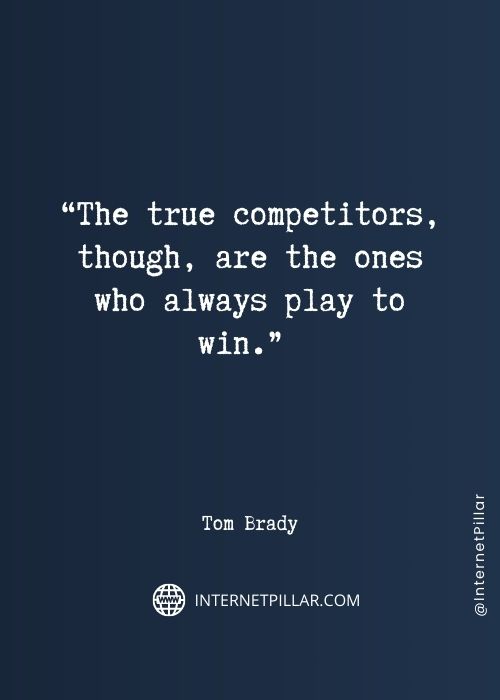 8. "The true competitors, though, are the ones who always play to win." ~ (Tom Brady).
9. "If you waste your time and energy on things that don't matter in the outcome of the game, then when you get to the game you're not going to give your teammates the best that you have to offer." ~ (Tom Brady).
10. "I like to have fun all the time, even if I'm working." ~ (Tom Brady).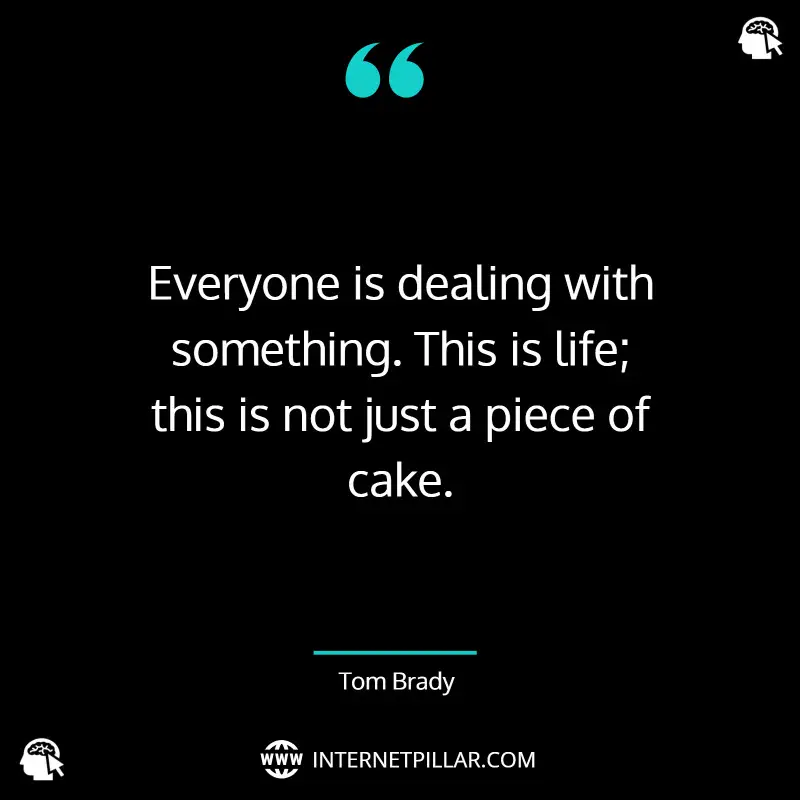 11. "Everyone is dealing with something. This is life; this is not just a piece of cake." ~ (Tom Brady).
12. "I have no knowledge of anything." ~ (Tom Brady).
Popular Tom Brady Quotes
13. "I knew I became a professional when I stop paying attention to what time it was." ~ (Tom Brady).
14. "Every quarterback can throw a ball; every running back can run; every receiver is fast; but that mental toughness that you talk about translates into competitiveness." ~ (Tom Brady).
15. "I think you can just go out and try to be the best you can be, deal with people with respect, with honesty, with integrity, have a high moral standard. I've always really tried to exemplify that as an athlete. I'll continue to try to do that." ~ (Tom Brady).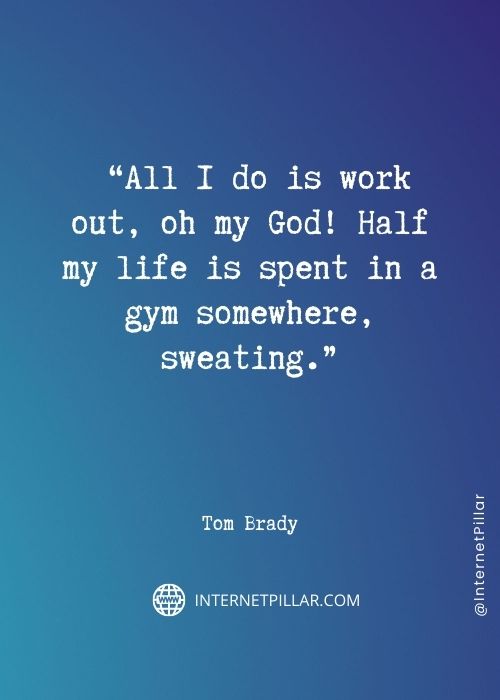 16. "All I do is work out, oh my God! Half my life is spent in a gym somewhere, sweating." ~ (Tom Brady).
17. "There's a lot of people who don't like Tom Brady and I'm OK with that." ~ (Tom Brady).
18. "If I have something to say, I want it to be meaningful." ~ (Tom Brady).
19. "What strikes me most about Best Buddies International is the simplicity and magnitude of the mission. Friendship is a simple idea." ~ (Tom Brady).
20. "Too often in life, something happens and we blame other people for us not being happy or satisfied or fulfilled. So the point is, we all have choices, and we make the choice to accept people or situations or to not accept situations." ~ (Tom Brady).
21. "Losing sucks, and especially to the Jets." ~ (Tom Brady).
22. "Sometimes some of the toughest things you deal with end up being the best things because you realize the people that you can rely on, that love you and support you through it." ~ (Tom Brady).
23. "You have to believe in the process. You have to believe in the things that you are doing to help the team win. I think you have to take the good with the bad." ~ (Tom Brady).
24. "I can't do anything with what's happened in the past. I have to just go forward with the most awareness I can going forward and trying to be the best I can be for our team." ~ (Tom Brady).
25. "Everybody has an opinion. I think everybody has the right to believe whatever they want. I don't ever cast judgment on someone's belief system." ~ (Tom Brady).
26. "You go through high school and college the same way: never listening to your coaches because you're the best. But when you get to the pros, all that stops because everybody there has talent." ~ (Tom Brady).
27. "Football is a contact sport and there's a lot that goes into it. But I have committed myself for a long time to doing it, and because I love doing it so much I want to make that commitment." ~ (Tom Brady).
28. "I love playing football. I love playing for the Patriots." ~ (Tom Brady).
29. "Life is not living in the suburbs with a white picket fence. That's not life. Somehow our American culture has made it out that that's what life needs to be – and that if it's not that, it's all screwed up. It's not." ~ (Tom Brady).
30. "I think it's a feeling like I've got it all figured out. There's nothing that can shock me anymore. There's nothing I haven't anticipated; so at that point, there is a calmness." ~ (Tom Brady).
31. "As for hobbies, I don't really read or watch TV. I'm very active. I like surfing, skiing, riding bikes with my kids, and working out with my friends." ~ (Tom Brady).
Top Tom Brady Quotes
32. "With football, you can have up to 28 guys you consider starters, and if they can pick up the slack when some aren't playing so well, you don't have to turn those two-game losing streaks into six-game losing streaks." ~ (Tom Brady).
33. "I feel like I've always played within the rules. I would never do anything to break the rules. I believe in fair play and I'll always believe in that for as long as I'm playing." ~ (Tom Brady).
34. "I don't put any thought into the footballs after I choose them. When you're out there playing in front of 70,000 people, like a home crowd, you don't think about it. You're just reacting to the game." ~ (Tom Brady).
35. "As athletes, we think we're heroes, but when you witness firsthand what I saw yesterday, you realize who the real heroes are." ~ (Tom Brady).
36. "You don't like to see your guys take the field without you because it makes you feel like, man, maybe they really don't need me out there, which is kind of humbling." ~ (Tom Brady).
37. "Sometimes, getting up in the morning and brushing your teeth is the hardest part of the day – it all just hurts." ~ (Tom Brady).
38. "I have a memory, and I can just eliminate mistakes when they come up because I've already made them." ~ (Tom Brady).
Famous Tom Brady Quotes
39. "I'd be that James Bond character from the Beautyrest commercial that we did. Maybe someday." ~ (Tom Brady).
40. "This is really a dream come true. To be the starting quarterback in the Super Bowl is probably the highlight of my life." ~ (Tom Brady).
41. "I think so highly of people who love their sport and make a really strong commitment to it." ~ (Tom Brady).
42. "I don't know what I believe. I think there's a belief system, I'm just not sure what it is." ~ (Tom Brady).
43. "I'm pretty chirpy. I can talk a little too much smack." ~ (Tom Brady).
44. "I would never do anything outside of the rules of play." ~ (Tom Brady).
45. "When you hang with a bunch of 300-pound linemen, you tend to find the places that are the greasiest and serve the most food." ~ (Tom Brady).
Short Tom Brady Quotes
46. "The only thing I really like doing during the week is getting ready to play the game." ~ (Tom Brady).
47. "I approach every week the same. I think I've always tried to be very professional to how I approach the game, my preparation. Every game is important." ~ (Tom Brady).
48. "Is it going to make me feel any better to make an extra million? That million might be more important to the team." ~ (Tom Brady).
49. "A lot of people didn't get to see Butler's skills throughout the course of the season." ~ (Tom Brady).
50. "Certainly I accept my role and responsibility as a public figure and a lot of it you take the good with the bad, dealing with different adversities in life, you just try to do the best you can do." ~ (Tom Brady).
---
Other Quotes You Might Like