It is of utmost importance for any business to sell its goods to customers in order to succeed in the marketplace.
We've curated a list of the greatest motivational sales quotes from top sales professionals, sales managers, business executives, and motivational speakers to help fire up your sales team and get them ready for the day.
---
Table of Contents
Top 10 Motivational Sales Quotes
You can't build a reputation on what you are going to do. ~ Henry Ford.
HUMANIZE the sales process or perish. ~ Steli Efti.
You just can't beat the person who never gives up. ~ Babe Ruth.
The harder the conflict, the more glorious the triumph. ~ Thomas Paine.
Become the person who would attract the results you seek. ~ Jim Cathcart.
If you aren't going all the way, why go at all? ~ Joe Namath.
If you don't risk anything, you risk even more. ~ Erica Jong.
The questions you ask are more important than the things you could ever say. ~ Thomas Freese.
The way to get started is to quit talking and begin doing. ~ Walt Disney.
The real problem with closing is not adequately defining or diagnosing the prospect's problems in the first place. ~ Keith Eades.
Also Read: 70 Marketing Quotes to Transform Your Business and 49 Business Success Quotes to Motivate You Today
Famous Motivational Sales Quotes
Before LinkedIn and other social networks, in the sales world, ABC stood for Always Be Closing. But now it means Always Be Connecting. ~ Jill Rowley.
I have never worked a day in my life without selling. If I believe in something, I sell it, and I sell it hard. ~ Estée Lauder.
It's no longer about interrupting, pitching, and closing. But it is about listening, diagnosing and prescribing. ~ Mark Roberge.
If you want to succeed you should strike out on new paths, rather than travel the worn paths of accepted success. ~ John D Rockefeller.
Remember, people don't believe it when WE say it, they believe it when THEY say it. ~ Shari Levitin.
Well done is better than well said. ~ Benjamin Franklin.
High-level buyers want to talk to people who know more than they do. They hunger not for information but insight. ~ Barbara Weaver Smith.
Leaders must get across the why as well as the what. ~ John Doerr.
If you really look closely, most overnight successes took a long time. ~ Steve Jobs.
SELLING is really about having conversations with people while helping them improve their company or their life. ~ Lori Richardson.
There is no easy button in sales. Prospecting is hard, emotionally draining work, but it is the price you have to pay to earn a high income. ~ Jeb Blount.
Beware of monotony; it's the mother of all deadly sins. ~ Edith Wharton.
Excellent Motivational Sales Quotes
All things being equal, people will do business with, and refer business to, those people they know, like, and trust. ~ Bob Burg.
Learn from the mistakes of others. You surely can't live long enough to make them yourself. ~ Eleanor Roosevelt.
The sales compensation plan is Batman, while the sales contest is Robin. ~ Mark Roberge.
Our greatest weakness lies in giving up. The most certain way to succeed
is always to try just one more time. ~ Thomas Edison..
I got lucky because I never gave up the search. Are you quitting too soon? Or are you instead willing to pursue luck with a vengeance? ~ Jill Konrath.
Success is a science; if you have the conditions, you will surely get the result. ~ Oscar Wilde.
Be passionate and move forward with gusto every single hour of every single day until you reach your goal. ~ Ava DuVernay.
Sales success comes after you stretch yourself past your limits on a daily basis. ~ Omar Periu.
Don't be afraid to give up the good to go for the great. ~ John D. Rockefeller.
Every sale has five basic obstacles: no need, no money, no hurry, no desire, no trust. ~ Zig Ziglar.
Inspiring Motivational Sales Quotes
Don't try to do everything by yourself, but try to connect with people and resources. Having that discipline and perseverance is really important. ~ Chieu Cao.
It is not necessary to do extraordinary things to get extraordinary results. ~ Warren Buffett.
The most common way people give up their power is by thinking they don't have any. ~ Alice Walker.
Filter everything you're doing, saying, and pitching and you'll eventually improve just about every metric you care about today. ~ Matt Heinz.
We herd sheep, we drive cattle, we lead people. Lead me, follow me, or get out of my way. ~ George S. Patton.
Every email is an opportunity to test a different benefit or angle. ~ Heather R Morgan.
There is little success where there is little laughter. ~ Andrew Carnegie.
Either run the day or the day runs you. ~ Jim Rohn.
If you do not have a defined process that moves your people forward so they can achieve greater results, then what is it you are managing? ~ Keith Rosen.
Successful people ask a lot more questions during sales calls than do their less successful colleagues. ~ Neil Rackham.
If you don't believe in what you're selling, neither will your prospect. ~ Frank Bettger.
Great Motivational Sales Quotes
Whenever an individual or a business decides that success has been attained, progress stops. ~ Thomas J. Watson Jr.
What differentiates sellers today is their ability to bring fresh ideas. ~ Jill Konrath.
Whatever you are, be a good one. ~ Abraham Lincoln.
BUYERS do business with you, not with your company and not with your technology. ~ Joanne Black.
Success isn't about how much money you make; it's about the difference you make in people's lives. ~ Michelle Obama.
We cannot solve our problems with the same thinking we used when we created them. ~ Albert Einstein.
I have stood on a mountain of no's for one yes. ~ B. Smith.
In sales, a referral is a key to the door of resistance. ~ Bo Bennett.
The key is not to call the decision-maker. The key however is to have the decision maker call you. ~ Jeffrey Gitomer.
Motivational Sales Quotes for Salespeople
Numbers alone won't fix anything. But they will help you identify where the problem is. ~ Steli Efti.
You can't propose a mutually beneficial business relationship until you can't understand their business. ~ Craig Rosenberg.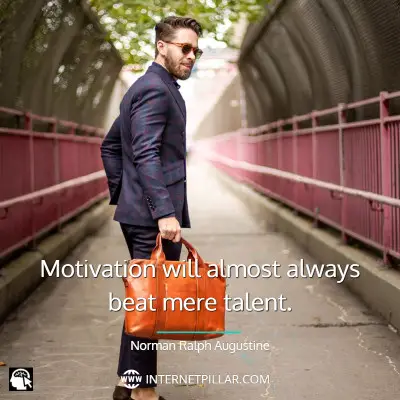 Motivation will almost always beat mere talent. ~ Norman Ralph Augustine.
The best salespeople know that their expertise can become their enemy in selling. At the moment they are tempted to tell the buyer what 'he needs to do,' they instead offer a story about a peer of the buyer. ~ Mike Bosworth.
You have to drop your sales mentality and start working with your prospects as if they've already hired you. ~ Jill Konrath.
You can't build a reputation on what you are going to do. ~ Henry Ford.
When you undervalue what you do, the world will undervalue who you are. ~ Oprah Winfrey.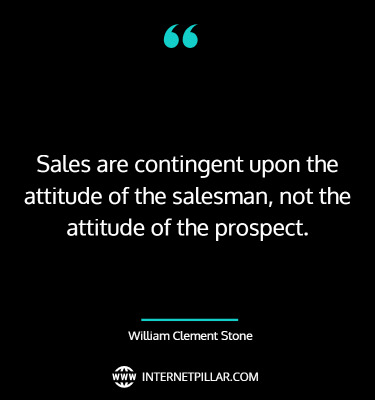 Sales are contingent upon the attitude of the salesman, not the attitude of the prospect. ~ William Clement Stone.
Motivational Sales Quotes for Salesman
Everything you've ever wanted is on the other side of fear. ~ George Addair.
No one can make you feel inferior without your consent. ~ Eleanor Roosevelt.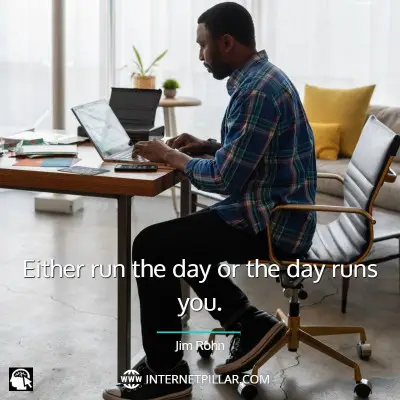 Either run the day or the day runs you. ~ Jim Rohn.
Sales success comes from the right balance of quality human interaction as well as appropriate use of supplemental tools. ~ Deb Calvert.
Whatever you are, be a good one. ~ Abraham Lincoln.
Statistics suggest that when customers complain, business owners and managers ought to get excited about it. The complaining customer represents a huge opportunity for more business. ~ Zig Ziglar.
If you can't describe what you are doing as a process, you surely don't know what you're doing. ~ Edward Deming.
The customer doesn't care about features, rather they care about solving their problems. ~ Trish Bertuzzi.
Sellers who listen to buyers carefully and then give them the missing ingredients – those are the ones who stand out. ~ Deb Calvert.
What we dwell on is who we become. ~ Oprah Winfrey.
Motivational Sales Quotes for Saleswoman
Act as if what you do makes a difference. Because it does. ~ William James.
Success is where preparation and opportunity meet. ~ Bobby Unser.
If football taught me anything about business, it is that you win the game one play at a time. ~ Fran Tarkenton.
There is always room at the top. ~ Daniel Webster.
It's not about having the right opportunities. It's rather about handling the opportunities right. ~ Mark Hunter.
Treat objections as requests for further information. ~ Brian Tracy.
There is no magic to closing. There are no magic phrases. But, closing the deal is completely dependent on the situation. ~ Alice Heiman.
If we are going to be part of the solution, we have to engage the problems. ~ Majora Carter.
In high-productivity sales organizations, salespeople do not cause customer acquisition growth, rather they fulfill it. ~ Aaron Ross.
Motivational Sales Quotes You will Love
If you harness the power of innovation, you'll surely convert sales complexity into a brutal competitive advantage. ~ Tim Sanders.
If you want to make money, you have to help someone else make money. ~ Russell Simmons.
Don't watch the clock. Rather do what it does. Keep going. ~ Sam Levenson.
A goal is a dream with a deadline. ~ Napoleon Hill.
Don't let what you cannot do interfere with what you can do. ~ John R. Wooden.
Winning isn't everything, but wanting to win is. ~ Vince Lombardi.
What you lack in talent can be made up with desire, hustle, and giving 110% all the time. ~ Don Zimmer.
The road to Easy Street goes through the sewer. ~ John Madden.
There have been so many people who have said to me, 'You can't do that,' but I've had an innate belief that they were wrong. Be unwavering and relentless in your approach. ~ Halle Berry.
Always do your best. What you plant now, you will harvest later. ~ Og Mandino.
Most people think 'selling' is the same as 'talking'. But the most effective salespeople know that listening is the most important part of their job. ~ Roy Bartell.
Great salespeople are relationship builders who provide value and help their customers win. ~ Jeffrey Gitomer.
Instead of looking at the past, I put myself ahead twenty years and try to look at what I need to do now in order to get there then. ~ Diana Ross.
Trying is winning at the moment. ~ Dan Waldschmidt.
You don't close a sale; you should rather open a relationship if you want to build a long-term, successful enterprise. ~ Patricia Fripp.
I attribute my success to this: I never gave or took any excuse. ~ Florence Nightingale.
Your attitude, not your aptitude, will determine your altitude. ~ Zig Ziglar.
Success is never final. Failure is never fatal. But it is courage that counts. ~ Winston Churchill.
If you're offered a seat on a rocket ship, don't ask what seat! Just get on. ~ Sheryl Sandberg.
No one can make you feel inferior without your consent. ~ Eleanor Roosevelt.
Success is the sum of small efforts, repeated day in and day out. ~ Robert Collier.
Human beings have an innate inner drive to be autonomous, self-determined, and connected to one another. And when that drive is liberated, people achieve more and live richer lives. ~ Daniel Pink.
Companies should be selling ideas more than benefits. Sell Ideas. Not stuff. ~ Aaron Ross.
Lean in, speak out, have a voice in your organization, but never use the word 'sorry.' – Trish Bertuzzi.
You're not obligated to win. You're obligated to keep trying to do the best you can every day. ~ Marian Wright Edelman.
High expectations are the key to everything. ~ Sam Walton.
Act as if what you do makes a difference. Because it does. ~ William James.
Outstanding people have one thing in common: An absolute sense of mission. ~ Zig Ziglar.
---
So these were the 112 top quotes about Motivational Sales.
If you like these quotes and sayings, then you can also read my other posts on Career Change quotes and Conflict Resolution quotes.
---
References and Sources: