Positive thinking is the belief that good things will happen and that negative events are only temporary setbacks.
It is a powerful way of looking at the world, and it can have a profound effect on our lives.
When we think positively, we are more likely to take action and achieve our goals. We also tend to be happier and more content with our lives.
I have curated some of the best 'Positive Thinking' quotes, sayings and captions for you to read and share with others.
---
Positive Thinking Quotes
Positive thinking will let you do everything better than negative thinking will. ~ Zig Ziglar.
Don't be pushed around by the fears in your mind. Be led by the dreams in your heart. ~ Roy T. Bennett.
It is never too late to be what you might have been. ~ George Eliot.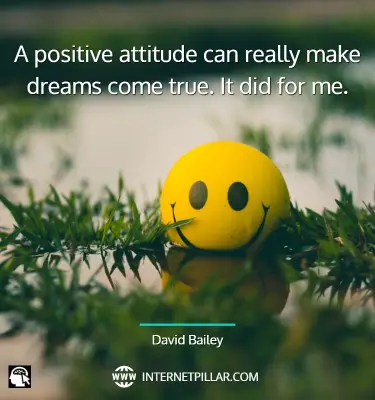 A positive attitude can really make dreams come true. It did for me. ~ David Bailey.
You can, you should, and if you're brave enough to start, you will. ~ Stephen King.
Miracles happen to those who believe in them. ~ Bernard Berenson.
A positive attitude causes a chain reaction of positive thoughts, events and outcomes. It is a catalyst and it sparks extraordinary results. ~ Wade Boggs.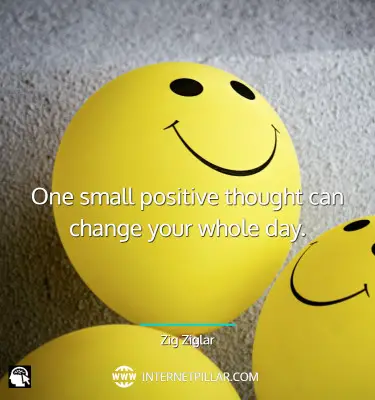 One small positive thought can change your whole day. ~ Zig Ziglar.
I've always believed that you can think positive just as well as you can think negative. ~ James Baldwin.
Confidence is contagious. So is lack of confidence. ~ Vince Lombardi.
Never let a bad situation bring out the worst in you. Choose to stay positive and be the strong person that God created you to be! ~ Unknown.
Life changes very quickly, in a very positive way, if you let it. ~ Lindsey Vonn.
Your circumstances may be uncongenial, but they shall not remain so if you only perceive an ideal and strive to reach it. You cannot travel within and stand still without. ~ James Allen.
Promise yourself that you will talk health, happiness, and prosperity as often as possible. ~ John Wooden.
Best Positive Thinking Quotes
Positive thinking is when you think good thoughts about yourself and about the future. It's like a happy thought party in your head! 

Positive thinking can help you feel better mentally and emotionally, and it can also help you achieve your goals. 

For example, if you're trying to lose weight, positive thinking can help you stay motivated and focused on your goal.
I'm a very positive thinker, and I think that is what helps me the most in difficult moments. ~ Roger Federer.
When you are enthusiastic about what you do, you feel this positive energy. It's very simple. ~ Paulo Coelho.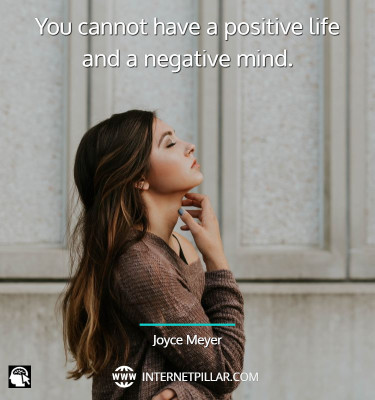 You cannot have a positive life and a negative mind. ~ Joyce Meyer.
If you are positive, you'll see opportunities instead of obstacles. ~ Widad Akrawi.
Stay positive. Stay hopeful. ~ Joel Osteen.
Say something positive, and you'll see something positive. ~ Jim Thompson.
Stay strong, stay positive, and never give up. ~ Roy T. Bennett.
A positive attitude is something everyone can work on, and everyone can learn how to employ it. ~ Joan Lunden.
Look for something positive in every day, even if some days you have to look a little harder. ~ Unknown.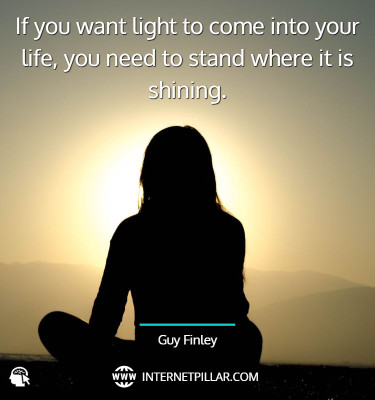 If you want light to come into your life, you need to stand where it is shining. ~ Guy Finley.
The positive thinker sees the invisible, feels the intangible, and achieves the impossible. ~ Winston Churchill.
Turn every life situation into a positive one. ~ Rhonda Byrne.
You're braver than you believe and stronger than you seem and smarter than you think. ~ A.A. Milne.
I don't think anything is unrealistic if you believe you can do it. ~ Mike Ditka.
Positive thinking is more than just a tagline. It changes the way we behave. And I firmly believe that when I am positive, it not only makes me better, but it also makes those around me better. ~ Harvey Mackay.
If you can stay positive in a negative situation, you win. ~ Unknown.
I'm taking all the negatives in my life, and turning them into a positive. ~ Pitbull.
Famous Positive Thinking Quotes
I avoid looking forward or backward, and try to keep looking upward. ~ Charlotte Brontë.
The less you respond to negative people, the more positive your life will become. ~ Paulo Coelho.
Keep your face always toward the sunshine, and shadows will fall behind you. ~ Walt Whitman.
The most positive men are the most credulous. ~ Alexander Pope.
We can complain because rose bushes have thorns, or rejoice because thorns have roses. ~ Alphonse Karr.
Pessimism leads to weakness, optimism to power. ~ William James.
Positive thinking is a valuable tool that can help you overcome obstacles, deal with pain, and reach new goals. ~ Amy Morin.
An attitude of positive expectation is the mark of the superior personality. ~ Brian Tracy.
Just for the record, darling, not all positive change feels positive in the beginning. ~ S.C. Lourie.
I surround myself with positive, productive people of goodwill and decency. ~ Ted Nugent.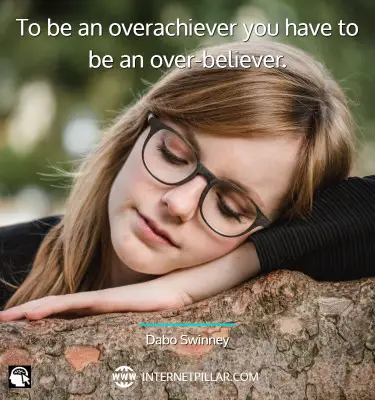 To be an overachiever you have to be an over-believer. ~ Dabo Swinney.
I dwell in possibility. ~ Emily Dickinson.
It's almost always possible to be honest and positive. ~ Naval Ravikant.
If things aren't going so well, I try to stay positive and not give in to negative thoughts. ~ Rosanna Arquette.
Top Positive Thinking Quotes
Positive thinking is when you think good thoughts about yourself and about the things that are happening to you. 

It can help you feel happy and calm, even when things are tough.

Some people use positive thinking to help them solve problems or to make themselves feel better.
I believe one of my strengths is my ability to keep negative thoughts out. I am an optimist. ~ John Wooden.
Things have a way of working themselves out if we just remain positive. ~ Lou Holtz.
Once you replace negative thoughts with positive ones, you'll start having positive results. ~ Willie Nelson.
The more you feed your mind with positive thoughts, the more you can attract great things into your life. ~ Roy T. Bennett.
You will have no regrets with a positive mind. ~ Unknown.
Just keep pushing forward. Find a positive in anything and just fight for it. ~ Baker Mayfield.
Positive thoughts lead to positive results. ~ Maria V. Snyder.
Stay positive. Better days are on their way. ~ Unknown.
In order to carry a positive action, we must develop here a positive vision. ~ Dalai Lama.
Five percent of the people think; ten percent of the people think they think; and the other eighty-five percent would rather die than think. ~ Thomas Edison.
Your mind is a powerful thing. When you fill it with positive thoughts, your life will start to change. ~ Unknown.
You can't control the world, but when you control your thoughts, you bring order. ~ Bernie Siegel.
Positive anything is better than negative nothing. ~ Elbert Hubbard.
Stop overthinking, it leads to negativity, just think positive and be positive. ~ Unknown.
I really believe in the power of positive thinking and the collective power of people's thoughts spawning something into becoming reality. ~ Finn Balor.
Popular Positive Thinking Quotes
It's most important that you surround yourself with positivity always, and have it in your mind at all times. ~ Tyler Perry.
Always turn a negative situation into a positive situation. ~ Michael Jordan.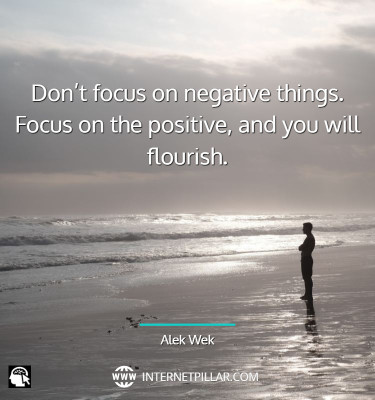 Don't focus on negative things. Focus on the positive, and you will flourish. ~ Alek Wek.
You're off to great places. Today is your day. Your mountain is waiting, so get on your way. ~ Dr. Seuss.
Positive thinking must be followed by positive doing. ~ John C. Maxwell.
I think positive emotion trumps negative emotion every time. ~ Leonardo DiCaprio.
Live life to the fullest and focus on the positive. ~ Matt Cameron.
Start each day with a positive thought and a grateful heart. ~ Roy T. Bennett.
Be positive. Be true. Be kind. ~ Roy T. Bennett.
If I cannot do great things, I can do small things in a great way. ~ Martin Luther King Jr.
Happiness often sneaks in through a door you didn't know you left open. ~ John Barrymore.
Change your thoughts and you change your world. ~ Norman Vincent Peale.
Perpetual optimism is a force multiplier. ~ Colin Powell.
Inspiring Positive Thinking Quotes
Inspiration comes from within yourself. One has to be positive. When you're positive, good things happen. ~ Deep Roy.
A strong, positive self-image is the best possible preparation for success. ~ Joyce Brothers.
Whoever is happy will make others happy too. ~ Anne Frank.
There isn't anything that I cannot be or do or have. ~ Abraham Hicks.
Virtually, nothing is impossible in this world if you just put your mind to it and maintain a positive attitude. ~ Lou Holtz.
Accentuate the positive, eliminate the negative, latch onto the affirmative. ~ Bing Crosby.
I've learned that positive thinking and encouragement are essential for leadership and progress. ~ Richard M. Devos.
Keep looking up. That's the secret of life. ~ Charlie Brown.
Instead of complaining or arguing, be positive and put out the message you want out there. ~ Dan Go.
---
For a dose of power of positivity and positive thinking, watch the below video.
---
So these were the 85 quotes about Positive Thinking.
If you like these quotes and sayings, then you can also read my other popular blog posts on the topics of Absent Father quotes and Godmother quotes and Guardian Angel quotes.
You are welcome to share these best quotes, sayings and phrases with your friends and family on social media platforms such as (Facebook, Twitter, Instagram, WhatsApp, and Pinterest).
---
Frequently Asked Questions (FAQs) about Positive Thinking
What is an example of positive thinking?
Positive thinking is the belief that good things will happen, and that by focusing on the good, you can bring about positive change.
It's a way of looking at the world that sees the glass as half full, rather than half empty.
Positive thinking doesn't mean you're always happy and never experience negative emotions; it means you approach life with a hopeful attitude, expecting good things to happen.
An example of positive thinking in action is when someone refuses to give up in the face of adversity.
No matter how bad things seem, they keep their focus on the good things and maintain a positive outlook.
This type of attitude can be incredibly powerful; it can help people achieve their goals and overcome obstacles.
Why is positive thinking important?
Positive thinking has been shown to be one of the most important predictors of success in life.
It is also one of the key traits that happy and successful people share. Positive thinking can help you achieve your goals, maintain a positive outlook on life, and boost your overall happiness.
How positive thinking can change your life?
Positive thinking is a powerful tool that can be used to change your life for the better.
When you think positively, you focus on the good things in life and look for the best in people and situations.
This can lead to greater happiness, satisfaction, and peace of mind.
Positive thinking also has many health benefits, including reducing stress levels and improving immune function.
How do I stop being so negative?
Are you tired of feeling negative? Do you feel like your pessimism is holding you back from achieving your goals?
If so, read on for some tips on how to stop being so negative. First, it's important to understand why you might be prone to negativity.
There are many possible causes, such as genetics, past experiences, or current circumstances.
Once you know what's causing your negativity, you can start working on ways to address it.
One way to start is by challenging your negative thoughts. Whenever you find yourself thinking negatively, ask yourself whether there is another way of looking at the situation.
Is there evidence that supports your negative thought, or are you just assuming things?
When you start to question your thoughts, you may find that they aren't actually accurate reflections of reality.
How can I practice being positive?
Positive thinking is a powerful tool that can be used to change your life for the better.
It may seem difficult to practice at first, but with a little effort, you can learn how to be positive and reap the benefits.
Here are five easy ways to get started:
1. Make a list of things you're grateful for. Every day, take a few minutes to write down five things you're grateful for. This could be anything from your health to your friends and family. Thinking about the good things in your life will help put things into perspective and make you feel happier overall.
2. Challenge yourself to stay positive in tough situations. It's natural to feel negative during tough times, but it's important to challenge yourself to stay positive. When something bad happens, try not to dwell on it and instead focus on finding a solution.
3. Take a break from the computer and do something physical. Taking a break from social media can help you feel better in general, but it can also help with your anxiety. Go for a walk, go outside, or even take a nap if you need to.
4. Listen to your favorite songs when you're feeling down. When you feel sad or down, listening to the songs that make you feel good can help you remember why you are a person who is worth loving and appreciating.
5. Get some sleep. The more tired you feel, the less anxious you'll tend to feel. Sleep helps your body and brain to heal, so getting a good night's sleep can help you feel better in general.